OpenBazaar Developer to Launch New Platform, Mulls Own Token
A mobile application called Haven is set for launch in the second quarter of this year, developed by OB1, the company behind the the decentralized online marketplace OpenBazaar, and it is currently entering the testing phase, as Cryptonews.com learned. Additionally, the marketplace is looking to integrate Ethereum, as well as release their own token, during this same timeframe.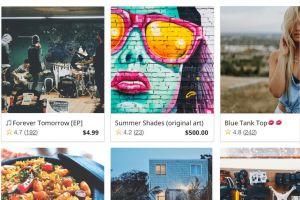 Jenn Cloud, head of marketing and communications at OB1, told us that, "Haven is a new super-app built on the OpenBazaar network that enables you to shop, chat, and send cryptocurrencies privately from your mobile device." But the quarter does not end at this, as Cloud said that the company is going to integrate Ethereum and release their own token - but more information will become available as time progresses.
Browser marketplace
The marketplace is currently only accessible through a program, which they explain on their website, "Instead of asking people to connect to each other through a website or network that we owned, we wanted to just let users connect directly to each other, exactly how they do with Bitcoin and other cryptocurrencies, but with a nice interface that felt like the payment processors and marketplaces they were used to."
However, this is also set to change during this year.
"We will also be tackling a web application that will allow users to buy and sell on OpenBazaar entirely from their browser," Cloud said.
As for how they will maintain decentralization and their peer-to-peer workmode, she explains, "It is still being researched as there are many questions which need to be answered, but what changed was primarily the introduction of IPFS-JS. The OpenBazaar code uses IPFS for distribution of content and peer-to-peer networking, and by using IPFS-JS we could run more or less the same OpenBazaar application we have on desktop, except in a browser. Users would have an experience almost identical to using a regular website, but would actually be accessing the peer-to-peer network just as they would from desktop."
IPFS-JS is the Javascript implementation of the IPFS (InterPlanetary File System) protocol, which is a network designed to create a content-addressable, peer-to-peer method of storing and sharing hypermedia in a distributed file system. In other words, it is a peer-to-peer distributed file system that seeks to connect all computing devices with the same system of files. This would mean that implementing IPFS as a solution could ensure that OpenBazaar does not fall into the trap of centralization, but removes the need for downloading a program.
The improvement of privacy features is also in the pipeline.
"One improvement underway is working to get Tor [The Onion Router, a privacy-focused browser] integrated without needing to manually configure anything, which will allow people to use Tor with OpenBazaar much more easily. There are other features we are considering such as automatically deleting personal information (such as shipping data) when orders are completed, offering support for privacy-focused operating systems, and creating a separate 'OpenBazaar-Private' installer which offers a version that uses privacy features by default."
People are selling what?!
A decentralized marketplace is sure to attract some interesting people, both as buyers and sellers, and OpenBazaar is no exception.
"We have seen all kinds of this listed from property and cars, new and used items from electronics to bondage gear to underwear," Cloud said. However, if you're into growing and/or producing edible things (that are also legal), you'd do well to start selling there: "Things you can grow and things you can eat are a particular niche, cactus seeds and delicious hot sauces have been a hit."
The platform may be relatively small compared to centralized services like Uber, a peer-to-peer ridesharing service provider, but that doesn't mean there is no place for that: "Two of OB1's co-founders also got a rideshare service using OpenBazaar when they visited China!" Cloud added.
Still, it must be noted that the platform tries to minimize the trading of illicit substances.
"OpenBazaar is not centrally controlled and so no one is able to directly stop illicit activity on the network, but there are still ways to minimize illicit use of the platform," states the company's FAQ, later adding, "OpenBazaar is a protocol and network for trade. It's a neutral technology that can be used for many types of transactions and it's not built to cater to any particular type of commerce. So far, this has meant that the OpenBazaar network tends to reflect society in general: a few people engage in illicit activity, but the vast majority don't."
Regulations are a scary word to many in the industry, but OB1 isn't too worried:
"We don't see any current regulatory trends which are too threatening," Cloud concluded.
---