Oliver Gale, CEO of Panther Protocol, on Fundraising and Privacy in Crypto | Ep. 191
Disclosure: Crypto is a high-risk asset class. This article is provided for informational purposes and does not constitute investment advice. By using this website, you agree to our terms and conditions. We may utilise affiliate links within our content, and receive commission.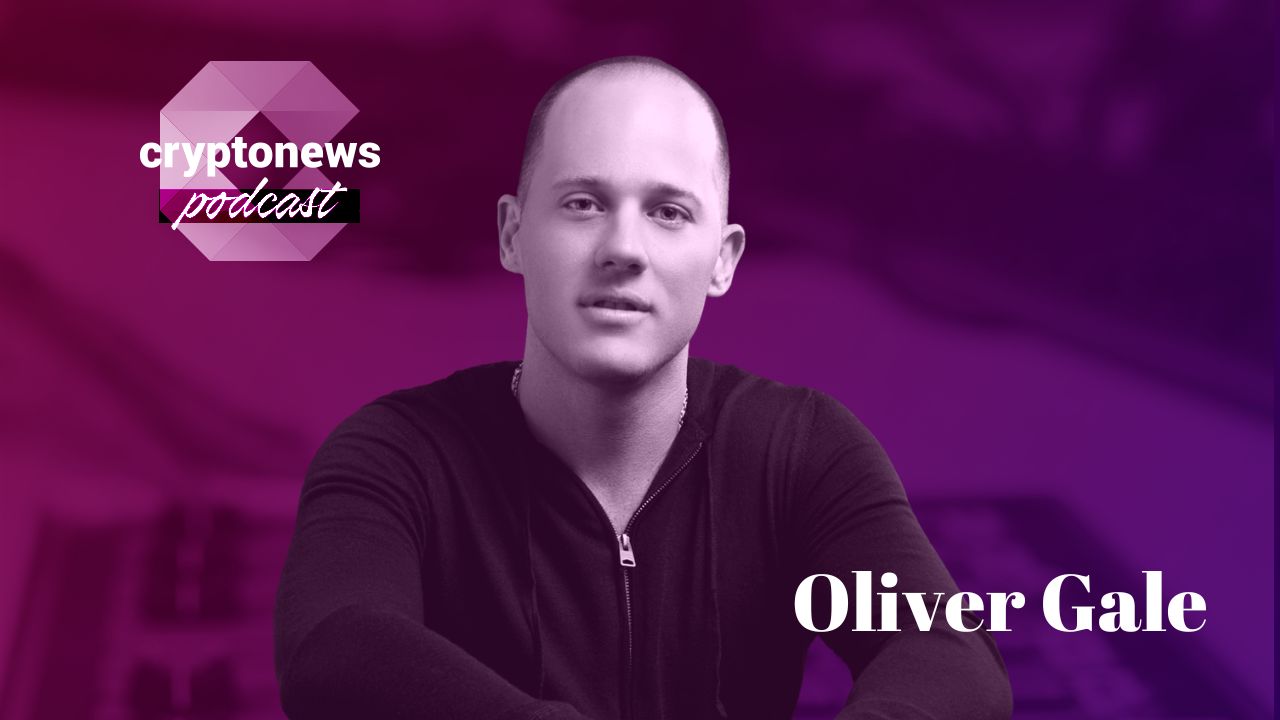 In an exclusive interview with cryptonews.com, Oliver Gale, CEO of Panther Protocol, talks about fundraising / raising money in crypto, regulated DeFi, and predictions for 2023.
About Oliver Gale
Oliver is a serial entrepreneur, CBDC pioneer, investor, advisor, and global advocate of distributed ledger technology. He currently serves as the Founder and CEO of Panther Protocol, an end-to-end privacy protocol for digital assets that can be deployed compliantly on any public blockchain. Oliver also serves as Founder and Chairman of Elemental, a web 3.0 credit lending platform focused on democratizing affordable credit for underserved communities. Oliver has been a leading global advocate, championing policy-making discussions and thought leadership at central banks, government entities, and organizations, including the UN, International Telecommunications Union (ITU), Commonwealth Secretariat, Caribbean Development Bank, MIT, Columbia University, and the IMF. Outside of work, Oliver is also an award-winning international reggae and hip-hop artist.
Oliver Gale gave a wide-ranging exclusive interview which you can see below, and we are happy for you to use it for publication provided there is a credit to www.cryptonews.com.
Highlights Of The Interview
Fundraising / raising money in crypto – the ins and outs of the process
2023 – the year of regulated DeFi
Privacy 101 – interact with DeFi without risking transaction surveillance
What's new in Privacy tech and hardware
Contributing to open source software and building CBDCs, payment systems, and compliance tools


Full Transcript Of The Interview
Matt Zahab
Ladies and gentlemen, welcome back to the Cryptonews Podcast. We're buzzin as always, and today, we have Oliver Gale, also known as Olii, he's coming back for round two. Olii Gale, the Serial Entrepreneur, CBDC Pioneer Investor, advisor and global advocate of distributed ledger technology, currently serving as the founder and CEO of Panther Protocol, an end to end privacy protocol for digital assets that can be deployed compliantly on any public blockchain. Olii, also there's a whole lot on top of this, and we will get into it but pumped to see this guy back on my screen again, Olii Gale, welcome back for round two brother, how are you?
Oliver Gale
I'm good, Matt, you know, the holiday season. And so the team is working away like is business as usual, which is good. But I'm also excited to spend some time family and loved ones.
Matt Zahab
I bet Man, what a treat. Can you believe it's been 14 months since we last spoke last October.
Oliver Gale
Yeah, time has literally vaporized. Thankfully, it has not been wasted time.
Matt Zahab
In those 14 months, you guys did a couple big things made a couple big splashes. One of them was that you and the team raised 30 big tickets 30 schmell. Always nice gives you a nice long runway in the second thing you just did was actually a couple weeks ago. And that was v0.5 of Panther. Which will also lead us down to Roadmap to v1. But let's talk about the race. Walk me through the whole. Again, I've done this a couple of times. But I guess more for our listeners walk us through the whole raising process. What's it like from start to finish going to a bunch of investors finance boutique private equity, whatever the case may be, and raising that money walk us through that whole process?
Oliver Gale
Well, from start to finish, so we started raising money for Panther, June 2020. The first tickets in came from the founders. And from like a very small circle of friends and colleagues in the industry was about $10,000, it was enough to get the website, the debt, the logo and just get going on the idea of putting together a like paper draft, which was actually the biggest ticket item at the time. So we spent six months sort of formulating what Panther protocol could be and in January 2021, I took on the CEO role, which and my co founder took on the CTO role. We brought together four guys, you know Blockchain architect and engineer and other architect and engineer and then brought in a head of marketing. And a community manager, junior guy. And we started it in, you know, the investor network. Now we raised Panther as one of the most one of the largest investor bases for projects between 2021 sort of that the last cycle, if you will, 2020 2022. They're 1500 public sale investors, and 150 private sale investors. So I probably must have had maybe 500 calls with investors in my private work in my co-founders network, and just referrals to get the private sale done. And that was a raise that was done all through 2021. We raised $10 million that way, and then the public sale took place. That was a huge technical matter. We launched to Tokensoft, so we had compliance. It is programs, compliance operators, financial. Yeah, it was it was doing the old marketing build up as well that we had to coordinate to build awareness of the sale and Panther sold out in 90 minutes, raised 20 million US in 90 minutes.
Matt Zahab
Crazy.
Oliver Gale
On our forums or sign-up interest forms, we had half a billion dollars of indicative interest from people wanting to invest into the protocol. So we timed it well, we executed it well. There were a number of questions that I would say other protocol teams that had raised a lot less money and had launched a token and then started selling their treasury, their token into the demand of the bull market to build out their treasury. And there were a few conversations I had. And the primary thing was why are you guys raising so much money you don't need as much money? And the primary answer was, this is my third cycle. I know what it takes to build this technology. A bear market is coming and we need to be able to focus and deliver regardless.
Matt Zahab
Army that runway.
Oliver Gale
Yeah, so that's exactly what we did. And that's exactly what we've been doing 2022. We started the year by launching the ZKP Token, basic staking and ramped up from a team of about 15 to we've stabilized between 35 and 40 people in the team now, we've really refined and gotten very high quality team, lots of amazing people on that team. And it just heads down and build. So Panther Protocol itself has a whole new facelift on architecture and structure. We just launched advanced staking and you know, there's a lot to talk about. So I'm overall very happy with what 2021 and 2022 have thrown up for us.
Matt Zahab
What a ride man, happy for you in the team. Like what did it feel like raising 20 mil and what would you say half an hour from the public?
Oliver Gale
It was like an hour and a half. I have raised money now of ranging from my first startup was 400,000 US dollars. The Panther raised was the public sale was the biggest single ticket. And no matter what the raise amount has been, it's always felt the very same which is great non responsible for this money, I have to make sure that.
Matt Zahab
A bit of extra weight on your shoulders.
Oliver Gale
There's actually literally almost no joy. I remember after the public sale called up. It was like 30 minutes after the race had completed. We closed off the platform I called the team up.
Matt Zahab
Olii, did you just say that you said there was almost no joy after raising the fund?
Oliver Gale
Not for me, that's for sure.
Matt Zahab
Come on, bro. Really?
Oliver Gale
Yeah.
Matt Zahab
No little like internal fist pump or anything.
Oliver Gale
I don't rejoice in raising money I rejoice in given my investors back a return. Or giving them what I promised them. If you're you know, Panther Protocol that has utility and can be used by the community. So when that is delivered, that's my joy. That's insane, hey, I stuck to my word I delivered that's the end of it. And I said to the team, I called up the founding, the founding group same guys that we started with in 2020. And so guys, I want to say, you know, congratulations, if there was going to be a moment where you wanted to have a drink, and celebrate do that now, and let's get back to work. Because you don't, there's nothing to celebrate, like, that's not how this works. There are a lot of people in this industry who will take money and then not say congratulations, were victorious, maybe we'll deliver and it will work, maybe they won't. But if you're a brand, and you're building your name, and I've been doing that in this industry for 10 years, and I'd be building my brand for two decades, they this thing has to I need to fulfill my word deliver. And I know my co founder feels the same and from there we have a platform that is now amplified and magnified. And that was one of the reasons that Panther initially chose not to be in a non team because we wanted industry we wanted whether it's on the compliance side or the community side people to know that hey, we are we're building this thing and you can look us up.
Matt Zahab
I mean, that would have been pretty counterintuitive being a you know, privacy, PriFi, privacy finance, privacy tech, you know, based firm/organization and not being Docs, I would have been bonkers, but obviously you guys are Docs. So we'd love to see a lot.
Oliver Gale
Depends on how hardcore you are. If you're a hardcore Cypherpunk. And you're saying, Hey, we're delivering this technology, and there's no reference to compliance, there's no reference to anything other than self serve yourself with whatever level of anonymity you want, then those guys are going to say my right to privacy is mine. And I've got nothing to disclose. I have no issue with that. That's just not the path that I take, because we have a different view on where value is.
Matt Zahab
More skin in the game.
Oliver Gale
Yeah, I mean, we're like we have skin in the game. But look at what's happened with regulations this year. Nobody cared a thing about anything that was permissioned or gated in 2020 2021 because that just friction equal centralization equals, no real short-term opportunity without and that's from a VC or retail participant, investor level. Whereas now if you look at the Thesis that are out there for VCs for 2023 and I run a VC myself as a private venture studio number one on the list is regulated DeFi.
Matt Zahab
By a mile. Is that on top of everyone's list for the 2023 Thesis statements?
Oliver Gale
That'd be two sweeping statements. Some people are their Thesis is centered around gaming. Other people have a Thesis that's centered around infrastructure, what I'd say is, if you're in DeFi and you have a Thesis around DeFi it's what the regulator's want DeFi operators to be licensed. And this has been established globally, which was one of our challenges this year was finding a safe place to build and enable the deployment of Panther Protocol advanced staking and basic staking and the token. And, you know, then you look at Voyager, Celsius, FTX, BlockFi. Who else?
Matt Zahab
And pow. Domino fall. Crazy.
Oliver Gale
Right? And every single one of those players, who are they? Oh, right, CFi players. Exactly. So what's the problem? Well, there are a few problems. But one of the problems is the unscrutinized irresponsible operations of CFi players and DeFi solves for that. But what neither CFi nor DeFi solve for is the fact that the regulators want operators to follow laws to protect consumers who are exactly we've got earnings by FTX and they'll see us and the rest of them. So this is the point Panther's addressing privacy, and DeFi and compliance recognizing that is not one position or the other. That's a naive perspective. The reality is they're opposing forces that need to find equilibrium and the equilibrium of compliance and privacy is different in different environments. So the objective of Panther's privacy middleware is to enable composability, and a configurable compliance framework, you could launch a Panther pool in Cambodia, the Cayman Islands, United States of America, each one of those jurisdictions will have a different compliance regulatory framework in place. Panther doesn't care what it is it can support any of that. Furthermore, and this is part of the vision that we initially signed up for is we see the rights to privacy, rights to freedom of speech should be inalienable rights globally, in a distributed economy, and governance framework. And so what we hope to see is appropriate regulation and legal judgments paths that allow for a completely sovereign, fully decentralized, retail accessible shielded pool that doesn't have any sort of guardian in place where the end user says, I'm a sovereign individual, I have obligations to pay my taxes, to obey the law, the laws and operate in a society with order. And I'm going to responsibly managed by sovereign rights to privacy to interact on these solutions that are made the disclosures that I am obliged to make as a citizen. And so that's what we'd like to see because that's a very important pillar for a safe and free world.
Matt Zahab
And this is all about Panthers v1, right, you guys went live a couple of weeks ago on v0.5, version point five. And the whole point of v1is to allow retail users and institutions and legacy players to interact with DeFi without risking transactional surveillance, right? It's to be like I said, it's over an individual not have every move, watch, but also given a level of credibility, and the stamp of approval to transact and operate in the DeFi space. That's pretty much the gist of it.
Oliver Gale
That is the gist of it. So here's a couple of things that I want to discuss that bring some accents to what we see is working in the market. And so the first is that our job as a team is to build the software deliver the tech roadmap. So we write the we architect it we write the code, we provide some form of open source licensing for the code, and documentation for it. And then we release it to the community, the open source community around Panther, and they have the opportunity to deploy it to a mandate to modify it, to fork it, etc. So we have already worked through this year to ensure that we stick to our job, which is be a contributor of technology to the open source community and to enable our community to engage in governance and decide what they want to do themselves. None of the founders, none at the team, none of the foundation will be involved in any voting process on the Panther. Now we don't get involved in voting. That's not the framework that we believe in. So the first thing is that technology stack v0.5, was released to the community and the community went through about five Panther improvement proposals to systematically get advanced staking into production. And advanced staking is the final step before v1. Now what v1 has done because again, we've amended our architecture, we'll have a new tech and product roadmap out in, let's say January should be feasible, I mean, till January is when we'll release it. So let's say it's January. What Panther Protocol does is it enables guardians to create zones. And each of these zones is a shielded transactional environment is confidential DeFi. It's the ability for the guardian to onboard all of the users into a Shielded Pool. And for that Shielded Pool to act as a proxy to all other DeFi contracts and to also bridge transactions privately using Panther Cross Chains. There's a relationship of data sharing between the Guardian and the user just like when you use a Fintech. So pods there is enabling this multi zone model. And one of the things we've achieved is the ability for each zone, sort of one of the pods there pioneered the multi asset Shielded Pool, which was an enhancement on other mixers, that enables different asset types to contribute to the anonymity set. So in a like, say, a tornado cash, each contributes to ETH and USDT contributes to USDT. And those two don't share any privacy factors, the first thing we did was be pioneered the multi asset Shielded Pool, now we're pioneering the multi asset zone. So what that enables is each operator to have their own data custodial, confidential, compliant relationship with their users, none of those users transactions are fingerprinted to the rest of the world, everything is on chain obfuscated. And then we allow it to be shared between all the different zones, you start a zone today. And Panther already has a network, you can inherit the anonymity set of the end zone operators, but there is no transaction mixing. So that like that framework, right, there is a quantum leap ahead of anything that anyone has considered in the privacy space in the compliance space. And the reason it's a quantum that you're at is because we're one of the best teams in the industry. We've got the experience, building zero knowledge technology, building protocols, but we also have the experience building. I mean, I'll just speak on my own experience. And we have an incredible team. Central Bank, digital currencies, contracts that go straight to government, financial systems, compliance systems, ATM networks, mobile wallet networks, mobile money networks, systematic trading networks, compliance tools, and so now private stable coins, and no privacy tools. And I've advised global regulators on you know, not on how to make the square peg fit the new round hole, but how to actually rewrite and reinvent their frameworks to accommodate for the future. So I'm super excited by multi zones and multi asset Shielded Pool and this ability to bootstrap network effects and also maintain compliance. And I think the pod therapy where it is technologically financially product wise, is the tip of the spear to be the real mover in enterprise markets and we think that will capture enterprise and we'll do it compliantly we'll do in a decentralized fashion we'll do it safely. And then at some endgame state, we'll put everything into the hands of the community they can decide how they want to enable works of future versions of the protocol whatever is decided.
Matt Zahab
And then they get to run to the hey we love that. What year do you see this coming to fruition? Now obviously you can you guys are head down build in holing ass us non stop is you told me 2023 into the year regulated DeFi this also the year that all of the sort of fruits being bared pop off?
Oliver Gale
This is the thing about words like all I do think and I do expect at there's also a degree of hope that we will be able to deliver the entire white paper and tech roadmap for Panther Protocol in 2023. If we have to go to 2025. On cash treasury alone, we're good to go. If we include grants, we've got until 2030. If it includes ZKP you can extend it even further. So we're equipped to whether, the recession, the bear market, regulatory changes, etc. I expect and hope that kinds there becomes an ecosystem unto itself, and that we are joined by other builders that want to go different versions of front end applications are enhanced tools and systems, for example, to that we are prototyping now our zIDs, and zVOTES. So private voting for DAOS on chain off chain hybrid models, and also this private identity aggregator/credential scheme, both of which are required for shielded pools to operate. So the technology essentially is already built into the protocol, what we're aiming to do these days if we can abstract them out into their own dApps and provide those for the community. But that's an example. And ideas that again, you know, like the question kind of is, who's responsible for making these things happen, and beautiful thing of an open source project is the answers everyone in anyone. But the idea of a Z-SUITE, is we have Z-Assets, and zVOTES and zIDs and zBRIDGES. So this concept of the Panthers Z-SUITE is sort of emerging out of the collective think tank at Panther Ventures and the community. So Panther is building the pools of the bridges, the adapters, the probably possibly the voting and ID, those are not on the roadmap, but that's the sort of thing that we look at it and go, How do we create wins? Success is when you success is how you define it. First and foremost, I define success as having integrity to my word and to the very what I say a will, which is the technical roadmap, but more than the technical roadmap, it's actually a functional product, like something that works something that adds value. So we're focused on everything DeFi, we're focused on shielded pools, we're focused on complaint disclosures. We're focused on multi chain private bridges. We're focused on DeFi adapters. We're focused on onboarding enterprise into a series of POCs to prove the project and we're focused on decentralization. That doesn't mean that if we can't deliver it, we're not going to deliver on voting and identity.
Matt Zahab
That follow the moral compass. Always on a roll folks got to take a quick break give a huge shout out to sponsor to the show that's PrimeXBT. You guys know, we love PrimeXBT at Cryptonews, longtime friends who have built an amazing product, doesn't matter if you're a rookie or that you can easily design and customize your layouts and widgets to best fit your trading style. PrimeXBT is also running an exclusive promo for listeners of the Cryptonews Pod. The promo code is CRYPTONEWS50, that is CRYPTONEWS50 all one word to receive 50% of your deposit credited to your trading account and that is CRYPTONEWS50, all one word to receive 50% of your deposit credited to your trading account. And I back the show with Olii. Olii you're big privacy guy, you guys pretty much coined the term PriFi as well, which I love, obviously love a new term or acronym or however you want to call it. The one issue with privacy. And I mean, there's a multitude of them. But one of the biggest issues on the consumer facing side is the sexiness of privacy. Humans and consumers as a whole are aware of the downfalls and we use apps like my Macbook or my iPhone that tracks my every move. But I still do it because I love the interface. Most of my friends have iMessage it's just easy. It works for me. It's the cleanest product in crypto, I can give a million different examples as well. Is there a domino that that's going to fall or something that will happen for humans and the Gen pop and consumers to really start understanding the privacy can be sexy? What can happen there?
Oliver Gale
Yeah, so I think in some sense, it's not necessarily a domino effect. It's more one of building momentum. But when you refer to a domino effect, I think of major catalytic events. And I do think there have been some you can think of Equifax as an example, when hundreds of millions of users were leaked through these honeypot data storage systems and greatly impacts people. There have been other major breaches of this nature over the last five years alone. So I do think when these things happen, you'll see an accelerant to the process with that momentum building process towards privacy. So you mentioned Apple. And I think Apple's probably the best use case for how what I think is this natural market trend is evolved. And so you're right, Apple has got this wonderful interface. And they harbor a lot of your data because you're using their hardware and their software. Though tightly integrated, it's difficult to give up that convenience. And generally, what we do is we accept that we are going to trade our information to companies like Apple in exchange for this level of convenience and service. So I don't have a problem with any of that, actually, I don't have a problem with any contract two or more parties enter into voluntary, particularly in public Blockchains/Web3, all of these transaction graphs are on chain and their public. Chainanalysis, Elliptic, Ciphertrace, which is now owned by MasterCard, none of these organizations ever came to you or me and said, Hey, I would like to fingerprint your on chain transaction graph, and then use it in my big data, machine learning models to create insights and sell those or hundreds of millions of dollars to everyone from the IRS, the FBI and law enforcement in between and consumer buttons.
Matt Zahab
And that's what they're doing. They just don't ask us.
Oliver Gale
Same thing for Nansen Alpha, you know, which, by the way, I have a company that uses Nansen Alpha service, we think is great. We'd love to see exactly what wheels do. And all their portfolios are structured, constructed, and what they trade and when they make moves. That's fantastic. Great, we will use it. Why? Because we're operating in a free market. And that's where Alpha is, however, Wattpad there. Is there anything Yeah, so you see this beta disclosure, there's a whole subclass of actors that are using this, what you should do is you should enter a confidential PriFi relationship with some art in third, protect your data footprint and protect that Alpha. So you cannot really change the system by enforcing rules, you have to change the system by changing the way the game is played. And so going back to someone like Apple, Apple is the biggest marketer on a global basis for privacy and trust. Hey, you know, we've encrypted we've got related email servers, we have encrypted iCloud, so you can do in iCloud encrypted backups, iMessage, etc. Your data is safe with Apple, your data safe with Apple. It's a huge marketing campaign. So there's two reasons. One reason is there's real demand from users who are increasingly involved in a digital age, digital economies, digital lives for privacy 85% of web users wish that their Cookies weren't tracked. So there's that intrinsic demand. So you look like an ethical company. And I say, look, because actions can be different to what market you look like an ethical company when you advocate protecting people's privacy. But the other sides of the story, which I think is even more interesting is that Apple is destroying Facebook, and Google ad revenue.
Matt Zahab
Slowly but surely, one little knob at a time. It's crazy.
Oliver Gale
If both to survey Apple users. So Facebook struck, argue effectively, because Apple is saying, hey, trust us. But what they're also saying is enter confidential data relationship with us will protect you from the rest of the market. And so now it becomes a race between Apple and Facebook to who can be more trustworthy, who could offer better security and privacy. So all of a sudden, we're no longer talking about privacy. It's no longer about the all of the hostile the bad words, money laundering, and so on, so forth, that are associated with privacy. Now, it's about safety and security. Now, it's about ad revenue. Now, it's about confidentiality. So I think that momentum is only going to build over the next 5 to 10 years. And we're going to see that privacy is going to do what it does best, which is fall into the background, it's going to become embedded like security, and safety and trust, as opposed to privacy and anonymity and crane and so forth. And it's going to deliver on that. And we're going to see most Web3 companies and even protocols incorporate privacy services to meet the demand of users. And also, ethical businesses have now a market incentive to be secure and safe. And how's users information protected on their behalf? Because that is what will bring loyalty to your product. So yeah, Panther is sitting in the middle of that and we're just getting ready to launch away global protocol for anyone that wants to interact with DeFi privately.
Matt Zahab
Olii what a treat. You got to come on Man, you always bring the noise here. Let's talk about some non crypto stuff for a little bit and we can jump back into it if you're feeling like it. How's the rap game going? How's your reggae music? I know last time you came on, I was bumping your shit for a while. What's new? Any new tracks recently?
Oliver Gale
Yeah. Have I finished any tracks recently, I've got a dozen, maybe two dozen that I'd be working on for this album. I went out to LA and did some writing and recording with some great producers and writers brands. So there's going to be an album in 2023. Ready? You know, it's all about juggling priorities and juggling. Certainly music is it's my passion. It's my journal. It's self-expression is brand associated. And I really enjoy it. And I think that people will too, the proof will be in the pudding, they'll have to listen to it and decide how they feel. But you know, in my own sense of personal freedom, music is very important is something that I'll be doing more of and not less. As a matter of fact, this is my studio, the keyboards right there mic number one, mic number two, the monitors are right there. So I've got my setup to be able to work on today.
Matt Zahab
When you're what do you look for inspo? Like, do you are you? Are you something comes to mind write it on pen and paper or us something comes to mind put it in the Notes App on your iPhone. But like do for a long walk on the beach? I know you're in the Caribbean right now. Like what do you do to get new lyrics or beats or flows popped your mind? And how do you keep them there? What walking through your whole process? I'm so curious to understand this better.
Oliver Gale
Yeah, that's pretty cool question. So first of all, I use my voice recorder extensively. Anytime I'm writing a new song, I will put the voice recorder on. For the very first take the first time I'm listening to an instrumental or a beat, I will put the voice recorder on before I do anything. And then what I do is I just let whatever flows come through. So it's a freestyle. So I'll freestyle, a whole song versus chorus bridge. And then I may do that a couple of times I listened back to and then I will pick all the sections that I love. And I'll write those out, arrange it, and that forms the skeleton of the song. But sometimes, I listen to other music and I love the rhyme schemes. So write down key words to expand my vernacular.
Matt Zahab
Where do you write this? iPhone?
Oliver Gale
Yeah, iPhone Google Key. I write songs on the phone so that when I'm in the studio, if we need to record, I don't need to pull out a laptop, right? Yeah, it'd be I can write on the phone, hold it up record into the My song is done the records on all the cloud. So it's set, voice notes are there for reference. So that's like a very on the goal, because I've been moving and traveling for years now. So it's a very, like, I can do this in the elevator, I can do it wherever.
Matt Zahab
Right. That's convenient, efficient.
Oliver Gale
Yeah. Then I go to the studio. And that's where we actually lock into recording technique at a pushing it.
Matt Zahab
So cool.
Oliver Gale
All that piece is covered. The piece marketing and distribution is the business end of music, and I haven't had time to focus on other business ventures. So I've been building up the creative side of that, that pipeline called as supply and then I need to, at some point work on distribution and marketing. And that will come again, when I've fulfilled my obligations.
Matt Zahab
That's, so foreign to just a lot of, you know, investors and, and businessmen and women as a whole, like, being a musician on the side was actually produced some big tracks. It's just, like, you know, for me, I couldn't imagine like, my escape is, you know, a sports or golf or something, right? Where it's like, I'm not making stuff for other people when I'm out on the course I'm there to you know, have a blast with my mates and to get a little better internally right and achieve your goals to achieve my goals, but pumping out tracks on the side, it's just so foreign to me, man. And it just really interesting. Like, you know, that's it's not an easy skill set to have, I always think of like, the famous Drake line, what does he say? He's like, you know, musicians and athletes, they want to be them and, and they want to be us, you know what I mean? Like, it's always that sort of paradox between the ultra creative and the madness of sports or business. It's cool to think about it and yeah kudos for you doing it.
Oliver Gale
Thanks, man. I think all creativity comes from the same source. And if you can tap in to your creativity through some form of art or organic expression that helps you to be creative with business structures and as an architect or product visionary or product designer, or business architect or a business leader, so I feel that I have strengthened both my entrepreneurship and my art by fostering both sides.
Matt Zahab
Yeah, I agree that is. Olii what a treat man I know we're getting tight for time last question here hot take factory. I know you always got a couple give me a couple Olii hot takes to 2023 doesn't have to be crypto or privacy related, can be you know health, wealth, happiness finance, sport politics, geography, space, AI, you name it. Any Olii hot takes your cooking on the backburner man too many.
Oliver Gale
AI 2023. ChatGPT. GPT is nuts. There's just a series of them, we're going to start to see the beginning of a hockey stick for human innovation is where we've already been on it. But we're going to really start to see this manifest. I wouldn't be surprised if markets get overly enthusiastic about AI and in 2023, as one to recession. US/global recession. I think we're in one. And I'm hoping by the end of the year, I think we'll start to see the signals are there is the Feds, supply chains, energy constraints, where markets will start to turn around. And next year, VC investments will wake up there hasn't been a lot of investments in crypto so we'll see a resurgence of investments. We'll see some rail gaming companies come out and use Blockchain technology we'll see ReFi, DeFi utilizing complaints to link will be a big, emergent player in 2023. What else is happening next year all these dropping an album that will be fun.
Matt Zahab
Spotify the numero uno you heard it here first, and we're doing the live drop on the Cryptonews Pod as well. We'd love to see it.
Oliver Gale
That's enough for now. I think. You know, 2023 I'm about every year I set an intention in one word, because I feel like it's fun and I feel like it helps so 23, Michael Jordan's number, 23 is the year of winning.
Matt Zahab
Love that. That's a good man. Olli. Always a treat bro. Appreciate you proud of you and the team and looking forward to having you on for round three. Until then, can you please let our listeners know where they can find you and Panther online and on socials?
Oliver Gale
Yeah so Panther on pantherprotocol.io or panther.org will be direct there. And Twitter is @ZKPanther, on Telegram just look for Panther Protocol Official. You'll find the chat rod Discord as well through the website you can also link through everything for myself my socials are @OriginalOlii, and in by the end of this month, I'll have olivergale.org up as well so you can link to everything.
Matt Zahab
Olii, I appreciate you man. Always blast always dropping shit ton of knowledge. We'd love to see it. Really proud of you guys and looking forward to round three.
Oliver Gale
Thank you bro.
Matt Zahab
All the best. Folks what an episode was Oliver Gale founder and CEO of Panther Protocol. Him and the team are absolutely buzzing, big ups on the $30 million raise and the launch of Panther v0.5. a couple of weeks ago. Stay tuned for the roadmap to v1. What an epi. that be listeners love you guys appreciate you as always, if you'd like this one, please do subscribe. It would mean the world to us to the team love you and back to the listeners. You guys have got to keep on growing those bags and keep on saying healthy, wealthy and tapping. Bye for now. And we'll talk soon.
---