James & Anjali Young, Co-Founders of Collab.Land, on Token-Gated Communities | Ep. 181
Disclosure: Crypto is a high-risk asset class. This article is provided for informational purposes and does not constitute investment advice. By using this website, you agree to our terms and conditions. We may utilise affiliate links within our content, and receive commission.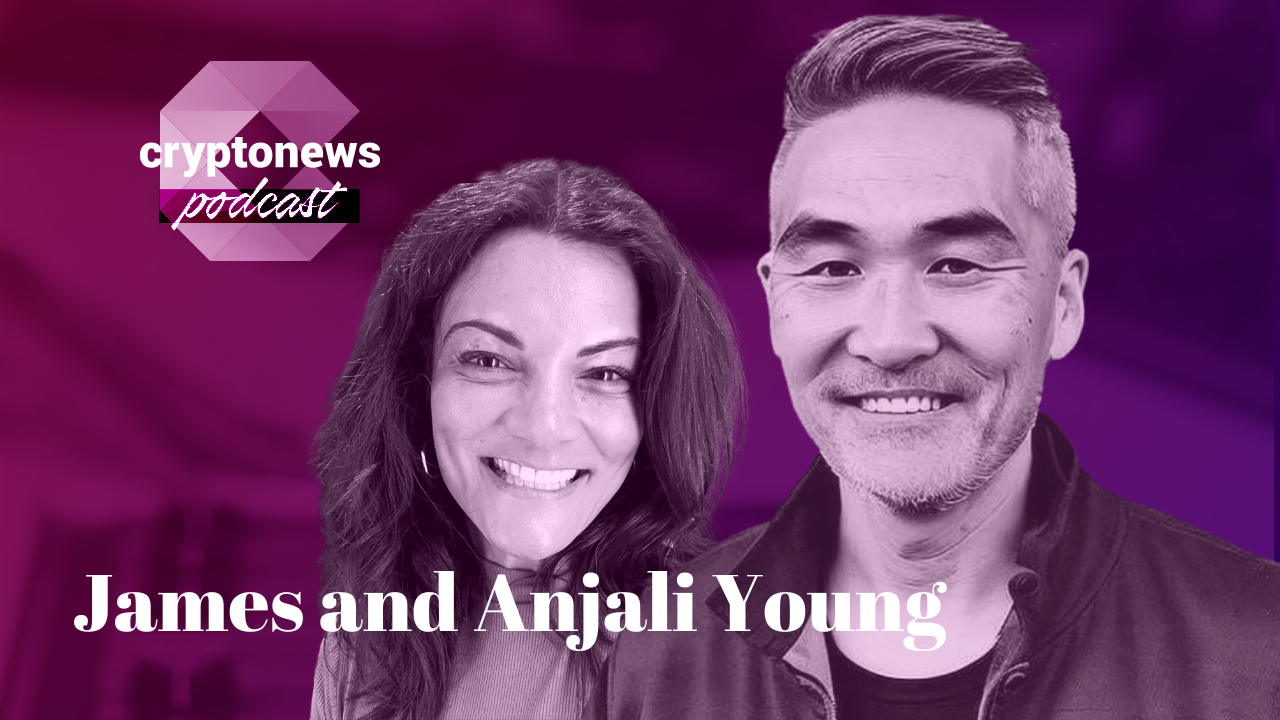 In an exclusive interview with cryptonews.com, James & Anjali Young, Co-Founders of Collab.Land, talk about building token-gated communities and how DAOs can use web3 tooling to form relationships.
About James and Anjali Young
James and Anjali Young are the Co-Founders of Collab.Land, a digital concierge for tokenized communities.

James, the CEO of Collab.Land, has founded and grown web-based companies since the early 2000s and was the first developer for Meta's (formerly Facebook) game Farmville, and worked in previous roles as a software and flash developer. An early member of the crypto community, James co-wrote a white paper on token-curated registries in 2017, was a co-creator of the Moloch DAO framework, and co-summoner of MetaCartel. James is proud to be involved in the evolution of the Internet by empowering individuals through digital ownership. In 2019, he co-founded Abridged, a parent company of Collab.Land, supporting collaborative economies with access to seamless blockchain UX.

Anjali, the CCO of Collab.Land has been participating in and leading online communities since 1993, as both a member and a moderator. She worked as a lawyer, an adjunct professor, and in the tech startup industry for 20 years. As Anjali's interest in crypto and passion for web2 inclusion grew, she looked to build an equitable system for all of humanity. In addition to her interest in web3 community collaboration, Anjali is an artist who has a passion for NFTs and creativity and is an advocate for all artists.
James & Anjali Young gave a wide-ranging exclusive interview which you can see below, and we are happy for you to use it for publication provided there is a credit to www.cryptonews.com.
Highlights Of The Interview
Stories from developing Farmville, the OG game on FaceBook
How NFT creators and DAO members can use web3 tooling to form relationships
The launch of Reddit's Digital Collectible Avatars
How to provide a safe space for token holders and the greater crypto community
Building token-gated communities


Full Transcript Of The Interview
Matt Zahab
Ladies and gentlemen welcome back to the Cryptonews Podcast. We're buzzing as always, and we are live with another dual-threat episode. It's been a hot minute since we've had two guests on the show. And today we have the co-founders of the NFT/Community Tool that we all love. And that is Collab.Land. We have James Young and Anjali Young, the co-founders, and CEO and CCO respectively, of Collab.Land, James and Anjali, welcome to the show.
Anjali Young
So great to be here. Thank you for having us excited.
James Young
Let's jump into it.
Matt Zahab
We're getting right in headfirst here, what a journey it's been for you guys, I remember my first-time using Collab.Land, I want to say it was June of last year back in the NFT Bull Market. And we were all just printing money and having an absolute blast. And it was a way for NFT communities to sort of gate themselves as a token gate mechanism on Discord where you could only get access to certain things and certain events and activities if you had that NFT and I was sort of tripping when I first used it because again, it's something new and here we are today. It is incredibly safe, incredibly valuable. And I speak on behalf of the NFT community that we are grateful for your guys creation. We frickin love the tool. So shout out kudos, we'd love to see it. But I want to start somewhere else. And this is very nostalgic. James, I'm gonna ask you this question. But in your bio, it said that you were the first developer for Farmville, the OG original gangster game of Facebook. I think I played that when I was 10 12 11 13 years old. My whole hockey team was playing it, kids in school were playing it, kids were like trading for real money in the school yard to get better stuff. It was absolute craziness, walk me through that Farmville journey. And did you ever think that it would become the behemoth that it was?
James Young
Yeah, thanks for that. Um, so when I was started at Zynga, we didn't even know that like back then we had to use Flash and the Flash Player, if you remember that, if that was going to be a platform that was going to actually be viable would are people are just going to do HTML games or Flash games. And I will tell you, because I was there. No one had any idea in terms of the response or the success or failure of Farmville at the very beginning. What was interesting and how Farmville ties to kind of my foray into crypto was that when we started Farmville, I advocated for Zynga to use AWS. And at that time, AWS Cloud Computing was brand new.
Matt Zahab
I didn't even know it was a thing back then.
James Young
Yeah. So my previous startup prior to going to Zynga, was acquired, because we were one of the first startups to use AWS. And I was like, we got to use it when I went to Zynga. Zynga as a corporation didn't have like cloud computing, or didn't understand how to like grapple with this kind of IT infrastructure that you don't control. But when I look back at Farmville, a lot of the success that we had at Farmville was due to the choice of infrastructure. And so not having to rack and stack your own computers changes the dynamic of financing, you can just light up computers instantly. So as the game was getting more popular, we were able to light up servers really quick while the competition couldn't. And so I was like, I'm never going to go back to a data center, or racking or stacking my own computers. Now, after Farmville, I heard about Ethereum as the world computer. And that's how I got into crypto because I was like, wait a second, there's even a better thing than AWS. And so when you think about it, in terms of smart contracts and programs, they are these little function or these little snippets, that you don't have to run a server, someone else is running the server for you. And so that is really how I my mindset from like Farmville had impacted me into crypto.
Matt Zahab
Crazy. So one of the biggest success sort of levers of Farmville was literally just using AWS and not having to rely on data centers.
James Young
So Hindsight is 2020. And I would say yes, I would say that the feature of Farmville early on because we launched the game in six weeks, that it wasn't that it was the best game ever when it first started. The main feature is that it never went down. And when you don't go down, you have the opportunity to iterate and to get better.
Matt Zahab
Interesting. It's crazy how popular that game was, like literally one of it was the game that got every, you know, person my age into Facebook-related games. It was crazy. It was bananas in the schoolyard. Like I said, people were literally trading like, you know, real money for Farmville stuff. It was there was an economy offline about it, too.
James Young
Yeah, there was a lot of great lessons to learn from that technology and the infrastructure actually makes a difference. And because of that, we were able to and the second lesson that I learned at Zynga was being able to iterate and quick and fast iterations, that's how you stay market relevant is that you don't like plan out nine months a year in advance what this game is going to be. And, you know, you build it upfront, and you take all that time, it's really just iterating with the market and looking at the data that you're getting back and seeing how you can change the game or tweak it. So it was this kind of quick, fast iteration that allowed us to kind of stay in what I call the Demand Loop here and make it and continue to make it relevant.
Matt Zahab
A six week launch is absolutely bananas. Anjali throwing over you here, give me the story behind Collab.Land, and how you guys really create this safe, inclusive, engaging space for online communities, brands, users and Web3?
Anjali Young
Yeah, great question. I mean, I love hearing him talk about Farmville, because really, it has influenced and impacted so much of how we move forward with Collab.Land as well, from a lot of different perspectives, but I'll answer your question first. So where did Collab.Land come from? Where did this idea of token gating at all come from, like attaching somebody's wallet to some sort of other type of identification? And why was that necessary? And what did we need it for? And how did it come about? So in spring of 2020, when the lockdown was happening, we had our own DAO called the Collab19 DAO, and that DAO was a grant giving DAO, which is people could put money into the DAO, and then people would apply for grants, and then the DAO would vote on who would be able to get these funds granted to them. So it was a question of a need that we had, which is like now we have all these people in this DAO how do we get these people talking together, and what could be a path for them to meet the other people that are in the DAO themselves. And James came up with this idea of having token gated access, based on verification of on chain assets. So it started on Telegram, and it was one channel, or one telegram group, which was, if you held membership in the club, Landau, then you had access into this telegram chat. And if you sold your asset, then you got removed out of the telegram chat. Now, a bridge, which is our company, along with our third co-founder Raymond Fang, our company is called a bridge and what we had our product at that time we started in 2018. But our product at the beginning of 2020 was no code tooling. So we'd come out of this place where we're like, we have this no code tooling, we really want to encourage developers to make DApps using our no code tooling. Well, what if we create this DApps Collab.Land using our own no code tooling, then people will see it and they'll say, oh, yeah, we can make our own DApps, too. So that was really the two prong which is one, solving our own problem getting people together into a chat and making sure that the people that are in the chat with us have skin in the game, are have the shared asset that we do, and making sure at all times those people we can trust that the people that are in that channel, have the same asset and have the so same a membership, but also making sure that we could show off this technology that we had, which was the no code tooling, which ultimately, as you can tell people were like, forget the no code tooling, we just want Collab.Land. So really, that's kind of where that first pivot happened, where we were trying to demonstrate like, look, you can do it too, developers come and make your own stuff. And it was like, oh, no, forget that. But this thing you've made with the tooling, Collab.Land, like, Oh, this is exciting. This, we need. Like, we solved that problem for ourselves. James came up with that solution for ourselves. But really, it was a problem that everyone had. And actually now when people ask, like, how did you come up with the idea, we say, like solve your own problem, like, what's your own friction point? What are you struggling with? If you're having that problem, it's probably likely that other people are having that problem, too. And who better to create that solution than you if you are so intimately involved with what that problem is? So that was Collab.Land started in spring of 2020. So now, it's been over two and a half years that we've been doing it. It started off with DAO at that point in spring 2020. There were just weren't that many people in DAOs. And so the people that were in our DAOs, the people that were kind of around DAOs the word spread pretty quickly about Collab.Land, like oh, this is a no brainer, let's use it because everyone was having that same friction without even knowing it right like not even understanding that this is something that we want, but not being able to put your finger on it. And I think that's where James really shines is that he's able to say like, this is the problem I want to solve. This is what I need to do, and how do I do it. So started off with DAOs, then it went to investment communities, social tokens, like Friends with Benefits way back then. And then NFT communities, and that's kind of where we are, and then gaming as well. You know, gaming communities use us as well. So we started on Discord. I'm sorry, we started on Telegram, and then we moved to Discord. And then in the coming weeks, we're going to be launching on Reddit.
Matt Zahab
Yes. And we will get into Reddit soon. But I want to talk about Discord and the growth of last year is that when things really hit sort of that hockey stick velocity, would it be summer and fall of 2021?
Anjali Young
For sure. I mean, we were at really, NFTs started using Collab.Land in this. I mean, really innovative people like the really big thinkers maybe found us and we're already looking around for different ways to use Collab.Land. A lot of big, like, for example, Bored Ape Yacht Club started using us in the spring, they were one of our very first NFT adopters. Shortly after that, I was like, wait a second, like NFT communities, this could be great for all of them, but they're not going to know who we are. And so I was DM-ing on Twitter from the Collab.Land Twitter account, I was DM-ing every single new project that came out. And I was like, Hey, do you want to try Collab.Land, you can get everybody that bought your NFTs into a Discord together? Do you want to do this. And so I was literally like just pounding the pavement trying to get every new community to use us. And after about four to six weeks, like everybody was already using us, I got to the point where I'm like, let me check first, because let me check their Discord first before I like hound them on Twitter and ask them to use Collab.Land. And at about four to six weeks, everybody already was. And so that was definitely an inflection point where it's like, I don't have to tell people about us. Like, they're, they already know what we are. This feels different.
Matt Zahab
That's the dream for everyone's product. Was there, I'm so curious to understand if there was a specific sort of tool or tactic or anything that you guys do use, perhaps referral program or anything that really gave you that crazy velocity. Because it really did at least on my radar, it came out of nowhere. When you know, one month I want to say it was June or July, it was like no one had Collab.Land. And no one very few people had Collab.Land. And then every single NFT community and I was a big general back then we all were but every single person had it.
James Young
It was, it's Anjali, she's the one actually, you know, I have to be honest here, because of my kind of background with DAOs, I was really thinking Collab.Land would be a DAO based tool. And it is, and we have a lot of features, we can get into it, that service DAO communities, that you can do things in Discord natively, and super excited to talk about that. But Anjali's the one that was like, wait a second, like there are this thing called NFTs and I think it's gonna pop off. And so we shouldn't like go down this rabbit hole of just DAOs we should actually look at NFTs.
Anjali Young
That was our first real challenge. Actually, that was the first time James and I like fundamentally were like, going in different directions, where he really strongly felt like we should be building up the DAO stack, providing more and more tools for DAO. And I said, No, we need to go broad here. Like we need to start incorporating more chains, we need to start supporting more wallets, we need to like embrace this NFT revolution that's happening here. Because like people, I saw people interested in crypto for the first time that never would be interested in crypto before. Really the goal for a bridge from the beginning has been like onboarding, to bring as many people into this space and to learn about the space as possible. And we've tried very many different angles to get people into this space. You know, we started off as a wallet with social recovery thinking we could do that. And then we moved to no code tooling to try to get the Devs to join us. We tried so many different ways. And now we were staring at this product that was NFT communities could use and NFTs to me were just like this bright shining light where we're getting all these people interested for the very first time that we're not native crypto people, but that were just as excited and for this whole new way, which was through art, and art and artists have a very, I have a very special love affair with art and artists and so for me it was just like, This is it. Let's do this, please let's do this. Let's not necessarily focus on the DAO stack right now. Let's see if we can do this. Let's try to hold this NFT community and see if we can support this because this is where we're gonna get more onboarding and that's always been the dream.
James Young
I think that instinct played out well. I have to thank Anjali for that..
Matt Zahab
I love that. James is gonna throw it back to you here. You have been big on token-granted communities for a hot minute, right? Token gating anything token gating community related is a huge topic, especially present day in crypto. A lot of people say that, you know, everyone's always throwing hot takes about what's the next catalyst for growth, blah, blah, blah. And this appears to be one of them time and time. Again. I guess, really just token-gated communities in particular, why are they so important for building out digital communities?
James Young
I think when you take a step back with crypto specifically, it to me, what fascinates me is the reduction of coordination costs. Right? So here, you can get an asset, join a community, and you're all of a sudden, bound together to share cause, to share purpose. There's like an ETHOs within a community. But you have the skin in the game. And I think it's pretty profound. I mean, I don't want to get too philosophical. But there are a few technologies that actually help with coordination reduction, right? Like, I often say, like the invention of time, no one owns a second or a minute or an hour, there is no master authority of time. But we all use it to coordinate. Right. And so I think in kind of a very high level, crypto does that for money. And so like, we can now be incentivized, and we can coordinate, because we have this shared asset. And I think that shared asset is super powerful, not on just an individual basis, but on a group coordination basis. And I think we're just scratching the surface. I think, you know, the other side of being in a token granted chat group is where the magic happens. And I think that we're just at the beginning of it, and being able to leverage the platforms that, you know, have spent millions, if not billions of dollars on UI UX, because that's one of the biggest hurdles with like, Web3 is like usability UI UX.
Matt Zahab
It's a nightmare feel. It's crazy.
James Young
And so we're like, wait, there's a cheat code here. And that's what Collab.Land represents, like, we want to be super practical. And we want to make sure that the technology, you know, we're trying to advocate for is useful right now. But also, there's this long-term vision philosophically of, like, what can this unlock, but we have to take it step by step together. So, I'm super bullish. And I think it is a what we call like a primitive, there's this meme that's out there for Eth that, you know, Eth is like Legos, money Legos, I think that there are these applications like Collab.Land, where they serve as community building blocks. And I think there are going to be a lot more of these that come out, it's going to be emergent. We don't know, like, when we started with Collab.Land, as Anjali was saying, trying to solve, solve our own problem. And we continue to do that. And so there's this really interesting dynamic now, as we move forward with this single primitive, what are the next things that we need to solve for, and it's this building in public or emergent design that we're excited about. And we can talk about where we're going with Collab.Land. But that's kind of the next phase. And this is where, and what we're thinking about in terms of vision for Collab.Land.
Anjali Young
Well, and you were telling me yesterday, even like people will self-organize, that is not something that is new to humanity, we're going to self-organize some way or another. And so being able to use this shared asset, this shared token, the shared skin in the game to organize, is compelling. And obviously, we've seen it's compelling and that now token gating is something that people expect from any kind of relationship with social crypto. So it's like, we see that like, it is a valuable way to self-organize.
Matt Zahab
Walk me through the Reddit partnership, because this was absolutely bananas. Reddit recently on boarded over two and a half million users to crypto with their digital collectible avatars, and you guys helped out in a massive way. I'd love to hear more about it.
Anjali Young
Well, we've been actually thinking about a Reddit integration for over a year and a half. Actually, it started at like the beginning of the summer of 2021. We're like, what are we going to do now? What are some other places where people are going to want to create token-granted access communities?
James Young
When I got into crypto, it was through like Reddit and Reddit forums. It wasn't through Discord.
Anjali Young
Or even Twitter at that point.
James Young
Or even Twitter, right and so kind of after Telegram we were thinking, okay, what is the next platform that we want to get on? And you know, from my gaming experience, I just have a relationship with people at Discord from previous companies that I've worked at. And so we decided to go with Discord. So I talked to Jason Citron CEO Discord and, you know, said, Hey, I had this crazy idea we're popping off on Telegram thinking about going to this other platform Discord, and he's like, yeah, let's do it, how can I help. So that kind of gave me the confidence to get onto Discord. And it was so easy, like the Discord API is just from a technical perspective, so easy to integrate. Kudos to Discord. So that's kind of how we decided to get onto Discord. But we've been thinking about as I was saying, Reddit for a long time.
Anjali Young
I mean, Reddit, like James said, it was the first place where he started interacting with other crypto enthusiasts, crypto developers. And so he's an he's a layer two developer as well prior to Collab.Land. So we've been thinking about Reddit for a really long time and been working on it. However, like you said, with the growth of Collab.Land, which really I mean, is still growing like you would think in the middle of a bear market, it would be we'd have a little bit of time to like, kind of say, Okay, let's see, what are the next steps here, and which we have, but Reddit, it kind of took a bit of a backseat, that Reddit integration. So it's like, it's been on our mind. It's been kind of on the books for a while. But it was very exciting to now is kind of the time where we're like, oh, this is the good time to be releasing Reddit, because now with Reddit integration of the NFTs that they have the app, what they're calling the avatars. And then also they have community points that are with Arbitrum Nova, which we just integrated with Arbitrum one for you know, we've been with them for months, but we just integrate it Arbitrum Nova. So now there's real use for Collab.Land on Reddit, where they have their native avatars, and now they have these ERC20 tokens called Community Points. And so it's like, this is as good a time as ever to now bring Collab.Land to Reddit. And the way we imagine that happening is native Reddit communities may decide that they want to have a special Subreddit, that's a token granted access Subreddit for maybe certain part of the group. And then also communities that are on Telegram and on Discord, we already imagine it kind of like a spoke situation where it's like, there's a hub, where maybe Discord or Telegram is your town square, where that's where you meet for maybe your townhall meetings, or when there's important voting that needs to be discussed. Maybe you do it in this town hall hub. But there's going to be spokes because the communities are growing so wide and varied, that they're going to want to be on the platforms that they're most comfortable. And so maybe if you Matt are like, Oh, good, I'm gonna do a Subreddit for whichever community, you mentioned Cool Cats, like now I want to do a Cool Cats community on and do it as a Subreddit, you'll be able to do that. So now any of the chains that we already support 20+ chains, 25 I think wallets. Anything that is capable of creating on Telegram or Discord can also be created on Reddit as well. So I imagine it happening in two directions, which is one natively we're going to do to Reddit what happened to Discord, which is making it hospitable to Web3 communities. And then secondly, giving our current communities another option of a place to meet because that's really the goal for onboarding, which is like you don't want people who are can't do Reddit or can't do Telegram or choose not to, for whatever reason, they will know Reddit, and they may be more likely to interact with that community on Reddit because they're familiar with it.
James Young
And I think Reddit's done a great job when it comes to how they rolled this out. So instead of having all the Reddit users learn a bunch of new terminology, they actually went out of their way to make it familiar to users. So it's like, I think that is what we're going to be seeing and what we need to in the kind of Web3 crypto community in order to embrace mass adoption, gas, wallet, these terms are kind of foreign and can be intimidating, not your keys, not your coins, like these things, you know, are high level abstract concepts that if you're trying and you're interested in crypto could be intimidating. And so with Reddit, they, I think we're pretty seamless and kudos to them in terms of like taking their avatar system and not even calling it an NFT. I've seen like screenshots where people are like Yeah, I bought this for like 20 bucks. And then they're like, wait, and now it's a different value. You're like, wait, what? And so it allows users to kind of, like, dip their toes in something that's super familiar, but then like, learn and evolve at their own pace, I think we need that kind of empathy.
Anjali Young
And it kind of brings me back to Farmville, really, that I mentioned to earlier, which is like, the Farmville was built on top of Facebook, you're taking a place where people are, where people are comfortable, where they are, friends are shaped. You're building, Farmville on top of that. And so from the beginning, James is like distribution is the problem. Like if in Zynga solves for that by building games on top of Farmville. So it's like, on Facebook. So like, why would we then build our own chat platform? Because really, what do we want to do? We want to do the fun stuff that's exciting for us, which is like activating crypto communities. We don't want to build the chat platform. So why not build on top of where people already are? And so that was kind of a lesson I think, from Farmville as well. If we didn't have that, why would we be here?
James Young
It's a combination of just prior experiences, and kind of understanding kind of where we are in the market. I mean, we're old enough to have seen and been there pre-internet. Right? So we've seen this kind of cycle a couple of times now, with different platforms that like were the top and no longer exists now you know, and things ebb and flow. So it's just taking those learnings and tried to make it more easy to obtain for the mass because, like, that's what we really want is mass adoption.
Anjali Young
That's right. And that's been the goal. And I know, Matt, you said at the beginning of the show, like you were born in 1995. And James and I moved in together in 1995. That gives you an idea like we met before the internet, like before, Match.Com before any kind of dating app. So it's like for us we've really been able to have the privilege and the joy of seeing what the evolution of digital communities has been. And I think that's also helped a lot.
James Young
I'm so glad that like I'm old enough where I was not on social media as a teen. Like, I dodged that bullet. Anyway,
Matt Zahab
No, it's speaking to that. It's crazy seeing like the, you know, eight nine year olds who are fully addicted to TikTok. None of them use Facebook, but legit have Instagram accounts TikTok like It's bananas. Nothing that amuses me dearly is when I'm at the grocery store shopping or in a mall, wherever. And I see a mom or a dad pushing their, you know, little two-year old who has an iPad in front of her or him and it's just like, well, you know, I was my brother and I were terrorizing you know, grocery store aisles and throwing soup cans at each other and poking bananas around like, you know, having fun, not on an iPad watching Paw Patrol or something like that. Crazy how time changed.
James Young
You know, real quick. Our daughter when she was like five years old, we had just moved and we had a flat screen TV on the floor. And she was like, trying to touch it. Trying to get over, you thought it was like a huge iPad. Like, it's just like kind of second nature now.
Anjali Young
It's true. But I was thinking about grocery stores. Yeah, I knew every single sugary cereal and begged my mom to buy it. So you can imagine for the mom, it's like getting it out in 30 minutes versus like, wrangling your kids and like having to say no to everything. And I mean.
James Young
Yeah, it's a trade off. Right.
Anjali Young
It's a trade off.
Matt Zahab
I don't know if this is a hot take. But I've the few kids I've met in the last couple years under the age of I want to say like 12. These kids are so smart. It is insane. And the one thing that I'd say they don't have that perhaps we did and when I say we I mean anyone who didn't grow up with crazy immersive technologies, the people skills, I feel like we had to be a lot more qualitative, whereas these kids now they're so smart, and they have access to any bit of information they want. It's at the tip of their fingers. And they're just it's crazy. It's scary, to be honest, and we'll never know where it takes us. But that's a story for another day.
Anjali Young
We won't know.
James Young
Just wait until crypto and AI merge. That's like another kind of inflection point, another podcast altogether.
Matt Zahab
Hold up. We'll get to that in one sec. But first we gotta give a shout out to our show. That's PrimeXBT you guys know I love PrimeXBT been using for a hot minute, as they offer a robust trading system for both beginners and professional traders, doesn't matter if you're a rookie or a vet. You can easily design and customize your layouts and widgets to best fit your trading style. The promo code is CRYPTONEWS50. They blessed us with a huge promo code CRYPTONEWS50 to receive 50% of your deposit credited to your trading account. And now back to the show with Anjali and James. James I'm gonna throw right back over to you. You can't throw a hot take out like that and not be put on the hotspot, what's your what's your hot take on crypto and AI? What's gonna happen? What's gonna form over the next couple of years?
James Young
Yeah, so I mean, like, right now I'm, you know, you have DALL-E GPT-3 Stable Diffusion. I think that in general, a lot of like the math heads that are into AI are kind of there's a convergence there, at least in my opinion with crypto and cryptography. And I think what we're going to be seeing, I could be wrong is this next generation of users coming and onboarding into crypto, and they will be able to use things like multi-party computation in crypto, which means that they will be able to have a noncustodial wallet where they don't have to necessarily manage the private keys for directly. And once you start down that road of user adoption, what you will have at scale is the ability to be able to have data on-chain and off-chain. And I think with the emergence of pattern recognition, a lot of what they call these training models in AI will then be grafted and applied to your on-chain data. And if you and this is why it's important. And this is part of research that we're doing Collab.Land is selective disclosure of your off-chain data. So we believe in decentralized IDs and verifiable credentials, so that you own your own data. And once you do that, and you can selectively disclose that you will have these training models that will take your behavior, whether it's on Telegram, Discord, Reddit or other platforms, merge that with your on-chain data, to be able to give you useful information, who you should connect with, who is there that is similar to you on-scale. Because like when we were growing up, and Anjali and I were talking about this, like it is a trade-off, like growing up without the internet, we were bounded by geography. We're not bounded by geography now, right online, but there's certain set of trade-offs when it comes to identification and who you are, because you don't know who that other person on the other side of the light chat is, right? You could watch this show called The Circle. It's all about cat fishing, you know if you're real or not, but you apply AI or a machine learning model, you know, or algorithm to models of what you do. And you know what your events are like, and if you own that data, I think like, there are huge opportunities there for connecting to people, you know, throughout the whole world, but flipside, you have to be super careful, because with any emerging technology, there's an opportunity to weaponize it, right. So it's like, okay, well, there's this Utopia, and then there's Black Mirror, right? How do you straddle the line in between the two? And how do you poison?
Anjali Young
That's a conversation we have a lot like, whenever we're talking, the conversations that we have is, okay, how can this be misused? What would be a situation where this wouldn't end up how we think it's gonna end up? And I think social media, we're learning from social media, right? Like Hindsight is 2020, like Jim says, and so it's like, we've seen what can happen, because when Facebook first started or Twitter for starters, I mean, like, they weren't thinking they're going to be able to sway elections. Like that wasn't the or that misinformation would become the most interesting and promoted activity, like, you just don't know what's going to happen. And so it's like, when we are thinking of our equations of how this technology is going to be used in the future, and our part in it is okay, how can it be misused, that just is part of the conversation.
Matt Zahab
It's true, it's got to be friend of mine there. Let's go back and let's buzz a little bit more on Token-Gated Communities. Again, such a trendy topic, if someone who didn't really have Web3 experience wanted to come in and wanted to build a Token-Gated Community. And you know, I'm not gonna say their junior level. But again, they're just they're not too switched on in regards to launching a token, having a piece of software like Collab.Land, starting a community via Discord, Reddit or Telegram. What would the workflow look like? How would you onboard them? How quickly could you get them up and running? Walk me through what that conversation sounds like?
Anjali Young
Yeah. So initially, no one should get into it without participating in a current community. So that is always my advice and brands or projects come to us and say, what do we do? Where do we start? I say join a community right now. You know, the some of the perks of the bear market is that things are pretty affordable. And so you don't just have to join one community, you can join 10 communities or 20 communities for what you would have cost to join one community just a year ago or a year and a half ago, right. And so you want to join a community and you want to see what works, what doesn't work. I mean, every community has different needs. And so you can't just do a one size fits all you want to join different types of communities, you want to see the parts that you want to take from it and not take from it. I mean, one of the biggest pieces of advice that is a red flag to me when I joined a community, and I'm like, wait a second, this isn't going to work is there's no public channel. So people think that when they have token-granted access, token-granted Subreddit or token-granted Discord server or Telegram chat, that it should be all token-granted. And there should be no public facing part of it in General Chat, but you have to have a General Chat, because when people are joining, and James will give you the numbers, I mean, the amount of people that are in these communities that are still waiting to dive in waiting, they're just collecting information, they're just trying to learn about it. They don't have a token yet, they haven't bought the NFT yet. And so it's like you need a place to activate them to engage them. And so you want the people you want to have a place for your token holders. But you also want to have a General Chat area where you can have everyone come in and ask questions, and you can be able to explain a little bit about what your project is. So that's number I mean, that's my number one. And number two advice. Number one, join a community here and I'll join a community already a popular one, anything that interests you, and see the way they're working it. And two is have a General Chat. Of course, the MOD team and the Admin team. There are plenty of projects right now in crypto, where you can go to them and they provide that WGMI is one of them, where you can go and say Oh, I have a project I want to start a project I'd like some crypto native MODs, because even though your project may not be filled with crypto native people, the project I mean, the questions are going to start coming up. And so you're gonna want MODs and you're gonna want Admins that are going to be able to respond to the new people that are coming in. Also, for security sake, you're going to want to hire crypto MODs and crypto Admins that understand security understand that they shouldn't be sharing screen with somebody, that they shouldn't be clicking on all kinds of different websites, when they're a MOD, they should have 2 FA on their Discord like so there's some basic fundamentals that you'd want to or fundamentals that you'd want to have before you start any kind of project like this. So I would say I guess that's three bits of advice. Join communities now see what you like, see what works. Two was have a general channel, and three is because I'm thinking of other ones as I'm saying all this, I'm like, what about this and this and this, but I won't keep going. Um, but yeah, that's my first three, three bits of advice.
Matt Zahab
And for the medium to the distribution center. Do you guys recommend, what's your recommendation in sort of put you on the spot, but if you were to choose between sort of Telegram, Discord, or Reddit, I guess you didn't throw slack in there, right? But like those four, which ones would you recommend?
Anjali Young
It really depends on who it is that it you have to have an idea of who the participants of your community are going to be. Because really, it's not about what's better. It's really going to be about what is going to serve your audience. So like Telegram is perfect for a lot of people. But like what we discovered when we started on Telegram is people wanted more layers of sophistication. So the all the channels within Discord and the different roles were necessary for some communities.
James Young
It's really funny because at the beginning, people are like, wait, there's a Telegram chat with like, 1000 people, this is chaos. It's like chats are flying. I can't handle this. And they're like, you need to be on like Discord or something. We get on the Discord. And they're like, wait, these are too many channels. I just want one place to go to. So like we have people going from Telegram to Discord. And then going back.
Anjali Young
That's why I say meet them meet your group where it is. And maybe Matt, the community that this person wants to start. They want to have Subreddit, they want to have a Discord and they want to have a Telegram like it doesn't have to be one home. Like I don't imagine a future where a community is just going to have one home. I imagine it as having lots of different places where different work streams are happening, where different interest groups are happening for the same group. Like you mentioned Cool Cats, like maybe the movie buffs want to be in their own Telegram chat, but you still want to make sure that it's a Cool Cat collector. But that's just for the movie buffs in Cool Cats, for example. So I can't imagine there's going to be just one place.
James Young
I think that wherever there's API to a platform Collab.Land will be there. Right? So as Anjali were saying Telegram, Discord, Reddit, but how about GitHub if you want to get work and check work in or how about, you know, Twitch if you want to be able to broadcast something out there, right? So, you know, we want to make sure that we're thoughtful. And we're very platform-specific in terms of the features that we address so this is why we want to take our time to get onto different platforms. But if there's a platform with an API, Collab.Land will be there, eventually.
Anjali Young
Because it's about giving user or giving members of communities what they want. It's not about forcing them to change their behavior to fit the community itself. It's just we're too big for that now, all of us. And by that, I mean, crypto communities are too big for that. I don't think we can be harnessed into just one platform anymore.
Matt Zahab
I love that. Couple more fun questions here. And I'm gonna ask a personal question for you guys. And I'm sure you get this often. How have you guys done so well, mixing business and pleasure? Now being together, and building an incredible organization is not easy. I'm sure everyone would tell you to not do what you did. And I'm sure we are going to have hundreds of listeners who would absolutely love the advice that you are about to give so thrown the ball over to your court. What advice would you give? What sort of lessons did you learn along the way?
James Young
Oh, boy. You know, it's something that we're learning continually to, like, manage and balance. And I think that like philosophically, I guess it's just trying to maintain that balance. You know, we have kids as well. And like, its different, managing family, when the kids are toddlers, pre-teens to now when they're teens as well so it's always constant adaptation. And I don't know how we do it. We just, we're just doing our best. Like, I guess the advice is, just do your best. I don't know.
Anjali Young
I think it's easier that, you know, like I said, when we, when I started working and doing this with James was when Collab.Land was starting because a bridge, there really wasn't much room for me with a bridge. It was very much like DEV tooling, and no-code tooling for DEV, it was all focused toward DEVs. And so it wasn't until Collab.Land that I was like, Oh, this is interesting. And he's like, Oh, do you want to do this with me now, because like, you're the online community person, this is turning into an online community business, like, can you help with this, and I was like, oh, and at that time I was homeschooling my kids, like, definitely focused on caring for them. And both of them were like, uh, you can go now. They were just becoming teenagers. And they're like, we're good mom, like, you can go do that thing with dad now. And we'll just, we're fine, we can manage, I homeschool them to until high school. So they're just like, Yeah, we're good. We're in high school now, let us have our own independent time so I felt better about that. I don't know if we could have done this at any other times. Like I said, our children are teenagers, now they feed themselves, they go and get their own bike fixed. Like all the stuff that you have to do with children at a when they're younger, which I was so lucky to be a part of, that it makes me emotional that time is over. But, you know, I was blessed with having that time with them. And so now being able to, like, do this with James is really hard, of course. But it's also really fun. Because like I said, we've been together 27 years, and like, we've never worked together. And so having this new relationship as co-workers, as having this baby, now, Collab.Land or a bridge, like now doing with that, like, it's a whole new experience for us. And I feel like, I get to see a new side of him. And we, our relationship has new dimension to it. Because like we were, of course, lovers and parents and, you know, obsessed with each other, I mean, I can say for myself, but now it's like, oh, we're co-workers now and we're running a business together now. And we're dealing with challenges, crazy challenges that we thought we had challenges before. You know, like, just in our own personal lives, right. And so it's like, we thought we had challenges, raising children challenges. We had taken on a lot of challenges, like, in our life, we've never shied away from challenges, but this is like a whole other type of challenge.
Matt Zahab
And new monster.
Anjali Young
Yeah, it's a lot of fun.
James Young
Yeah, it's great. The highs are really high and the lows are really low. I like the way I say it is that we're living on like full contrast. It's just like full mode. All the time.
Matt Zahab
Seats turned up.
James Young
Yeah, totally.
Anjali Young
And that's what he says to me. And that's absolutely the truth. It's absolutely that opportunity to just feel this whole new type of feeling together. And I do think there's a lot to be said for having a life you know, like, you know, most people are like, Oh, I'm so sad. I'm older, being older sucks all that but for us, it's like we have a whole half a lifetime of perspective that we bring to this industry. Like James turned 50 this year, you know, I'll be 49 in March, and it's like, this isn't everything. This isn't everything. This is a big and we're excited and oh my god, I tell people, I get high on influence, because I'm like, can I affect people's behavior? Like, can I try to help in some small way affect people's behavior? Like, that's such a thrill. But it's not everything, our health, our children, our marriage, you know, above all, like, those are our families, like, those are the most important things in life. And I think that gives a lot of perspective to this as well.
James Young
Yeah, I've kind of come to the and this is just recent, just like what is success. And I think success is like having the right balance. But things change all the time so you're always recalibrating, and you're always rebalancing so everyone's version or definition of success is different and so it's just balancing those things in your life and it's just trying to maintain that kind of balance there. So I guess that's where we're trying to strive for, but it's not always there. Sometimes it is, and it's great. But then it's can be fleeting, and you're like, Okay, great. Now there's a new challenge.
Matt Zahab
You guys are doing a darn good job. Look, we're getting a little tight for time. I want one more hot take each and then we will do the outro. But one each, Anjali you start. Doesn't have to be doesn't have to be crypto, or anything food, politics, sports, you name it, let it fly. What do you got?
Anjali Young
Oh, no, I will say this is that, you know, they say that, like community matters. And everyone will say community matters. Oh, but now it's like, just become a buzzword. Oh, whatever. What's community anyway, it's become completely diluted. But I will tell you in the middle of this bear market, this crypto winter, we have more people joining Collab.Land communities than ever before. And what that says to me is that in times where there's challenges from the outside world, and there's all these other market factors going on, people are still going to claim to be together. And that is maybe not a hot take but it is what we do as humans, we look for connection. And so communities may sound like a buzzword, but it's not, it's who we are. And I think what it's what part of what makes crypto so special, especially this bull market around, and what we've been able to what's come out of it, which is more and more people coming together, learning from each other innovating together, like James said, collaborating together, coordinating together. Like that's just, it's not just a buzzword. It's the real deal. And I think projects that come into crypto, brands that come into crypto, traditional companies that come into crypto, they should think about that and put community at the forefront because it's not just a buzzword. It's real. And I can tell you from our data, it's real.
Matt Zahab
Love it. James, what do you got for me.
James Young
I would say kind of one of my kind of strategies, it's not a hot take. But hopefully this will be useful for other people is that like, the bear market is really when you want to pay attention to who else is here. Because there are going to be cycles, right. Like dope, there'll be another bull market, and so when the bull market comes around the next time, it's going to be super noisy. So this is the time to write down the names to be able to see who's in the room, right, because those are the people that you want to associate in the next bull run, the next cycle. And so that's kind of like be diligent, look around, see who's here because the bear market is a great filter for those that are in it for the right reasons.
Matt Zahab
Well said love that, guys really appreciate it. This has been a truly a treat, really fun episode, and I'm sure listeners will love this. Before we let you go can you please let our listeners know where they can find each of you and Collab.Land, online and on socials.
Anjali Young
Amazing. Yeah, um, I'm Anjali Young. You can find me on Twitter. My Twitter handle is @damaderoca. It's D A M A D E R O C A. It means lady from Boulder even though I live in Denver now. You can find Collab.Land, at Collab.Land. That's the URL and our Twitter handle is @collab_land_. Yeah, that's @damaderoca and @collab_land_.
James Young
Yeah. and on Twitter. I'm just @JamesYoung, all one word,
Matt Zahab
You snipe the handle.
James Young
So my previous startup before Zynga was competing with a company called Audius. And Audius became Twitter. And so I'm like user 1000 on Twitter. I was like, what is this thing because they had pivoted from like, this is before like, podcasts were a thing. They're doing audio annotations. I was doing video annotations a whole another lifetime ago. And so like when they pivoted Twitter, I was like, what is this, so I signed up, and yeah, like James was available, but I was like, Yeah, I don't want to be like that, James. So I was like, I'll just do my full name.
Matt Zahab
That's like a six figure handle right now. Probably.
James Young
Yeah. Who had known right.
Matt Zahab
Yeah, love it guys, thank you so much, what an episode. Really appreciate it. Really proud of you guys keep on moving and grooving and excited to have you on for round two in the future.
James Young
Awesome. Thank you Matt. Really appreciate the time so much. Great.
Anjali Young
So much fun!
Matt Zahab
Thanks guys. Folks what an episode with Anjali and James Young from Collab.Land, they absolutely blew up in a short period of time and have created a tool that we all love and continue to use today. If you enjoyed this episode, please do subscribe it would mean the world to my team and I speak in the team love you guys and to all the listeners love you all you are the GOAT, keep on growing those bags and keep on staying healthy, wealthy and happy bye for now. We'll talk soon
---