How to Play Axie Infinity: A Beginner's Guide for P2E Gamers
Disclosure: Crypto is a high-risk asset class. This article is provided for informational purposes and does not constitute investment advice. By using this website, you agree to our terms and conditions. We may utilise affiliate links within our content, and receive commission.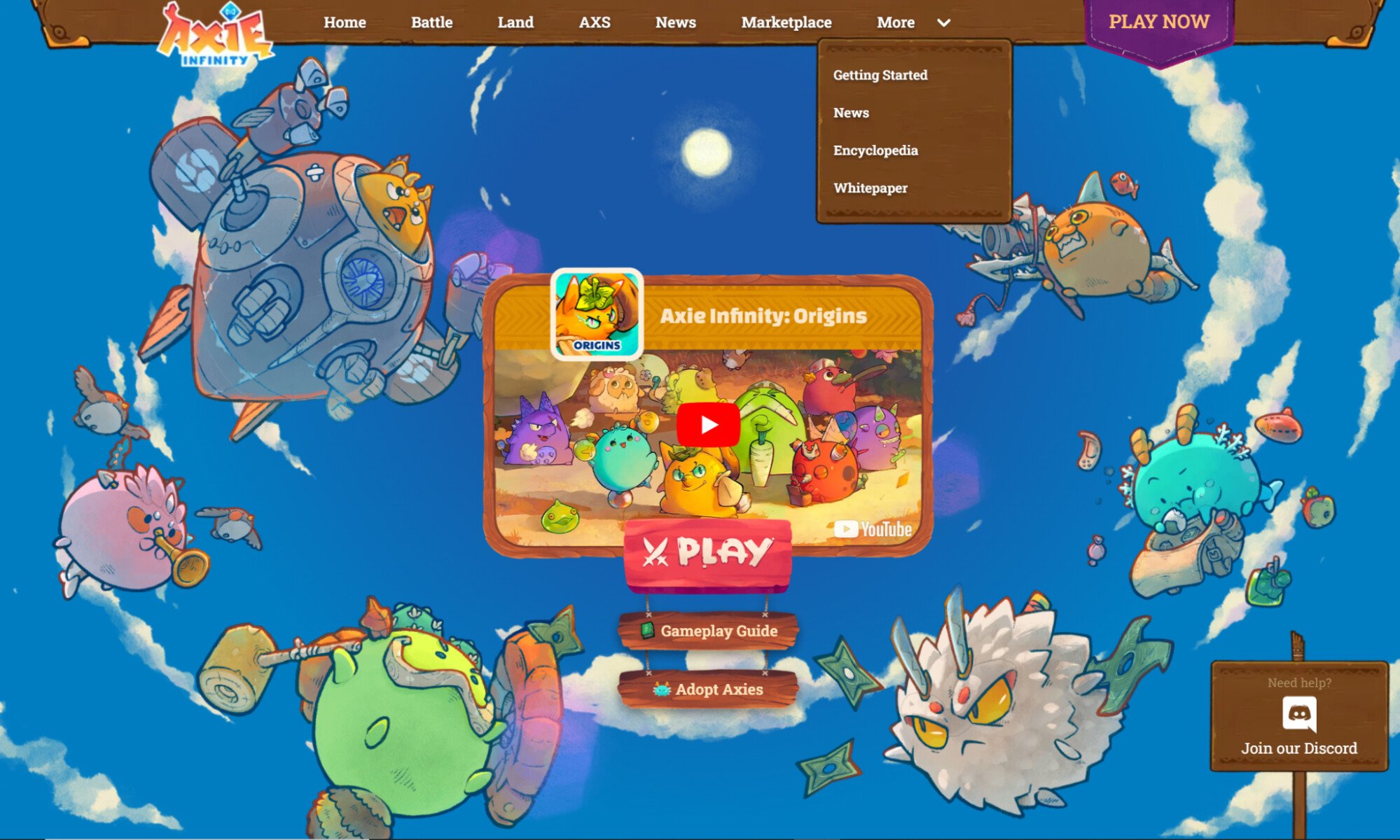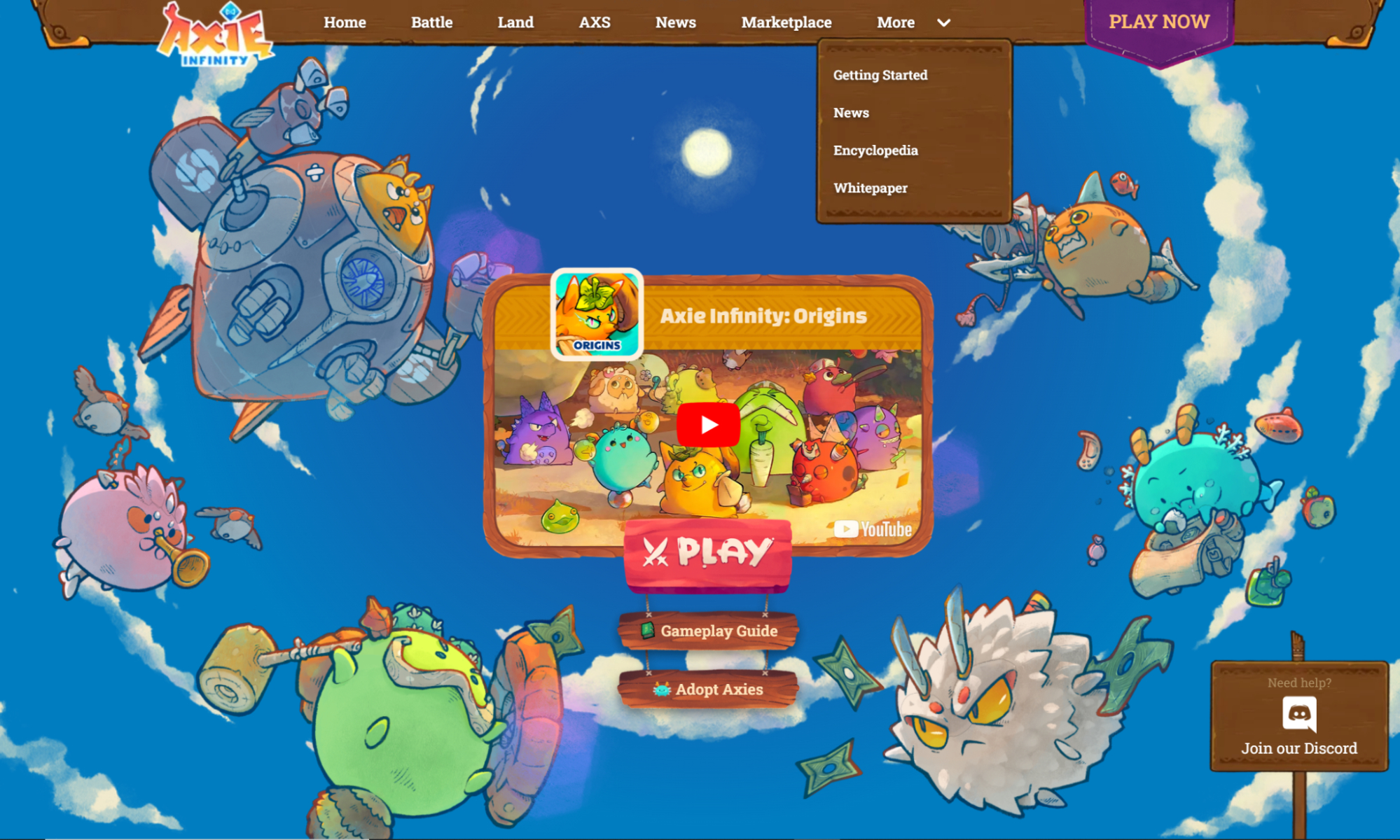 Axie Infinity is arguably one of the most famous blockchain-based NFT games available today. But Axie Infinity is also more than just a game, as gamers have been able to earn an income by playing the game.
In this beginner's guide to Axie, we will answer what Axie Infinity is, how to play Axie Infinity, what Axies are, and how you can potentially make some money playing the game.
What Is Axie Infinity?
Axie Infinity is a P2E, NFT-powered game built on the Ethereum blockchain by Sky Mavis. Sky Mavis is a blockchain development company focusing on creating games that shift the ownership of in-game ecosystems from companies to gamers.
As a Pokemon-inspired online game, Axie Infinity allows players to collect Axies, virtual creatures represented as non-fungible tokens.
Axie Infinity was launched in March 2018 after Sky Mavis raised capital from noteworthy investors such as Blocktower Capital, Libertus, and Marck Cuban. Axie Infinity resembles the Pokemon games. However, unlike Pokemon games, the Axie Infinity game involves NFTs. The incorporation of NFTs in the game gives gamers full ownership of their Axies and allows them to monetize the characters.
To play the game, gamers have two options – borrow three Axies or purchase them from the in-house marketplace.
Opting to purchase an Axie would mean buying an Axie that another player has bred. This brings out the monetizing aspect of the Axie Infinity game. Axie Infinity is arguably one of the most popular blockchain games in the market today. The game's popularity saw it raise $7.5 million in its Series A funding round, later followed by a $150 million Series B raise. Axie Infinity also has some significant partnerships with companies like Samsung and UBISOFT.
Let's now take a closer look at Axie Infinity's Axies.
What is an Axie?
An Axie is the main character in the Axie Infinity game. Axies are represented in the form of NFTs and have unique traits and capabilities, which we will discuss below. Players can buy Axies in the in-game marketplace and breed/grow them. Additionally, players can also sell their Axies. The price of an Axie is mainly dependent on its rarity.
Each Axie features a unique set of stats that can be categorized into four base statistics.
Health (HP) represents the life energy cycle of each Axie. It's your Axie's health that will enable it to withstand any damage from your competitors. The more HP your Axie has, the longer it can last during combat.
Morale – your Axie's morale helps it to increase the damage it can cause to your competitor's defense power during gameplay. It also helps to extend life after the Health (HP) of your Axie is exhausted.
Skill – this stat helps boost the bonus damage that an Axie can cause.
Speed – Axies with more speed take the first turn in any game until they are defeated. If, however, all your Axies have the same speed point, Health, Skill point, Morale point, and ID will determine the turn orders.
9 Different Classes of Axies
Besides the stats, Axies also have different characteristics. One such characteristic of each Axie is the base class. The base class is a set of weakness detail and stat points for each Axie, making it necessary to choose your Axies well before starting a game.
Below are nine different Axie classes that you can choose from.
Plant – this class of Axie is known to have high HP stats and the capacity to absorb significant amounts of damage. In addition, they have auxiliary defense points and can obtain energy by themselves. On the downside, they have low-speed points and damage in comparison to other Axie classes.
Reptile – Axies in this class have high HP, second to Plants, and have more attacking damage. They can also return damage from competitors. However, they have low-speed and low damage.
Dusk – Dusk Axies have the highest speed point. It has more life points and attacking damage stats which are well-balanced, thus making them excellent for long fights as it can endure more attacks. The downside, however, is that they are pricey, given their traits.
Beast – an Axie in this class has double the critical strike chance compared to other Axies' in other classes, which helps to boost its potential. It, however, has a low health stat and requires additional combo cards to prolong its critical strikes.
Bug – Bug Axies have turn-confusing abilities. This means they can quickly and frequently reach their Last Stand. Even so, their HP, attack damage, and speed point are below average.
Mech – this class of Axie has high-speed and destructive attacking power that gets doubled by combo damage. Nonetheless, it has a low morale stat making it challenging to achieve Last Stand.
Aquatic – features awesome life points, and its damage is above average. Like Mech, it has a low morale point which means its probability of striking a critical strike and obtaining Last Stand is very low.
Bird – a Bird Axie, compared to other classes, can achieve the highest speed plus the most assault damage. It, however, has limited health points and low defense power.
Dawn – Dawn Axies are known to cause substantial harm, especially when a combo attack is used. Still, they have low-speed power.
Breeding Axies
A key feature in the Axie Infinity ecosystem is breeding. Breeding allows gamers to get new offspring with the characteristics they want, such as classes. For you to breed an Axie, you will need two Axies to hatch an egg, then wait for five days for the new Axie to be born.
Breeding a new Axie will cost you both AXS and SLP tokens. The amount, however, is dependent on the breeding events that an Axie has.
To breed an Axie:
Go to your 'Inventory' and choose the first Axie that you want to breed and select 'Breed.'
Proceed to choose another Axie you want to breed with and click on 'Let's Breed'.
Await a confirmed transaction notification, then click 'Confirm' to go to the next step.
Once breeding is completed, an Axie egg will be received in your 'Inventory'.
It will take five days for the new Axie to be born. Once born, click on 'Morph to Adult'.
And that's it, you now have your new Axie.
Axie Infinity's Tokens
Axie Infinity players utilize two coins in the game's ecosystem – Axie Infinity Shard (AXS) and Small Love Potion (SLP).
The SLP token is used to reward players who win every battle, while the AXS token is used to reward the best players from all of Axie Infinity's 19 seasons. The AXS tokens have a limited supply, and their demand is driven by their utility within the Axie Infinity ecosystem. On the other hand, SLP tokens have an unlimited supply. However, gamers are still able to swap their SLP tokens for AXS.
Now that we know all about Axies, how to breed them, and how the economy works, let's take a look at how you can start playing Axie Infinity below.
How to Play Axie Infinity
If you've been wondering how to play Axie Infinity, don't worry, we've got you covered. But, before we can look at how to start Axie Infinity.
First, head to the Axie Infinity website and click on 'More' and then 'Getting Started.'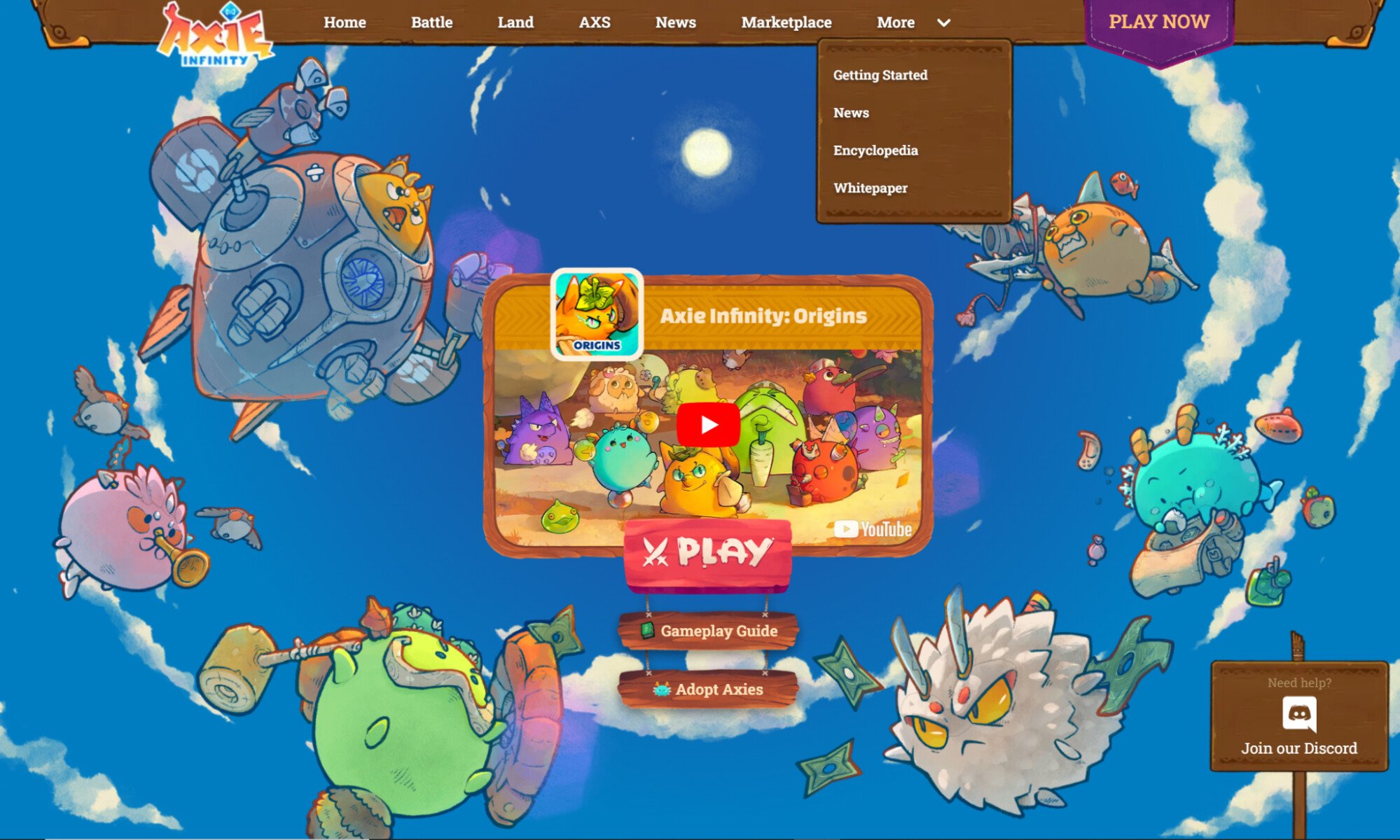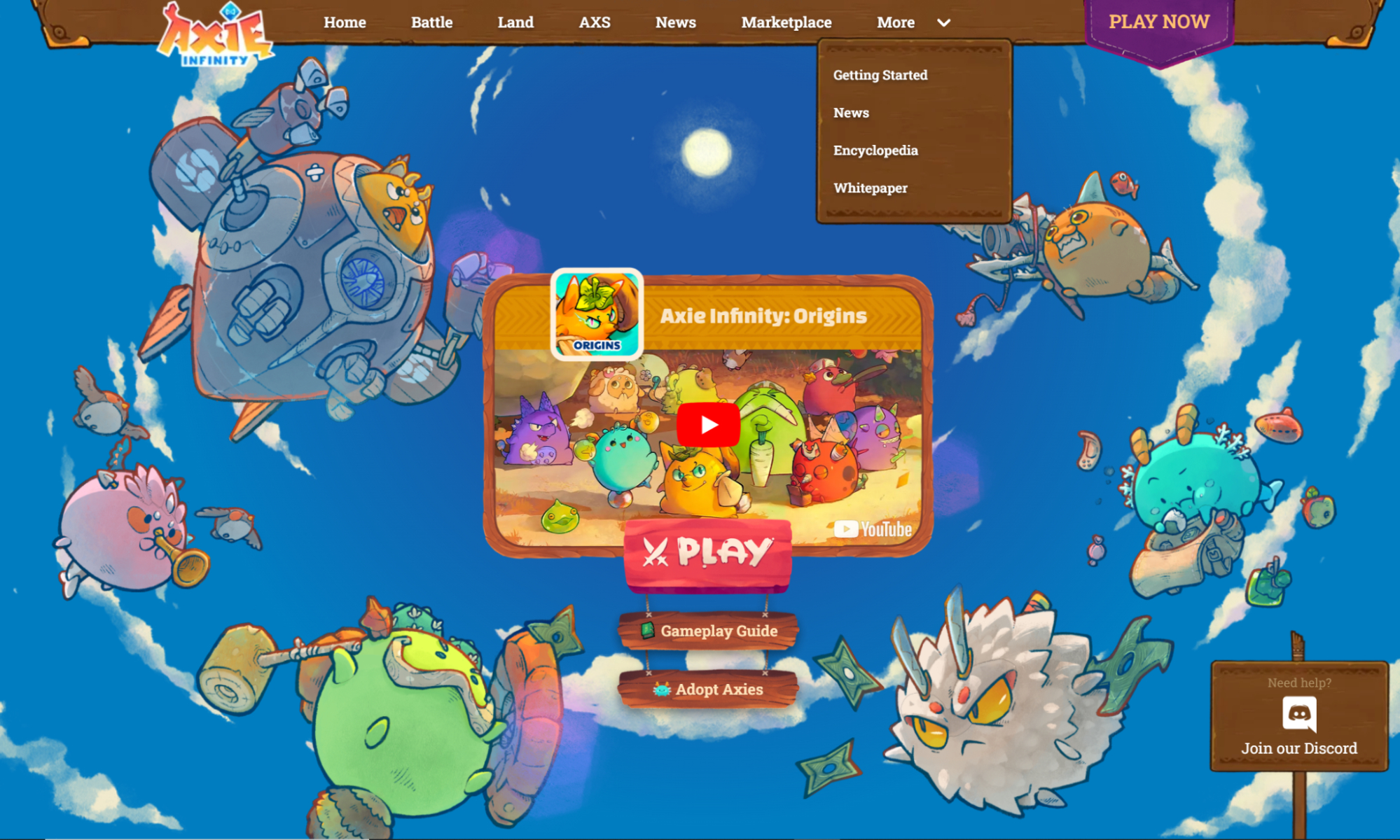 Next, click on 'Get Started' on the below page.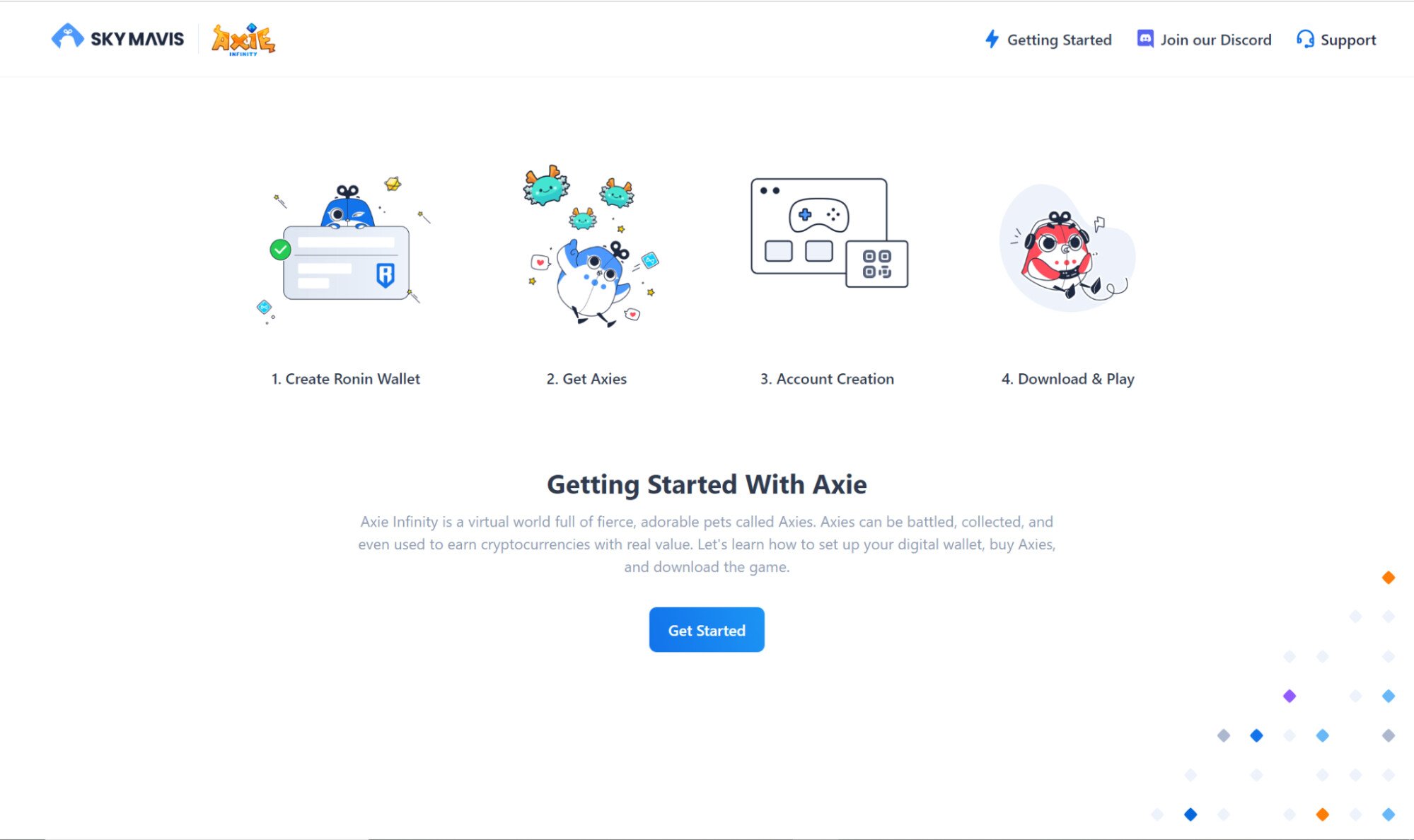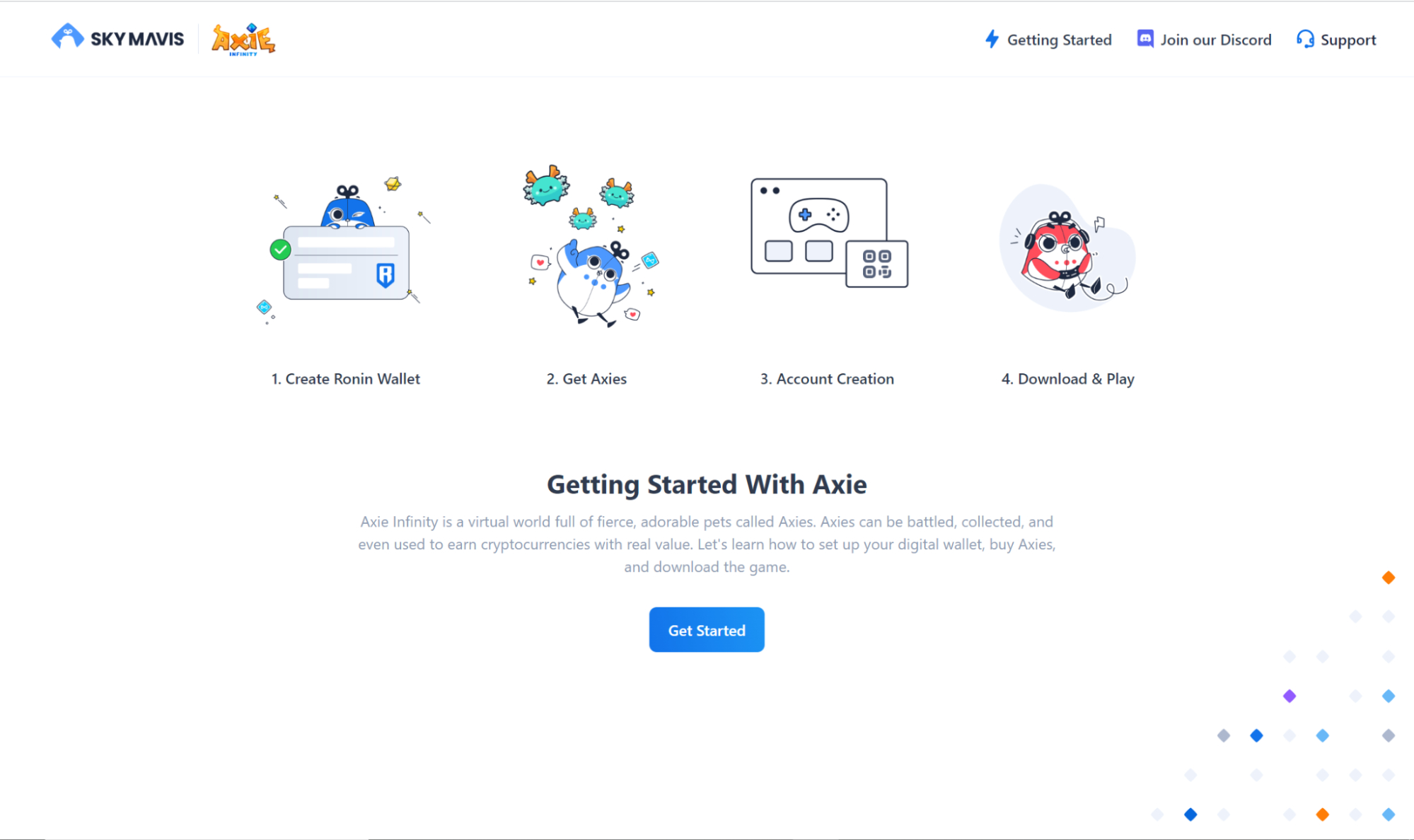 Next, proceed to create your Ronin Wallet. Here, you have two options. You can either get it as an app or as an extension for your browser. For this guide, we will get it as an extension on the Chrome browser.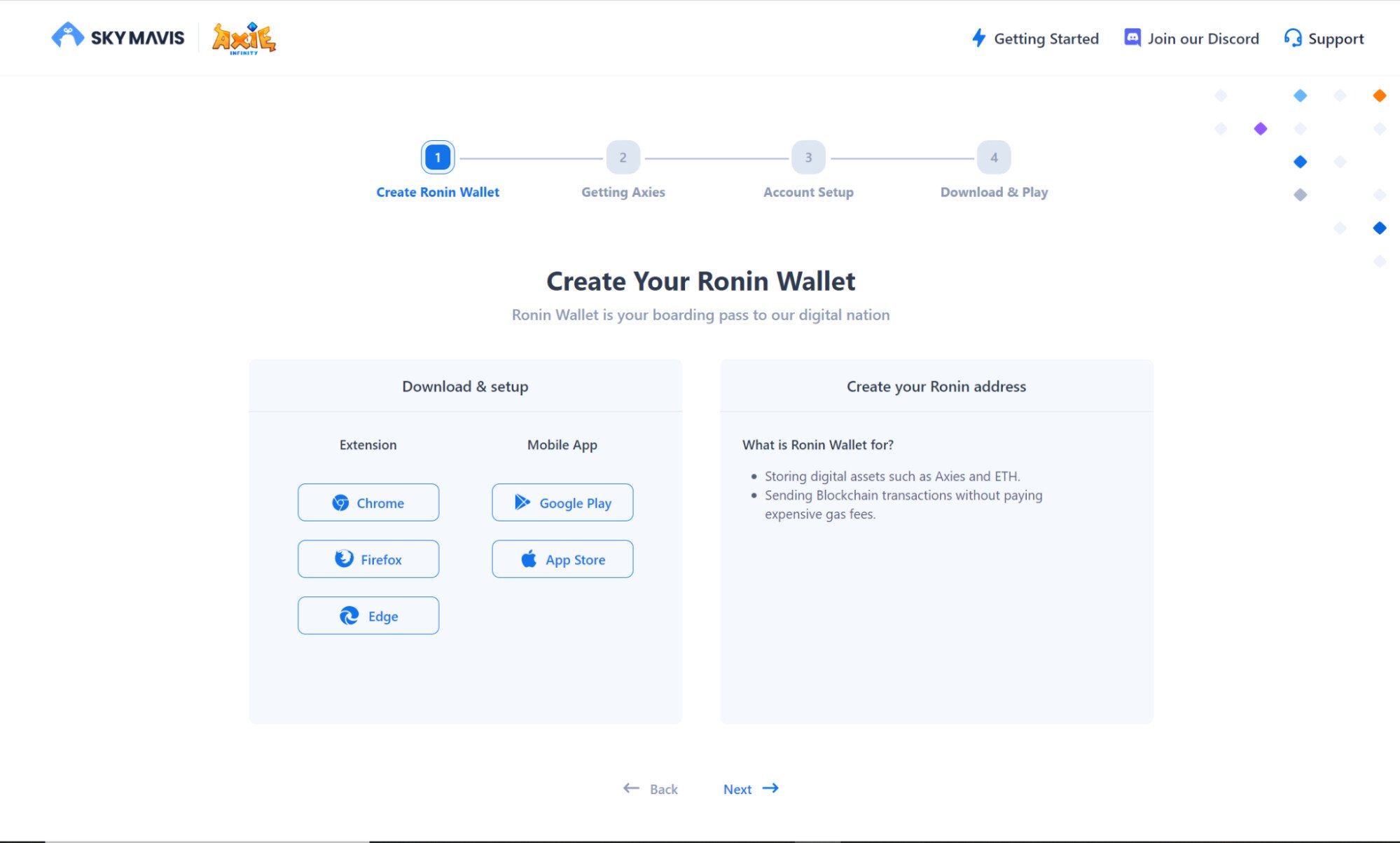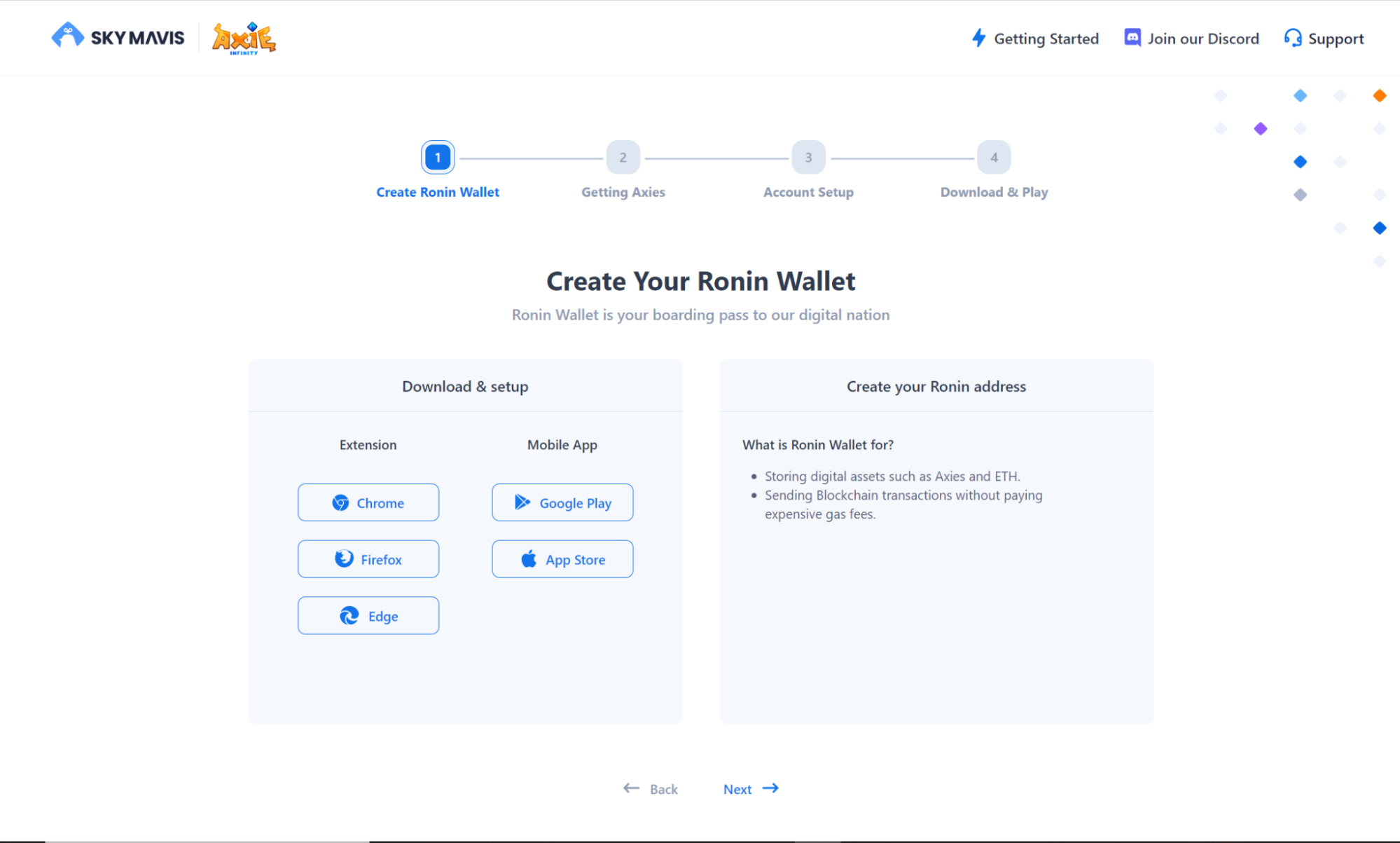 Click on 'Add to Chrome' as seen below and then 'Add Extension.'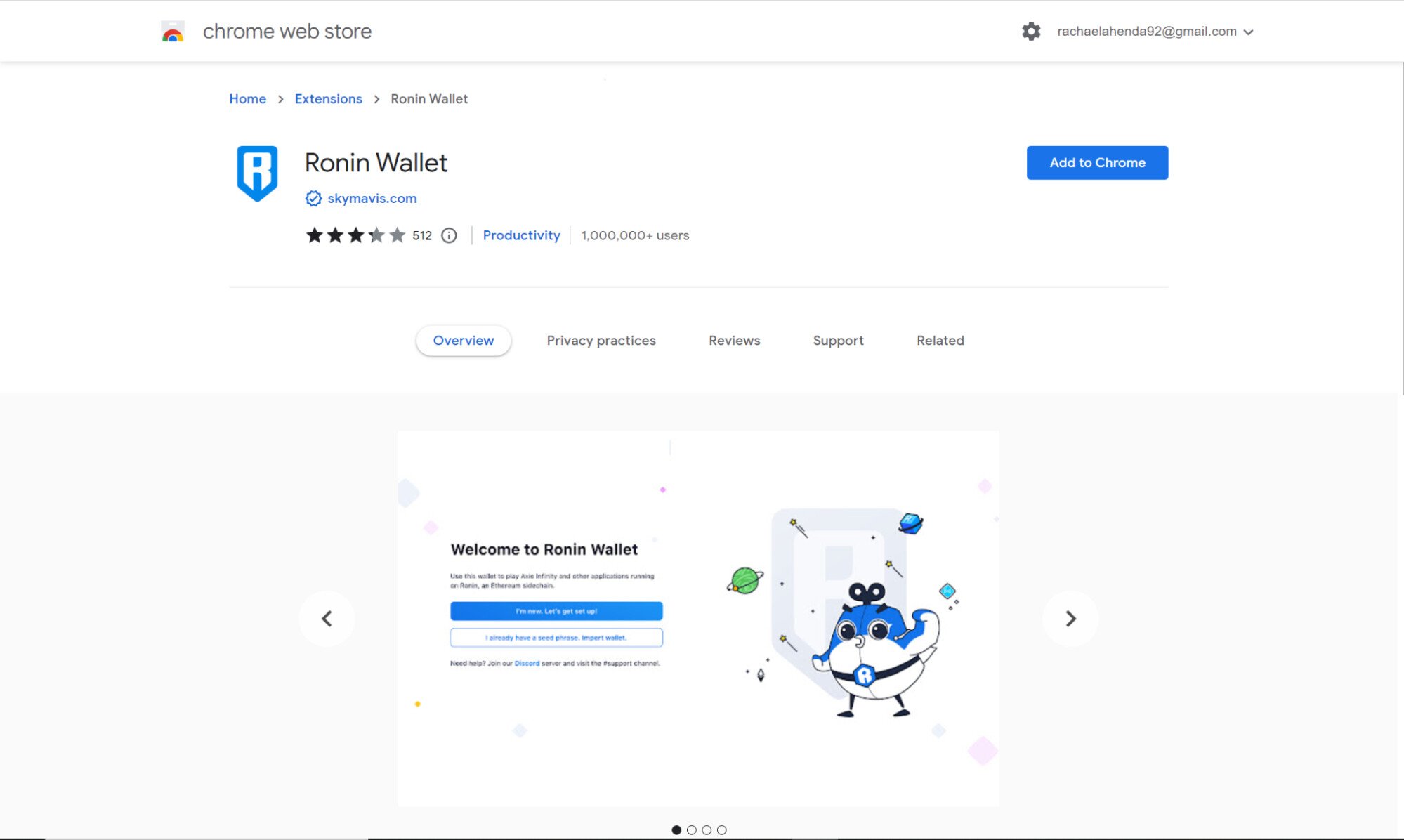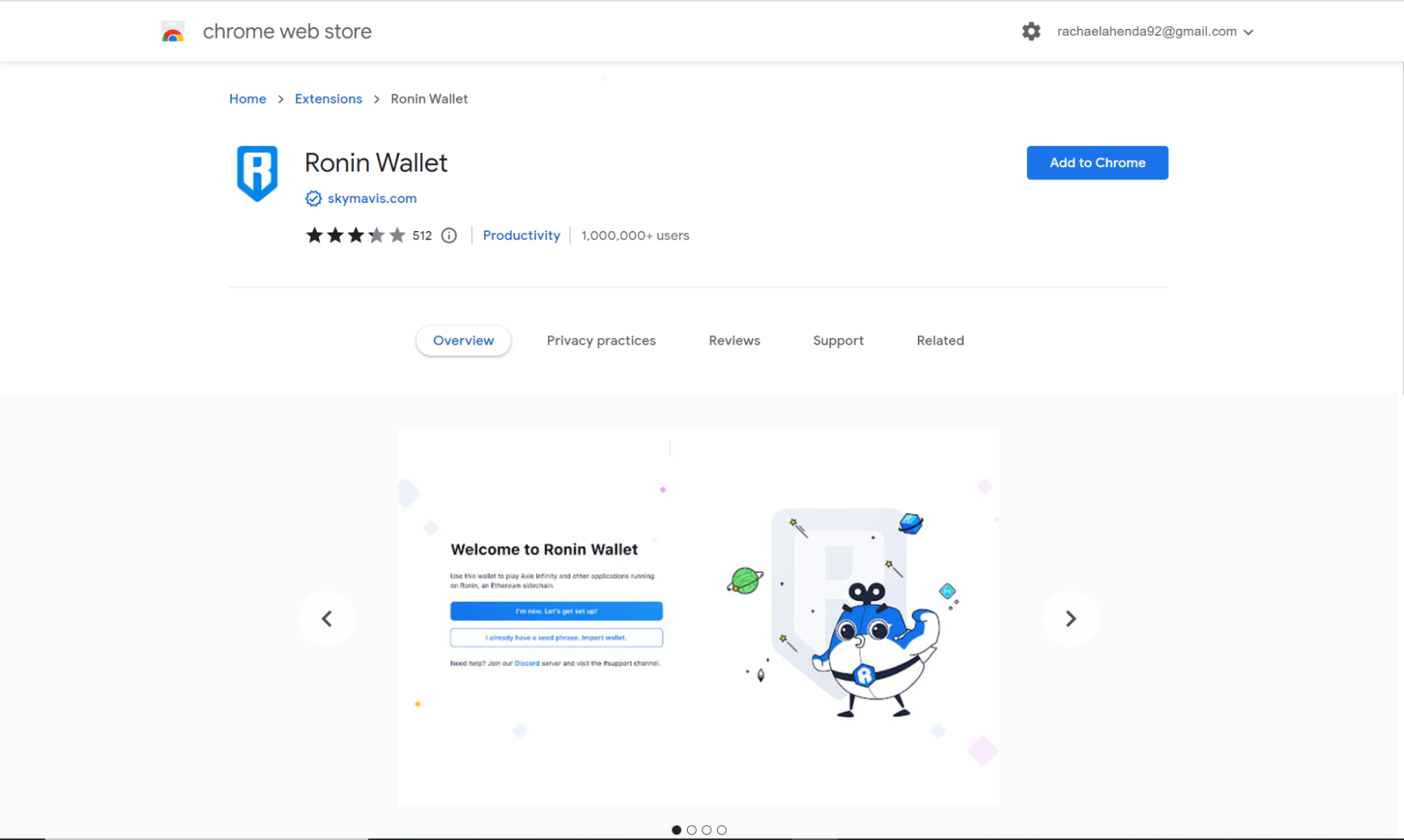 Next, you will need to acquire three Axies before you can start playing. You can either choose to apply for a scholarship or buy the Axies from the marketplace. The former option will enable you to rent Axies instead of buying them.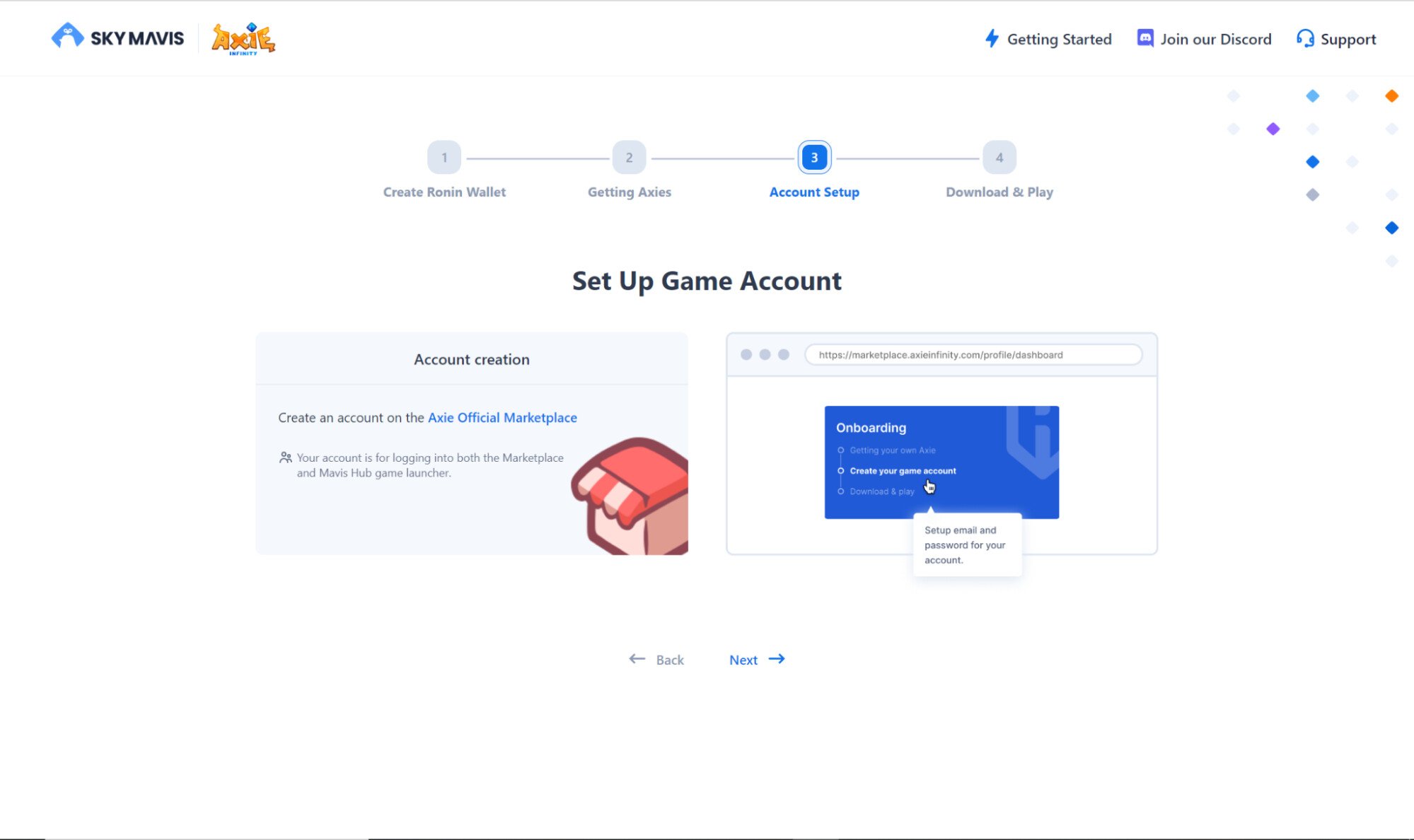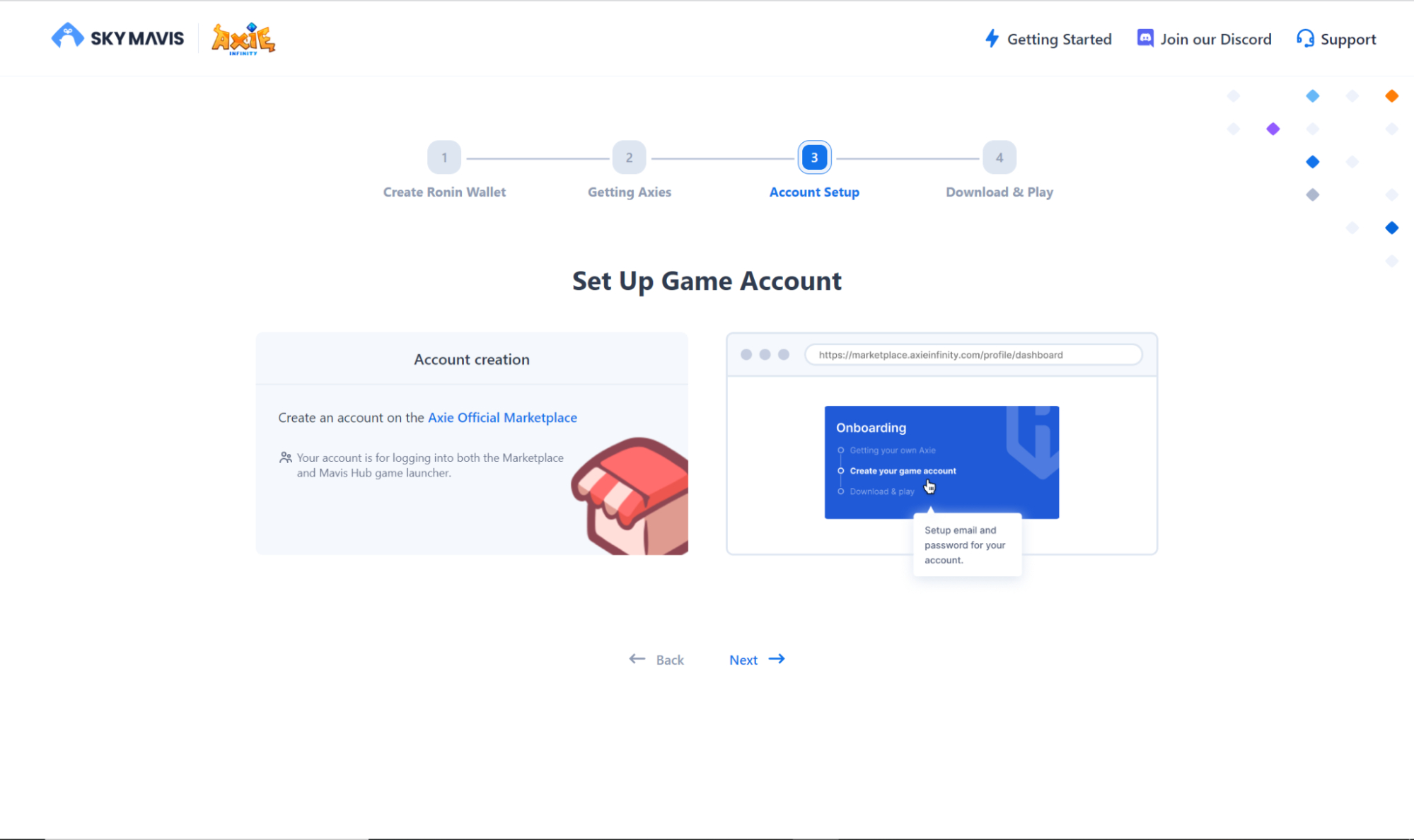 Click on 'Next' on the above screen to create an account on the Axie Official Marketplace.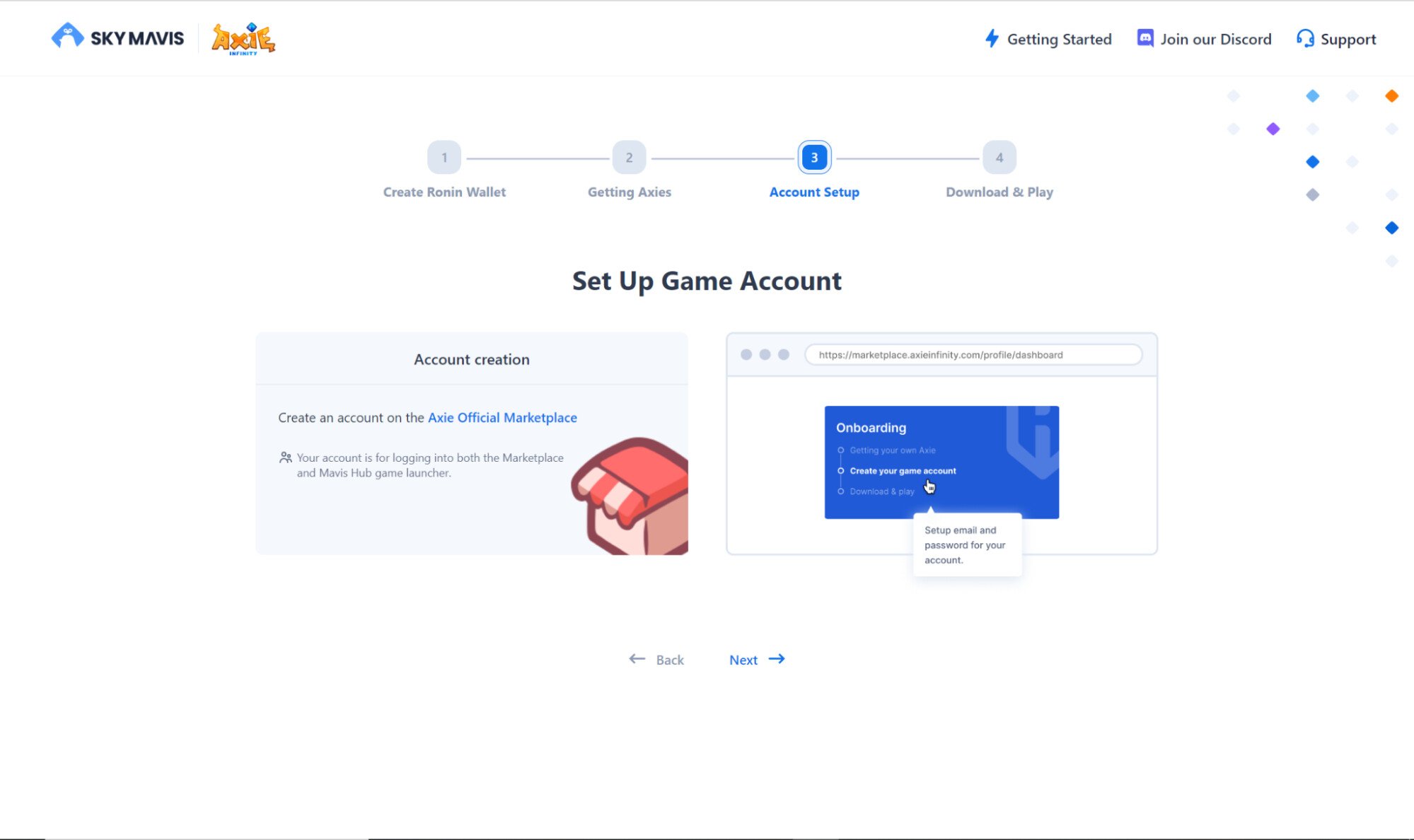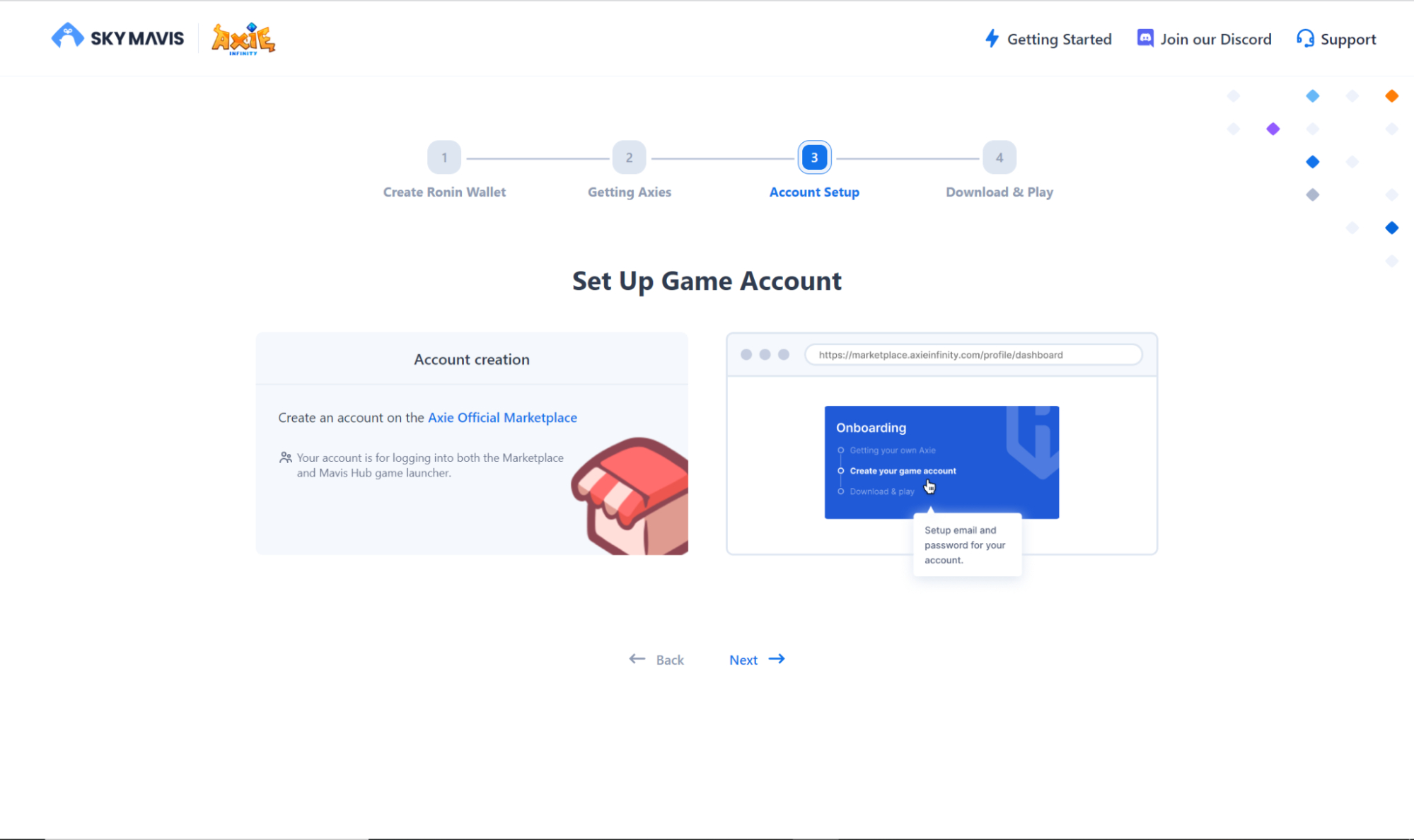 Once you have created your account, click on 'Marketplace' then 'Axies' and browse through to select the Axies you want to purchase from the 500k+ Axies available in the Marketplace.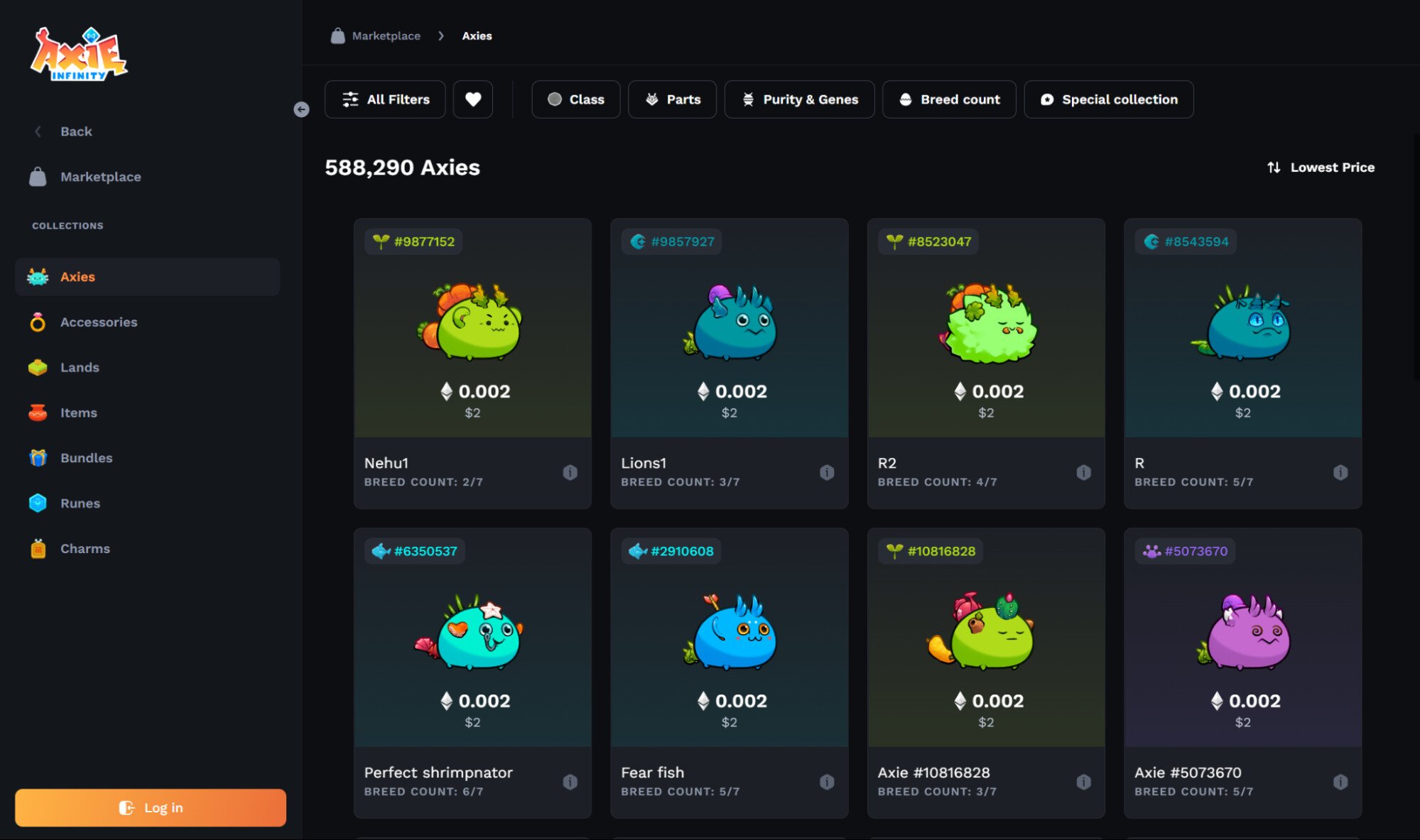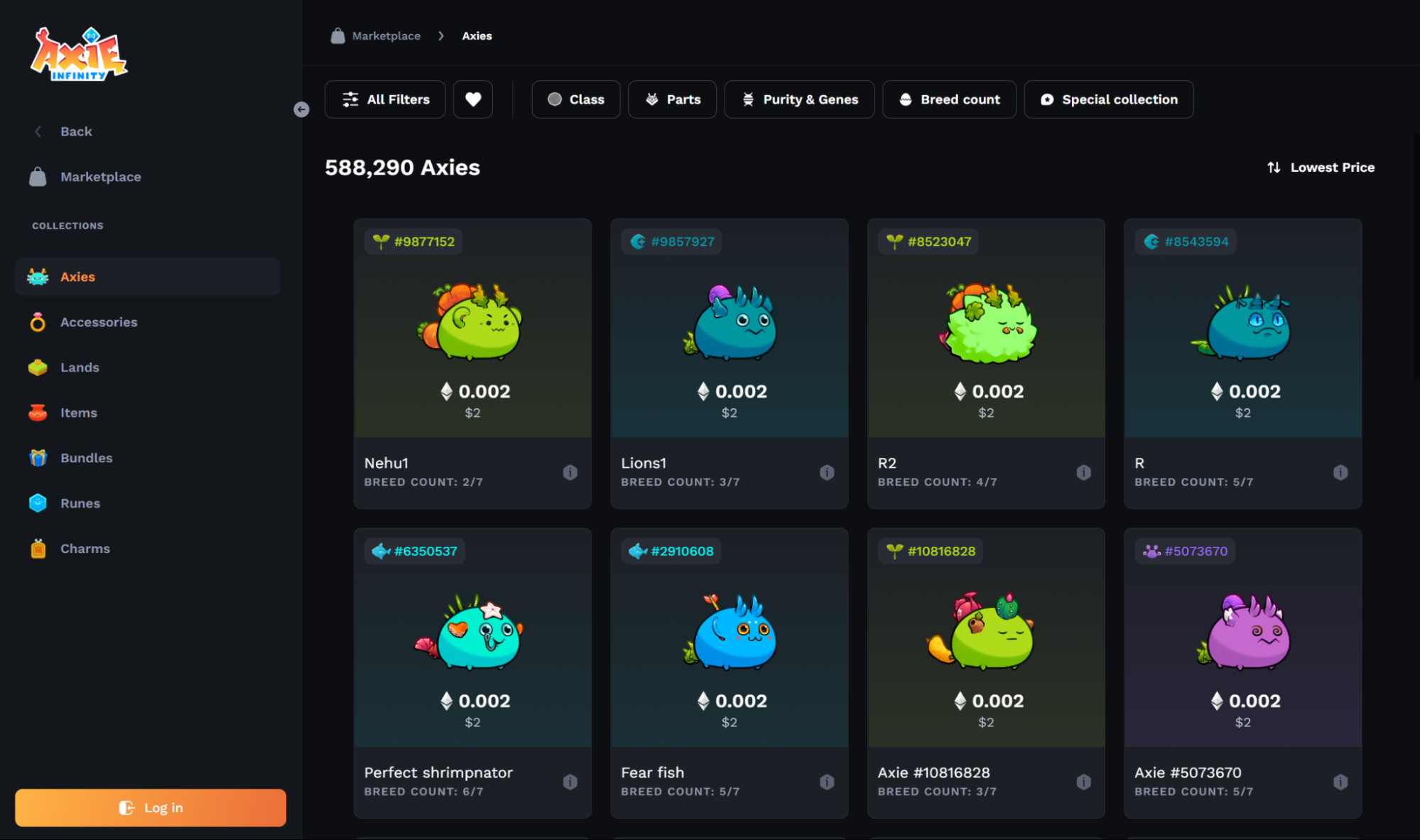 Once you have successfully purchased your Axies, proceed to download the Axie Infinity game you want. For the purposes of this guide, we will download 'Axie Infinity: Origins' on our desktop.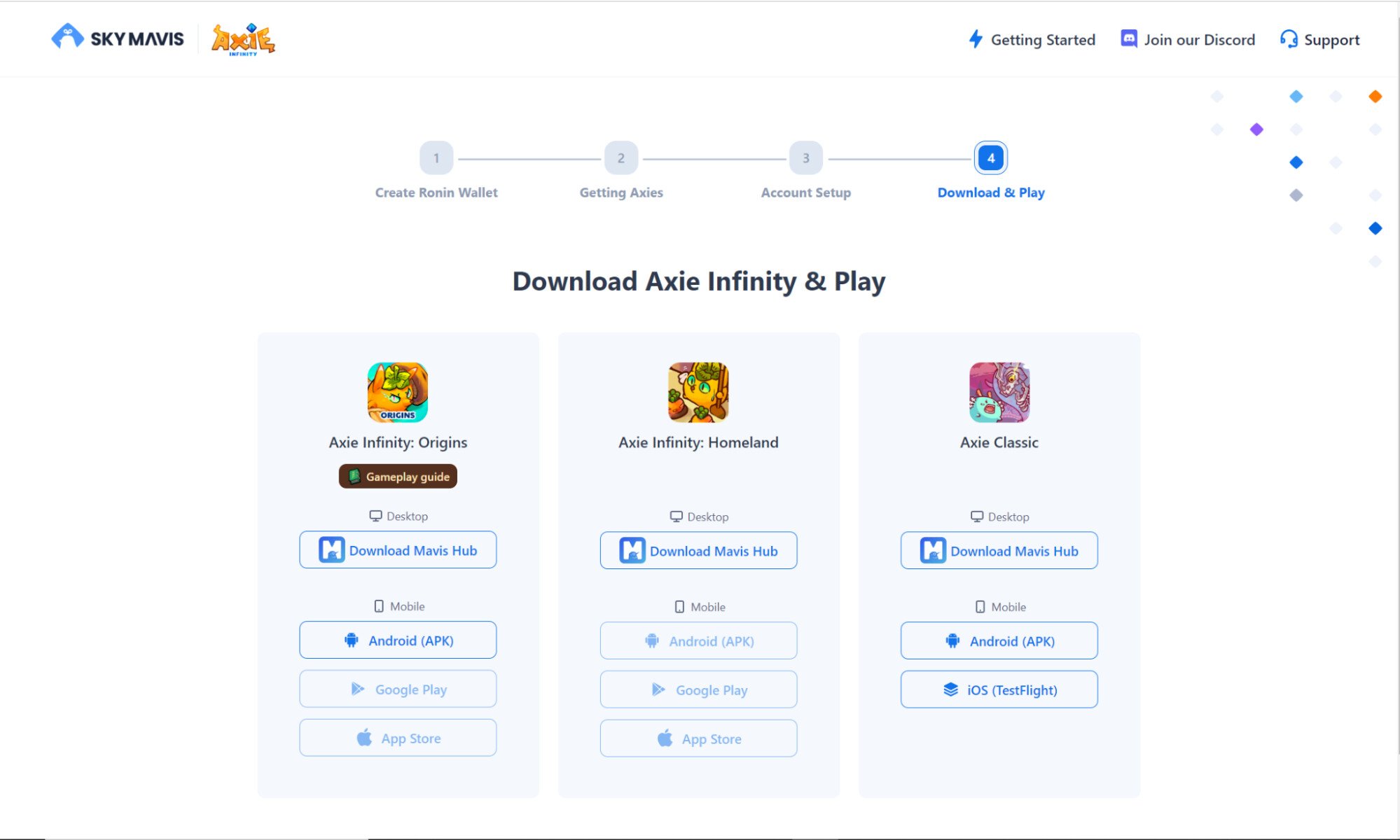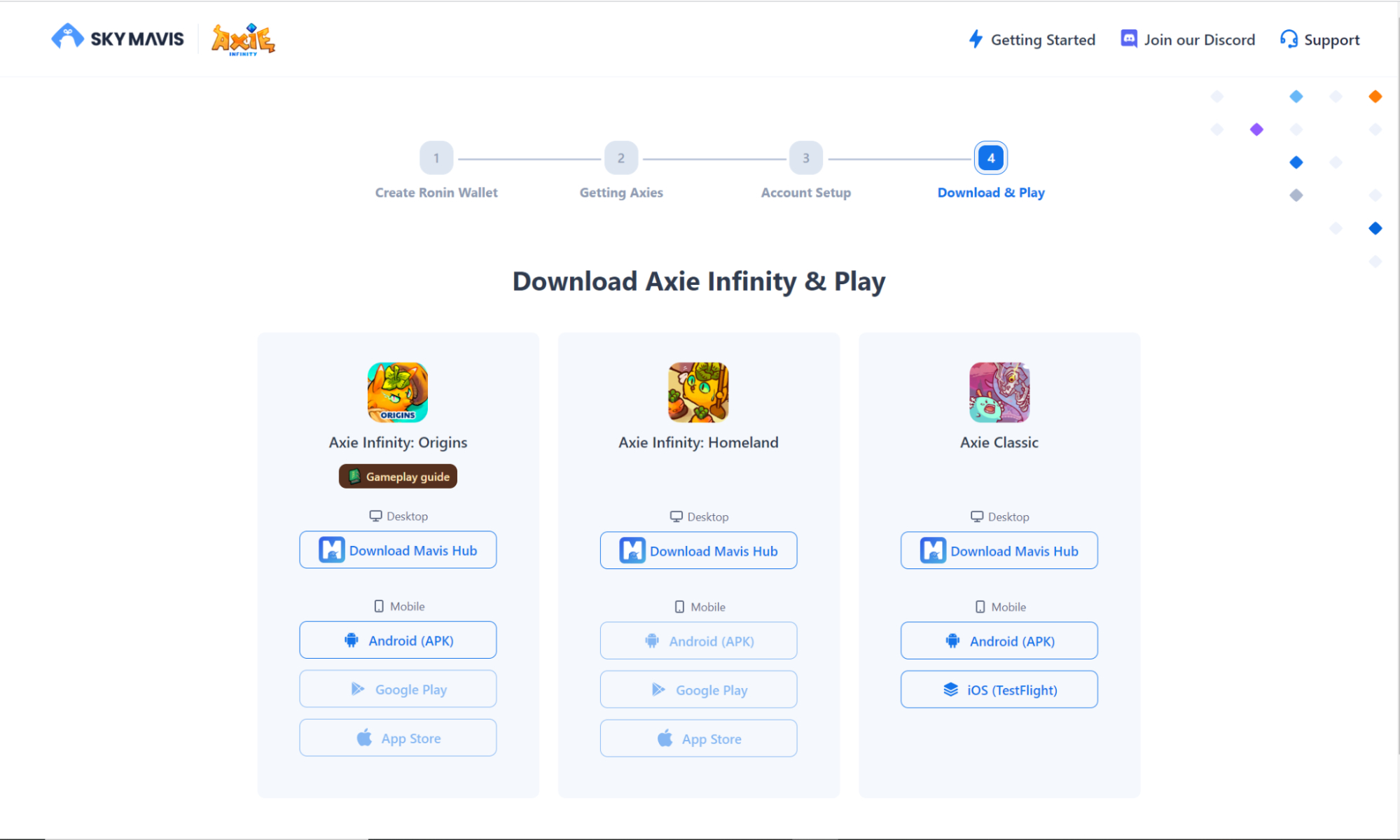 How to Start Playing Axie Infinity
Once your download is successful, you are now ready to start playing Axie Infinity. Proceed to click on 'Play' to get the menu.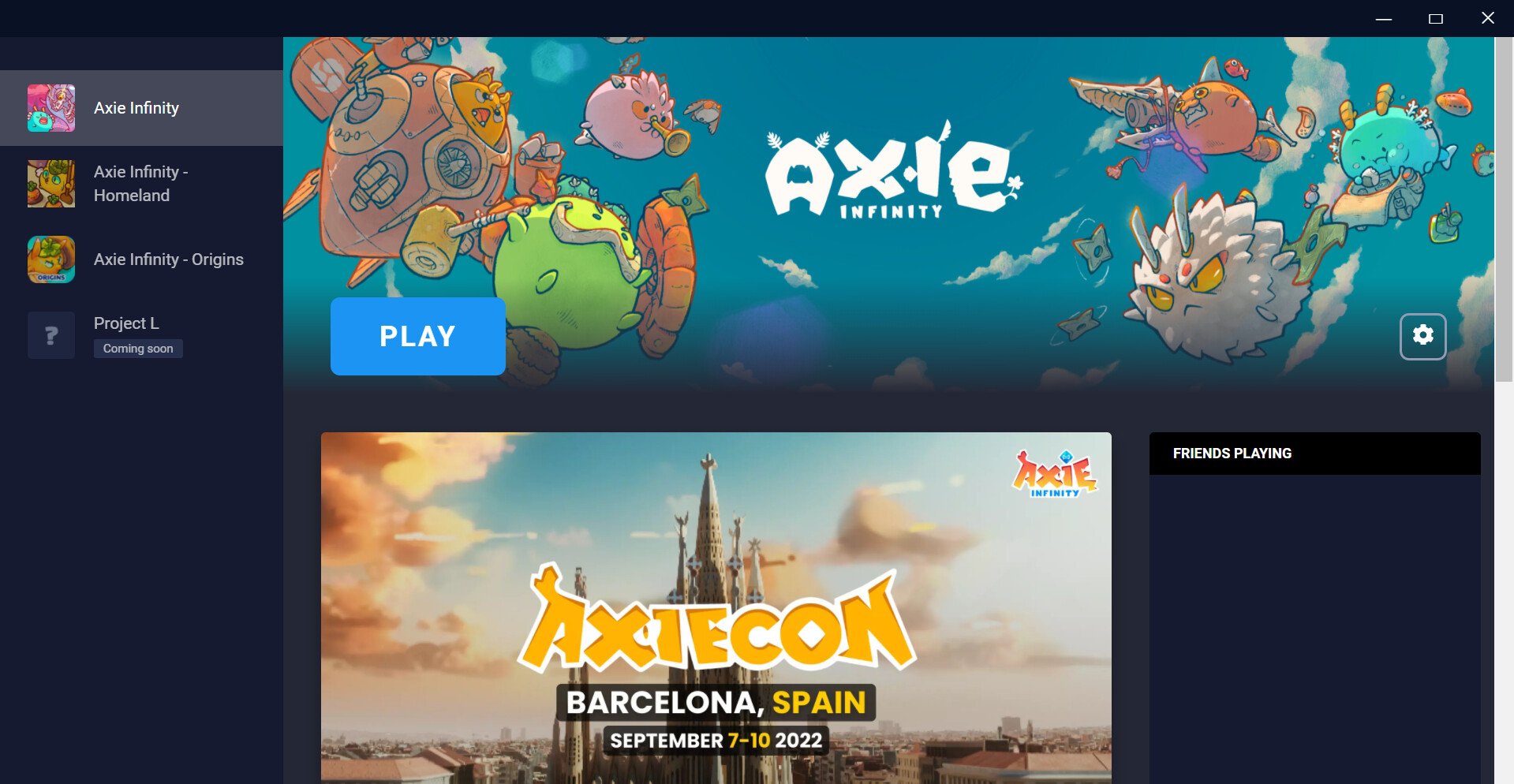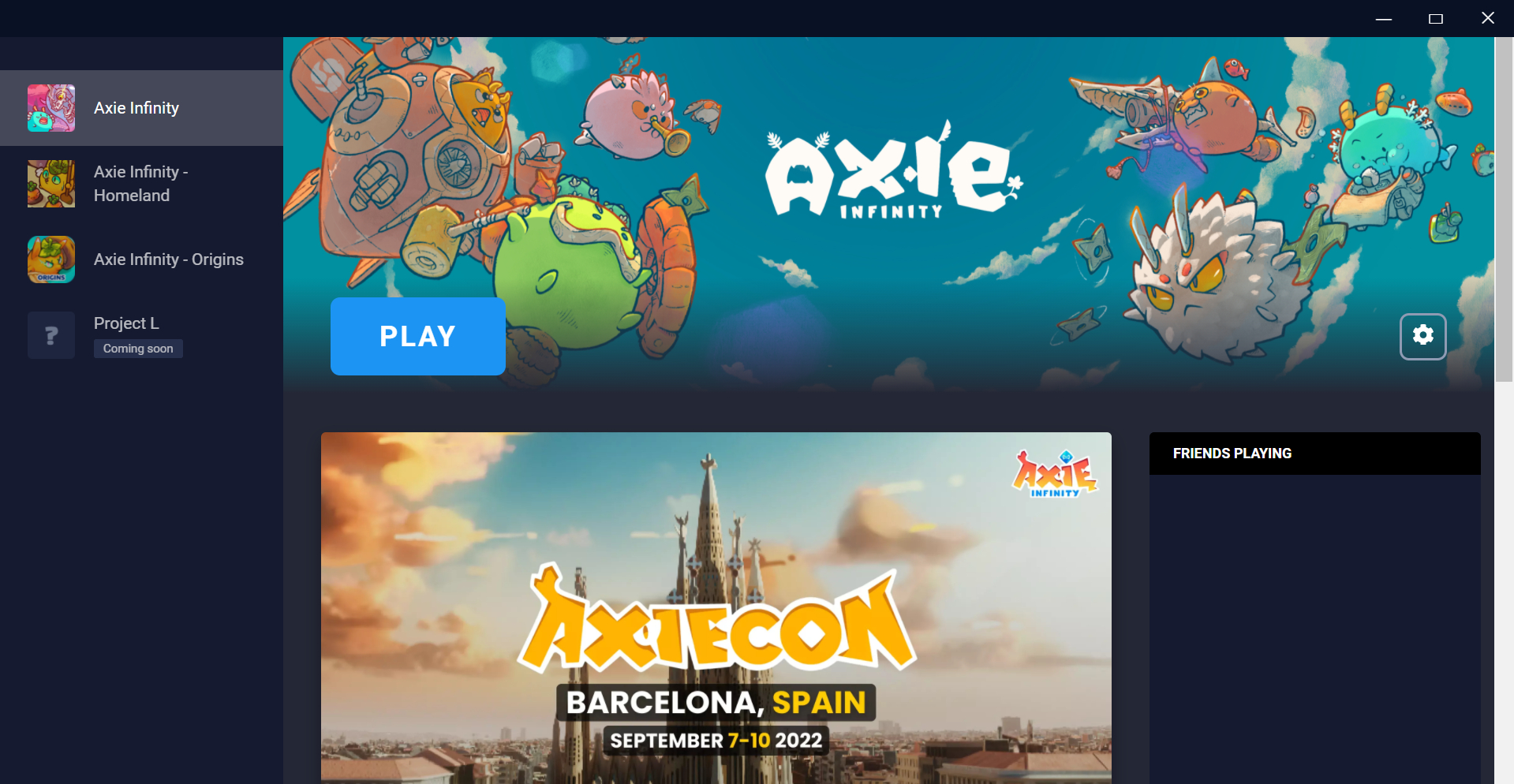 You will then be able to see your player name, the amount of energy you have, and the available daily quests, as shown below.
The game currently has two modes – Adventure and Arena. In Adventure mode, gamers have to fight and win against various monsters that are in all 36 levels of the game. Additionally, you can earn around 50 SLPs each day doing this. In Arena mode, on the other hand, gamers have to compete against other gamers' Axies. Players also receive SLP based on their Matchmaking Rating (MMR). Should you, as a gamer, emerge with the highest MMR, you will get 21 SLPs for each win.
However, before you can join any mode, you will need to have energy. Your energy is also dependent on the Axies you own.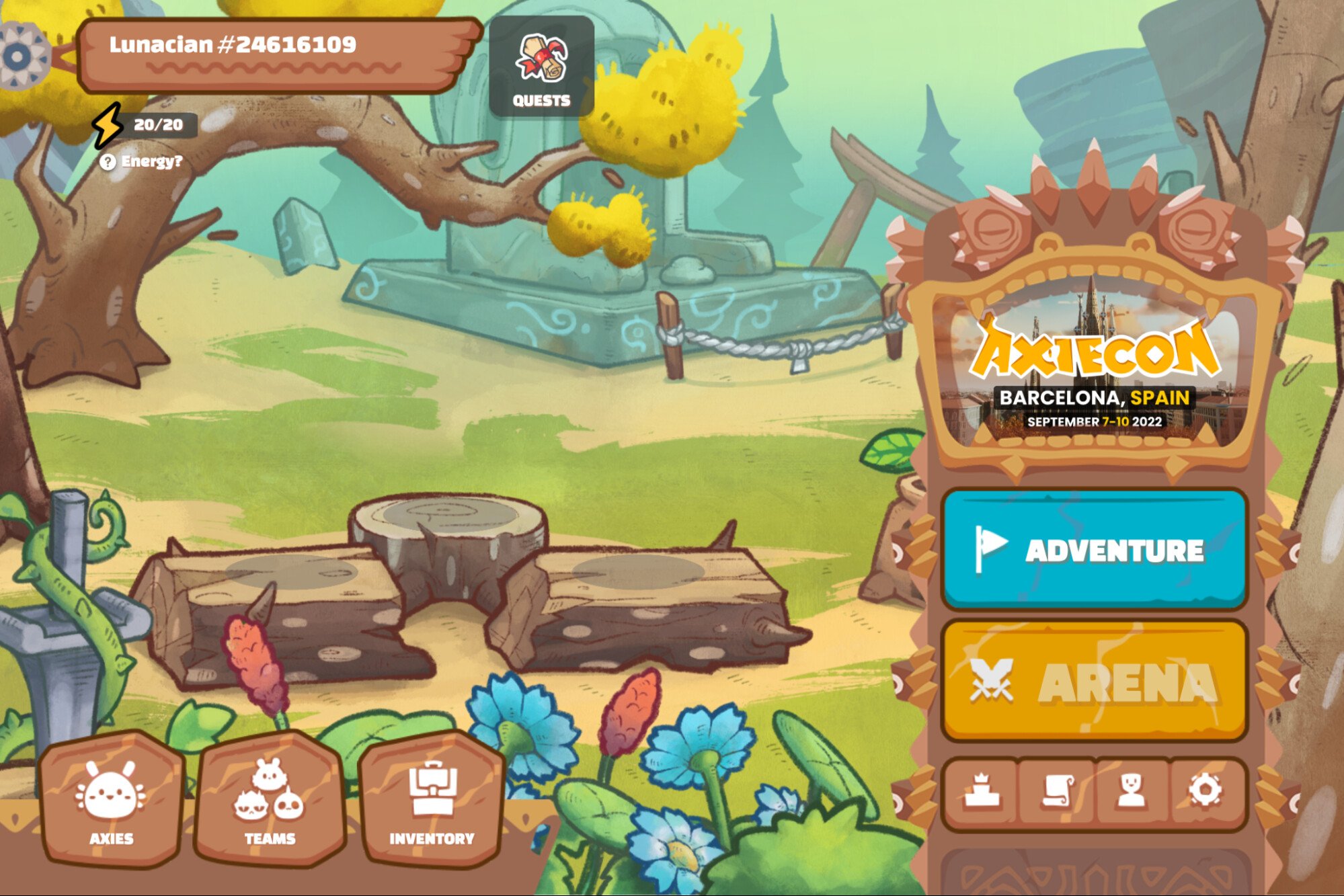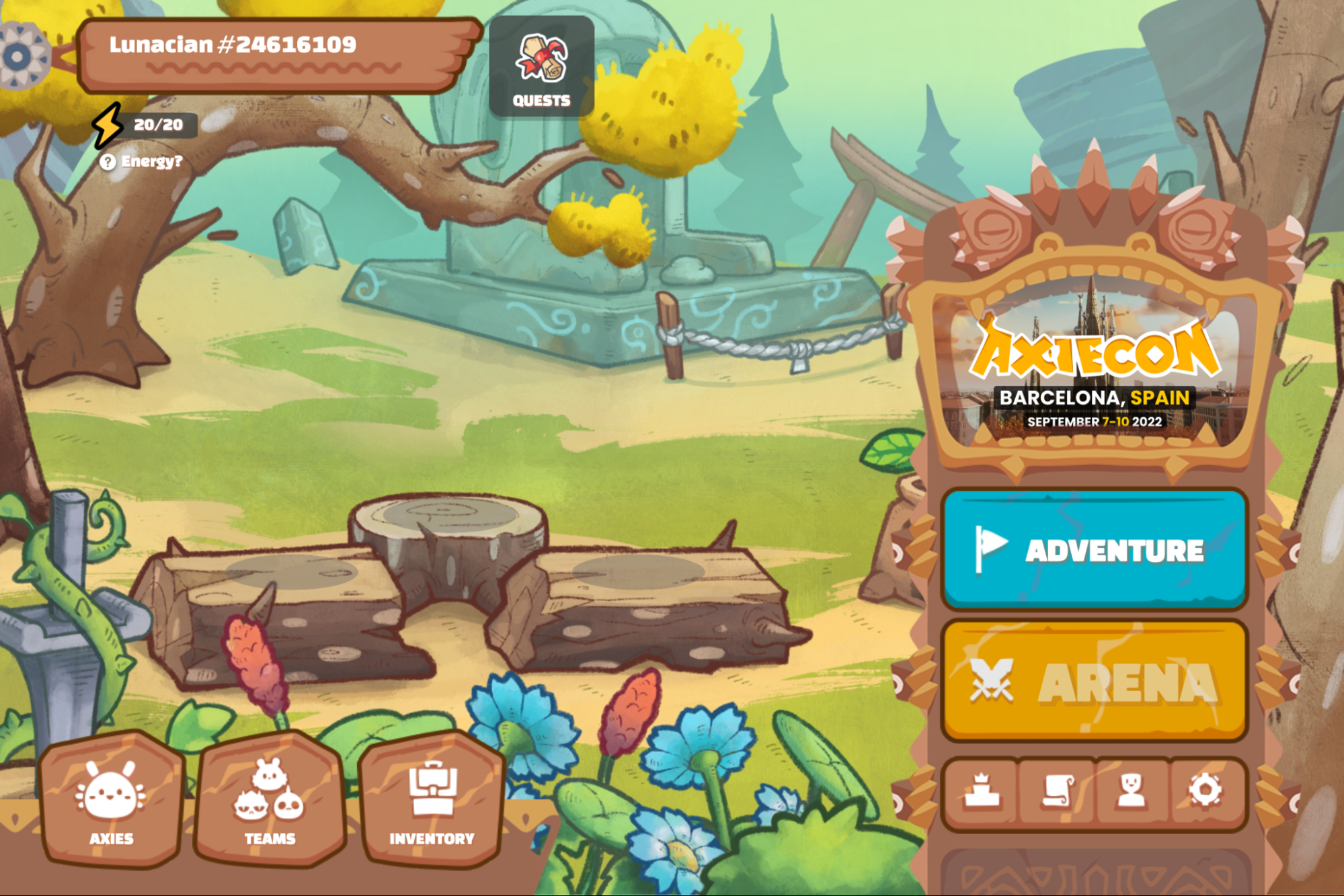 Players also have the option to earn SLPs through 'Farming.' In Axie Infinity, farming means completing various tasks daily to earn rewards which are paid out in SLPs.
And that's how to play Axie Infinity.
How Can You Make Money Playing Axie?
There are different ways that gamers can make money playing Axie Infinity. Let's take a look.
Breeding Axies to Sell
One sure way players can make money in the Axie Infinity ecosystem is by breeding Axies for sale or for rent. Here, you can breed two Axies and get a newborn Axie with the traits of both parents. Remember, the more superior and rare your Axie is, the more money you can make off it.
Farming SLPs
Players can also make money on the Axie Infinity universe by farming SLPs. Players can farm SLPs by battling monsters in Adventure mode, fighting other players in Arena mode, or completing the daily quests.
Flipping Land
Axie Infinity's virtual land is known as Lunacia. Lunacia features customizable plots of land that are tokenized. These plots of land also serve as residences for Axies. If you own a plot of land on Lunacia, you can rent it out to other players at a fee or opt to sell it at a profit to another gamer.
Selling SLPs
Selling or trading Smooth Love Potion (SLP) in the Marketplace is another sure way to earn money on Axie Infinity.
Staking AXS Tokens
The Axie Infinity Shard token has various uses in the Axie Infinity ecosystem. AXS is the native token for the Axie Infinity universe and also doubles up as its governance token. Players are able to stake AXS – lock AXS tokens at a given interest rate for a duration of time – and in return, earn rewards.
How Much Money Can You Make Playing Axie Infinity?
Various factors will determine the amount of money that you can make playing Axie Infinity. These factors include how often you play, how experienced you are in the game, and the traits that your Axies have.
Players have been seen to earn anywhere between $10 – $50 per day while playing the game.
Are Axie Infinity Tokens (AXS) a Good Investment?
Axie Infinity's native token, AXS, shot up from $0.43 in December 2021 to reach $158.41 in November 2021 thanks to the 2021 crypto bull run and increased interest in crypto assets. However, AXS, like other cryptocurrencies, experienced significant price drops due to the crypto winter that started in early 2022.
Given that AXS is a digital asset like any other, it's highly volatile, underlining its riskiness. As such, whether AXS is a good investment or not, all boils down to your investment risk appetite, and whether you believe that play-to-earn blockchain games will have a bright future.
---