How to Buy a Tom Brady NFT: A Beginner's Guide
Disclosure: Crypto is a high-risk asset class. This article is provided for informational purposes and does not constitute investment advice. By using this website, you agree to our terms and conditions. We may utilise affiliate links within our content, and receive commission.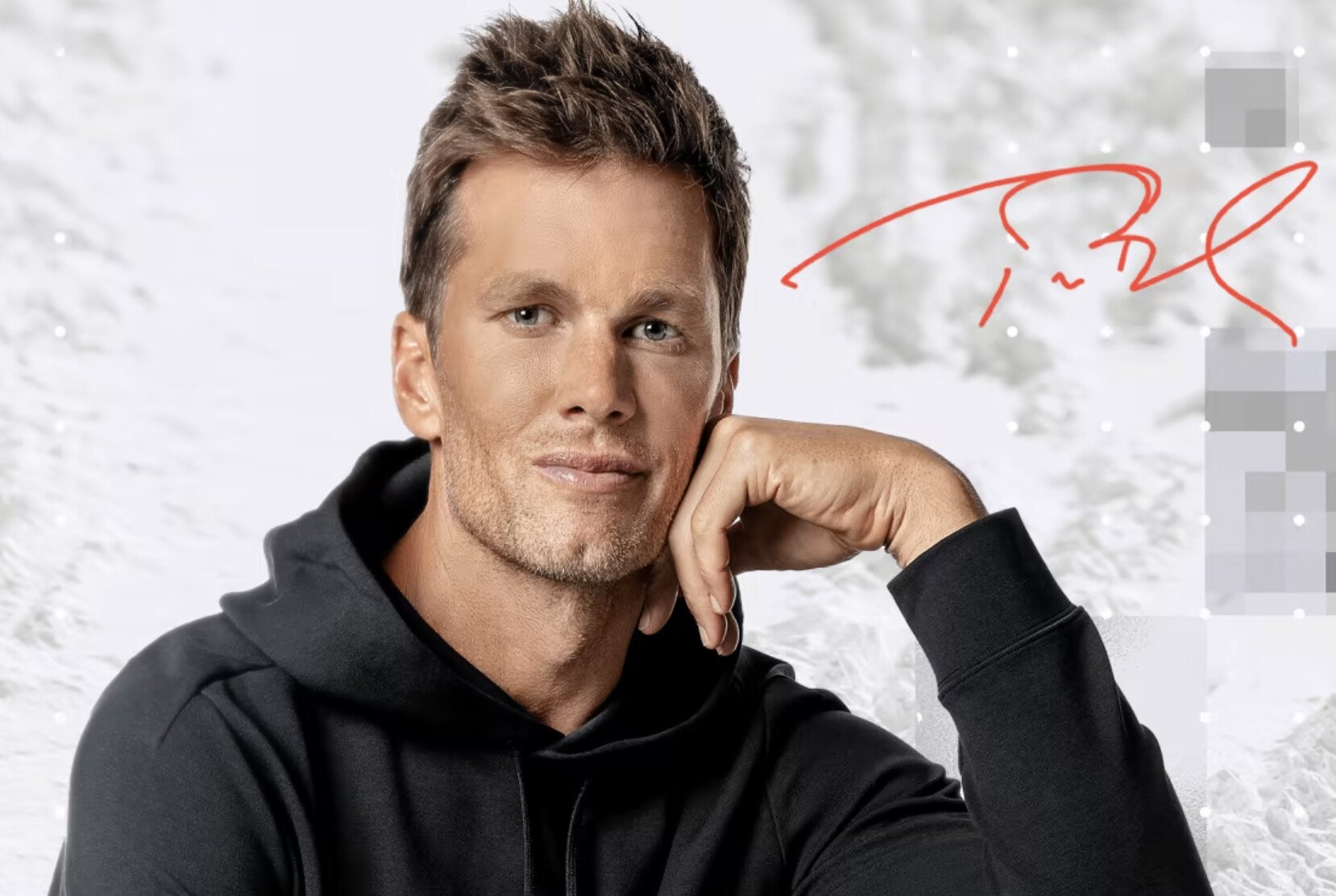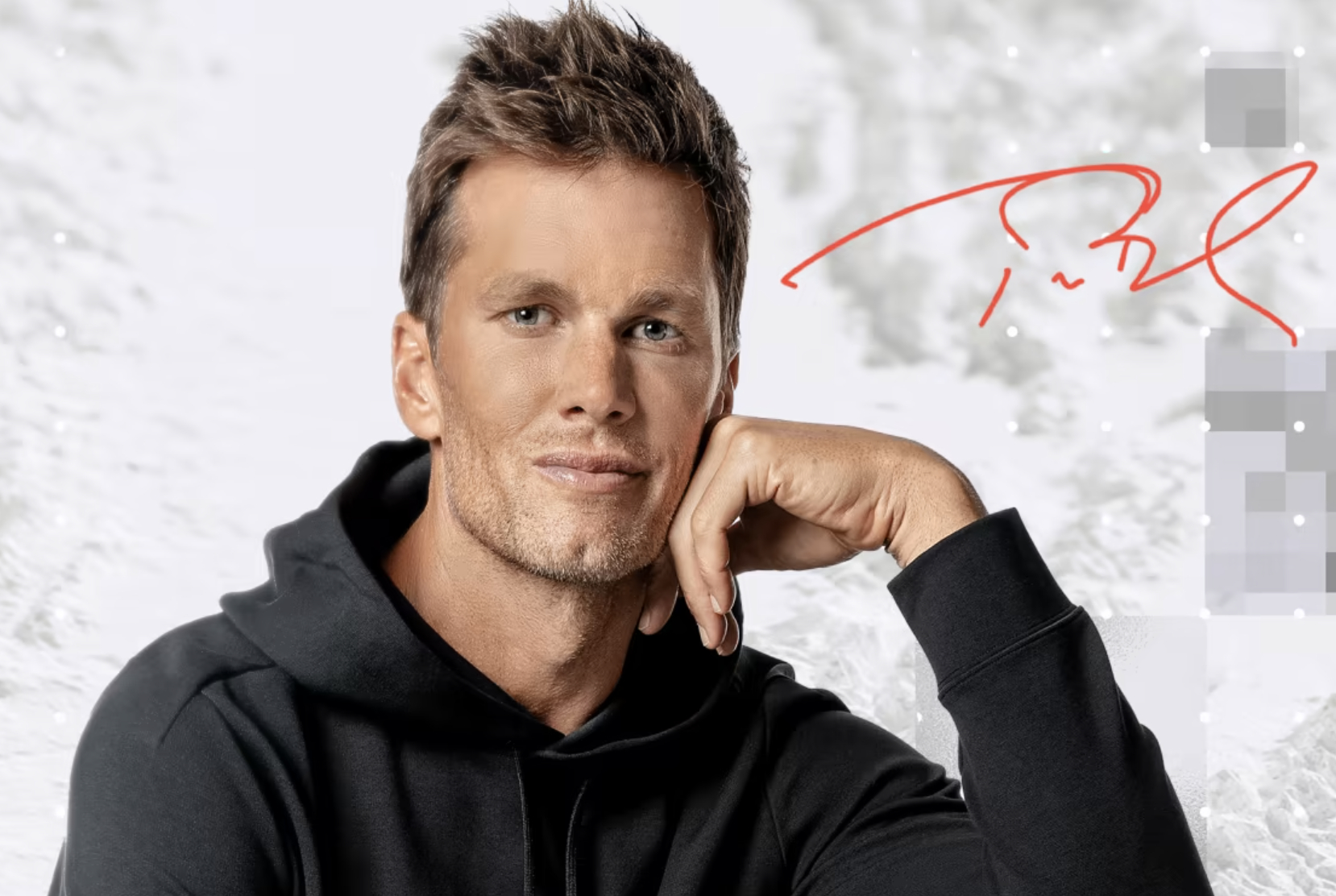 Are you a fan of Tom Brady and looking to add one of his rare NFTs to your collection? Look no further! Read on to discover a comprehensive guide on how to buy a Tom Brady NFT, including information on who Tom Brady is, what the Tom Brady NFT collection consists of, how much you can expect to pay, and more.
Who is Tom Brady?
Tom Brady is a professional American football player who is widely regarded as one of the greatest quarterbacks in the history of the sport. He has played for the New England Patriots of the National Football League (NFL) for much of his career and has led the team to numerous division, conference, and Super Bowl titles.
Brady has also been named the Super Bowl Most Valuable Player (MVP) five times, and has been selected to the Pro Bowl, the all-star game for the NFL, 14 times. He has also set many NFL records, including the most passing yards, touchdowns, and completions in a career.
While he has achieved a great deal of success on the football field, Brady has also become a well-known ambassador for NFTs and cryptocurrencies.
What is the Tom Brady NFT Collection?
On December 9, 2021, Tom Brady continued to make waves in the world of non-fungible tokens (NFTs) with the successful launch of his "Live Forever: The Tom Brady Origins Collection" NFTs on Autograph.
Autograph is an NFT platform co-founded by Brady and the father-son team of Richard and Dillon Rosenblatt. This collection featured 16,600 NFTs stored in mystery boxes and sold for $80 each during its public sale on Dec 9, 2021. The collection takes a nostalgic look at the early days of Brady's NFL career, showcasing memorabilia from key events leading up to his draft in 2000.
But that's not all that makes this collection unique. It also includes 25 sets of tiered collectibles, each with its level of rarity. These collectibles include Tom Brady's:
Combine Cleats
College Resume
Rookie Draft Card
Combine Jersey
Combine Stopwatch
For those who may not be familiar with American football, the term "combine" refers to a week-long event during which college football players participate in physical and mental tests to showcase their skills to NFL coaches. The Combine takes place in the lead-up to the NFL Draft, and the items tokenized as part of Tom Brady's Origin collection were used during his Combine in 2000.
Rarity Tiers
In total, there are five tiers of rarity in the Origin collection:
Carbon
Platinum
Emerald
Sapphire
Ruby
The Carbon versions of these items are the least rare, while the Ruby versions are the rarest.
But that's not all. The Tom Brady NFT collection also includes special NFT collectibles called "Immortal Statues," which come in the same five tiers of rarity as the other items in the collection. These statues are designed to reward collectors who meet specific requirements, such as owning all five of the aforementioned items in the same rarity tier and linking their DraftKings and Autograph accounts by a specific deadline.
For example, a collector who owns a Sapphire set of the combine cleats, college resume, rookie draft card, combine jersey, and stopwatch at the activation deadline will receive a Sapphire Immortal Statue.
The Ruby and Sapphire versions of the Immortal Statues are particularly valuable, as they have been signed by Tom Brady, adding to their already significant worth. Overall, the Origins Collection offers collectors a unique and exciting opportunity to own a piece of NFL history and potentially earn one of these rare, signed statues.
How Much Does a Tom Brady NFT Cost?
The initial sale price for each NFT was $80, but as you can imagine, prices can fluctuate on the secondary market as collectors buy and sell them. It's important to note that Autograph charges the seller of any NFT a 5% processing fee and a 10% royalty fee.
Currently, the lowest price you can expect to pay for one of Tom Brady's Origin NFTs on the secondary market is $23 at the time of writing. However, it's worth noting that this price might go up when the NFT market rebounds from the current bear market.
How to Buy A Tom Brady NFT
Here's a step-by-step process of how to buy Tom Brady NFT
1. Go to DraftKings.com and create an account and complete the registration process. You'll need to provide some personal information, including your phone number, address, and the last four digits of your social security number.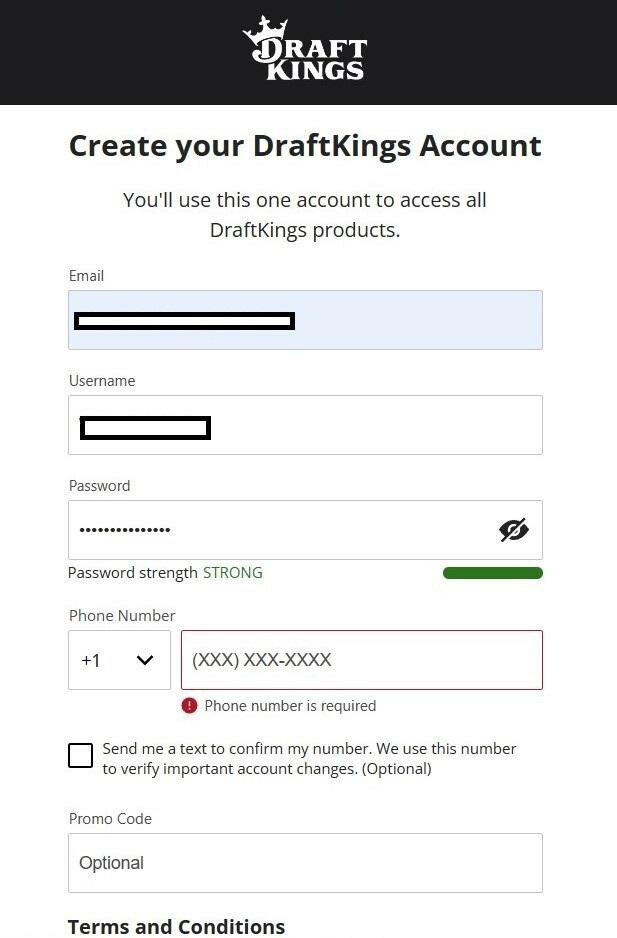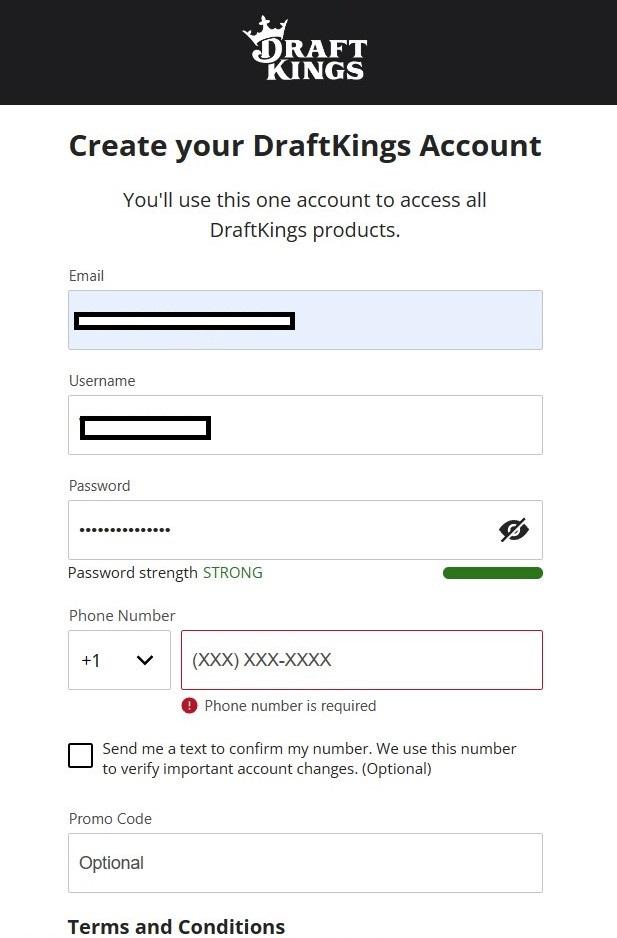 2. Once your account is set up, click on the "Deposit" button on the top right of the screen to add funds to your account. You can choose from various payment methods, including online banking, credit and debit cards, PayPal, and electronic gift cards.
It's important to note that DraftKings does not currently accept crypto purchases. All orders must be paid for in fiat currency, specifically the US dollar. So, if you want to add one of these collectible NFTs to your collection, make sure to set up your account and have your funds ready to go in dollars!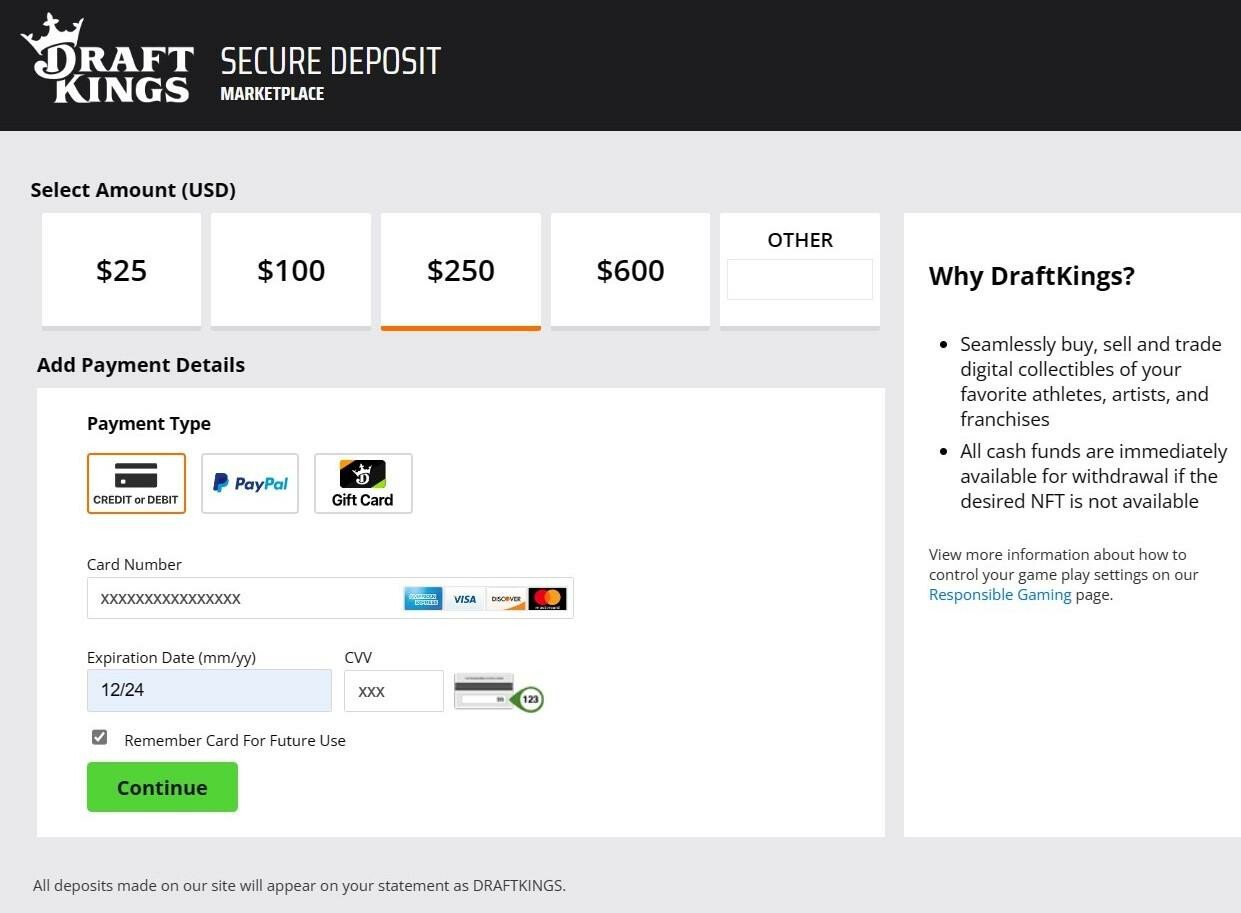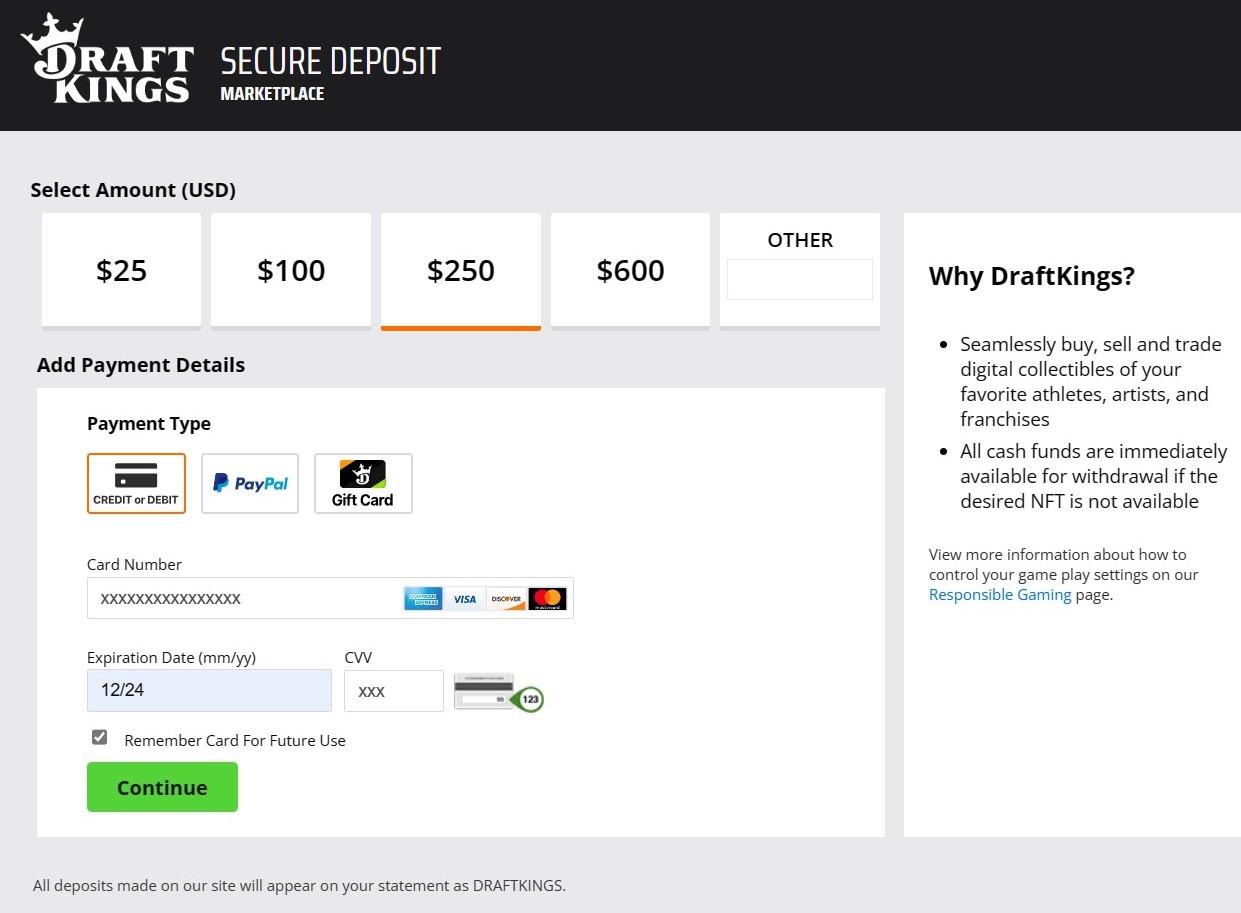 3. After your funds have been successfully deposited, it's time to start browsing for Tom Brady NFTs. You can use the search function to find specific items in the collection.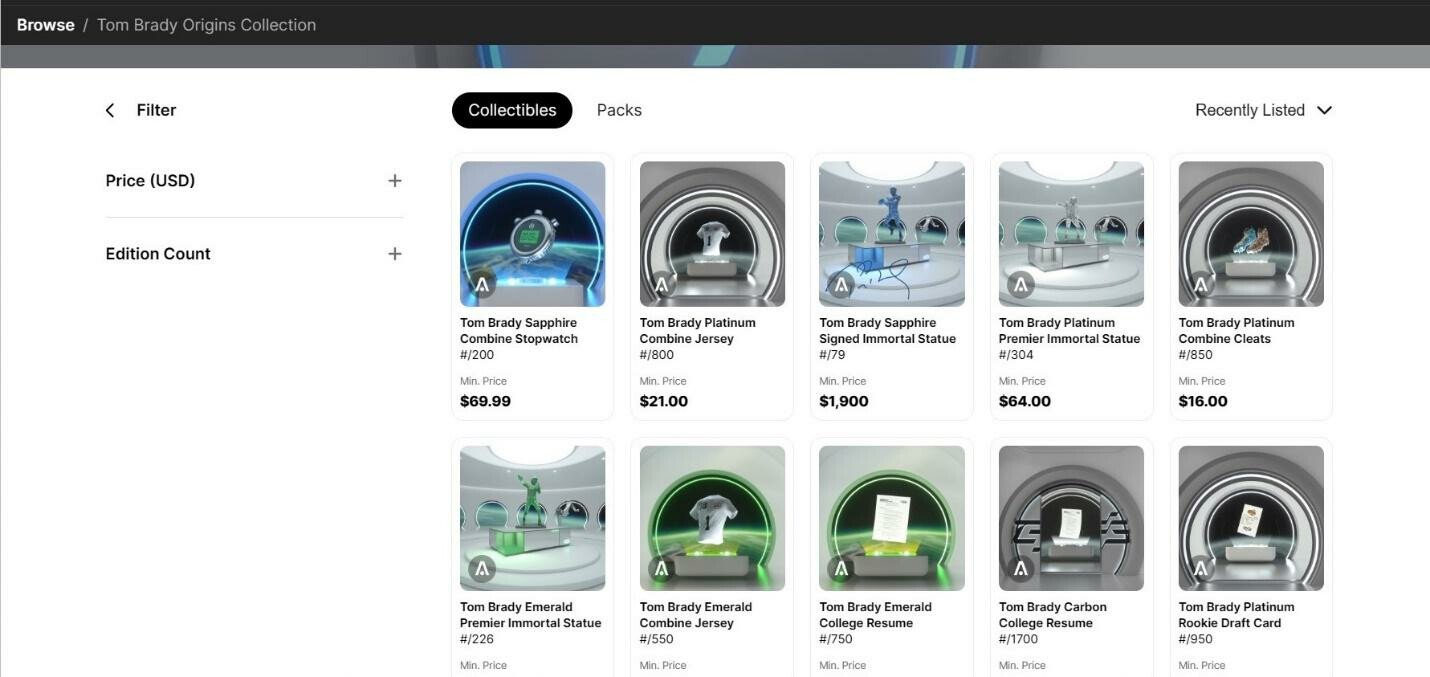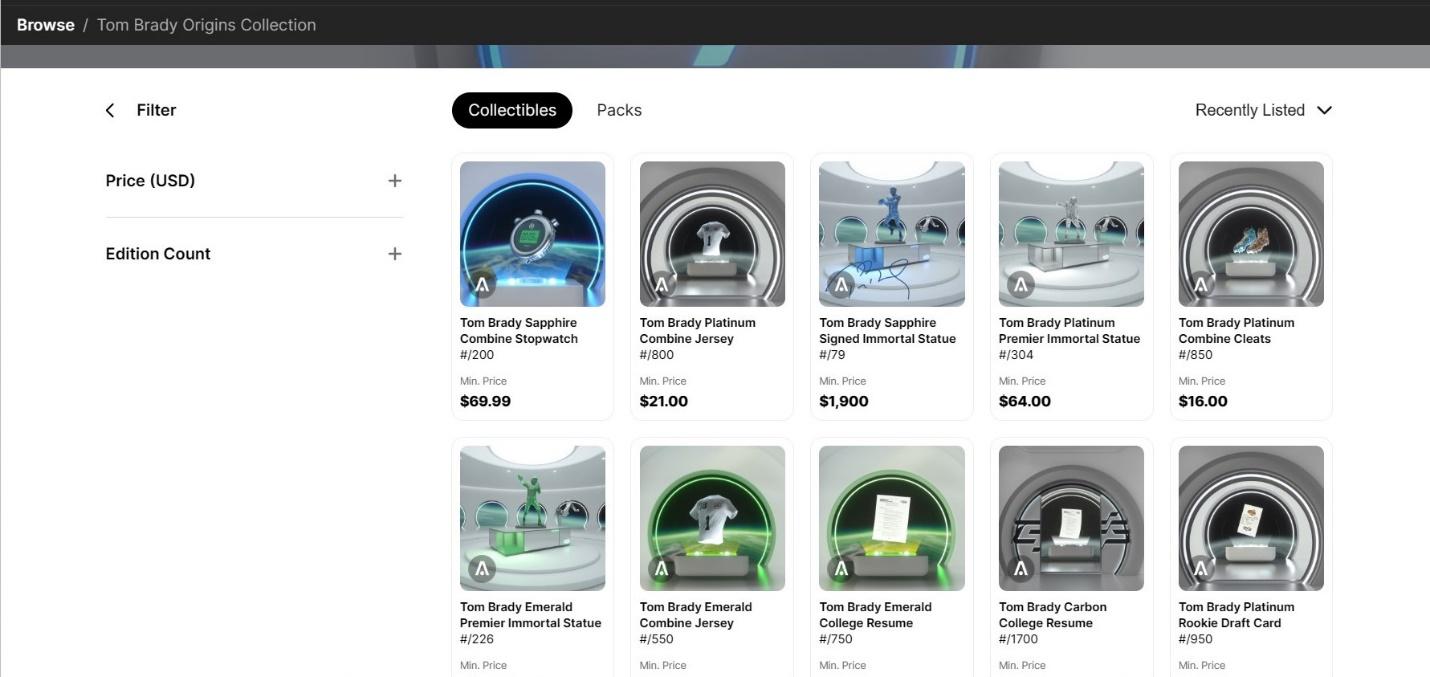 4. When you find an NFT you'd like to purchase, click on the listing to view the details and ensure it's the one you want.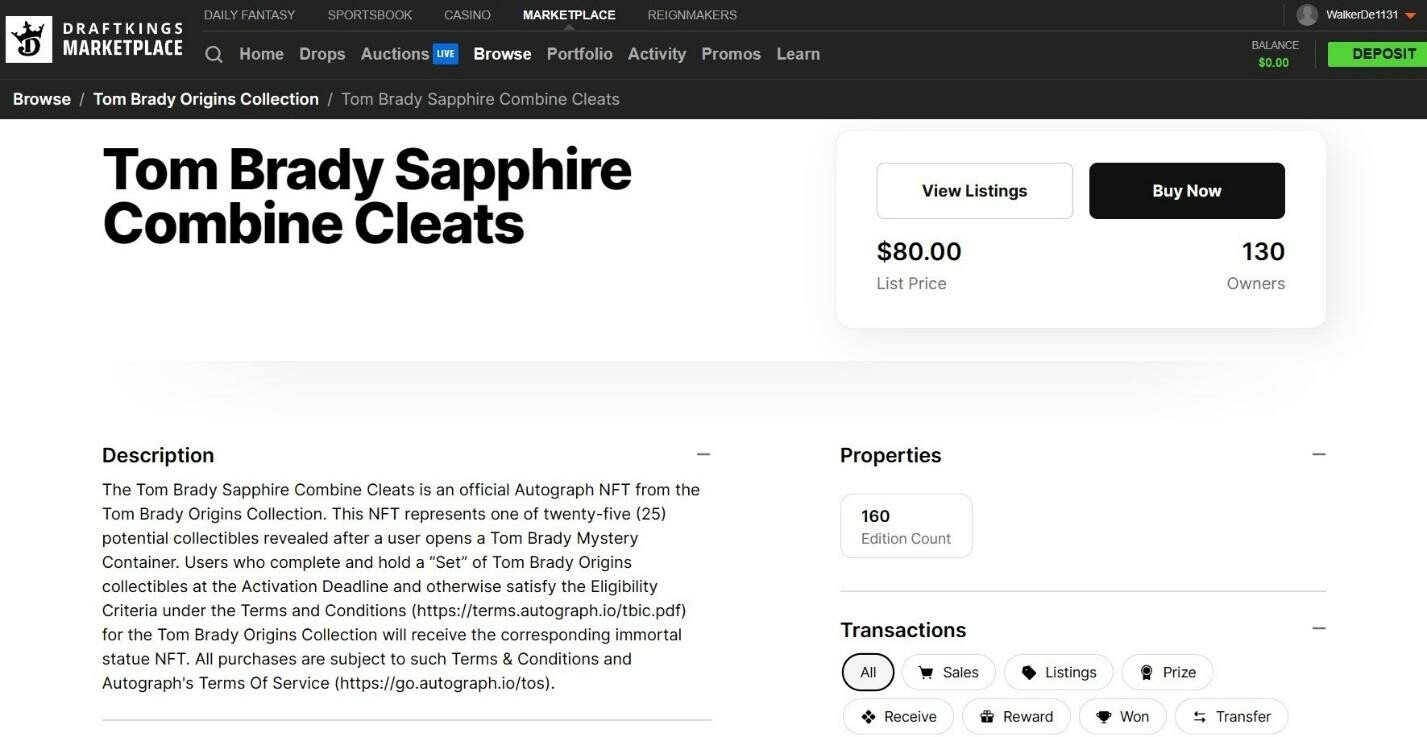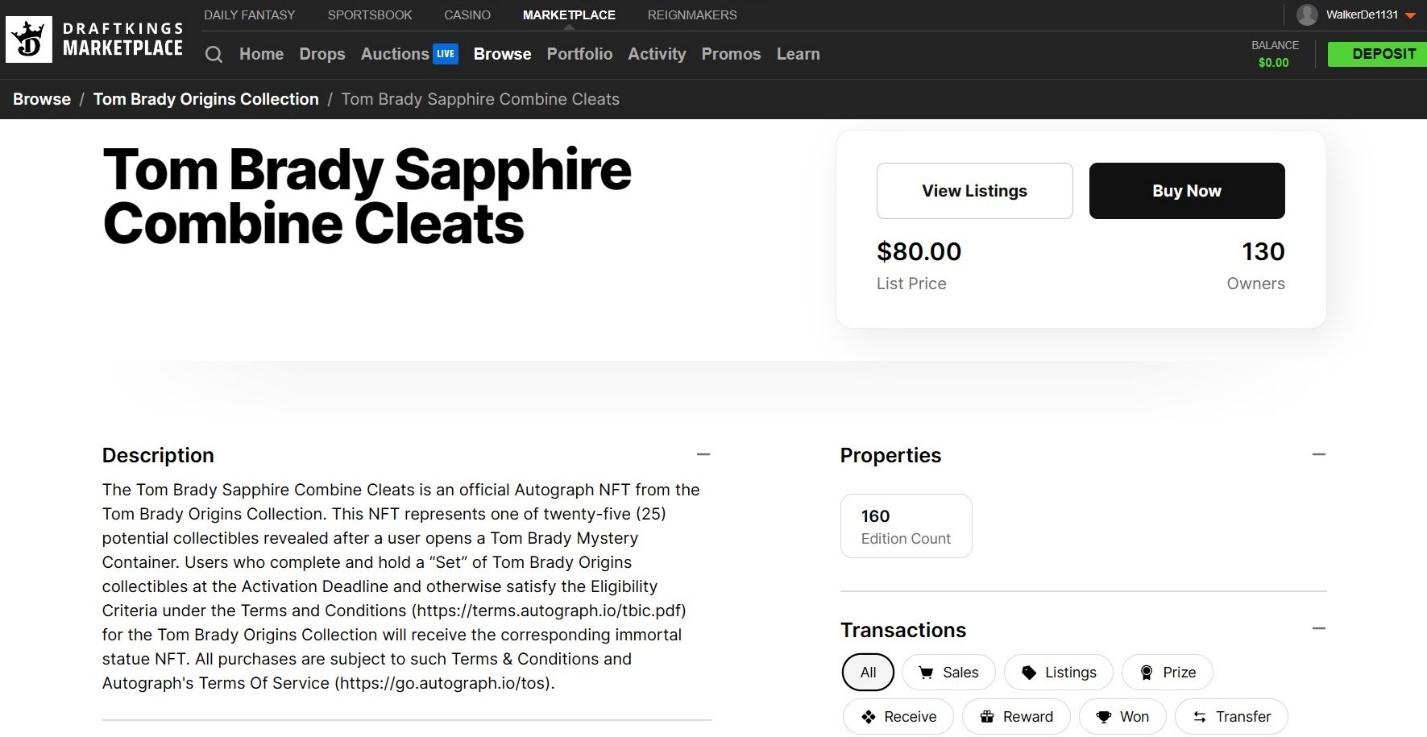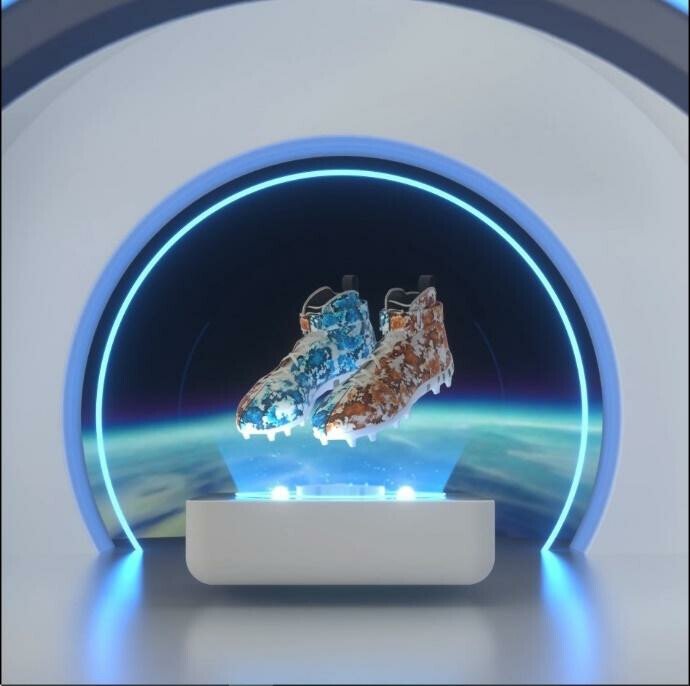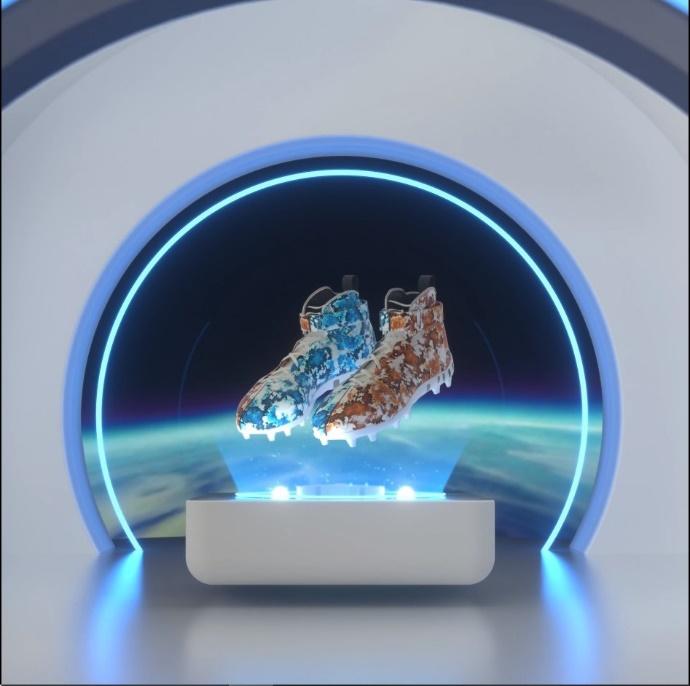 5. If you're satisfied with your selection, click the "Buy" button to add it to your cart. You can then review your cart and make necessary changes before proceeding to checkout.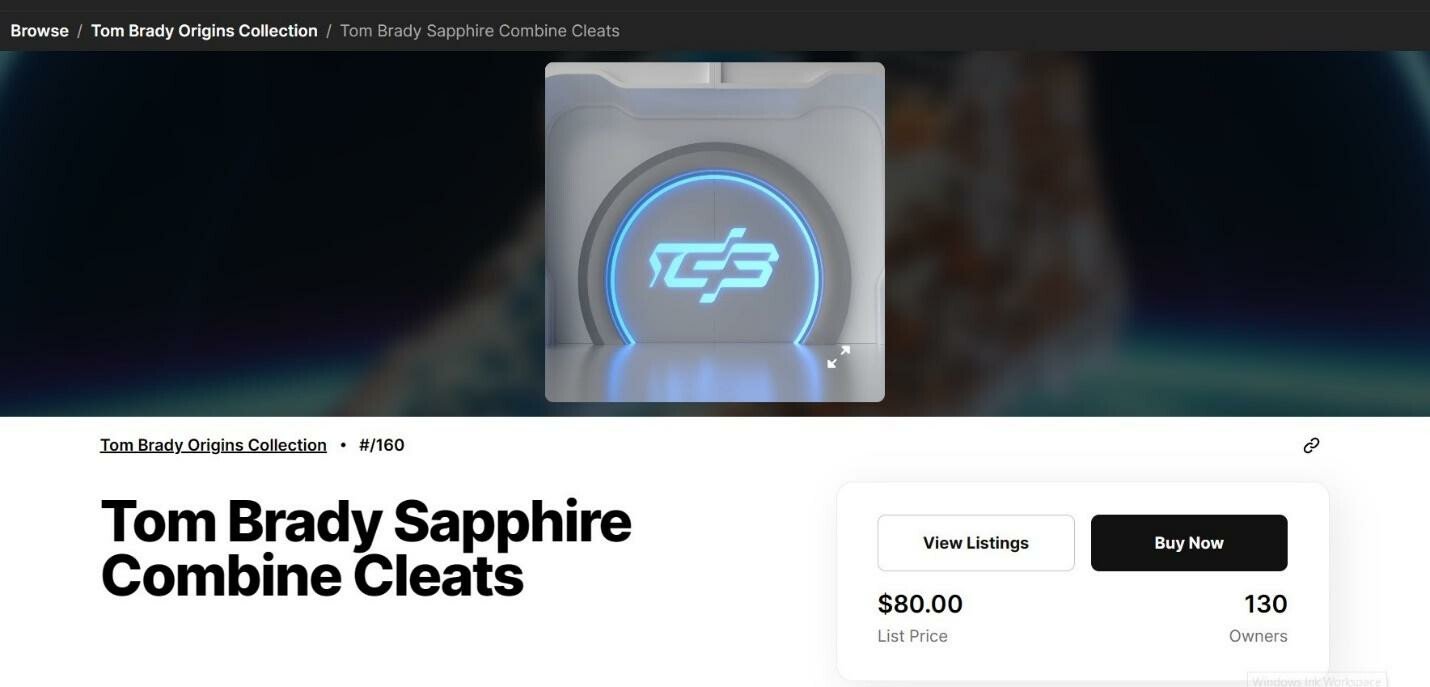 6. At checkout, you'll need to confirm your purchase and select your preferred payment method. You may also be asked to confirm your identity if you had skipped this process earlier. Once you are done, and your payment is processed, the NFT will be added to your collection.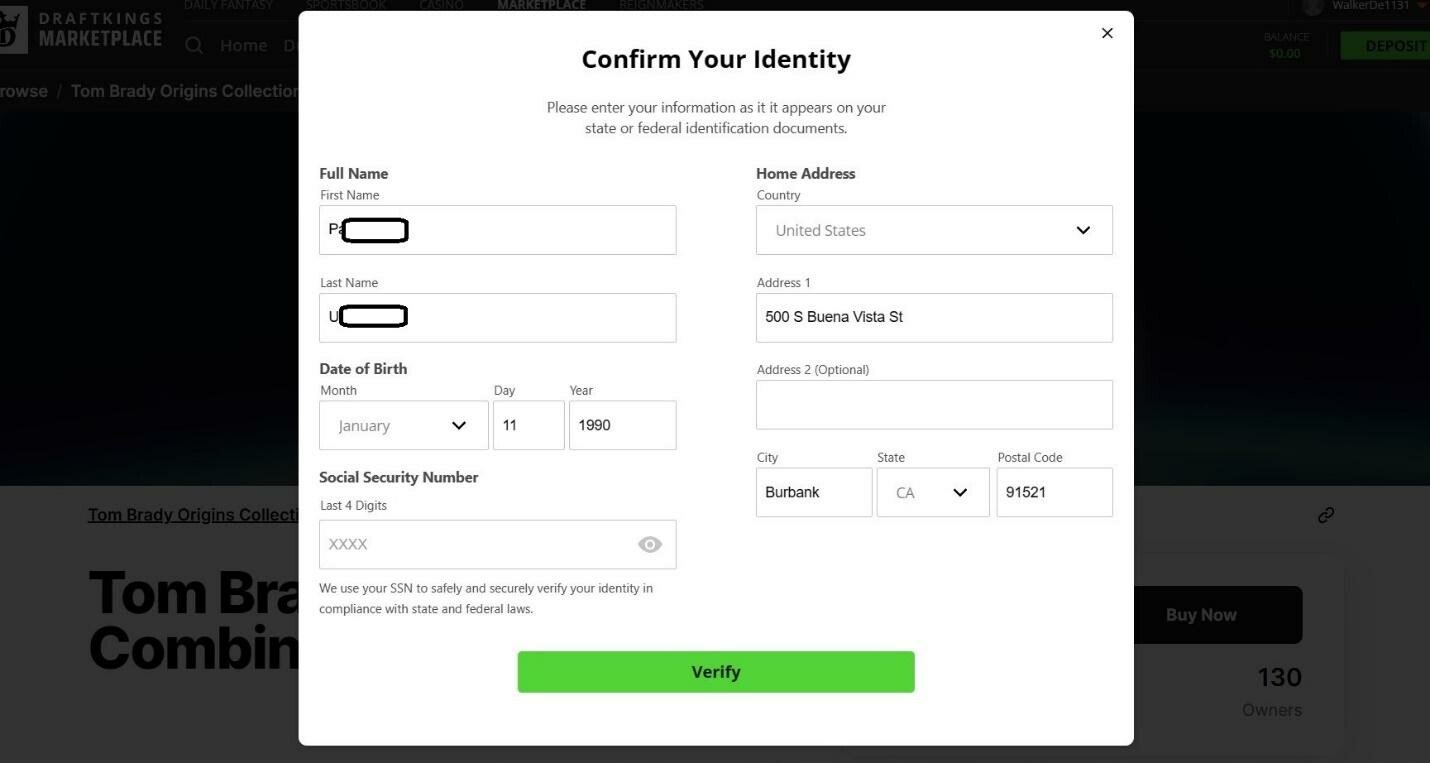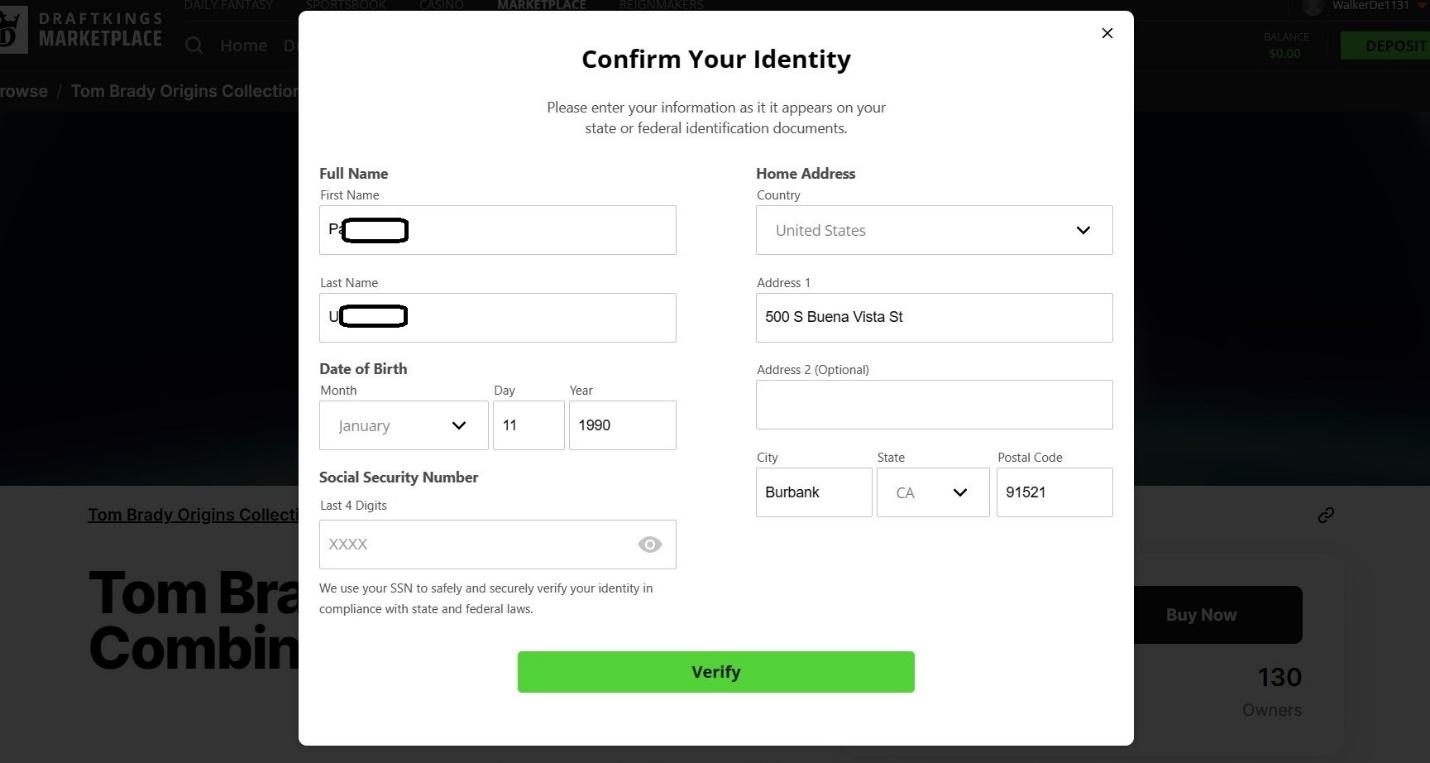 That's it! You're now the proud owner of a new NFT.
You can view your collection by going to the "Portfolio" section of your account.
What is Tom Brady's NFT Marketplace Autograph & What Can You Buy There?
Autograph is a marketplace for non-fungible tokens (NFTs) founded by Tom Brady, Richard and Dillon Rosenblatt in December 2021. The platform allows individuals and brands in the sports and entertainment industry to create and collect NFTs. Autograph works with these icons to generate revenue by minting and selling limited edition celebrity-themed NFTs.
Since its launch, the company has seen impressive success, including raising over $170 million in capital from top cryptocurrency investors and selling The Tom Brady Origins Collection in just 10 minutes, totaling more than $1.3 million in sales.
Autograph has also partnered with notable athletes such as Naomi Osaka, Simone Biles, Tiger Woods, Tony Hawk, Derek Jeter, Wayne Gretzky, Usain Bolt, The Weeknd, and many others.
In addition to Tom Brady and the Rosenblatts, the board of directors includes Eddy Cue from Apple, Peter Mattoon, the Chairman and Founder of SCS Financial, and Michael Meldman, the Chairman and Founder of Discovery Land Company.
In an effort to be more environmentally conscious, Autograph chose to use Polygon, a more sustainable blockchain infrastructure, for all of the NFTs sold on the DraftKings Marketplace.
As the NFT industry continues forging ahead, you now know how you can get yourself a Tom Brady NFT for fun, investment, or as a keepsake if you are a fan.

---