Havven ICO: Lessons Learned by the VP of Partnerships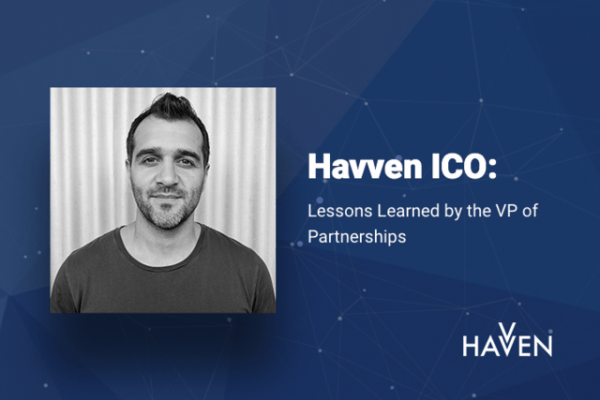 Cryptonews.com recently launched a series of articles covering 'Lessons Learned' from ICO teams. We kicked off the series featuring Lympo.io just last week. Here are five new lessons from Jordan Momtazi, Vice President of Partnerships at Havven, a Sydney-based decentralized payment network and stablecoin.
On 28 February, Havven (HAV) completed its token sale, having reached its USD 30 million hard cap in under 90 minutes. The company is launching its first phase on the stablecoin platform next week, Momtazi told us.
Now he's ready to share what the company learned during the token sale process.
Lesson Nr. 1: Find a unique way to build your community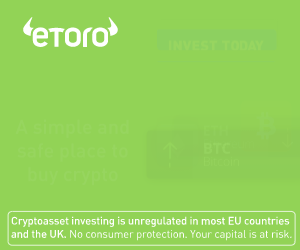 "There were an incredible 75,000 total participants across the expression of interest period, airdrop, and main sale. The Havven Telegram community has become the largest crypto group in the world! We reached 125,000 members, having to create a second account after hitting the 100,000 cap. A contributing factor to this growth was the large airdrop we launched weeks before the token sale. Most airdrops are run after ICOs as a way of distributing the tokens more widely. We instead saw it as an opportunity for generating early interest in the project. This ensured that a vast number of people became well acquainted with what Havven is, and how it works."
Lesson Nr. 2: Be open to changing the plan along the way
"We changed course many times during the final three-month period before the ICO. Decisions on marketing, events and where to allocate resources were constantly changing and responsive to what we saw as important in the current environment. The space moves fast, and we needed to adapt to what was ahead of us rather than sticking to previous plans for the sake of it. An example was the way marketing was approached. Our initial plan was to allocate a budget for popular social and news media platforms, but we pivoted to focus on crypto-only publications, and be more targeted in our messaging. The change was made after realising that platforms like Facebook were being used more frequently by low-quality projects, and we wanted to keep clear of the negative sentiment surrounding grandiose claims of X returns, and references 'to the moon'. The message: think quickly and act decisively!"
Lesson Nr. 3: Communicate clearly to your community and listen to their feedback
Up to the token sale and throughout its duration, we took great care to give our community as much information as we could about what was going on. We gave all 150,000 airdrop entrants an opportunity to check the details they submitted, and alerted everyone once scammers began to appear. We also frequently updated the blog, providing detail around the platform as well as updates on the airdrop and sale. We also took great care to listen to the community's feedback. For example, when people suggested that it shouldn't be necessary to complete a KYC/AML [Know Your Customer / Anti Money Laundering] identity check simply to participate in the airdrop, we agreed, removed that step from the airdrop requirements, and implemented an alternative anti-fraud process.
Lesson Nr. 4: Take great security measures
During the token sale, our community was inundated with the kinds of scams that any successful cryptocurrency project attracts. Our Telegram groups were spammed with bots advertising fake token sale details, and unfortunately Telegram does little to prevent scammers imitating group admins and contacting people in the group directly about making purchases. We partnered with EnterSoft, a security service that worked to shut down scam sites quickly. They helped shut down 24 phishing sites and 17 Medium pages. Security measures such as this one are a vital investment, and always consider doing whatever you can to protect people who are interested in participating.
Lesson Nr. 5: Post sale - journey's only beginning
In the lead-up to the sale, it was challenging not to get tunnel vision and become hyper-focused on the sale process. While the token sale was looming large, it was important to remember there were immediate steps to be taken afterwards, and a list of critical items which needed to be thought through. The sale is only the beginning and the hard work is ahead of us!
_______
HAV is already trading on exchanges such as IDEX, EtherDelta, and Gate.io. We look forward to observing the Havven team's upcoming developments, and will loop back in with Momtazi in a few months to give us a status update.
HAV price chart on IDEX: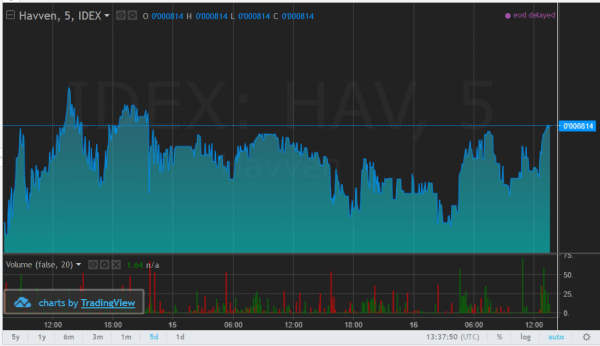 Interested in hearing further lessons learned by a recent ICO? Let us know here!