Crypto Community Turns to Petitions Amid Regulatory Crackdown
A petition, a request to do something, most commonly addressed to a government official or public entity, is perhaps the most popular way of giving voice to the people's needs and concerns. A seemingly unlikely way to express people's opinions about crypto, it was a logical step after governments decided the young industry needed regulations to keep it in check. What better way to let your local officials know what the people that gave them their positions think?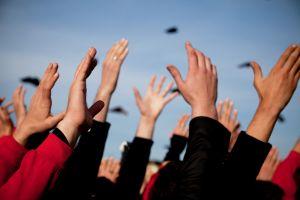 After the recent ban on financial institutions dealing with crypto in India, people turned to the simplest way of making themselves heard: they made a petition. Titled "Make India at the forefront of Blockchain Applications revolution," it accuses the Reserve Bank of India of taking a "protectionist" stance against blockchain, comparing it to the stance other countries' officials had taken against services such as Uber, a peer-to-peer ridesharing company. The petition goes on to say that this ban is creating a "stifling" environment for young entrepreneurs who are then looking to leave the country. At the time of writing, the petition falls short of its 25,000 signature mark by 2,000.
This is not the only such petition that has come to life in India: "Announce bitcoins and cryptocurrencies as legal" is the name of another that claims desire to "develop a responsible industry around this revolutionary technology." They also claim "potential for India to save USD 7 billion by using cryptocurrencies for inward remittances," not an insignificant number, although its source is not cited. "Stop bad actors, not the technology" is the motto of this petition, that needs slightly less than 3,000 more signatures to its 35,000 goal.
India is hardly the only one taking this path to being heard. Polish crypto enthusiasts have also taken to the famous change.org website to protest Poland's tax decision concerning this industry. "Poles are a wonderful nation that has one of the best blockchain technology programmers," claims the text of the petition. "As a result of imprudent activities of the Polish government, many of them build settlement systems for foreign entities, which makes the Polish State - that is, all of us - lose twice."
The Polish government has decided to levy a tax on all cryptocurrency transactions, regardless of whether the taxpayer made a profit, Bloomberg reported. While Prime Minister Mateusz Morawiecki has called cryptos "Ponzi schemes" in an effort to turn Poles away, the government and state-owned lenders generally support blockchain as a source of innovation in the banking industry, according to the report. The Poles also need 2,000 more signatures to reach their 5,000 goal of the petition.
These are only the best-known examples of the public turning to petitions in relation to cryptocurrency. Simply searching the term "cryptocurrency" in the change.org search bar brings up 139 petitions, ranging from asking Amazon to start accepting ETH to ending GPU mining which the petitioners say drastically increases the GPU prices at the expense of gamers. Many simply ask a certain exchange to add a certain coin to it.
Whether or not these petitions can actually change anything remains to be seen. However, the sheer number of signatures may mean more exposure to the problems people face, which in turn may help speed up the solution.
---