Columbia Embroiled in 'Fake' Crypto Story, Mexico Cautious over Libra
Disclosure: Crypto is a high-risk asset class. This article is provided for informational purposes and does not constitute investment advice. By using this website, you agree to our terms and conditions. We may utilise affiliate links within our content, and receive commission.
Colombia's former finance minister has hit out at what he says are "fake news" stories linking him to cryptocurrency investments.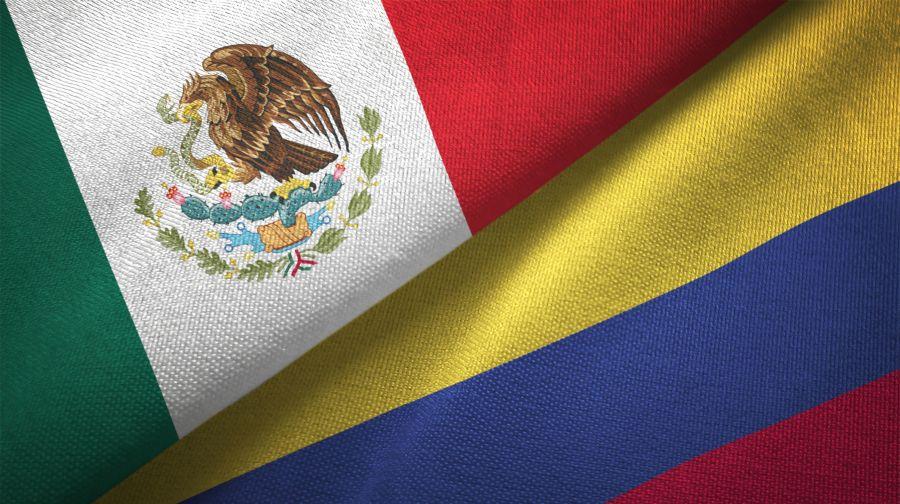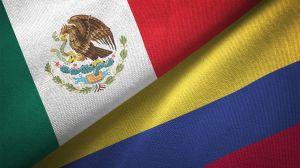 The Colombian crypto-community had been galvanized by reports surrounding Mauricio Cárdenas – who served as the country's finance minister from 2012 to 2018 – claiming he had invested a whopping USD 8.8 million of his own money in a cryptocurrency company and advising fellow Columbians to buy Bitcoin and other tokens.
The reports, Cárdenas claims, were elaborate fakes.
Per RCN Radio yesterday, Cárdenas claimed,
"It's on Facebook, Instagram, Twitter, everywhere. I have tried to deny it. I have called the [financial regulator] and the police's cybersecurity department but they have not been able to find those responsible for the posts."
One exceptionally convincing-looking news report appears to have been made up to look like a screenshot of a bona fide story from popular media outlet La Crónica del Quindio.
The screenshot was dated March 22, 2019, but began doing the rounds on Twitter in April – where it was heralded by many crypto-enthusiasts. Cárdenas-cryptocurrency stories are still circulating in late June.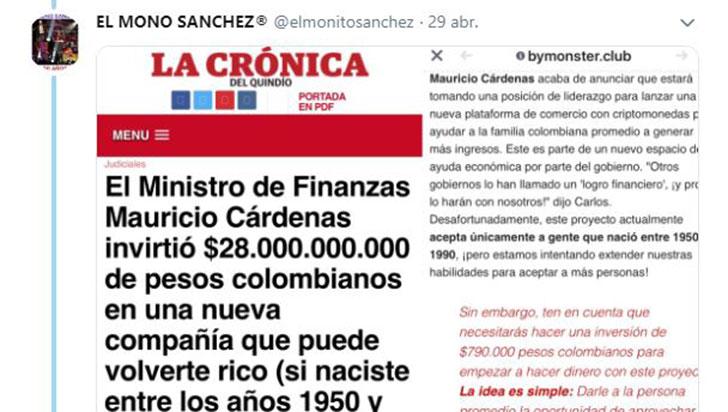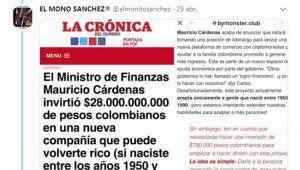 One Twitter user wrote, "Mauricio has become the hero of his people, and an enemy of the banks!"
________________________
________________________
La Crónica del Quindio published a story claiming that the screenshot was a fake in May, but it appears this has done little to halt the flow of claims on social media that Cárdenas has made cryptocurrency investments.
Per a recent survey conducted by Statista, cryptocurrency ownership is the joint second highest in the world in Colombia (behind only Turkey). The survey found that 18% of the respondents in the Latin American nation say they have cryptocurrency holdings.
Elsewhere in the region, Mexican authorities have become the latest to urge caution over Facebook's forthcoming Libra payments project. Per Mexican media outlet AM de Querétaro, the head of the Bank of Mexico's Payment Systems department stated,
"We will have to analyze Facebook's announcement in much more detail. [The project involves] new technology, and we have to be very careful of the implications this could have on the conventional financial system. We must take care, above all, that there are no possible risks that could spread into [the Mexican financial system]."
The same media outlet quoted Carlos Hernández, an analyst at Latin American economic think-tank the Competitive Intelligence Unit as saying,
"Just because [Libra] has a Facebook logo, it doesn't mean it will take off as soon as we begin to use it. Just as is the case with everything in the world of economics, there will be some barriers to get over before we can start using [cryptocurrencies]."
---