ZEBITEX is Launching its First IOU for the AVAX Token!
The text below is an advertorial article that was not written by Cryptonews.com journalists.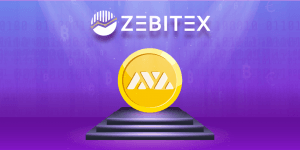 What is an "IOU"? In English, "I Owe You" allows you to buy and exchange a token before it becomes available on the market and before it is distributed to its first investors.
It is simply an acknowledgement of debt: it allows you an access to the future tokens, according to the exchange price.
The crypto we're talking about here is Avanlanche (AVAX), one of the most awaited crypto of the year 2020 with around 43 million dollars raised in USDT, ETH and BTC in less than 5 hours for a total of 72 million AVAX during the ICO.
Avalanche is a protocol and a platform for smart contracts like the ones used on Ethereum. Its native token, AVAX, serves as a means of exchange and unit of account for its own network. Its function will also be to reward the nodes via staking, soon to be available on ZEBITEX, and to finance decentralized applications.
Avalanche's ambition is to become the best platform dedicated to Decentralized Finance (DeFi). This is supported by its creator and CEO, one of the greatest experts in the cryptosphere: Emin Gün Sirer. In addition, the competence of the development team and its advanced performances make it a project with high potential.
This is why at ZEBITEX, we have chosen Avalanche (AVAX) as the new Euro pair on our trading platform. The IOU is also listed in BTC, which it is totally exclusive, as no other platform offers these 2 markets at this time.
As a reminder, you can credit your account by credit card for a 3.5% fee with instant credit, or using a SEPA transfer for the most patient (free of charge), and of course also in cryptos.
BUY AVAX -> https://zebitex.com
The funds available for sale come from tokens bought by investors in previous sales rounds, the associated wallets are under the control of ZEBITEX, there are only 32,100 available, and the Avax will be immediately available at the exit of the Avalanche mainnet (announced by the developers for the end of August).
Deposit/withdrawal operations from your favorite wallet will also be available from then on.
Happy end of July to all ZeTraders!
---