XRP2.0 Price Pumps 31,000%, New Pepe Token BEBE Climbs 36,000% But South Park Coin Burn Kenny is Up $250,000 in Under an Hour and Evil Pepe is Next 1,000x Token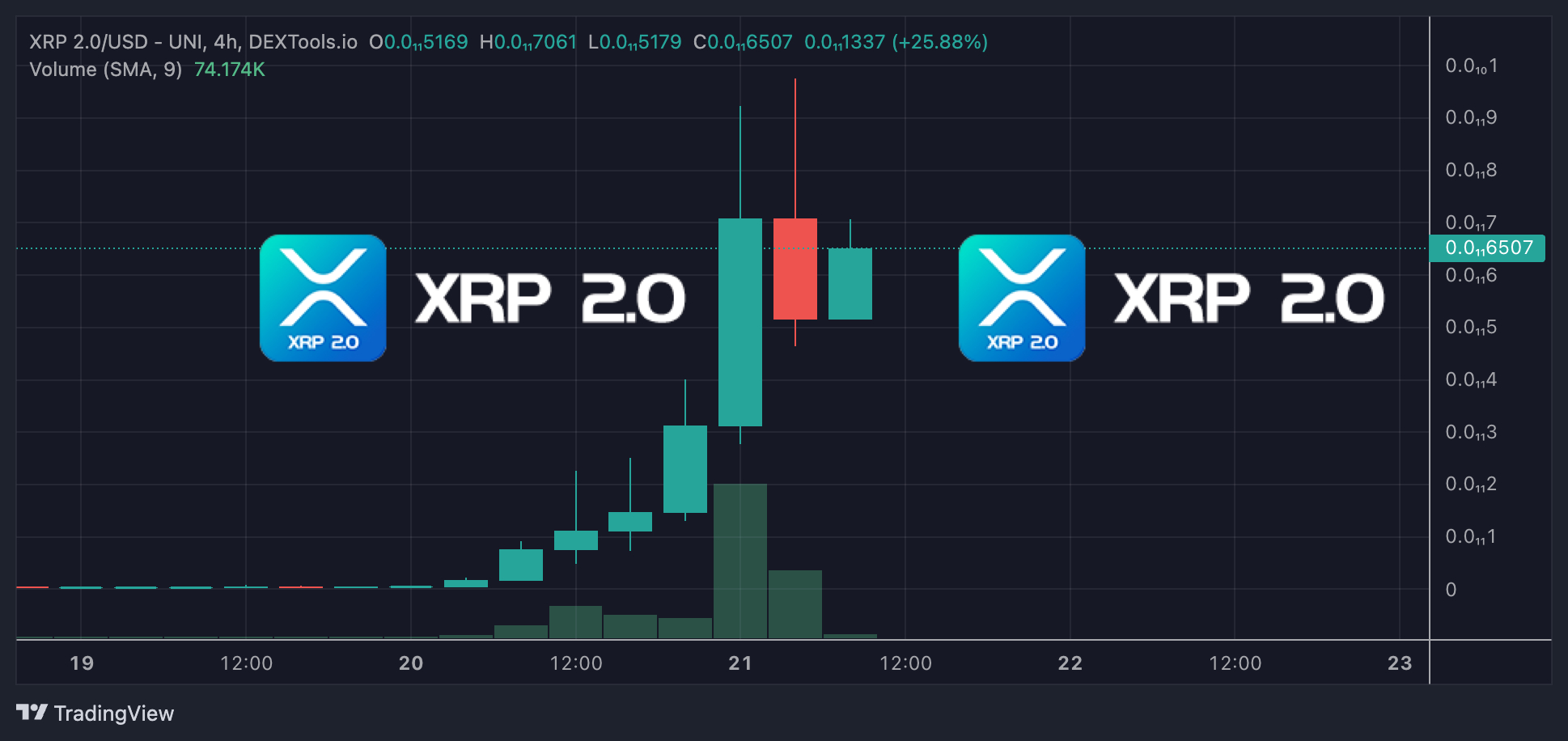 New cryptocurrency $XRP2.0 is up 31,000%, and the latest take on the Pepe craze – $BEBE coin – climbs 36,000%, but Burn Kenny Coin and Evil Pepe Coin could provide the next best opportunities for stellar returns.
Launched yesterday, XRP2.0 leverages the positive price pressure XRP has garnered in the light of the recent ruling by the judge in the SEC's case that XRP when sold to retail investors, is not a security.
Trending on DexTools now, other than the name, XRP2.0 coin's resemblance to XRP is non-existent.
The chances of it sustaining its gigantic bull run are slim, but its volatility might help it keep traders engaged if it pulls back from its highs today.
XRP2.0's main utility selling point is its text-to-image AI bot.
$BEBE coin brings a new Pepe flavor – but where's the beef?
BEBE coin, on the other hand, is a straight-up meme coin, which describes itself as "the latest addition to the Pepe coin saga".
There is not much else going on here with the $BEBE coin, which may be part of the attraction, or it speaks to its lack of marketing spend and prowess. The yellow-themed webpage has the ticker and contact address on it, but that's it.
However, the tokenomics look sound – there are no transaction taxes or blacklisting features in the contract, according to DexTools and it has a 99/99 DEXTscore and 80/20 community score, although admittedly off only 30 votes.
What the initial success of both new cryptocurrencies shows is that there is plenty more appetite in the market for new coin launches – on both the 2.0 version theme and the Pepe them.
BEBE is currently a hot pair trending on DexTools.
Best crypto to buy today July 21 – Burn Kenny ($KENNY) coin and Evil Pepe coin ($EVILPEPE)
Two more new coins that traders will be especially interested in are Burn Kenny ($KENNY) and Evil Pepe coin ($EVILPEPE).
Longer-term investors might also see their interest piqued, as these two coins might offer greater longevity than XRP2.0 or BEBE.
First off, South Park-inspired Burn Kenny is a meme coin. Its presale will sell out today after it raised $250 in less than an hour and will reach its hard cap target of $500,000 in as little as an hour or two.
At the time of writing $KENNY has raised 377,000.
There's no time to lose to get in on what could be the latest trend in crypto meme coins. However, even if you miss the presale, the coin is likely to list on the decentralized exchange Uniswap later today.
Followers of the irreverent cartoon comedy series will know that Kenny dies a lot – this time he dies by burning.
Yes, Burn Kenny comes with a burn design that will see 30% of the total token supply burned over a three-day period 24 hours after the listing begins.
Crypto experts expect $KENNY to fly out of the gates when it lists, so have your wallet funded and ready to connect to be an early winner.
Articles have appeared on Finbold, Cointelegraph, CryptoPotato, Coingape and Cision newswire, and many more websites are covering the token.
YouTubers are also already on the bandwagon, with one crypto expert predicting substantial return on investment for $KENNY buyers.
You can buy $KENNY now before it lists for $0.0001875.
$EVILPEPE set to beat PEPE2.0 – 1,000x Gains incoming?
Next up for high returns is Evil Pepe Coin, the newest addition to the Pepe coin craze. It asks you to "embrace your evil side", in its pitch to buyers.
That is a smart move, because of the many Pepe imitators there are none that take this tack.
PEPE coin has definitely made its mark on crypto, now boasting a market cap in excess of $600m. But PEPE2.0 has been making waves also. It has rocketed 514,000% since its launch in late June, as the chart below shows:


$EVILPEPE is on the path to similar returns. Evil Pepe Coin has raised $175,453 of its hard cap target of $1,996,002 in less than 24 hours, so time is of the essence for prospective buyers of this 100x coin.
The presale finishes in just 11 days.
You can buy $EVILPEPE coin for $0.000333 today, before it lists.
The coin is thought to come from the same team that brought us $SPONGE and is also connected to the Wall Street Memes ($WSM) meme coin that has so far raised an impressive $16 million in its presale.
Meme coins are all about brand and marketing and this team looks like it has all the right ingredients for success. The coin has already been mentioned in CryptoPotato, CoinGape, Techopedia, Finbold and The Financial Express to name but a few.
Disclaimer: Crypto is a high-risk asset class. This article is provided for informational purposes and does not constitute investment advice. You could lose all of your capital.
---