XRP Price Prediction as $0.50 Support Level is Breached – Will XRP Keep Falling?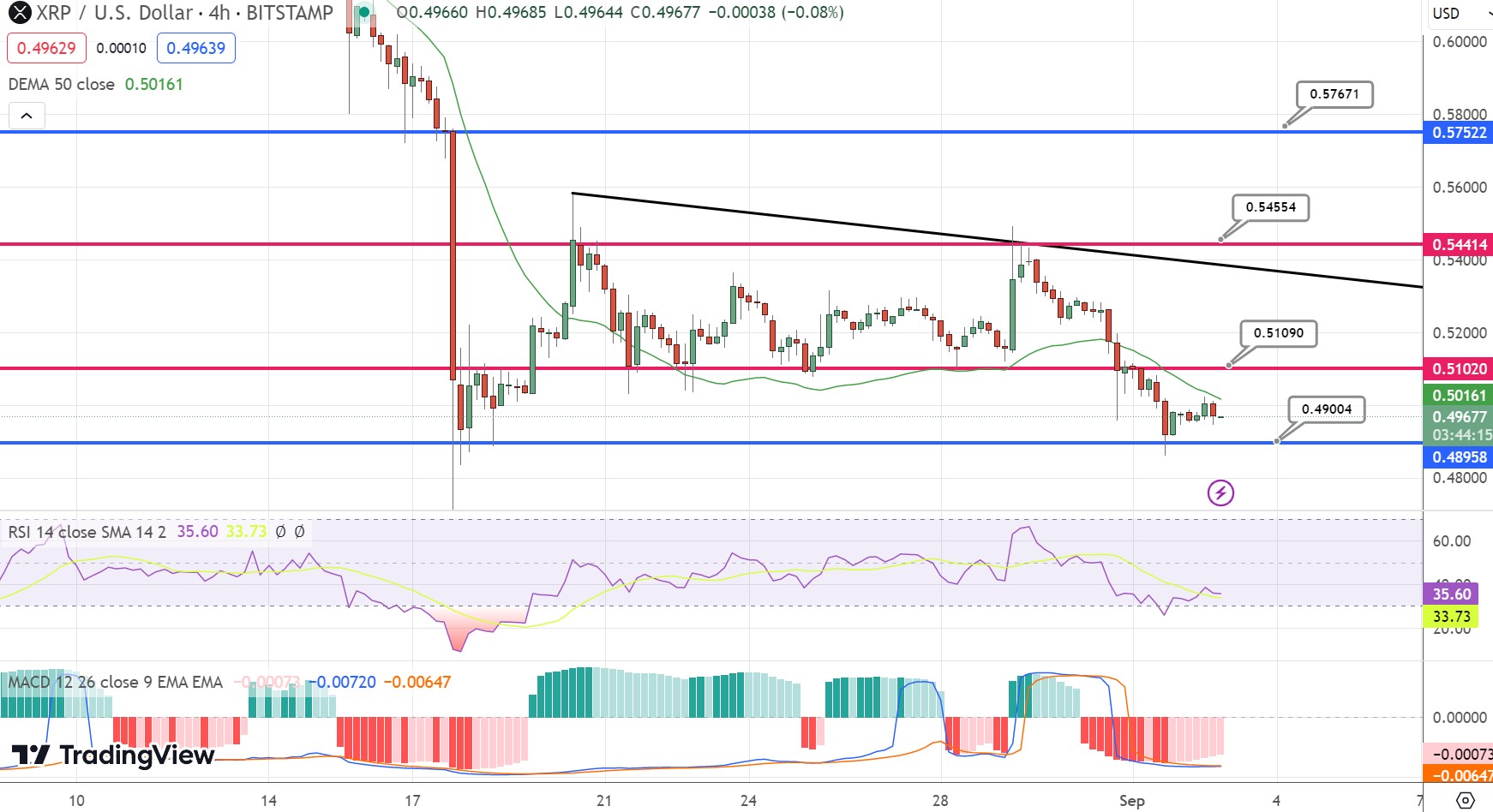 In the ever-evolving world of cryptocurrencies, Ripple (XRP) finds itself at a pivotal juncture.
Having breached the crucial $0.50 support level, market enthusiasts and traders alike are wondering if XRP's descent will continue or if a resurgence is on the horizon.
As of today, XRP is trading at a nail-biting $0.497. Despite the slight uptick of around 1% over the last 24 hours, there's palpable concern in the crypto community.
With a commendable 24-hour trading volume of $714 million and a live market cap of $26.3 billion, XRP sits firmly as the 5th-ranked cryptocurrency on CoinMarketCap.
Keeping in mind its vast circulating supply of approximately 52.98 billion out of a potential 100 billion XRP coins, the current price movement begs the question: What's next for XRP?
XRP Price Prediction
Upon a thorough technical analysis of Ripple (XRP), it's clear that the cryptocurrency is navigating a consolidation phase, bounded by the 0.4900 level at its lower end and the 0.550011 level at its upper spectrum.
Such consolidation patterns often suggest an ongoing tug of war among the market participants, indicative of prevailing investor ambiguity.
This equivocal atmosphere is further mirrored in the disparate movements of key indicators, such as the Relative Strength Index (RSI) and the Moving Average Convergence Divergence (MACD).
The RSI is treading within neutral territory, while the MACD provides mixed insights, evident by its lines diverging in opposite trajectories.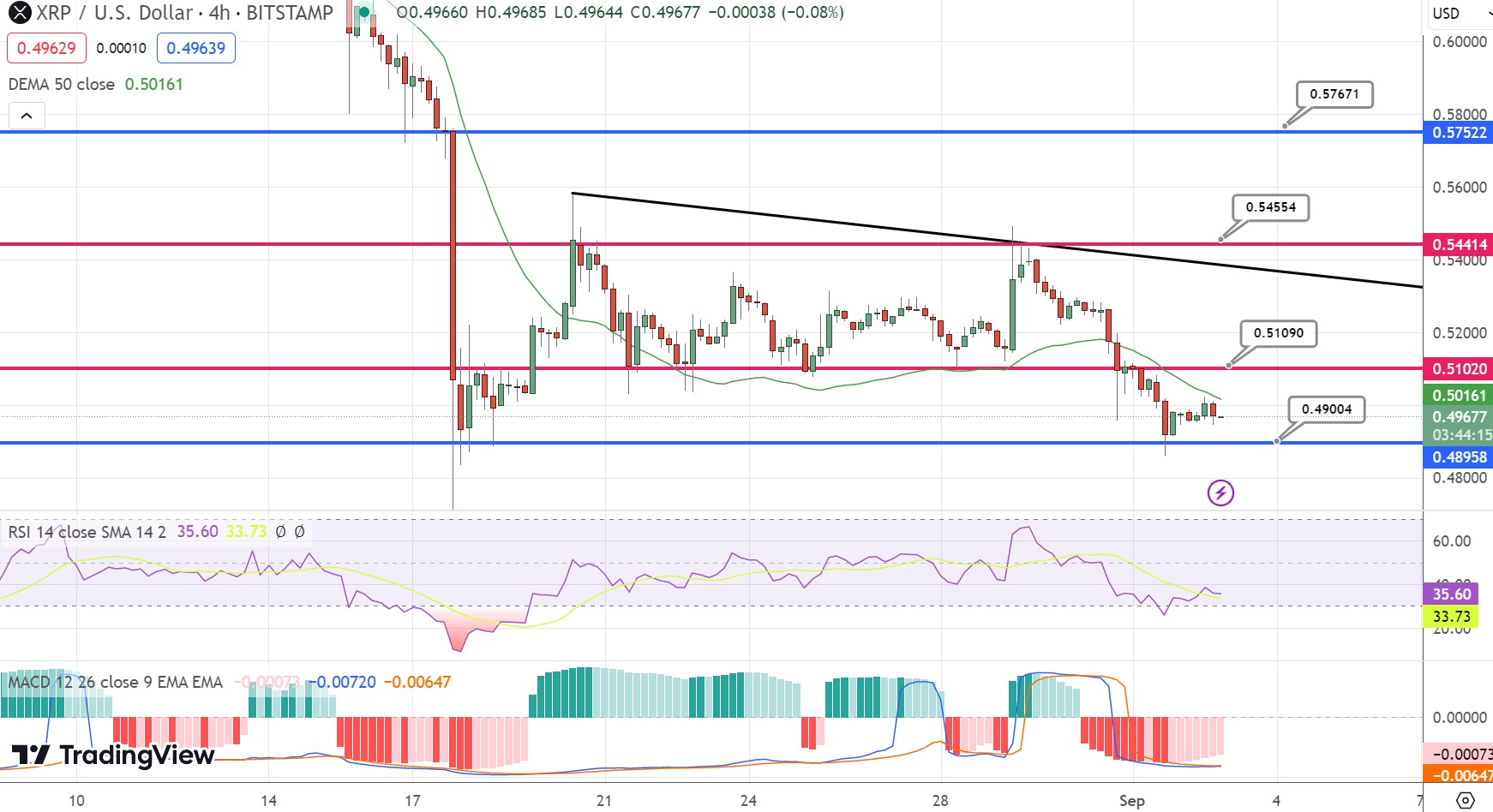 Currently, should XRP fall below its pivotal 0.0.4900 support, we might witness the next line of defense emerge near the 0.4500 level, with a further drop possibly approaching the 0.40011 zone.
On the flip side, if XRP surpasses the 0.5500 resistance, we could anticipate challenges at the 0.5800 vicinity, followed by a more formidable resistance close to 0.6590.
In essence, the day's analysis hinges on the crucial 0.4800 juncture. A positive surge remains within the realm of possibilities, but market watchers should proceed with caution.
A descent below this linchpin could tilt the scales towards a bearish sentiment, setting sights on the 0.4050 benchmark.
Sonik Coin - The Alternative Coin Worth Considering
Introducing Sonik, a trailblazing meme coin gaining rapid momentum in the crypto realm.
Drawing inspiration from the iconic character, Sonic The Hedgehog, Sonik has remarkably amassed over $30,000 within the initial 48 hours of its presale.
As demand surges, potential investors are advised to act swiftly to secure $SONIK tokens before this limited presale concludes.
Current Status:
Time Remaining: 02 Days, 16 Hours
Funds Raised: $1,071,953.89 out of $2,098,547
Token Price: 1 $SONIK = $0.000014
Secure your position in this promising venture. Act now to optimize your crypto portfolio with Sonik!
Disclaimer: Crypto is a high-risk asset class. This article is provided for informational purposes and does not constitute investment advice. You could lose all of your capital.
---