Why is HedgeUp (HDUP), Decentraland (MANA), and The Sandbox (SAND) So Desired by The NFT Community?
Disclaimer: The text below is an advertorial article that is not part of Cryptonews.com editorial content.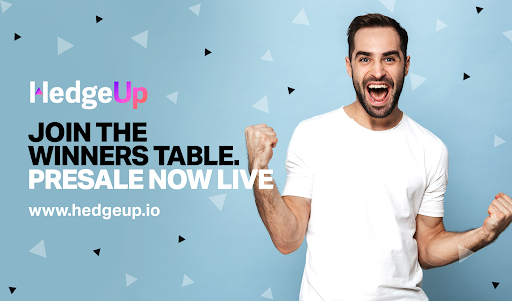 Non-fungible tokens (NFT) have become a popular sphere of the crypto industry. Social media has carried the news of NFTs and attracted the investment of popular celebrities. Various individuals compete to get NFTs to boost their social relevance.
As the NFT community keeps growing, it is worth noting that most users desire certain NFTs compared to others. Decentraland (MANA) and Sandbox (SAND) have become NFT collections that most users want to own. In contrast, HedgeUp (HDUP) is desired by nearly everyone in the NFT community.
Let's explore why HedgeUp, Decentraland, and the Sandbox have become NFT collections the NFT community desires.
HedgeUp (HDUP) makes NFT assets available to NFT enthusiasts.
HedgeUp (HDUP) is a new crypto project that offers crypto investors entry into traditional investment. With its unique diversification into traditional platforms, crypto investors can widen their earning capacity. HDUP majors in making high-valued assets with low volatility available to investors.
HDUP is the first crypto NFT investment platform that allows users to have fractional ownership in diverse alternative investment assets. Following the growth in the NFT community and its high demand, the price of most NFTs has gone up, and this price increase makes it difficult for some individuals to acquire the NFT of their dreams.
HedgeUp enables users to buy NFTs on the platform using fractional ownership when they can't afford the whole NFT. This allows users to invest in various NFT collectibles in the ecosystem. Even with fractional ownership, users' rights to trade are not restricted.
HedgeUp (HDUP) has gained much popularity among crypto investors, especially NFT investors. The introduction of fractional ownership has made HedgeUp NFT desired by many investors, and HDUP makes it possible for different users to acquire their favorite NFT collection.
Decentraland (MANA) uses open-source technology attracting investors.
Decentraland (MANA) is a cryptocurrency that attempts to bring to reality the existence of the metaverse universe. MANA allows its users to buy, sell, or develop lands in the virtual world. Decentraland is one of the first crypto projects that initiated ownership and control by users, and users have the freedom to create content and implement it on the platform.
Since MANA is based on the Ethereum (ETH) platform, it takes advantage of it to create a highly decentralized ecosystem. In the Decentraland, transactions are not hidden, therefore, are verified by any user. It also provides a community for users to interact with one another.
Decentraland (MANA) offers users ownership of parcels in the ecosystem through NFT. MANA's NFT marketplace is open to every user and allows users to share their content on the space.
The Sandbox (SAND) software makes it easy for users to create games and NFTs
The Sandbox (SAND) is a crypto platform where users can monetize their creations. It is open to everyone who intends to buy or sell crypto assets. The SAND token is a payment medium for transactions and can also be used to stake and earn huge passive interests.
With SAND, users can participate in various games available on the platform. It allows them to contribute to the governance of their DAO, and it grants users voting rights to change and improve the community. The Sandbox box has gained attraction in the gaming industry since NFT users can play using their collectibles. At the same time, players are rewarded for participating in the activities available in the system.
The Sandbox (SAND) allows users to create avatars and other items used in the ecosystem. They are also at liberty to sell those items in the marketplace. Users don't need advanced knowledge before creating things because Sandbox has various software applications that make creation easy.
With the increase in NFT popularity, there has been an increased demand for certain NFT collections. HedgeUp (HDUP), the Sandbox (SAND), and Decentraland (MANA) have become centers of attraction in the community. Their fame has gone wide and has been considered a must-have for every NFT collector, especially HedgeUp, considering its connection with the ever-growing traditional investment platform.
For more information on HedgeUp, click the links below:
Presale Sign Up: https://app.hedgeup.io/sign-up
Official Website: https://hedgeup.io
Community Links: https://linktr.ee/hedgeupofficial
---