While Fetch.ai Price Explodes, These 3 Altcoins Might 10x This Year
Disclosure: Crypto is a high-risk asset class. This article is provided for informational purposes and does not constitute investment advice. By using this website, you agree to our terms and conditions. We may utilise affiliate links within our content, and receive commission.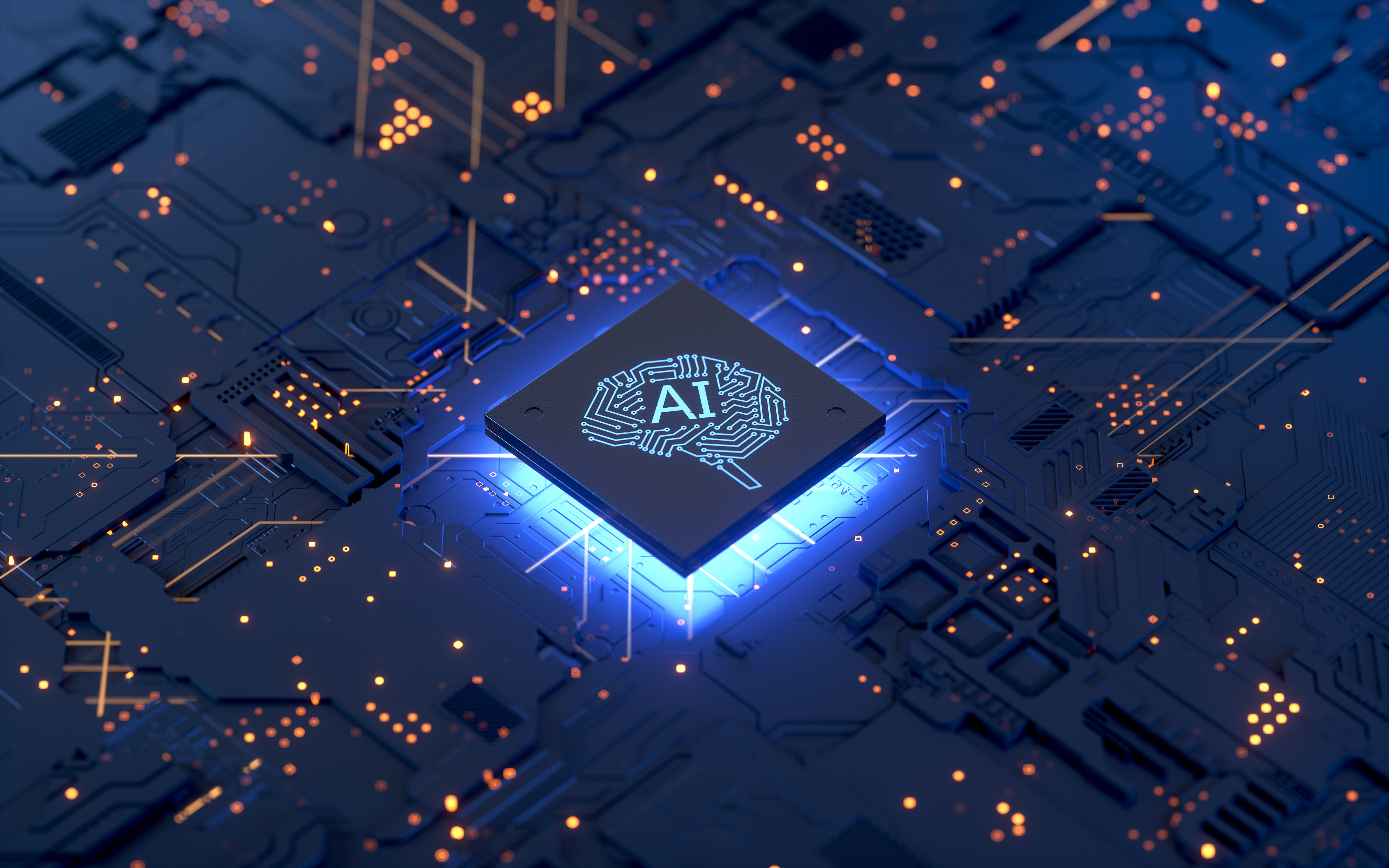 As the bleak crypto winter continues to lift, FET token has posted a whopping +525% gain. What's going on with the top altcoin Fetch Ai?
The brainchild of Cambridge-based AI entrepreneur Humayun Sheikh, Fetch AI aims to create an ecosystem for the design and deployment of AI 'agents' (bots).
Innovation has long been at the steering wheel. This project was enabling AI art in 2021 – before it was cool. But this is just one use case for the rockstar project.
With the simple goal of becoming the premier launchpad for commercial AI automated agent systems.
Fetch AI has leaped from strength to strength. From deep parking integrations with Tesla to partnerships with West Ham United.
But after a difficult 2022 for FET price action, the internet has finally caught up. The AI hype train has left the station – with the rise of ChatGPT and Google's recent announcement of BART.
Fetch AI (FET) Price Analysis
FET is currently sat high with a trading price of $0.54 at the time of writing.
The last time FET saw this level was back in April 2022, ahead of a long slow bleed out throughout last year. Downwards price action finally bottomed out after the FTX collapse in November ($0.05).
Attempts to save the promising project from capitulation saw slim movements throughout December. Bollinger bands tightened into the New Year as price wrestled constant bottom seller pressure.
By the turn of 2023, FET had broken back into support at a more comfortable support level between $0.08 – $0.10.
But macro sentiment from Bitcoin (BTC) and the increasingly dovish Fed ignited markets.
January saw the start of this rally, unassuming at first as it tracked BTC movements. But Fetch AI gained ground quickly at the axis of blockchain and AI technologies. FET posted +228% by the end of the month.
The beginning of February saw the rally turn into a skyrocket, as Bollinger bands widened into explosive volatility. Price action ran away from support at the 200-day MA and went into upwards price exploration.
And the hammering green candles haven't stopped landing. FET has rallied 40% so far this week alone – a full reclamation of 2021 lower support levels.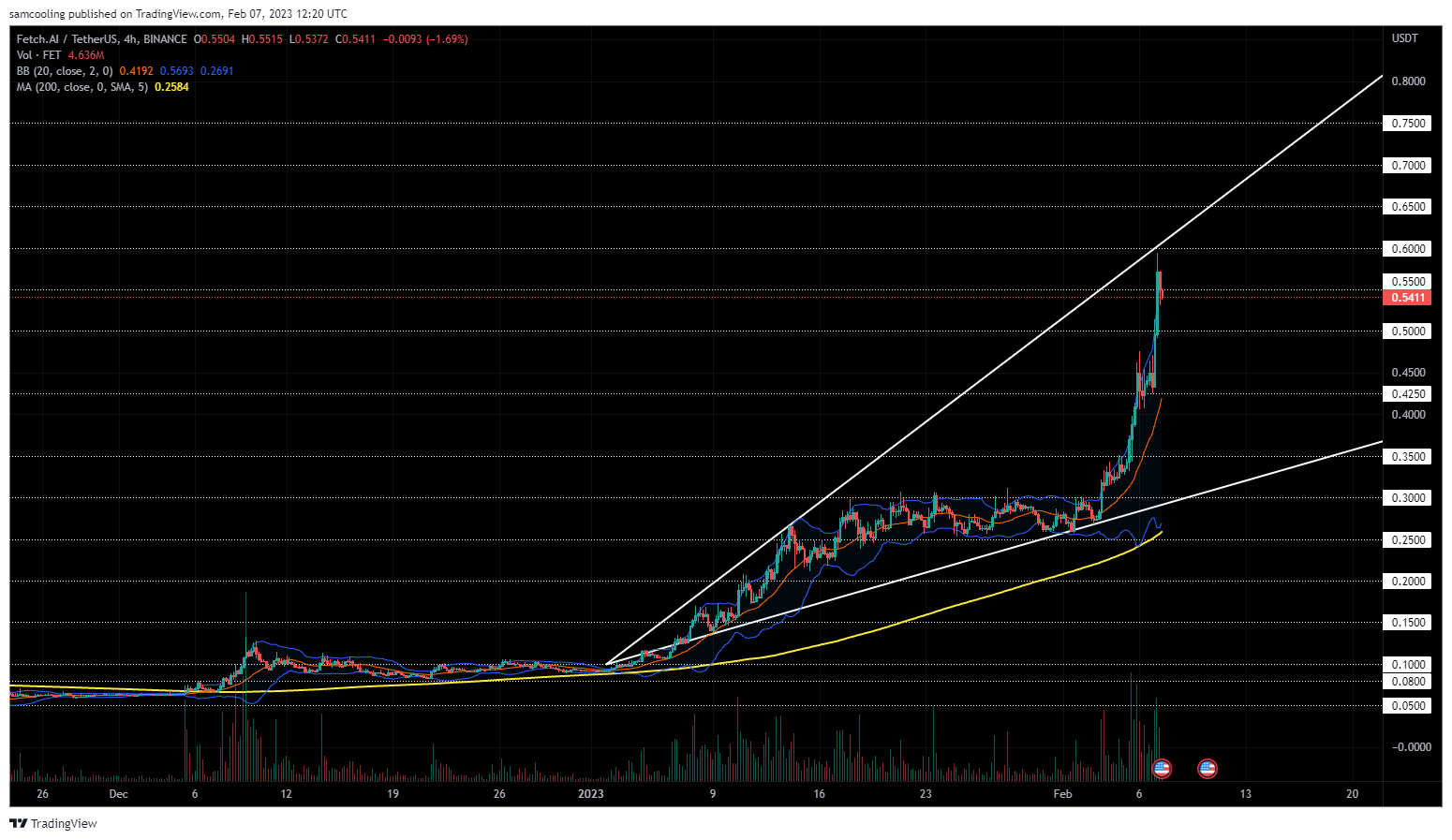 Local support now sits high above the 200-day MA, with support levels between $0.25 – $0.30.
With such strong rally momentum, there is good upwards potential for FET. A push higher would likely see a break up to $0.75.
Flipping $0.75 from resistance to support would position FET in line with the 2021-style bullish chart structure. A strong foundation to hammer tests at a new ATH above $1.
This week has seen huge candles pushing even bigger movements for FET. This hasn't gone unnoticed on the RSI 14 indicator.
Currently reading a high-scoring 77 – a classic overbought bear signal from the RSI. This indicator has come close to overheating on the most recent move.
Yet the January rally saw FET's RSI overheat to similar levels with the move upwards to $0.20. This didn't provoke downward action.
But rather gave way to a 14-day consolidation period at our local support level ($0.25 – $0.30).
Thus it could read that the RSI signals demand for a consolidatory cool-off period before bullish momentum resumes.
The MACD for FET is also sat unusually high at 0.0133. This is bullish, signaling breakout territory and extreme momentum from immediate buy pressure.
Predictions suggest FET wants to consolidate and solidify the rally's gains. This could involve a retrace to test our local support level at $0.30. Yet, bull pressure remains high – and skyrocketing volatility is hard to predict – a run up to $0.75 is likely.
A move upwards to $0.75 would see a +40% gain from here. A fall downwards to local support at $0.30 would see a -44% loss. With a Risk: Reward of 0.9, current price action sees greater downside risk.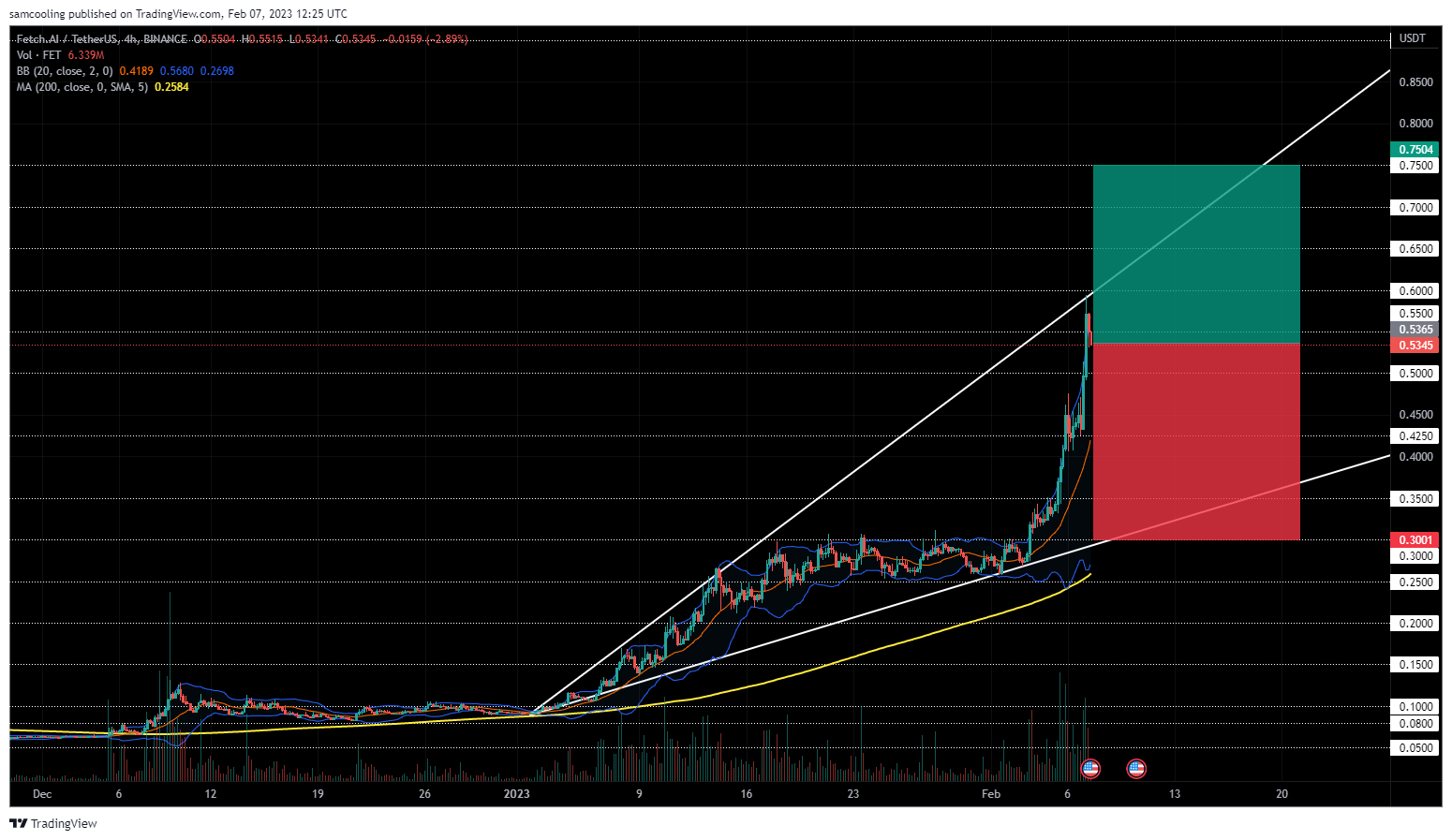 What other altcoins could 10x in 2023?
Meta Masters Guild ($MEMAG) – pre-sale nearly over
Meta Masters Guild is a decentralized GameFi ecosystem that aims to provide high-quality, blockchain-integrated mobile games.
The ecosystem has a single native currency, the Meta Masters Guild token ($MEMAG), which will be used in all MMG games and players can earn rewards in the form of Gems, which can be converted to $MEMAG.
The system incentivizes players to invest both their time and money into the ecosystem for fair compensation. MMG prioritizes fun and sustainable gameplay over profit-maxing economics and introduces Play and Earn (P&E) gaming in the crypto Web3 game space.
Players truly own in-game assets, and the ecosystem has a strong focus on community engagement with the native $MEMAG token set to control governance. MEMAG addresses the issues of the gaming industry by creating a decentralised and fair ecosystem that puts players first.
The first game, Meta Kart Racers, is set to launch soon, with many more in the pipeline such as Raid NFT!
Fight Out ($FGHT) – Pre-Sale Ending Soon
Are you looking for a way to get in on the ground floor of the future of sports? Fight Out FGHT token is your answer. With a unique combination of technology, community, and value, this token is set to disrupt the traditional exercise world and revolutionize the way individuals interact with their fitness!
Fight Out is a move-to-earn (M2E) fitness app and gym chain that gamifies fitness by rewarding users for completing workouts and challenges, growing the community, and developing their avatars. The platform tracks real-life workouts to improve user's avatar stats.
Fight Out aims to introduce the mass Web2 audience to the metaverse and M2E on Web3 by using user-friendly technology and socially engaging digital avatars. The platform offers workout classes, on-demand sessions, and personal routines.
Users earn $REPS, an in-app off-chain currency, for healthy activity and can redeem $REPS for items in the Fight Out store, discounts, and in-person benefits. $FGHT is the in-app native utility token that can be used to purchase more $REPS and access elite perks.
---