The Ultimate Diablo Killer is Here: Swords of Blood Presale Races Ahead with Both Crypto and Traditional Gamers Aboard
Disclaimer: The text below is a press release that is not part of Cryptonews.com editorial content.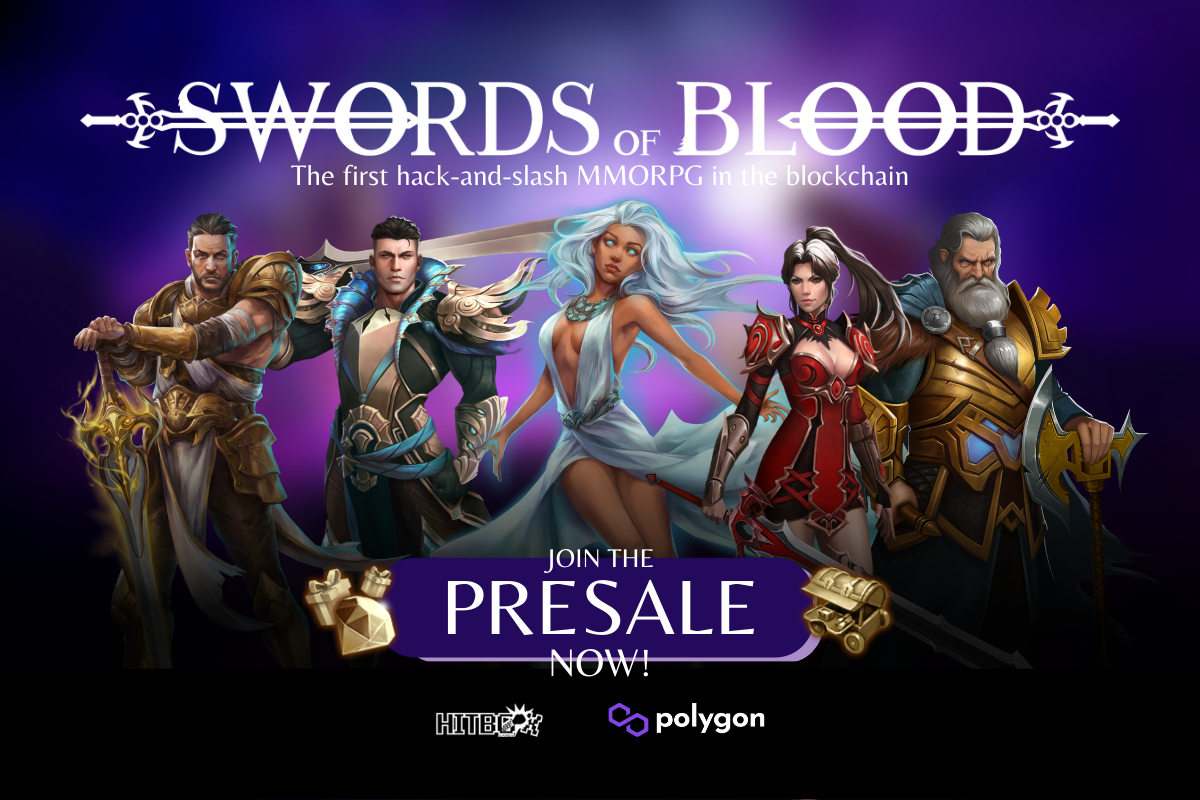 Diablo is one of the most gripping action role-playing games ever. Set in the dark fantasy world of Sanctuary, it focuses on the rivalry between humans and demon hordes led by Diablo, the antagonist of the series. It was first released in 1997 and followed by more versions, penetrating different generations of gamers.
The latest releases, however, have failed to captivate users. The gameplay is growing bleak and dreary, yes. But the user experience is what has managed to irk users the most. It seems like Diablo is not keen on keeping up with time.
And that explains why the Swords of Blood presale is witnessing unprecedented traffic from RPG fans – crypto, traditional, mobile, PC, young, and old. The hack n slash game is set to dethrone Diablo with a rich storyline, riveting gameplay, cutting-edge Web 3.0 features, and much more.
4.8 Out of 5 Average User Rating
Swords of Blood is built on the framework of an award-winning title that was first released by Artifex Mundi in 2019. It has a 4.8 out of 5 average user rating and over 4M downloads on App Store and Play Store. Hit Box Games LLC holds unlimited rights to publish a reimagined version of the successful game with new Web 3.0 features and functionalities. It will bring advanced user experience and crypto incentivization to players, in addition to flashy combat, stellar graphics, and various game modes.
The first-of-its-kind RPG is building on Polygon to take advantage of its high speed and low fees. The gameplay is set in the World of Ezura, which has been brought to a brutal fall by violence, betrayal, and a cunning evil. The betrayer is a being of immense evil, whom you have to fight and defeat through your strategic gameplay. For this, you can become a fearless dungeon crawler, a bounty hunting battle-mage, or a powerful warrior, grinding for loot and rare equipment. Epic gear and nature's magic will have your back as you avenge your fallen brothers on an epic quest of might and revenge.
Web 3.0 MVP will Release in May 2023
The Web 3.0 MVP of Swords of Blood is scheduled for release in 2023. The playable MVP features multiple asynchronous game modes as follows:
Main campaign dungeons in three difficulty levels.
Monster Hunt dungeons, where you play against waves of progressively harder monsters.
Boss Fortress, where you team up with four other players to fight against powerful bosses.
PvP, where you compete against other players to rank up in the global leaderboard to earn prizes.
Daily dungeons, where you enter a special rift to play a daily selection of dungeons with special rewards.
Event dungeons are time-limited event dungeons with a special currency that can be spent on unique event items.
Challenge dungeons are special events where you take challenges to win prizes from the global leaderboard.
Shattered Mazed is a week-long special event with an event shop where you go through mazes and fight monsters and bosses.
The project's eventual goal is to become a community-centric MMORPG by integrating synchronous game modes and more multiplayer features. The reimagined version of the game features the following:
Payment support from multiple chains and fiat currencies via SphereOne and Simplex.
A play-to-own rather than a play-to-earn game.
Brand new and more engaging F2P mechanics
4, 8, and 16-player PVP modes
New soundtrack featuring members from many famous acts such as Disturbed and Trivium.
Weapons specialist and creator, Ben Abbott, from the famed show forged in fire.
E-Sport Micro Tournaments
Community-based gaming with guilds and clans
G.U.T.'s, game utility tokens (NFTs) that can be used in-game and sold in the open market.
150-hour game expansion pack, the narrative of which is written by members from Cyberpunk, The Witcher, Gord, Command and Conquer, and Ghost Recon.
Community-based communication areas
4 million USD planned in added development
40% of all tokens and payments brought in will be managed by the project's market-making team.
Swords of Blood is Free to Play
Crypto games are usually known for their high barriers to entry – financial and technical. That is also one of the prominent reasons why they have failed to enter the mainstream. Traditional gamers are wary of trying their hands on crypto games, which are mostly play-to-earn. The unfairly large focus on 'earning' takes the fun out of the experience. As a result, the play-to-earn gaming model has failed to flourish in the crypto market.
Gaming developers and publishers have to rethink if they plan to buck the trend.
Swords of Blood introduces a play-to-own gaming model. Here, the game is fundamentally free to play. You can play for hours without spending a penny. But if you feel like you need more, you can unlock premium content using $SWDTKN, the native cryptocurrency of the platform. It is used to get past a certain hero level or threshold for PVE/PVP content, level up your items using Gold and Gems, access tournaments, acquire Battle Passes, and unlock rankings to name just a few.
$SWDTKN is Selling for Early Discounts Now
Swords of Blood is the most promising GameFi project of 2023. The game's popularity fuels the demand for $SWDTKN, giving it multifold growth potential in the open market.
Whether you're a gamer or an investor, the presale is the best gateway to the project. And the cheapest. With the MVP releasing in May 2023, the token has steep bull runs ahead.
Swords of Blood is hosting a presale of $SWDTKN with heavy discounts now. The earlier you join the presale, the higher the discount. For example, the token is priced at $0.070 in the second (current) stage of the presale. As it moves to the third stage, the price will increase to $0.080.
---