This New Play-to-Earn Crypto Is the Ultimate Motivation to Get Fit – Here's How It Works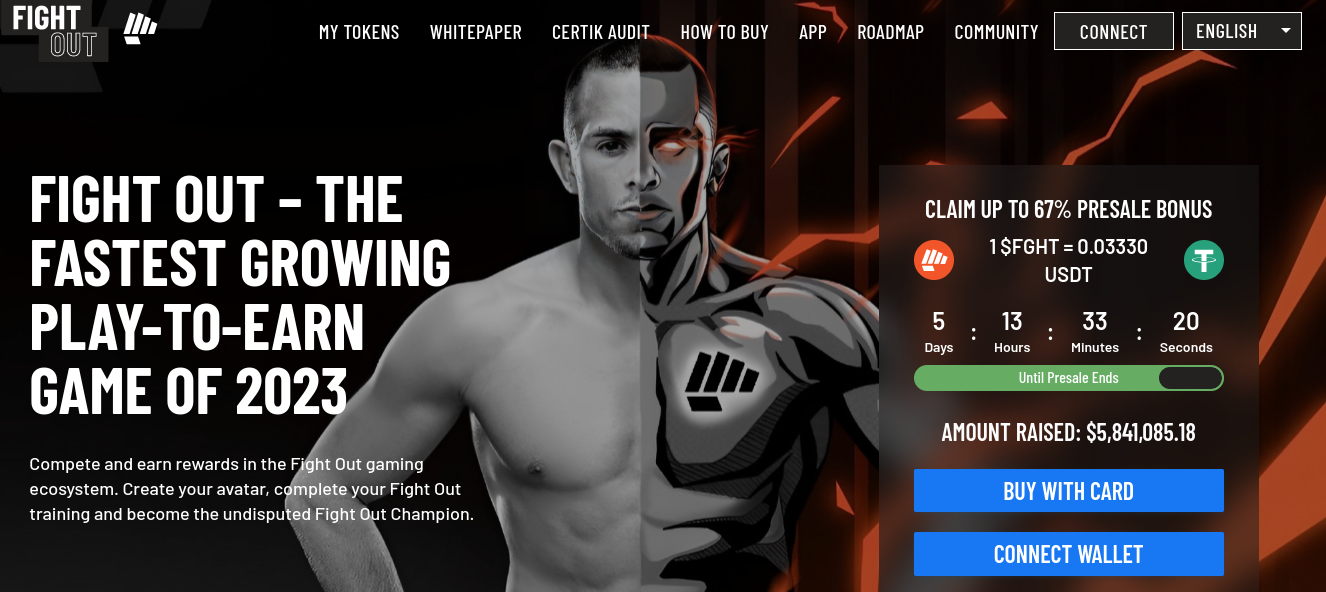 Fight Out ($FGHT), the revolutionary play-to-earn gaming platform, has soared to new heights, securing an astounding $5.84 million from investors in its ongoing presale.
The new gaming sensation is shaking up the fitness and metaverse communities as it concludes its presale in five days.
Interested gamers and crypto enthusiasts must take advantage of the current $FGHT discounted price to join the fast-rising crypto project.
Fight Out Ecosystem Overview
The fitness industry has experienced new technology innovations to facilitate seamless workout routines, exercises, strength training, pushups, weight lifting, and many more.
Although these technologies in the form of equipment have offered optimal efficiency and flexibility in the course of workout routines, they often come with challenges in the form of costs and a lack of motivation to stay dedicated to training.
This is where Fight Out thrives. The platform is a decentralized crypto project that uses train-to-earn (T2E) and play-to-earn (P2P) to facilitate users' transition into the metaverse.
The innovative project aims to disrupt the medieval industry by providing users with real-world utility when they both train their bodies and interact with the project.
Fight Out aims to deliver a revolutionary ecosystem where users are paid for keeping fit and participating in diverse gaming experiences.
The project is tipped to be the major catalyst for the revolution of the fitness and gaming sector due to its unique integration of the train-to-earn mechanics into its entertaining play-to-earn games.
The New Champion of P2P Gaming: Pathway to Metaverse, Elite Training, and Attractive Commercial Ventures
Fight Out members can participate in the metaverse gaming world via a unique Soulbound non-fungible token (NFT) avatar that mirrors all physical features.
After account registration, users can mint their Soulbound avatar for free. The fitness-gaming project seeks to be the gateway between users and the Web3 ecosystem.
Furthermore, Fight out has incorporated top-tier athletes and elite trainers, including British Boxing champion Savannah Marshal, Armada Ribas, and Tailar Santos of the Ultimate Fighting Champions (UFC), the popular and elite fitness trainer and blogger Tremayne Dortch.
These fitness-geared athletes will support Fight Out by providing masterclass tutorial videos on fitness exercises and motivational tips to help users stay committed to their workout routines.
The main mission of the Fight Out platform is to build a gamified experience for fitness and crypto enthusiasts to enhance their NFT avatars through real-world training achievements and earn rewards for completing tasks and competitions.
Regarding rewards, Fight Out offer users token incentives known as $REPS for completing workout sessions at home or the gym and completing various community challenges.
Members can use their accumulated $REPS to purchase prizes such as cosmetics for their avatars and earn discounts on app subscriptions and remote training sessions with elite instructors and athletes.
Invest in $FGHT Now: Lots of Bonuses to be Won in Ongoing Presale
As of press time, $FGHT has raised a staggering $5.84 million in its ongoing presale investment.
The gaming project token trades at $0.03090 USDT. However, the price will increase further to its exchange listing price of $0.0333 as its presale concludes in less than six days.
The token will list on seven centralized exchanges (CEX): Changelly Pro, LBank, BitForex, DigiFinex, Uniswap, BKEX, and XT.com.
It is worth noting that the Fight Out platform now offers an unmissable advantage in the form of bonuses for members who invests early. This includes up to a 67% bonus in $FGHT tokens for early backers and a further 5% referral USDT scheme.
To be eligible, Investors buy a minimum of $50,000 worth of $FGHT tokens and hold them for a minimum of 36 months to participate. Users uninterested in the vesting period will enjoy up to 42% bonus allocations on previously purchased tokens.
For the referral promo, the platform provides investors with unique links to be shared on social platforms and with friends and families.
When the link is used to purchase $FGHT tokens, the participant earns 5% of the amount invested.
Disclaimer: The Industry Talk section features insights by crypto industry players and is not a part of the editorial content of Cryptonews.com.
---