The First AMM, Integrated with AI-Smart Contract Generator on BSC
Disclosure: Crypto is a high-risk asset class. This article is provided for informational purposes and does not constitute investment advice. By using this website, you agree to our terms and conditions. We may utilise affiliate links within our content, and receive commission.
Disclaimer: The text below is a press release that was not written by Cryptonews.com.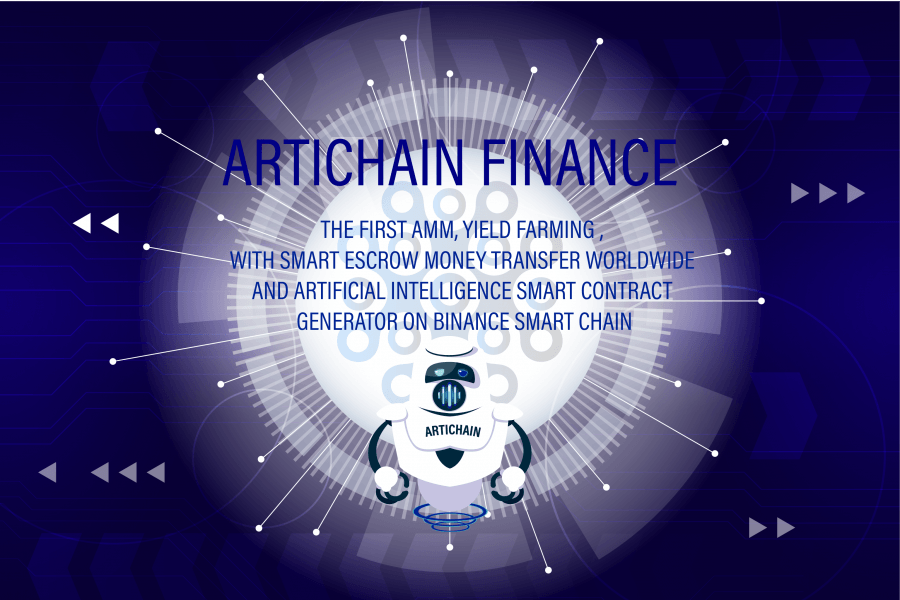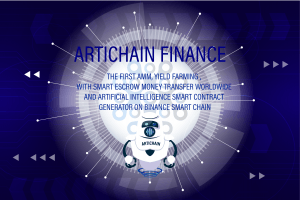 Decentralized finance startup, Artichain.finance, known for being the first automated market makers (AMM) that integrated yield farming with artificial intelligence-smart contract is now running on Binance Smart Chain, with lots of other features that let you earn and win tokens.
This artificial intelligence-based project built on the Binance Smart Chain (BSC) has really won the interest of many tech savvy in the crypto space. Adding to the fact that Artichain is an artificial intelligence (AI) software project that applies custom machine learning intelligence to build natural language into decentralized applications, makes the project more captivating.
What is Artichain.Finance?
In simple terms, we can define Artichain.finance as an automated market maker (AMM) — a decentralized finance (DeFi) application that allows users to exchange tokens, providing liquidity via farming and earning fees in return.
Artichain.Finance is a decentralized exchange running on Binance Smart Chain, with lots of other features that let you earn and win tokens. It's supper fast, cheap, and anyone with little or no knowledge of the crypto industry can use it. Amazingly, one of the fascinating qualities about Artichain is that it eliminates the need for users to undergo the complex process of acquiring programming knowledge or skills to get a basic conversational backend up and running.
Why is Artichain.Finance one of its kind?
Artichain.finance uses an automated market maker model, meaning that there are no order books and liquidity pools are used instead. On this platform, a user can earn income by becoming a liquidity provider; by adding their tokens to the liquidity pool they can farm LP tokens and stake their AIT to earn rewards. They can also try their luck with the lotteries and non-fungible tokens. Meanwhile, note that token AIT is a BEP20 token going to be launched on Binance Smart Chain.
Basic development and Features of Artichain:
Just like Uniswap, Pancakeswap and so on, "Artichain.finance" is also one of the greatest Decentralized finance yield farming projects built on the Binance Smart Chain but it's accompanied with some new features. They are as follows.
The Artichain Artificial Intelligence Chatbots:
Artichain has created an AI chatbot that interprets user goals (intents), extracts valuable information from sentences (entities), and integrates seamlessly with Solidity, making it easy to communicate directly with smart contracts.
Solidity is an object-oriented, high level language for writing smart contracts. It is used for designing and implementing smart contracts on blockchain development platforms. This way, users can interact and receive responses from their smart contract.
Artichain Provides its users with optimum data security:
Being based on the Binance Smart Chain network, a stable blockchain for developing sophisticated decentralized applications (DApps), Artichain provides the best AI software while providing optimum data security with top cyber security providers. The DeFi project is used to facilitate seamless transactions and smart contracts generation over voice chat thereby opening up a world of unique opportunities and offerings for the global crypto community.
Artichain (AIT) is the official BEP20 token. The DeFi platform provides the opportunity to create advanced smart contracts on "binance smart chain (BSC)."
Artichain is creating a safer sphere(DApp) for The Escrow money transfer.
In a big leap to blockchain ingenuity, Artichain's world class team is building a decentralized escrow ecosystem and network to enable users across the globe to seamlessly transfer money either in fiat or crypto, provides staking dapp to allow users stake Artichain token (AIT) and earn ROI, and lottery dapp for enthusiasts to win a lottery just by purchasing a ticket.
The Escrow money transfer DApp allows participants to connect directly with Binance wallet, Metamask or Trust Wallet and create their own verified ID. Additionally, ArtiChain provides participants with a user -friendly interface with multiple recipient options — personal and professional accounts — that allows users to transfer money to multiple individuals repeatedly without the aid of a local agent or bank.
Interestingly, the DeFi platform offers an intelligent blockchain chatbot with ownership and control of data using comprehensive open-source SDK and tools to easily connect bots to DApps. This way, the bots are able to speak, listen and understand the users. Moreover, the chat-box allows users to create smart contracts just by interacting with it through voice command and also gives users access to relevant and detailed information about blockchain innovations, smart contracts and dapps.
Artichain Offers Natural Language Understanding (NLU) engine algorithms to minimize human speech into structured ontology, filtering out intent, timing, locations, and sentiments. It also offers a chatbot emulator, allowing developers to test and debug bots by chatting with their bot to inspect the incoming responses from their smart contract.
Why is Artichain running on Binance Smart Chain (BSC)?
It's crystal clear that so many users are in DeFi projects because they want to maximize the feedback loop of earning, staking, and earning again. Well, Binance Smart Chain's (BSC) superior speed and much lower transaction fees are the key reason.
While BSC might not have the level of adoption Ethereum does at current, we believe in Binance's ability and drive to get it mighty close in the foreseeable future.
Artichain AIT Buyback Protection: ©️🔰
Only Pre-Sale investors will qualify for the Buyback Protection offer. In this offer, any investor who buys AIT in Pre-Sale, he will be eligible for Buy-Back Protection. As per the Buyback Protection offer, ArtiChain will buy back all the tokens of Private Sale investors who freeze their tokens for the first 30 days once the trading opens. If the price of AIT falls below the Pre-Sale price offers of $50, $60 and $70 then all those pre-sale investors who bought AIT tokens at $50, $60 and $70 will be eligible to claim BuyBack Protection according to their buying price.
For instance: If any investor has bought AIT in $60 in Pre-Sale second stage then he will be only eligible if the price falls below $60.
More so, the Buyback protection is a limited time offer valid for the first 30 days starting from 1st day of trading. The deadline for applying for Buyback Protection is the 30th day of trading once it first starts. After this date, the buy back protection offer is no more valid. All those pre-sale investors who will not freeze their tokens before trading starts on exchange, will not qualify to claim Buyback Protection. If tokens are frozen before trading then the timer will start from the Day 1 of trading and till Day 30. During these days any private investors can claim Buyback Protection. Once the timer ends on Day 30, no more claims will be accepted.
Here is a brief summary of ArtiChain (AIT) Token Economics onBinance Smart Chain.
Note: All phases of Pre-Sale will be ended in 3 weeks. And if any tokens remain unsold, they will be added to the staking reward allocation.
Token Economics (ArtiChain AIT on Binance Smart Chain.)
(1) Total Supply 40k AIT
(2) 10k AIT for Pre-Sale starts from 50$ in BUSD
Minimum purchase: 1 AIT
(i) Phase 1: 4k 5 % bonus 50$ / AIT
(ii) Phase 2: 3k 3 % bonus 60$/AIT
(iii) Phase 3: 3k 2 % bonus 70$ /AIT
Total tokens for pre sale: 10k AIT
(3) tokens reserved for staking 3150 AIT
(i) Minimum holdings for Staking: 5 Tokens
(ii) Staking reward will be 0.15% after every 24 hours
(iii) Staking duration/lock period: 7 Days minimum
(iv) 10% fee will be charged if unlock before 7 days
(v) Staking will be available after Public Sale
(4) 15K tokens for Initial Dex Offering 100$/AIT in BNB (Public Sale)
Token allocated :
Total supply: 40,000 AIT
Token Presale : 10,000 AIT
Public sale on DEX : 15000 AIT
Team: 2000 AIT (Locked 3 years)
Pre Sale Bonus: 350 AIT
Staking: 3150 AIT
Marketing: 2000 AIT
Farming: 7000 AIT
Give-Away : 500 AIT
Follow the official social media platform:
https://twitter.com/Artichain
https://t.me/ArtiChain_official
In summary; at this point, it's glaring that ArtiChain is only a step away from revolutionizing the global crypto market.
{no_ads}
---