Tether's Q3 Attestation Reveals $3.2 Billion Excess Reserves Backing USDT
Disclosure: Crypto is a high-risk asset class. This article is provided for informational purposes and does not constitute investment advice. By using this website, you agree to our terms and conditions. We may utilise affiliate links within our content, and receive commission.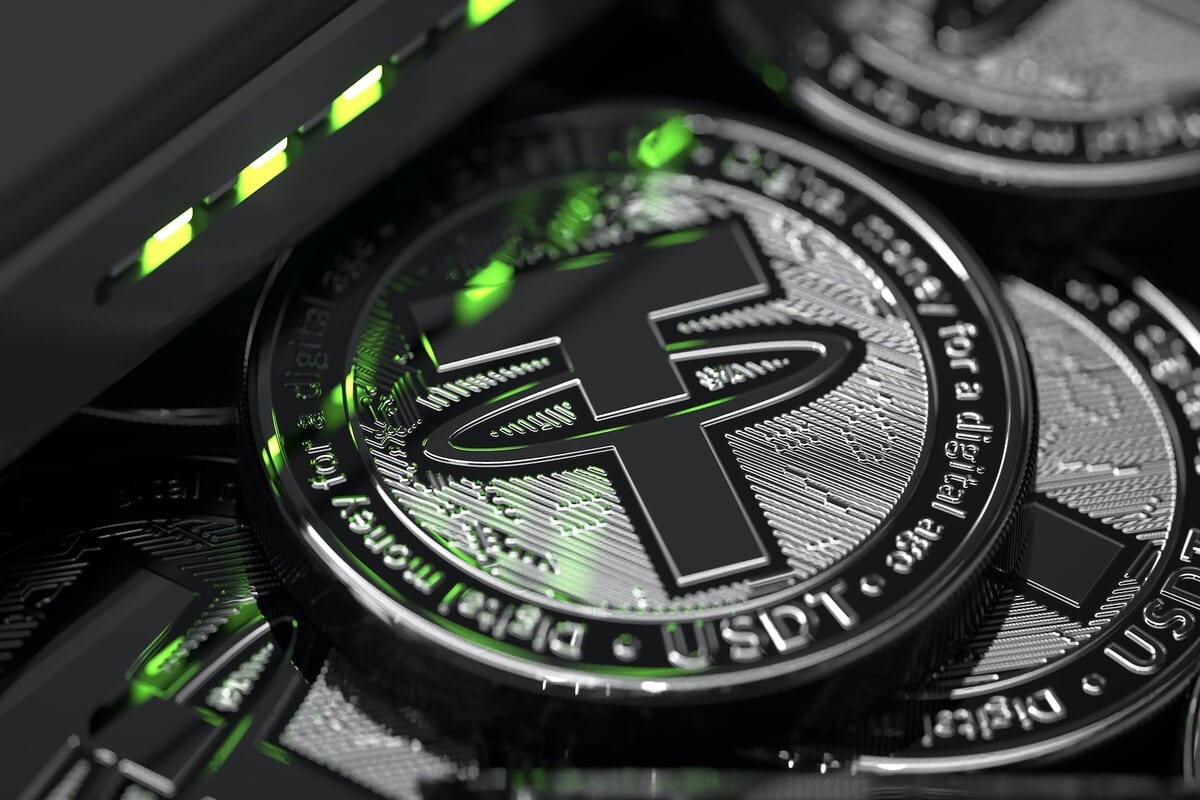 Tether, a leading stablecoin provider, reported in its Q3 2023 report that it has $3.2 billion of excess reserves backing the value of its stablecoins, including USDT.
On October 31, Tether Holdings Limited published its Consolidated Reserves Report (CRR) for Q3 2023, which has been validated by the reputable global accounting firm BDO, revealing that the highest-ever percentage of Tether's reserves is held in Cash and Cash Equivalents (C&Ceq), amounting to 85.7%.
As of September 30, 2023, the company's consolidated assets amount to an impressive $86.4 billion, while its liabilities are at $83.2 billion. Notably, the majority of these reserves are in the form of US Treasury securities, such as direct T-bill investments, repurchase agreements, and deposits in money market funds, amounting to a substantial US$72.6 billion.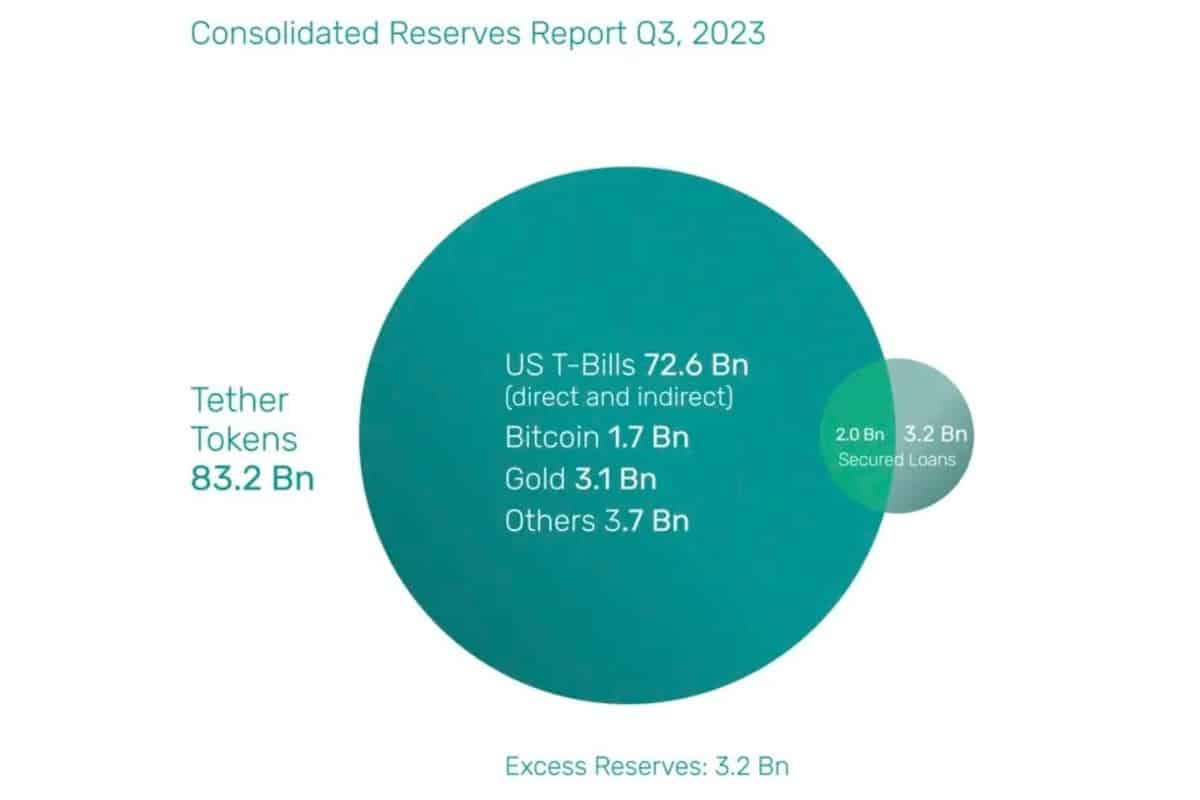 The breakdown of Tether's reserves for Q3 2023 reveals that $56.6 billion is held in US Treasury bills with a maturity date of less than 90 days. Additionally, $8.8 billion is held in reverse repurchase agreements involving these bills, and $8.2 billion is in US Money Market funds pegged to $1 per note.
Tether Takes Bold Steps to Strengthen Reserves and Investments

In a strategic move to fortify its reserves and investments, Tether has significantly reduced its reliance on secured loans. The latest report reveals that secured loans now constitute only $5.1 billion of USDT reserves, marking a notable reduction of approximately $336 million from the previous report.
Tether is on track to further decrease loans by the end of October, with plans to wind down an additional $1.1 billion, leaving just $900 million in loans as part of the reserves. The company's vision is to gradually phase out secured loans, capitalizing on excess reserves and undistributed profits. As of September 30, 2023, Tether's excess reserves had surged to an impressive $3.2 billion, while secured loans accounted for only $2 billion within USDT reserves.
Looking ahead to October 31, 2023, Tether anticipates boasting $4.2 billion in excess reserves and a mere $0.9 billion in secured loans, underscoring its commitment to bolstering the stability of its stablecoin, USDT.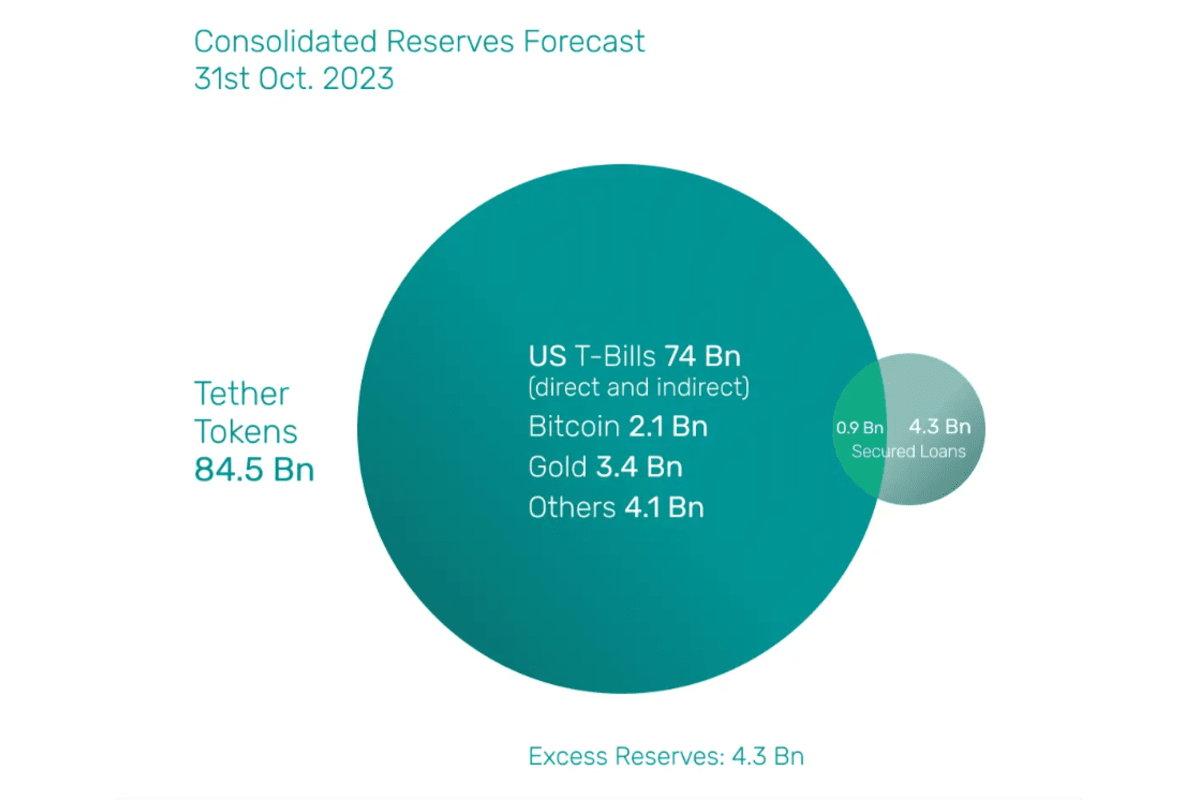 Tether has also disclosed remarkable quarterly returns from cash and cash equivalent investments, nearing an impressive $1 billion. Additionally, the company has invested over $800 million in industry-related research fields over the year, with nearly $670 million allocated in the most recent quarter alone. It's important to note that these investments are distinct from the reserves and encompass areas such as sustainable energy, Bitcoin mining, data, and P2P technology. In Q3 2023, Tether allocated over $668 million to these critical sectors, bringing the total investment in 2023 to $809 million.
CEO of Tether, Paolo Ardoino, said,
"We've achieved the highest ever percentage of our reserves held in Cash and Cash Equivalents, signaling our dedication to maintaining liquidity and stability within the stablecoin ecosystem. Our ability to reduce secured loans and weather market volatility is a demonstration of our robust risk management strategies. We are proud of the robustness of Tether's operational profits, showcasing our financial strength and resilience. "
Tether Bolsters Stability with Diversified Asset Holdings Apart from USDT, Reports Strong Financial Position

Tether, one of the leading stablecoin providers with an impressive market capitalization of $84 billion, has taken strategic steps to fortify its financial position. The company's decision to allocate $1.7 billion in Bitcoin and $3.1 billion in gold introduces an additional layer of diversification to its already robust portfolio. Tether's USDT is renowned as one of the most widely used stablecoins, and the company issues a range of digital currencies pegged to various fiat currencies and gold. This diversification strategy is geared towards enhancing the stability and resilience of Tether's financial assets.
Tether's financial success is influenced by various factors, including higher interest rates that contribute to strong returns on the company's holdings. The company reported impressive quarterly returns, nearing $1 billion, a testament to the profitability of its stablecoin operations.
However, Tether has faced criticism in recent months for the continued increase in its stablecoin lending or secured loans throughout 2023, despite prior announcements of plans to reduce such loans to zero by December 2022.
To uphold transparency and accountability, BDO regularly publishes attestations of Tether's reserves every quarter, with a one-month lag between the end of the quarter and the publication of the report. Furthermore, Tether has revealed plans to introduce a system for providing real-time audit reports by 2024, enhancing the company's commitment to financial integrity and trust.
---