TecraCoin Price is Going Off the Roof. What's Next?
Disclaimer: The text below is a press release that was not written by Cryptonews.com.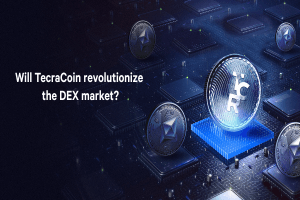 Tecra is a developing project in a blockchain environment with its own tokenization platform. The centerpiece of Tecra's ecosystem is their cryptocurrency, the TecraCoin (TCR).
Tecra has been active on the market since 2018 and, in that time, it created a promising business model and achieved many notable developments. However, the last two weeks have been particularly groundbreaking for Tecra and its community. Tecra launched the MVP of their crowdfunding platform, started the first fundraising campaign and listed TecraCoin on a new, decentralised exchange, which led to a significant rise in the coin's value.
Let's start with how the platform itself works. Tecra Space platform allows creators and innovators to submit projects, just like in traditional crowdfunding. However, the difference lies in implementation of blockchain technology. First of all, distributed ledger technology allows for project tokenization. Each project emits personalised project tokens that serve as a confirmation of the agreement between creator and investor. Secondly, the project tokens can only be obtained with the use of USDT, ETH and Tecra's cryptocurrency - TecraCoin. And thirdly, the tokens in the future will be traded on the decentralized Tecra DEX exchange.
This ecosystem allows the project to remain independent from big corporations that prey on small businesses. Since all elements of Tecra's environment are interlinked, success of projects on Tecra Space can in turn positively affect the value of TCR, which provides clear profit for coin holders. An important note for all traders is that 2% of the value of each fundraising Tecra will donate to buy back TecraCoins and burn them. The idea alone encourages people to obtain coins and back the projects, and that will play a huge part in Tecra's success.
Additionally, investors will benefit from successfully finished fundraising campaigns in the following way: project creators are obliged to repurchase their project tokens from the market for a certain percentage of the revenue. For example, the latest project on Tecra Space's platform, a solar power plant, is obliged to quarterly repurchase their tokens from the market for 80% of its revenue for the duration of 15 years. The repurchased tokens will be burned. This system was built to provide trading protection and transparency of fund allocation for both parties.
Currently, TecraCoin is available for purchase in native CEX and decentralized ERC-20. Getting listed on Uniswap's decentralized exchange was a very good move, as Hotbit (the first exchange TCR was listed on) was temporarily shut down due to technical issues. The entire cryptocurrency supply amounts to 210 million TecraCoins, about 78 million of which are on the market. This data is available at this link: https://explorer.tecracoin.io
The creators of the project announced that there will be a maximum of 1 million TCR ECR-20 tokens on Uniswap. There are currently 200 000 ERC-20 TCR on Uniswap, which means that 200 000 of native TCR have been burned to avoid coin duplication. The controlled conversion of the coins from the native blockchain to ERC-20 and a limited supply will prevent unwanted fluctuation of the currency value.
Burn address: https://explorer.tecracoin.io/address/TCRTecraBurnBurnBurnBurnBurn1vfBTH
Tecra avoids generalizing all DEX exchanges and names Uniswap for a reason, as they are currently working on developing their own decentralized exchange, Tecra DEX, which should be launched in the near future. Unlike current decentralized exchanges, it will not only feature the most popular cryptocurrencies, but also tokens of tokenized projects from the Tecra Space platform, which will appear exclusively on the Tecra DEX platform.
Due to the aforementioned technical problems of Hotbit and the large difference in the price on DEX and CEX, the company had to close the bridge, which will be reopened as soon as possible. When it does reopen, new regulations will be introduced in order to avoid price fluctuations. These will include mandatory KYC and a weekly volume-dependent limit on Uniswap for those looking to swap TCR for TCR ERC-20. Based on the information we have been able to obtain, TecraCoin will also appear on other leading CEX exchanges compatible with the native blockchain.
---