Tamadoge Price Pump Incoming – Listing on Bybit Thursday April 27th, More Top CEXs Lined Up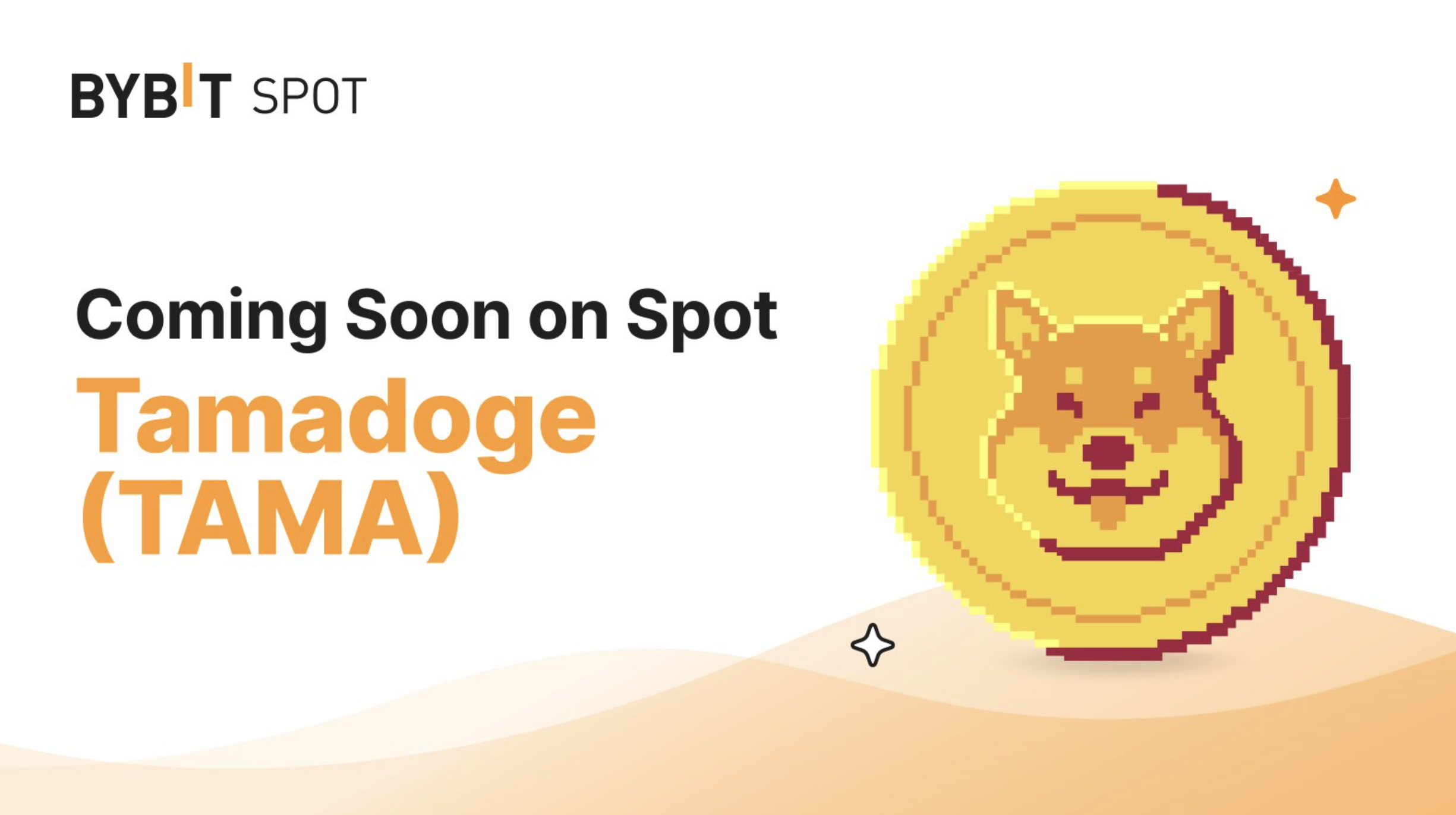 Monday April 24th 2023 – The play-to-earn viral meme coin, Tamadoge, will be listed on the leading crypto exchange Bybit on Thursday April 27th at 8am UTC.
ByBit is currently the fourth-ranked exchange with a top score of 10, according to leading data site CoinGecko.
The exchange turns over daily trading volume of $500 million on a daily basis.
In the run-up to the announcement, the TAMA token price saw gains in excess of 200%.
Those gains are likely to be just the start as the team says there will be further top 5 exchange listings coming.
Tamadoge price gets ready for parabolic lurch higher
In the run-up to the announcement from the team the TAMA price has been hit by volatile trading, with some booking profits while others seize attractive entry points.
But it is out of such volatility that parabolic upward movements develop.
An unwitting alliance of long-term investors and shorter-term traders can see a mutual interest emerge that creates the conditions for price pumps.
Ultimately then, the pullback in the price in the hour before the announcement has opened the door for new buyers.
The next few days – not to mention the rest of the year – are exciting times for holders and those looking for the next meme coin to blast higher in the way that Shiba Inu and Dogecoin did in their heyday.
Massive liquidity injection starts now – more Top 5 CEX listings signed for June and July
Nevertheless, regardless of the near-term price volatility, Tamadoge is set for a huge boost to trading volumes over the coming days and weeks.
TAMA is currently the 6th highest meme coin by trading volume ($7,959,013), according to CoinGecko.
As more traders and investors hear about the token following the Bybit news and subsequent listing, a flood of liquidity will flow into the trading pair.
Bybit attracts monthly visits of more than 20 million, which will provide a huge boost to the Tamadoge community.
The exchange also publishes reserves data to provide its clients with the added security of knowing all deposits are safe and accounted for.
As the TAMA good news keeps coming, the team has let it be known that listings in June and July will see exchanges from among Huobi, Coinbase, Kraken, Binance or Kucoin join the TAMA army as partner exchanges.
Each successive listing increases the probability that Tamadoge will eventually be listed on all the top crypto exchanges.
Former Outright Games head of mobile Jon Bishop now heads up Tamadoge
Tamadoge stands out from the meme coin crowd because of its solid team leadership and product development success.
Hiring game industry veteran Jon Bishop as CEO has made the crypto world sit up and take notice.
Bishop brings huge experience to the role, having previously held senior positions in fintech, crypto and gaming, working for companies such as eBay, PayPal and Coda and Outright Games – the latter being.
His most recent role was as head of mobile for Outright Games, a publisher that develops games for huge IP brands such as Peppa Pig, Bratz and PAW Patrol among others.
Outright Games is the world's largest publisher of children's games.
If those credentials are not enough to whet the appetite of investors, Bishop was previously marketing director for Huobi Global, the world's third-largest cryptocurrency exchange.
Five arcade games launched with easy-to-play approach for mass market adoption – app coming in May
Since Bishop was appointed, five arcade games have been launched and a new onboarding system for gamers, which means you can get started playing the games with little more than an email as community manager Tom Harper pointed out, and soon just a Facebook account.
Also, in May the hotly anticipated smartphone app is expected to be released and that could be accompanied by the launch of the Tamadoge Pet Store.
Furthermore, transaction activity in the Tamadoge Pet Store, where cosmetic items can be bought for Tamadoge Pets, provides the tokenomics with deflationary economics because of the associated burn mechanism.
The equivalent of 10% of all purchase amounts is burned, thus reducing the supply.
Tamadoge is leading the way when it comes to bridging the gap between Web2 and Web3, proving everyday that the Tamadoge ecosystem is serious about its ambition to take Web3 gaming mainstream.
So far around 25,000 unique players are testing out their skills in the Tamadoge games arcade, even before they are ported to mobile.
It is an impressive figure for crypto gaming.
In fact, Tamadoge has more active users than Decentraland and The Sandbox combined, according to DappRadar data.
Tamadoge's clever blending of meme coin and the Tamagotchi craze that took Asia and the world by storm and still burns a firmament in the internet zeitgeist, all but guarantees a growing following for the coin.
Enter the Tamaverse with the augmented reality-powered app
Then there's the Tamaverse for prospective investors to consider, when the full augmented reality (AR) app functionality is launched.
With Apple's AR/VR mixed-reality headset to be announced at its developer conference in June and Snapchat's recent moves in the area, the interest in AR is set to explode.
Again, with mass adoption in mind, to enter the Tamaverse, players will not need a headset.
AR is being integrated into the app later this year. It will enable players to look after and bring up their Tamadoge Pet 24/7 as well as interact with it in the real world.
Also, as each player's Tamadoge Pet grows (you can have more than one pet) and climbs the leaderboard, it will be able to join battle with other pets in an engaging breakthrough gameplay environment.
No better time to invest in Tamadoge and the future of casual gaming
Tamadoge has a lot going on right now so it is no surprise to see that analysts are predicting TAMA price to surge higher.
TAMA can be bought on 17 centralized exchanges and from April 27th on Bybit too, making 18 exchanges in total.
---