Squid 2.0 Coin Is The Top Trending Crypto on DEXTools - Another Scam or Legit?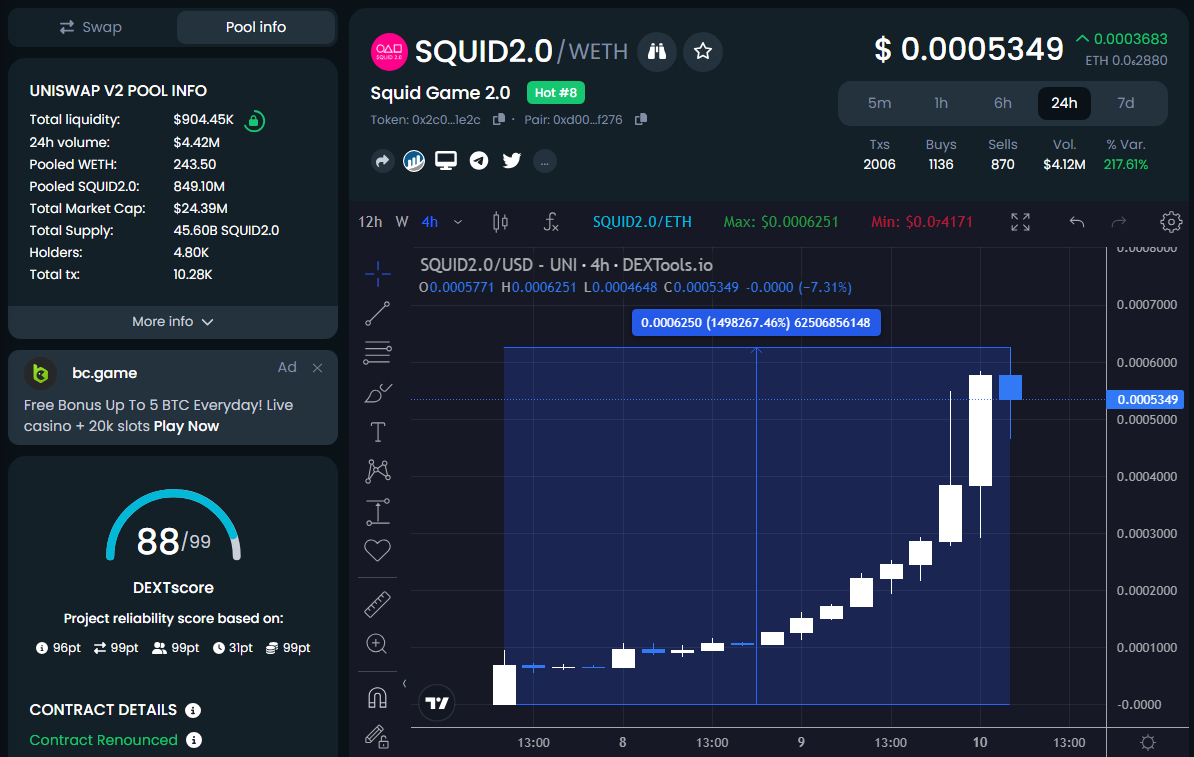 The recent trend of 2.0 meme coins now even includes an homage to the infamous Squid Game (SQUID) crypto scam, which rugpulled investors in 2021 - is Squid2.0 also a scam?
What Was The Squid Game Crypto?
For traders not around during the last crypto bull run, the Squid Game token claimed to be a play to earn cryptocurrency inspired by the South Korean Netflix series of the same name.
Launched on decentralized exchanges in late 2021 - shortly before Bitcoin and Ethereum hit their all-time highs - $SQUID crashed over 99.99%, with holders unable to sell their tokens.
'Squid's developers have made off with an estimated $3.38m (£2.48m), according to technology website Gizmodo.' - BBC, Nov 2, 2021
While rug pull scams are common - seen on an almost daily basis on DEX platforms like PancakeSwap and Uniswap - Squid coin was one of the most successful for the scammers, taking place at the height of retail interest in cryptocurrency.
The Squid market cap at its peak was over $2.1 trillion, more than double the total crypto market cap - an important lesson in how market capitalization figures are just theoretical, calculated by multiplying the latest token price by the supply of coins that exists.
If an asset is illiquid, with thin order books, and holders are unable to take profit, its market cap doesn't represent real demand and can be 'rugpulled' from a high valuation to zero instantly. Especially if more tokens can be minted, or some wallet addresses are blacklisted from trading by the developers - commonly seen with scam tokens.
As the Squid token's CoinMarketCap page writes, the project achieved a meme coin like status, being 'now ostensibly run by community after the initial rugging' - the above video clip is widely shared across crypto Twitter to this day. However $SQUID never recovered, today priced under a cent.
What Is Squid Game 2.0 Token?
A new 'Pepe2.0' coin kicked off the trend of 2.0 meme tokens that aim to 're-do the bull run' of the assets they are named after, but without 'making the same mistakes'.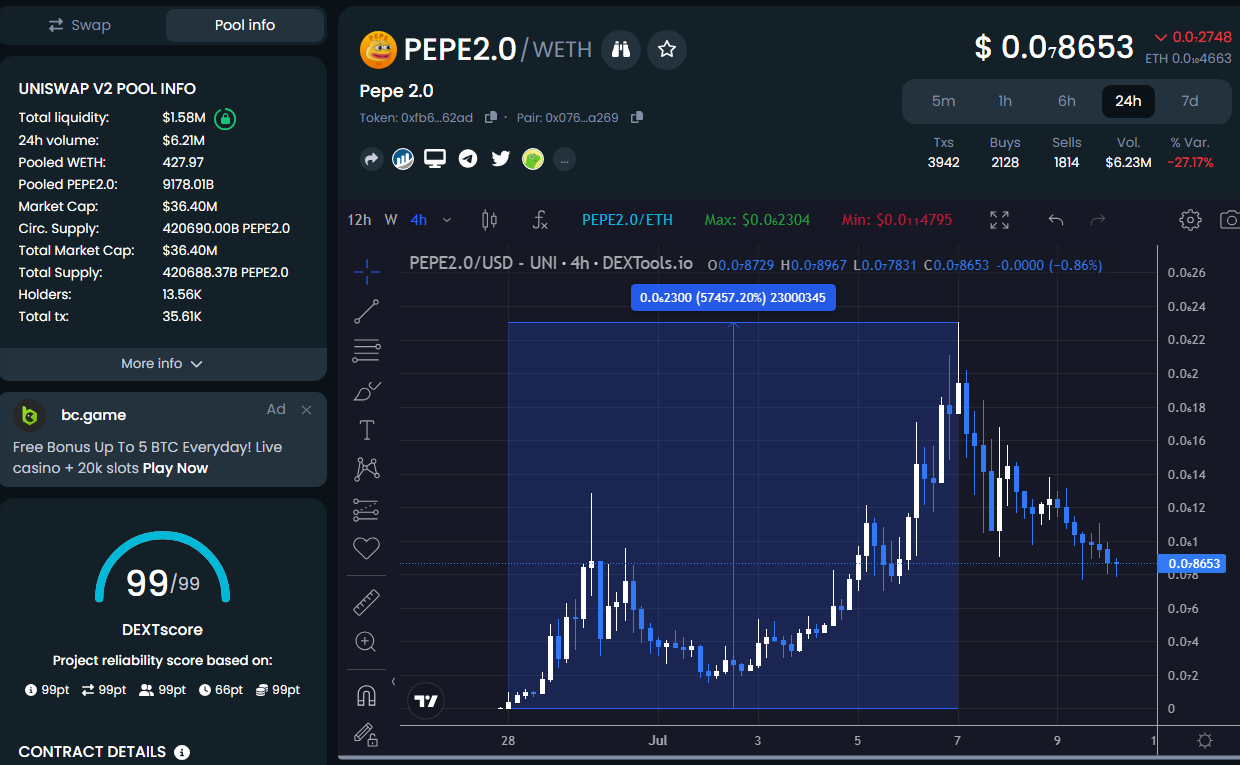 That was quickly followed by similar new coins on Uniswap - Doge2.0, Shib2.0, Babydoge2.0, TRX2.0 and more, all with unknown developers.
Many of those 2.0 tokens have crashed in price after an initial rally.

However PEPE2.0 has had some initial success, with an over $35 million fully diluted market cap at the time of writing and a locked liquidity pool of over $1.5 million adding to its credibility.
Squid Game 2.0 (SQUID2.0) has a lower liquidity than Pepe2.0 and a lower percentage of its tokens are locked, with UNCX Network.

The current fully diluted market cap of SQUID2.0 is just over $25 million, priced at $0.0006 with a 45.6 billion supply. It has a DEXTscore of 88/99 and 4,800 holders, ranked among the top trending cryptocurrency assets on the DEXTools 'hot pairs' list.
Squid Game 2.0 has a buy and sell tax of 1%, so traders will need to factor in those immediate losses if deciding to take a risk on the token.
Update - Squid Game 2.0 token is now on CoinMarketCap, which displays a warning:
'Squid Game 2.0 old contract has been updated to a new one. Smart contract of the following asset can be modified by the contract creator (for example: disable selling, change fees, mint new tokens, or transfer tokens). Please exercise caution before taking any action and always DYOR.'
Squid 2.0 Alternatives
Squid 2.0 is currently up over 200% in the past 24 hours, and has pumped 1,500,000% since its listing on Uniswap on July 7.
CryptoNews has reviewed many upcoming cryptocurrency assets, including crypto presales and pre-ICO projects yet to be listed on exchanges, offering a low entry point. All of the projects on our list also don't have transaction taxes.
Disclaimer: Crypto is a high-risk asset class. This article is provided for informational purposes and does not constitute investment advice. You could lose all of your capital.
---