South Park Crypto Presale Launching Soon: Will it Pump Like Mr Hankey Coin?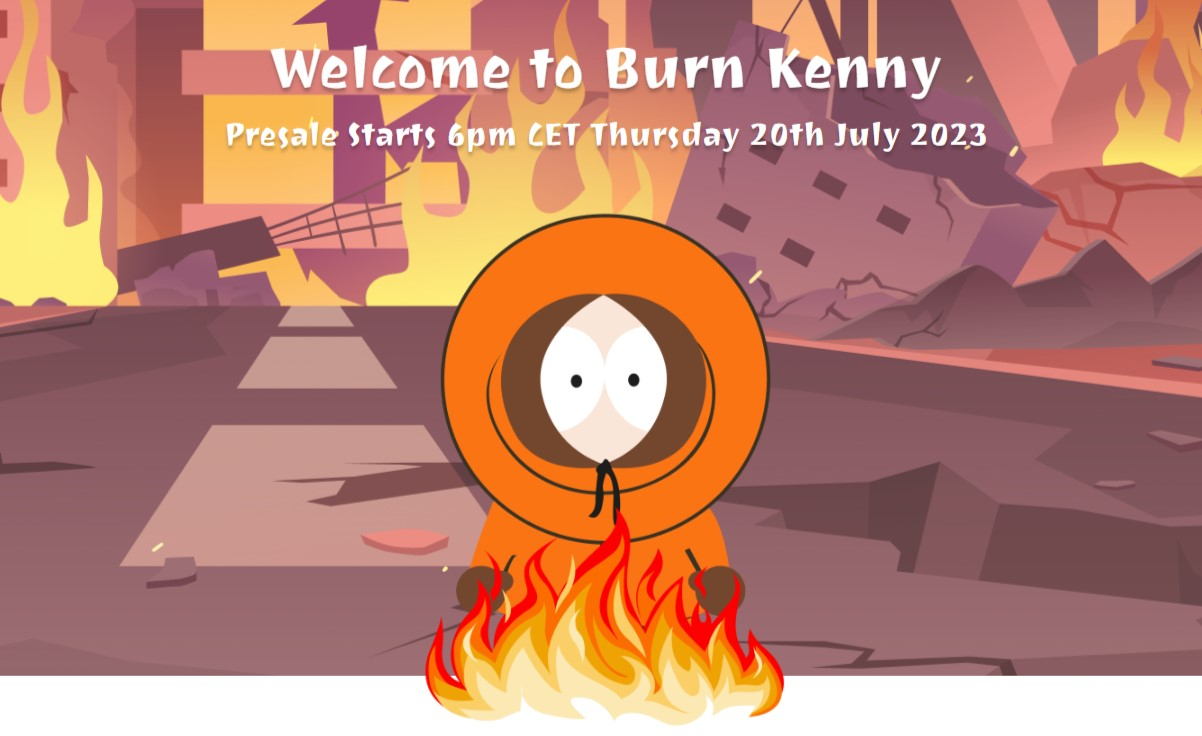 In a market teeming with meme coins and celebrity-endorsed tokens, a unique and audacious contender is stirring up a storm, meet Burn Kenny Coin ($KENNY), an inventive and community-driven meme token, here to shake things up.
Crafted within the vibrant ecosystem of the Ethereum network, $KENNY is setting the stage for a presale that might just rival the excitement of a South Park cliffhanger.
Beginning at 6pm CET on Thursday, July 20, 2023, $KENNY will roll out 40% of its total tokens in an ambitious presale.
With a token price of $0.0001875 and a hard cap value of $500,000, a grand total of 2,666,666,666 tokens will be available for purchase - the anticipation is already palpable, and the countdown is on for this irreverent entry into the crypto world.
Setting Fire to the Market: The Burn Kenny Coin
What sets $KENNY apart from the usual crypto riffraff?
Its playful homage to the beloved, often ill-fated South Park character Kenny, and a unique token burn model.
In a move reminiscent of the show's unpredictable plotlines, a staggering 30% of the total token supply will undergo a token burn, promising an edge-of-the-seat experience for investors.
And that's not all, $KENNY isn't the first South Park-themed coin to hit the market.
Remember Mr. Hankey Coin ($HANKEY)? The cheeky token sold out its presale in just 10 hours and then saw a spectacular surge of nearly 200% after hitting exchanges.
If the hype is any indicator, $KENNY could be gearing up to shatter this record.
While $KENNY won't make its debut on centralized exchanges, it's positioning itself as a token for the daring, humour-loving crypto community.
In other words, it's an open invitation for those who relish the thrilling fluctuations of meme coin markets and aren't afraid to take risks for a laugh.
The Road Ahead: Burn, Rise, Repeat
The Burn Kenny roadmap outlines a thrilling journey, kicking off with a presale, followed by an exhilarating launch on DEX and a heart-stopping burn phase.
And just like Kenny's numerous resurrections, this token has a plan for recovery post the burn phase.
So, are you ready to embrace the wild side of the crypto world? Check out the Burn Kenny Telegram channel here.
With $KENNY, you can ride the wave of humour-infused, high-stakes speculation, daring to defy conventional wisdom even in the face of uncertainty.
Join in and set the stage on fire, burn this token to the ground, and then, just like Kenny, rise again from the ashes.
Disclaimer: Crypto is a high-risk asset class. This article is provided for informational purposes and does not constitute investment advice. You could lose all of your capital.
---