The Social Casino Experience Redefined: Dive into DingDingDing.com's Free Gaming Platform
Disclaimer: The text below is an advertorial article that is not part of Cryptonews.com editorial content.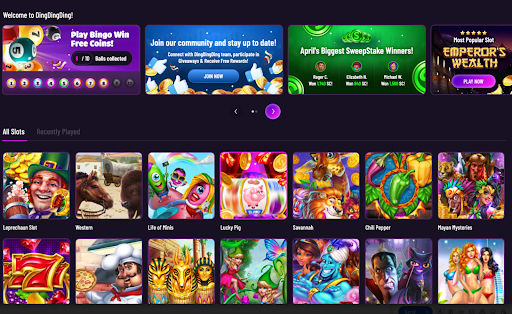 In the captivating world of online gaming, it's easy to get lost in the vast array of platforms vying for your attention. But there's one website that has been quietly but undeniably revolutionizing the social casino experience: DingDingDing.com. Catering to male and female players over 25, this free-to-play social casino has quickly become the #1 online destination for those seeking a fun, social, and interactive gaming experience.
A game changer in the industry, DingDingDing.com is not your typical online casino. At its core, it's a free social casino designed for entertainment. However, it boasts an impressive array of unique features, from custom games to a responsive design and 24/7 support, that set it apart from its competitors. Emphasizing the distinction between gambling and free-to-play social games, this gaming platform transforms the stereotypical casino experience into an engaging social adventure.
Upon registration, new users are warmly welcomed with a staggering 500,000 free gold coins and 5 SweepStakes coins, setting the tone for the excitement ahead. From hundreds of high-quality slot games to riveting live tournaments, the platform offers an expansive collection of games designed to satisfy any gamer's tastes.
However, the true magic of DingDingDing.com lies in its innovative gaming mechanics. For instance, users have the unique option to choose between gold and sweepstakes coins. These coins serve as the player's ticket to delve into the extensive gaming options and claim real rewards. This compelling twist effectively blurs the line between virtual and real-life entertainment.
Yet, the DingDingDing.com experience extends beyond just playing games. A bustling online community makes every user feel part of something larger. Daily gifts and extra prizes for big wins stoke the competitive spirit, creating an electrifying atmosphere akin to a physical casino. In addition, players are invited to compete in live tournaments, sparking friendly rivalries and fostering a sense of camaraderie.
Let's not forget about the bingo enthusiasts. DingDingDing.com offers free bingo games that yield extra free coins as players' experience levels progress. These bonus coins further enhance the gaming experience, allowing players to indulge in more of their favorite games. Again, this attention to detail demonstrates how DingDingDing.com is leading the way as the top-rated platform for fun games.
As with any gaming platform, security and privacy are paramount. With DingDingDing.com's private, secure payments, users can purchase additional coins with complete peace of mind. This, combined with the fact that players can dive into the action anytime, anywhere, cements DingDingDing.com's reputation as the #1 free social casino website.
In a society where we increasingly value experiences that can be shared with others, DingDingDing.com's social gaming model hits the nail on the head. Offering a fusion of social interaction and engaging gaming, it's no wonder this platform is taking the USA by storm.
DingDingDing.com has reimagined how we perceive social casinos. It offers a unique platform where users can play, win, and socialize. So why wait? Step into the world of DingDingDing.com and redefine your social casino experience today. The world of free slots, social casinos, and sweepstakes social casino games await you.
---