Shiba Inu Price Prediction – Can SHIB Reach $1 Before Dogecoin?
Disclosure: Crypto is a high-risk asset class. This article is provided for informational purposes and does not constitute investment advice. By using this website, you agree to our terms and conditions. We may utilise affiliate links within our content, and receive commission.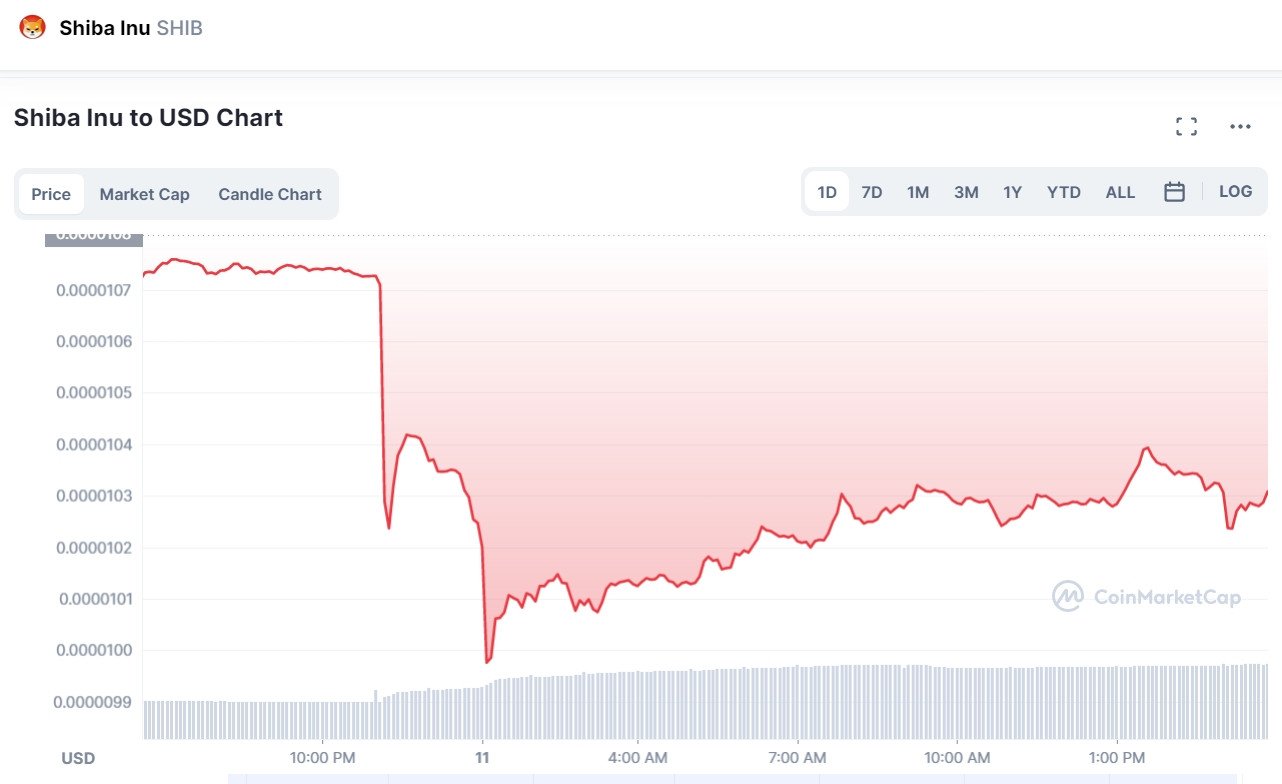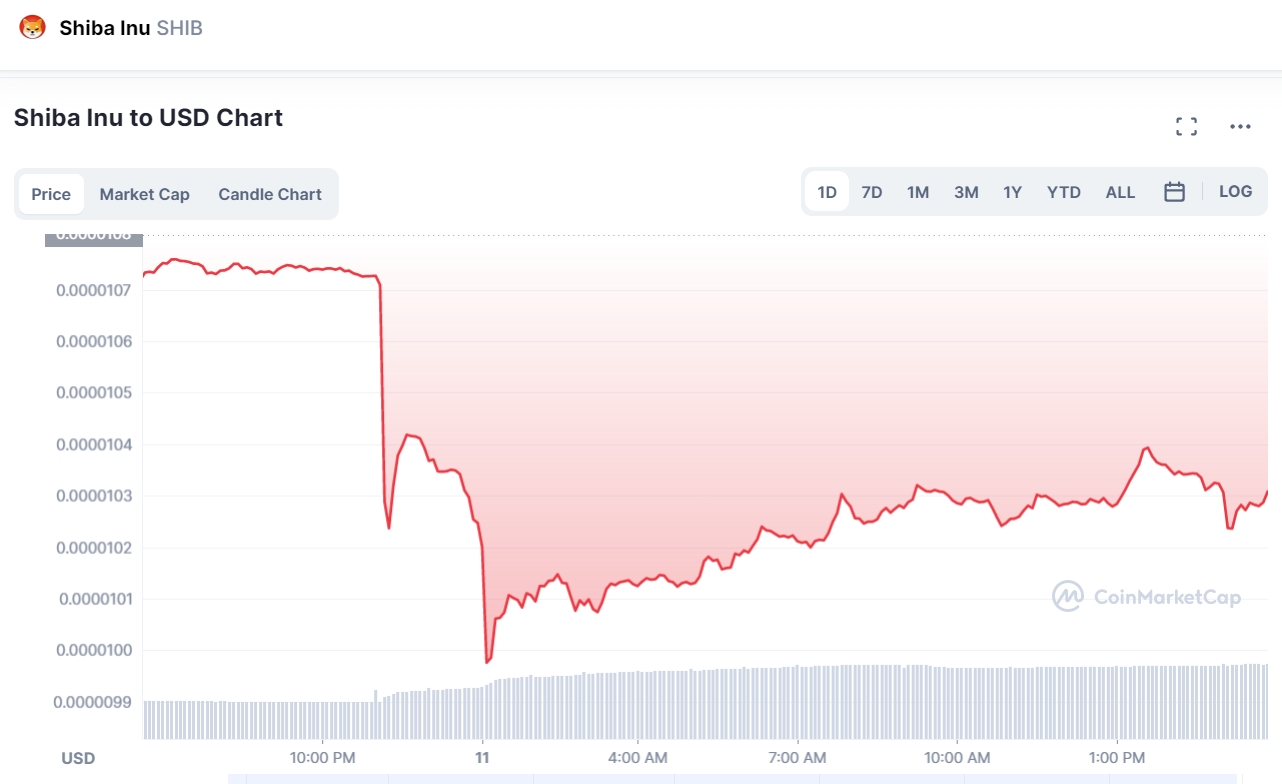 Shiba Inu suffered a dramatic sell-off on Monday evening, with the coin dropping almost 10% in just two hours.
SHIB fell from $0.00001074 to a 24hr low of $0.000009976 in the early hours before a small recovery.
Currently trading at $0.00001031, SHIB is still more than 4% down on the 24hr chart and more than 8% on the seven-day chart.
However, the rash of sales and buybacks saw volume shoot up by 120% to just $280 million.
SHIB Holders at the Mercy of Whales?
As CryptoNews revealed on Monday, SHIB remains a favorite hold for crypto whales.
According to WhaleStats, which tracks the top 5,000 Ethereum whales, SHIB is their biggest hold away from ETH, with a combined value of $135 million.
The site also revealed that SHIB had flipped Locus Chain (LOCUS) after a period of accumulation to become their top holding – although that was before Monday's late sell-off.
🐳 The top 100 #ETH whales are hodling

$133,970,949 $SHIB
$67,912,415 $BIT
$59,539,849 $MKR
$43,719,544 $LOCUS
$39,743,980 $UNI
$38,796,718 $LINK
$38,154,640 $MOC
$36,656,604 $BEST

Whale leaderboard 👇https://t.co/N5qqsCShZR pic.twitter.com/q6DFmwhukG

— WhaleStats (tracking crypto whales) (@WhaleStats) October 10, 2022
Etherscan data shows one wallet has sold more than 620 billion tokens in less than a month – but bought back almost double that amount.
The wallet, which has a balance of nearly 400,000 ETH (approx. $512 million), has acquired more than 1 trillion SHIB at lower prices in the same period.
Another whale took more than 1.72 trillion SHIB off of Huobi last week but has yet to do anything with the coins, it appears.
With such massive amounts of SHIB being held, even small fluctuations in price can see whales make huge gains, given the massive size of their bags.
Interestingly, the SHIB Relative Strength Index (RSI) sits at 28, meaning it is extremely oversold, but the bearish sentiment remains attached to the coin.
Price Prediction: SHIB $1 before DOGE?
Dogecoin and Shiba Inu will forever be linked with Dogecoin, the original meme coin, and Shiba Inu, the largest and most popular 'DOGE Killer'.
Both meme coins have strengths and weaknesses that have seen them opposed in more ways than one.
Could the Shiba Eternity game be the most complex CCG ever launched?

10,000 Shiboshi Heroes. 500 Collectible Cards. 87 Card Traits. 21 Special Bark Powers. 21 Card Keywords. 11 Passive Powers. Rich & Deep Lore! = INFINITE POSSIBILITIES

See you on the battlefield! #OCT622 pic.twitter.com/amY1Jl83O4

— Shib (@Shibtoken) October 5, 2022
In recent months, Shiba Inu has been building its ecosystem to attach long-term utility and use cases to the ecosystem.
While SHIB started with the sole intention of flipping DOGE, the project has continued to build utility in the hope of raising the price.
Last week the Shiba Eternity game was released and became the top card game download on both Android and iOS and even made the top 15 in all of the download charts.
However, it did little to improve the price of the coin or build momentum.
Shibarium, a much-hyped layer 2 solution, also remains in development, although there is no clear date on when it will be released.
Originally slated for Q3 2022, it appears that the deadline will be missed and may well not release until next year.
Dogecoin has also struggled to regain momentum after its incredible rise in early 2021 and is currently trading at $0.06 – a price it has hovered around for months.
Elon Musk offers to proceed with the Twitter acquisition deal for the original price of $44 billion.

– This is bullish for #Dogecoin.
– Doge Tips soon on Twitter? 👀 @elonmusk pic.twitter.com/A4npiuLhxU

— DogeDesigner (@cb_doge) October 4, 2022
DOGE has very limited utility, although Elon Musk's $44 billion takeover of Twitter – which is now back on – could signal a price increase when it is completed.
Musk is predicted to include a tipping function on the social media site, and given he is a large holder of DOGE and helped pump the price last year, the coin is expected to be the beneficiary.
While both coins have massive circulations, the sheer size of SHIB's current supply – more than 550 trillion, makes DOGE the more likely coin to reach $1.
However, neither coin looks like it will go to $1 any time soon.
Meme Coin Alternative – Tamadoge
One meme coin that is much more likely to reach $1 is Tamadoge (TAMA) which had an incredible pump after listing at the end of September.
After reaching an all-time high of $0.1940, TAMA has since retracted, but Etherscan data shows the number of holders has not fluctuated that much.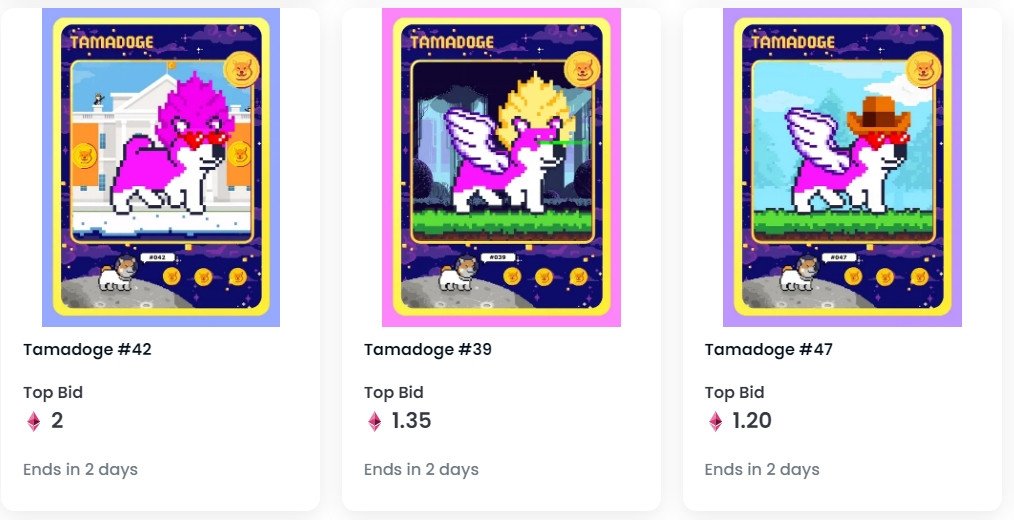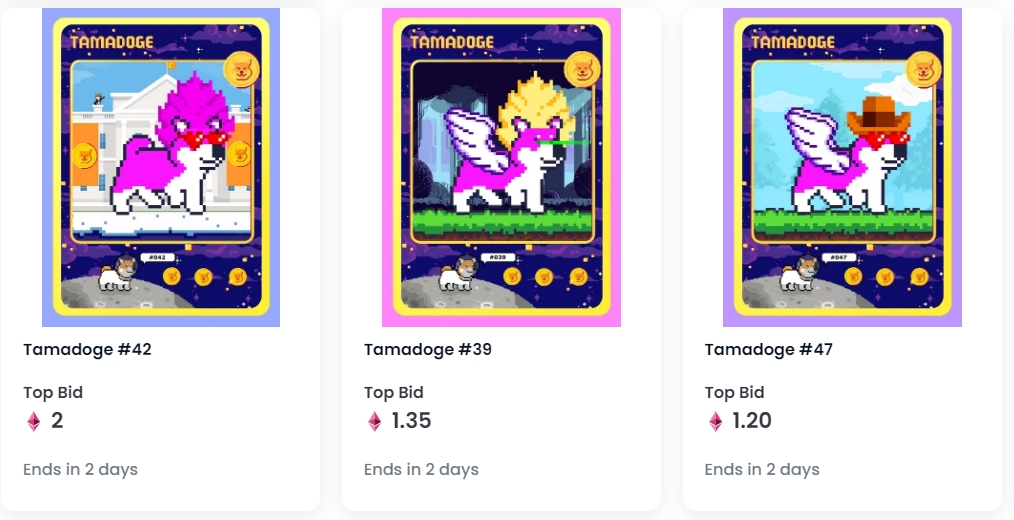 At the peak price, there were around 28,000 holders, and there are currently nearly 26,000 – indicating that many holders have taken profits but kept a position with the project continuing to build.
Tamadoge includes a play-to-earn game and NFT ownership in its ecosystem, offering more utility than either DOGE or SHIB and, crucially, has a much smaller supply.
There will be a max supply of just 2 billion TAMA – 275,000 times smaller than SHIB – and the project also has a 5% burn mechanism for the Tamadoge play-to-earn game.
Buy TAMA on OKX CEX

Buy TAMA on OKX DEX
---