Provably fair: every online casino should want to adopt it
Disclaimer: The text below is a sponsored article that was not written by Cryptonews.com journalists.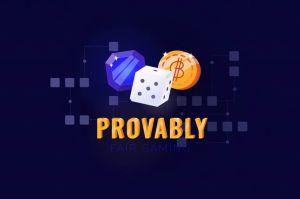 Online gambling is a growing industry like few others. People love to play their favourite games of chance and, when it comes to speed and comfort, they prefer doing it from the safety of their homes. They play on the go as well, but the certain thing is, the brick-and-mortar places are on the brink of extinction. Why? Because online gambling comes with a ton of benefits for people of all races and places.
In 2018, the global online gambling market size was valued at USD 48.52 billion. That, if you're familiar with maths or not, is a huge number. It is expected to grow over 12% until 2025 every year from now until then. Online gambling is based on traditional casinos which rely on customer trust to run. A new wave of casinos are now on the rise, a type of casino that uses tools with which users can personally verify the fairness of the games that they've played.
Provably fairness: the future of online gambling
With normal casinos, information like results of the game and hands, winnings, payouts, are all hidden from players by the owners of a set online casino. Blockchain technologies and mainly the provably fair algorithm allows gamers to reach a new level of trust with their casinos by enabling them to personally verify if the cards they've been dealt were truly randomly selected.
Blockchain works differently from normal technologies in terms of how information is kept and stored. With blockchain, you can encrypt data on a digital ledger. There is a sequence of data recording, and if you follow the sequence, you can see the data, which is public and cannot be changed. The decentralized nature of the blockchain makes it a completely public space, not controlled by a server but stored and controlled by everyone in the system.
This is what makes the provably fair algorithm possible. Using these simple principles, online casinos of all sorts can implement transparency and accountability, ensuring their players of fairness in the gaming process by actually proving it to them, not just asking them for their trust and giving them nothing in return. With a fair system in place, other benefits like fast payouts and security of personal data are also common with provably fair blockchain casinos.
Provably fairness summed up in an infographic
Provably fairness is a simple, yet powerful idea about the future of gambling on the web. It relies on proving, rather than asking for gamers to trust a certain casino operator. It makes it easy for gamers to check the results of a certain hand by themselves. Here's a quick infographic that will explain just how provably fairness works.
Source: Provably.com
Advantages of provably fair casinos
A provably fair casino is one of those portals that offer games that can be tested via the provably fair algorithm. The site has to have testing tools in place in order to make it easy for the players to test for fairness. Traditional casinos, on the other hand, cannot ensure fairness to the gamblers and can only inform them that they are subject to regular checkups from third-party governing bodies that verify if they're running their places legally.
There are many pros about provably fair casinos. Before talking about that though, the important thing to remember is that not all Bitcoin casinos are provably fair casinos. Banking options are one thing and provably fairness is another. There are many casinos that accept Bitcoins as a banking method but go by their own ways when it comes to rules. The real provably fair casinos allow monitoring the games individually.
One of the best and most important benefits of provably fair casinos is that the player is the third auditor and governing body that can supervise the fairness of the gameplay. They use the tools provided and then work their ways towards deciding if the hands that they've played were random or not. This way, the player can ensure that there's no way casinos can interfere with their results and winnings but that everything happens as it should, completely at random.