PrimeXBT: Earn a Passive Income Through Referrals
Disclaimer: The following article is part of Cryptonews Deals Series and was written as a promotional article in collaboration with the sponsor of this offer. If your company has an exclusive promotion that you would like to share with our readers, we invite you to reach out to us. Let's build together.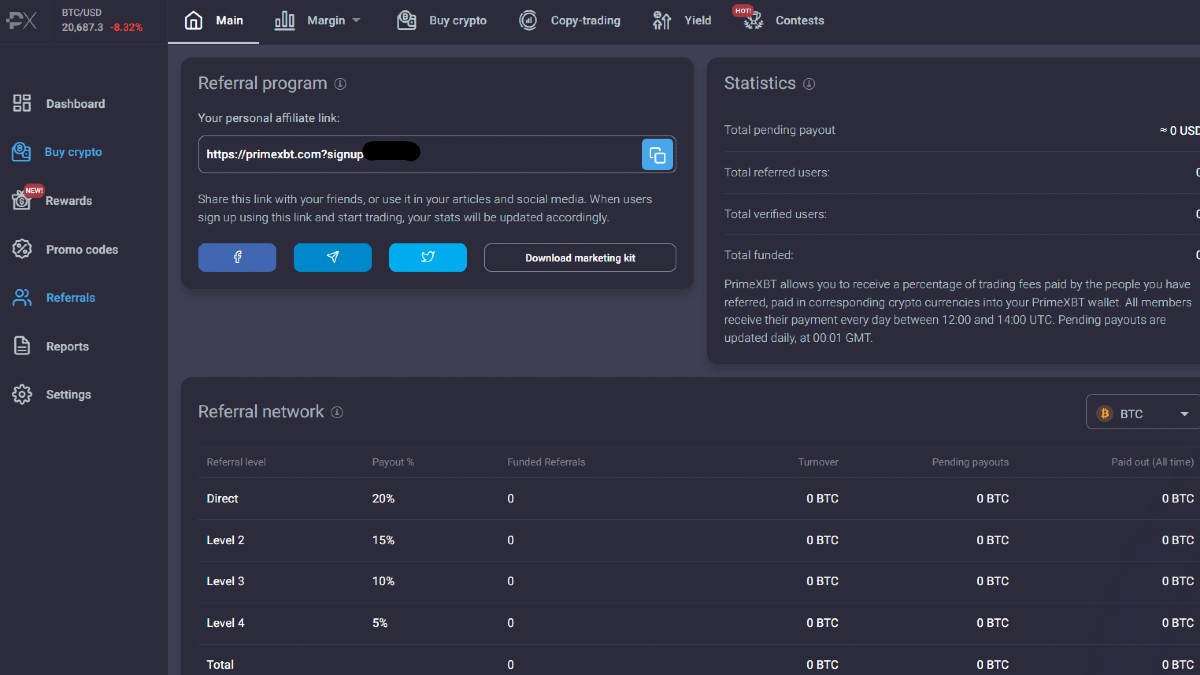 Setting up a passive revenue stream that you can more or less forget about while it's working is pretty much the dream for everyone, not just in the crypto space. But for traders who use trading platform PrimeXBT for their needs, this can become perfectly normal through a referral program. Not only can you earn money without doing much at all other than referring friends and followers to the platform, but you can also get additional perks like discounts and bonuses. Read on to find out how you can get in on the deal.
How Does the Referral Program Work?
First off, to participate in the referral program, you will need to sign up for PrimeXBT in case you haven't done so already. This process takes mere minutes and you only have to provide the bare minimum of personal information; for those who value their privacy above all else, PrimeXBT provides an excellent solution that offers everything you may need without compromising your values. Once you've confirmed your email and funded your account, you're all set and ready to go.
When you log in, you can find the referral program on the left hand page of the screen. Here, you will be given a unique link that you can send to your friends and/or followers so they can sign up for the platform as well. There is a four level payout scheme, which means you will get paid for the referrals made by your referrals as well. For your direct referrals, you will receive 20% of their trading fees paid to your account. Each level decreases by five, which means that for the lowermost level of referrals, you will get 5% of their fees. However, if the people who join the platform thanks to you manage to entice enough people by themselves, this amount adds up.
The referral page also gives you insight into how much you've already owned, what level of referral that comes from, and how much is still pending. You don't have to do anything about the pending amount, should you notice this part; all members receive their payment every day between 12:00 and 14:00 UTC, while pending payouts are updated daily, at 00:01 GMT.
Becoming a Brand Ambassador
Of course, pretty much everyone can participate in programs such as these; however, it's only natural that people with bigger followings have the bigger advantage. If you have an active community, are an influencer with a following, or run an education center, you can also reach out directly to the platform and get a specialized offer that is tailored to your needs and capabilities.
To become a PrimeXBT ambassador, you will need to contact them and provide some information about you and what you offer in terms of followers, reach etc. This way, the team that works on ambassador programs can make your plan specifically for you. For example, your subscribers can get free funded accounts, discounts on commissions, and welcome bonuses tied to your promotion; additionally, you get paid for every lead on a twice per month basis, with up to 50% of the profits from your clients' commissions being shared with you.
Which of These Options Is for Me?
Of course, choosing between these options is a highly personal matter; maybe you would prefer to just have your friends and family join without having to create social media posts or specialized promotions for others. On the other hand, maybe your online trading community is your crypto home, and you know you would get more leads from them. All of this depends on your own circumstances. If you believe you can offer (and, in return, gain) more than what falls under the basic referral program, reach out to PrimeXBT and see what they have in store for you!
PrimeXBT has prepared a special offer for their new customers: they will get 50% of their first deposit credited to their account as a bonus that can be used as additional collateral to open positions!
Don't forget to join PrimeXBT / Covesting telegram community to find more information about the Trading terminal, Copy trading module and how to save up to 25% of your commission with COV token and other token utilities!
---