PoshCoin can Become the Future of the Marijuana Industry
Disclaimer: The text below is an advertorial article that is not part of Cryptonews.com editorial content.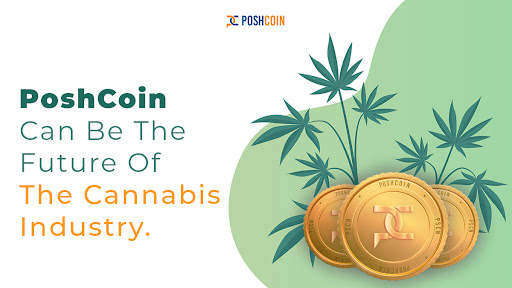 Cryptocurrencies have sparked the notion that a single, global currency may exist in the future. Regardless of such speculations, it is also evident that thousands of various sorts of alternative coinage are available today. In terms of the future of global money, cryptocurrency has thus produced a dichotomy in its acceptance. Furthermore, in recent days, several industry-specific altcoins have been introduced in the crypto market. PoshCoin is one such industry-specific crypto token that is developed especially for the cannabis market. This exclusive blog explains how PoshCoin will be the future of the marijuana industry.
An overview of cannabis cryptocurrency
The cannabis sector, a hot topic for cannabis lawyers in Los Angeles and across the nation, is one industry set to take up significant portions of the altcoin market. Despite a continuous federal prohibition on marijuana, cannabis alternative coins may help this sector grow in America by expediting the transaction process.
Marijuana cryptocurrencies are an intriguing case study in the recent past. Since Colorado legalized marijuana in 2014, numerous of them have been developed to take advantage of the opportunity. But compared to many other well-known altcoins, they have remained largely dormant. However, the unique characteristics of these cannabis currencies might one day contribute to a rise in transaction productivity in the cannabis market.
The prevalence of the cannabis market
In the US, 33 states currently allow medical use of cannabis, and ten other states have allowed its recreational use. Although marijuana is prohibited by federal law, by 2025, US cannabis sales would have exceeded $25 billion.
Due to federal regulations, banks in the US can't open accounts for marijuana retailers. Therefore, cash is used in all cannabis sales and transactions. As a result, marijuana traders and dealers are compelled to use cash as a form of payment.
The cash transaction mechanism leads to tax evasion and unchecked movement of cannabis.Additionally, a 25 billion USD cash transaction poses a higher risk to the economy. Additionally, traders run the risk of breaking the law if they have too much cash on hand.
Role of PoshCoin in the cannabis market
Cryptocurrencies like PoshCoin play a significant part in renewing the financial rules for the expanding cannabis business, mostly due to their decentralized nature. PoshCoin uses cryptography to encrypt and confirm transactions and manage the issuance of new cryptocurrency units. Since the transactions will be thorough, permanent, irrevocable, decentralized, and kept in the blockchain, trading based on PoshCoin may offer up new opportunities for the legal cannabis business.
PoshCoin is a highly secure digital currency designed for the $250 billion worldwide cannabis market. It uses an immutable, decentralized blockchain that is extremely quick. Cannabis fans may transact, communicate, and grow together by leveraging this new crypto coin.
PoshCoin is a peer-to-peer crypto token for the cannabis industry. Its proof-of-stake technology improves the instant real-world payments system that cannabis already has. PoshCoin is also dispensary-tested for credibility, safe, and secure transactions in cannabis shops worldwide.
Final thoughts
Overall, the potential for enhancing cannabis transactions using PoshCoin is exciting. This is mainly because of the advancement of technology, lack of industry regulations, expanding (legal) global marijuana market, and wider acceptance of altcoins. Thus, PoshCoin aims to satisfy several cannabis market segments, seemingly enabling one or more cannabis niche businesses to flourish under the alt-coin transactions mechanism.
---