PokeMon Go Captured All Continents, PocMon Will Capture Blockchain
Disclaimer: The text below is a press release that was not written by Cryptonews.com.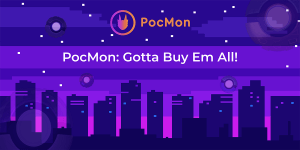 PokeMon Go experienced a viral explosion upon its release in 2016. The game had over 147 million monthly active users by May 2018, over a billion global downloads by early 2019, and grossed more than 6 billion USD in revenue as of 2020.
From an investment perspective Nintendo's market value increased by USD 9 billion within five days of the release of Pokémon Go.
An exciting new Cryptocurrency ecosystem plans to replicate this success on the blockchain - PocMon.
What is PocMon?
The $PMON token is the currency that fuels the whole ecosystem of PocMon products. To mint NFTs, create and open lootballs, or use any other service, users need to pay a small fee in $PMON.
What's in the PocMon ecosystem?
The PocMon ecosystem aims to incorporate is group of features to create an entertaining and addictive gaming experience:
NFT Marketplace: PocMon's NFT Marketplace offers NFT meme minting and charity auctions.
NFT Store: The store will be a platform where exclusive NFTs will be offered to users and a first-of-its-kind place for blockchain games.
Lootballs: PocMon aims to be the first project to launch the Lootball concept on the blockchain. With a process functioning analogous to a P2P casino, any user will be able to create a Lootball using their own NFTs or tokens, set the open price, and the probability of each included item to drop.
PocDEX: The PocDEX will combine a number of services like the NFT card game, PocMon Game, PacGameSwap, and a range of other products. PocMon's NFT Trading Card Game aims to be a blockchain-based game. PacGameSwap will allow users to exchange game currencies quickly as they play different games.
Why Should You Invest in Poc-Mon?
The Perfect Storm Is Coming
Over the past four decades explosively popular video games have built billion-dollar companies. From Mario and Sonic to Roblox and Fortnite, nothing goes viral like a great video game.
The global video game market size was valued at 151.06 billion USD in 2019 and is expected to grow annually at a rate 12.9% from 2020 to 2027.
If you are reading this, we don't need to convince you that new cryptocurrency projects have exploded from zero into the billions over and over.
The global cryptocurrency is newer than the video game industry and capable of more growth. The market size was 1.75 trillion USD as of 6 August 2021, a growth of 498% in one year.
The NFT market growth is significant. First it is even newer than crypto with a bull run in 2017/2018 and in 2020/2021 coinciding with the Bitcoin and Crypto market bull runs. Second, the NFT market is exploding on its own, and is not solely tied to the crypto market. IN Q2, NFT sales beat Q1, even though the overall crypto market suffered a nasty correction, with Bitcoin down 50% and some other cryptocurrencies suffering an even greater correction.
What happens when you combine three exploding markets - gaming, cryptocurrency and NFTs?
Probably nothing, just go back to social media and keep scrolling.
In fact, the upcoming PocMon NFT marketplace launch is only the beginning of a long list of strategic product releases. Like investing in Bitcoin in 2021, Ethereum in 2015 or Binance Coin in 2017, now is the perfect opportunity to get in early, before the PocMon is goes viral. With an aggressive release schedule approaching, the window may in fact be a small one.
What Makes PocMon So Special?
PocMon aims to become the #1 platform for NFT gaming on the Binance Smart Chain.
Double Deflationary: PocMon is deflationary two times over. The PocMon token itself is deflationary and some services of the Gaming Ecosystem are deflationary too. But what really makes the marketplace unique is that it will be the only marketplace implementing the buyback function.
Secure: Users concerned about security can rest assured PocMon's smart contract has been audited by F.A.R (Fight Against Rugs).
More efficient: The Binance Smart Chain has lower gas fee than the Ethereum blockchain.
...
This content is for educational purposes only. It does not constitute trading advice. Past performance does not indicate future results. Do not invest more than you can afford to lose. The author of this article may hold assets mentioned in the piece.

---