Pioneering Web3 Play-to-Earn Game Tamadoge Launches App Across iOS and Android Devices - $TAMA to the Moon?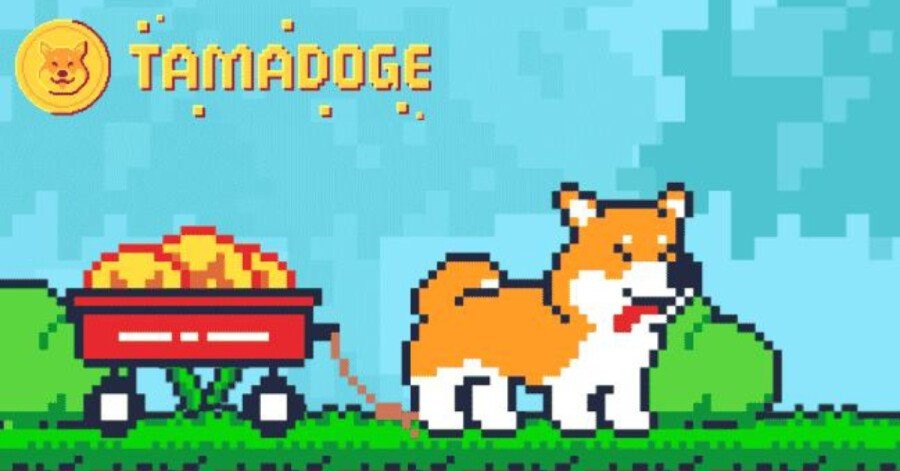 London, Thursday 15th June – Pioneering web3 play-to-earn (P2E) gaming platform Tamadoge is excited to announce the release of its highly anticipated Tamadoge Arcade iOS mobile app, now available for download on both the iOS App Store and Google Play Store, the gaming studio recently tweeted
Tamadoge is a recently launched, Shiba Inu meme-themed web3 gaming ecosystem, within which players can buy their very own non-fungible token (NFT) Tamadoge pet to compete in a variety of addictive retro arcade-style play-to-earn (P2E) games in the Tamadoge Arcade, all whilst winning real crypto prizes based on how well they do on the leaderboards.
The iOS app launch marks a significant milestone for Tamadoge Arcade as it expands to a broader audience and offers an enhanced gaming experience to its growing community.
The mobile app provides a seamless and convenient way for players to access the platform, no matter where they are, unlocking even greater opportunities for earning.
With the proliferation of smartphones, the mobile gaming market has experienced exponential growth, reaching billions of players worldwide.
By expanding into mobile devices, Tamadoge Arcade can connect with a larger player base, introducing them to the exciting world of play-to-earn gaming and the potential financial benefits it offers.
The app release represents another significant step in building the utility of $TAMA, the game's native token.
As Tamadoge Arcade continues to expand its ecosystem, the token could potentially become increasingly valuable, providing users with various benefits, including exclusive in-game items, rewards, and access to premium features.
The release demonstrates Tamadoge Arcade's commitment to delivering the best gaming experience while solidifying the meme coin's place as an essential component of the platform.
To download the Tamadoge Arcade mobile app and start earning rewards, please visit the iOS App Store or the Google Play Store and search for 'Tamadoge Arcade', or follow these links for iOS and Android respectively:
Apple: https://apple.co/3NxnOu6
Android: https://bit.ly/3NxnWK6
For more information about Tamadoge Arcade and its play-to-earn gaming platform, please visit the official website at https://tamadoge.io/

Tamadoge Making Moves Into 3D Gaming
Tamadoge also announced on Wednesday that it has secured a strategic partnership with Valkyrie, a premium creative agency based in Ukraine.
The two companies will be joining forces to bring the Tamadoge Arcade experience to life with stunning 3D NFTs.
Valkyrie, a renowned Ukrainian team of creative professionals, has established itself as a leader in various domains such as 2D, 3D, UI & UX, Metaverse, NFT, and game design.
By bringing together the best talent and expertise in their respective fields, Valkyrie embodies a commitment to exceptional creativity and innovation.
Through this partnership, Tamadoge aims to leverage Valkyrie's extensive experience and expertise in 3D design and NFT technology to level up the Tamadoge Arcade experience.
Players will be able to use the all-new 3D NFTs to boost their Tamadoge's abilities in the arcade.
Valkyrie's exceptional team will work closely with Tamadoge to create immersive 3D NFTs that will captivate players and enhance the overall gameplay.
"Tamadoge's partnership with Valkyrie comes as part of the company's ongoing commitment to pushing the boundaries of web3 gaming and delivering extraordinary virtual entertainment to its players," said Ozan Daldal, Head of Gaming at Tamadoge.
"The collaboration aims to merge cutting-edge technology, exceptional design, and blockchain innovation to create an unparalleled gaming experience within the Tamadoge Arcade".
The collaboration also marks another significant step for Tamadoge as it expands into the 3D gaming world.
The leading web3 gaming firm recently teamed up with development studio 24Play to build Tamadoge's first ever 3D game.
Tamadoge Arcade's Monthly Active Players Surging
The number of monthly active players competing on the Tamadoge Arcade is surging and just hit 55,500, as per a tweet from Tamadoge's official Twitter page.
That's exponentially more than the combined monthly active users of much better-known web3 metaverse platforms Decentraland and The Sandbox.
As per DappRadar, Decentraland had just 2,640 unique active wallets in the last 30 days, while The Sandbox had 7,2800.
The surge in monthly active players isn't surprising in wake of the recent Tamadoge mobile app launch across Android and now iOS devices.
This has significantly widened accessibility to the game that had previously only been playable on desktop.
And launching on mobile isn't the only step that Tamadoge has been taking to widen accessibility to its gaming ecosystem.
As part of its goal to act as a bridge from the web2 world to the web3 world, Tamadoge recently partnered with Web3Auth, meaning all players will need to sign-up and play games in the Tamadoge Arcade is an email address.
Dealing with web3 wallets can be daunting for non-crypto natives and act as a deterrent for engaging with the web3 gaming space.
The collaboration with Web3Auth means that Tamadoge players won't need to deal with the complexities of web3 to get involved.

$TAMA to the Moon?
$TAMA, the token that powers Tamadoge's web3 gaming ecosystem, has been pulling back in recent weeks after seeing a huge, near 4x pump back in mid-April amid hype about tier 1 cryptocurrency exchange listings, including ByBit.
TAMA/USDT was last trading in the $0.012s, down around 65% from April's highs and over 90% versus its initial post-exchange debut highs in the $0.20 area.
That implies a market capitalization of just $17.5 million, as per CoinMarketCap.
That's a very low market cap for a crypto project that already has a large and fast-growing base of users, and has already made substantial progress on delivering on its roadmap.
Indeed, Tamadoge's smartphone app launches are expected be closely followed by the release of the Tamadoge Pet Store, where cosmetic items can be bought for Tamadoge Pets.
Importantly for $TAMA owners, the Pet Store includes deflationary tokenomics thanks to an in-built burn mechanism - the equivalent of 10% of all purchase amounts will be burned, increasing the scarcity of $TAMA, which should boost its price in the long-run.
As the $TAMA army grows, more and more major centralized exchanges are likely to list the token.
This will give Tamadoge a significant free marketing push, while making investment easier for a much wider audience of potential buyers.
At the current price, $TAMA is only about 0.002% of the market cap of Dogecoin, which was last around $8.5 billion.
But many observers think $TAMA has a lot more utility, thanks to the fact that, unlike Dogecoin, it powers a rapidly growing gaming web3 ecosystem.
Say Tamadoge was able to get to 10% of Dogecoin's current market cap of $9.9 billion.
That would imply a market cap of around $850 million, meaning a token price (given current supply of just over 1 billion tokens) of around $0.85.
That's a more than 70x jump from current levels.
Some observers think Tamadoge could go well beyond 10% of Dogecoin's market cap, thanks to the gaming ecosystem's massive Total Addressable Market (TAM).
As discussed by the Tamadoge team in a recent blog post, Tamadoge's Arcade can attract a wide audience of potential players including crypto fans, gamers and NFT degens (thanks to its NFT component).
With the mobile games market expected to exceed 2.32 billion users by 2027, as per Statista, that's a huge potential base of players.
---