Pikamoon P2E Metaverse Presale Hits $4M
Disclosure: Crypto is a high-risk asset class. This article is provided for informational purposes and does not constitute investment advice. By using this website, you agree to our terms and conditions. We may utilise affiliate links within our content, and receive commission.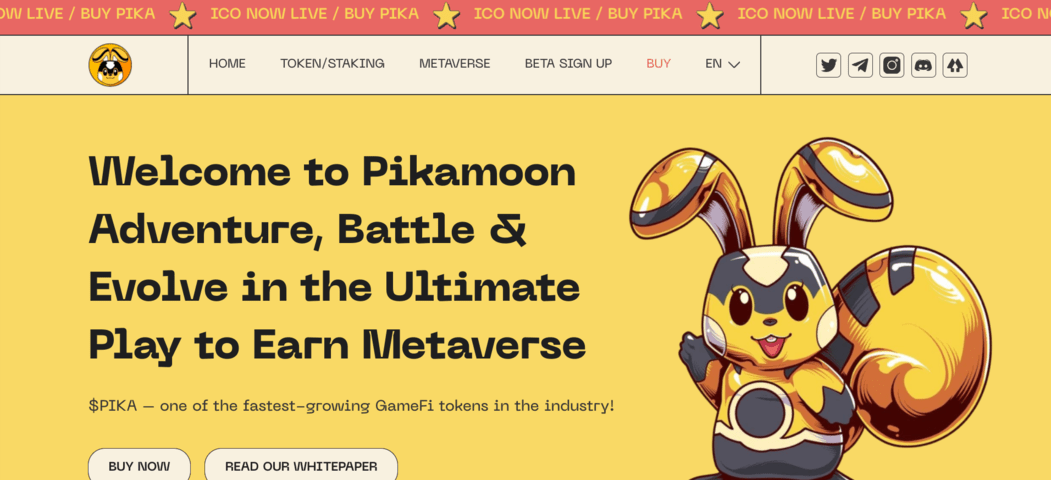 The Play-to-Earn (P2E) industry is making a comeback ahead of the April 2024 Bitcoin halving and ETF approvals. Yet, one crypto leading the pack in creativity, hype, and long-term potential is Pikamoon.
The project is a deflationary P2E coin with built-in utility and a promising use case. Pikamoon is jam-packed with NFT avatars, an open world ready to explore, side quests, tradable in-game assets, and much more.
It is currently undergoing a massively successful presale, having already raised over $4 million, and is now in its final presale stage. This means investors have one last opportunity to buy it at a fixed price before it reaches the open market.
Is Pikamoon the Next Pepe? Here Is What Analysts Think

Pepe experienced an unprecedented bear market run last summer, transforming from an unknown meme coin to a $1.8 billion market cap giant in one month. Yet, Pikamoon delivers a similarly fresh feel and significantly more utility, so could it be the next Pepe?
Analyst WallStreetKing released a video speculating whether Pikamoon is "the next big thing in meme coins." The analysis noted that Pepe whales are migrating profits into the Pikamoon presale.
Meanwhile, The Daily Grind Trader recently called $PIKA a 1000x token, explaining that it is an exciting project with a compelling use case and a strong team.
Jacob Bury is also bullish on Pikamoon, initially creating a video at the beginning of its presale stating that it is "packed with potential." So, while it remains to be seen if Pikamoon will render gains like Pepe and other explosive meme coins, analysts are in consensus that it is undoubtedly a high-potential project.
Anti-Rug Mechanisms Hint at Long-Term Growth

One of the reasons for Pikamoon's presale success is the trust and reliability it has established through various "anti-rug" efforts. Essentially, the project aims to eradicate the risk of a rug pull by providing the highest standard of security and transparency.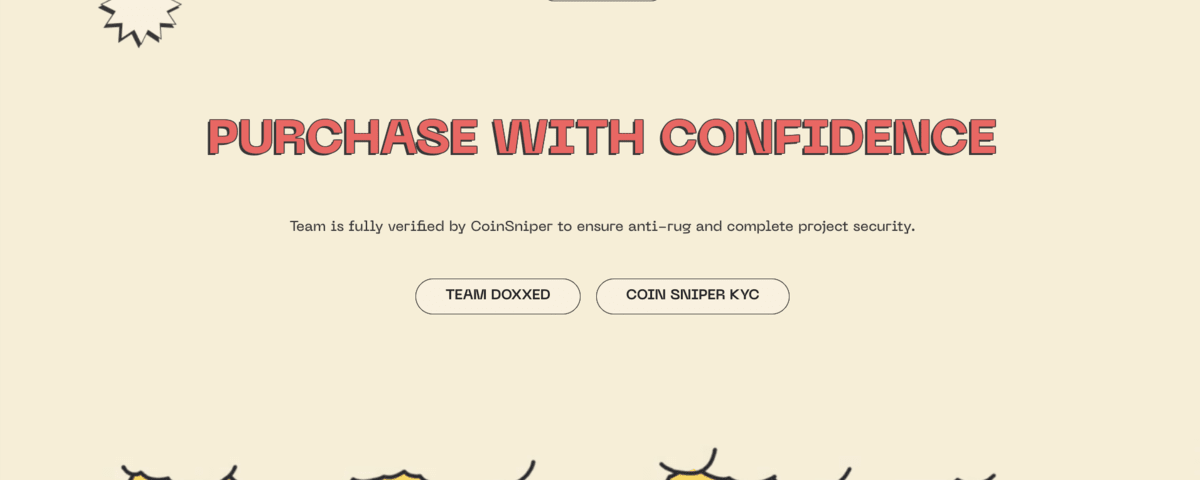 It first features a "doxxed" team with a YouTube channel showcasing the project's behind the scenes. Moreover, Pikamoon was audited by blockchain security firm Coin Sniper KYC. According to the audit, the project completed a KYC process, indicating it should be protected from a rug pull.
This is because Coin Sniper KYC states that they have the team's identities and would file a criminal complaint against them if it carried out a rug pull or scam.
Ultimately, a project that planned a rug pull would not file with a security firm like Coin Sniper KYC, illustrating Pikamoon's legitimacy and long-term potential.
What is Pikamoon?

With such a successful start to its presale and the backing of numerous prominent analysts, it is evident that the Pikamoon project is doing something new and unique.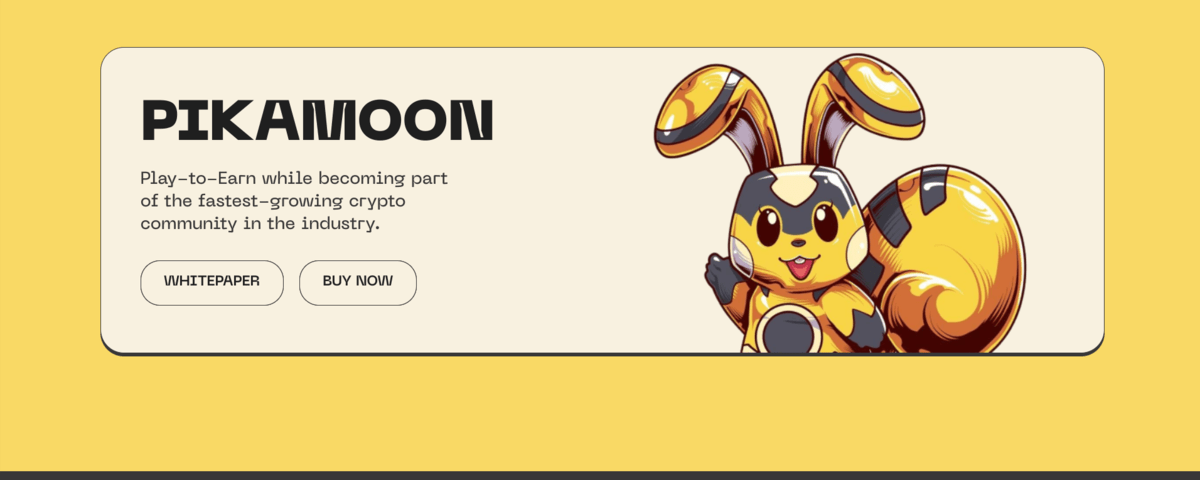 Simply put, it lets users build their own empires, collect NFT-based characters, and use them to rank up. Users can get paid for completing missions, battling their NFTs against others, and more.
Yet, Pikamoon stands out among other P2E projects by focusing on quality gameplay, enticing real gamers rather than P2E reward farmers. Per its whitepaper, Pikamoon should "make the player feel like they've picked up a video game for the first time."
It will feature a single-player and multiplayer mode, with the single-player mode being developed first. It is an open-world game where users can freely explore, battle, buy, upgrade items, and interact with NPC characters. The overarching goal is to defeat the 13th God, an evil entity seeking to reshape the world.
Users can improve their in-game abilities by purchasing items from the marketplace. These purchases require $PIKA tokens, creating steady and predictable demand.
Pikamoon Tokenomics and Presale Information

As well as being used to interact with the in-game economy, holders can also stake $PIKA for a three, six, or twelve-month lockup period. This will earn them passive rewards while reducing sell pressure on the token.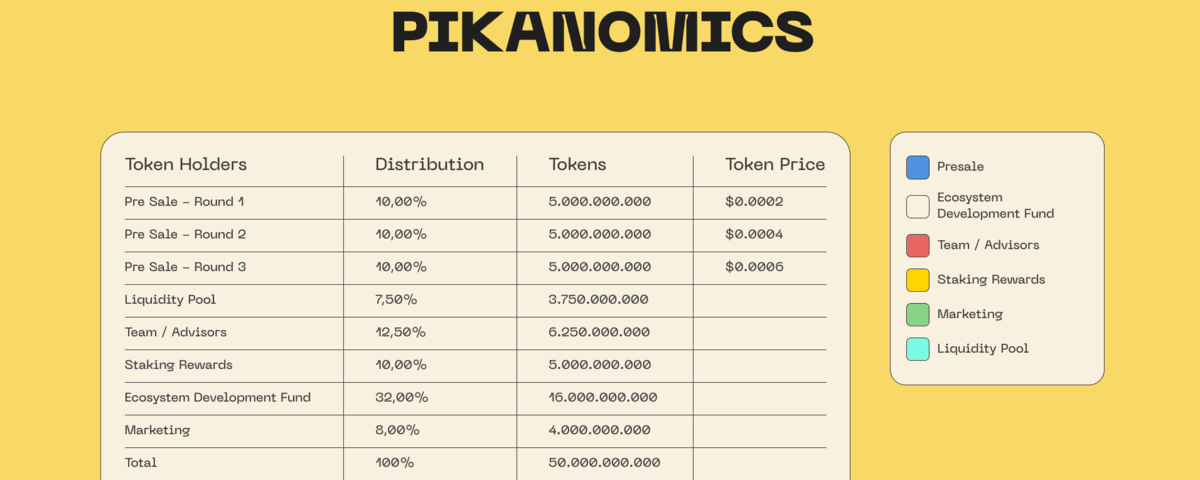 30% of $PIKA tokens have been allocated to the presale, with 32% to the ecosystem development fund, 12.5% to the team and advisors, 10% to staking rewards, 8% to marketing, and 7.5% to liquidity.
There will be a 2.5% transaction tax on sell and transfer orders, with 1% of the transfer going toward marketing, 1% toward the ecosystem development fund, and 0.5% will be burned. However, there is no tax on buy orders.
This incentivizes long-term holding while enabling the sustainable development and growth of the Pikamoon ecosystem. The project's presale is in its last round, priced at $0.0006. After this round, it will launch on the open market with a launch price of $0.0007.
$PIKA is an ERC-20 token, and users can buy it on the Pikamoon website and using an Ethereum-compatible wallet like MetaMask. The presale accepts payments in ETH. However, with the last round quickly selling out, investors have little time to buy the $PIKA at a discounted price.
---