NFTWorld: Own A Piece of the World Map
Disclosure: Crypto is a high-risk asset class. This article is provided for informational purposes and does not constitute investment advice. By using this website, you agree to our terms and conditions. We may utilise affiliate links within our content, and receive commission.
Disclaimer: The text below is an advertorial article that was not written by Cryptonews.com journalists.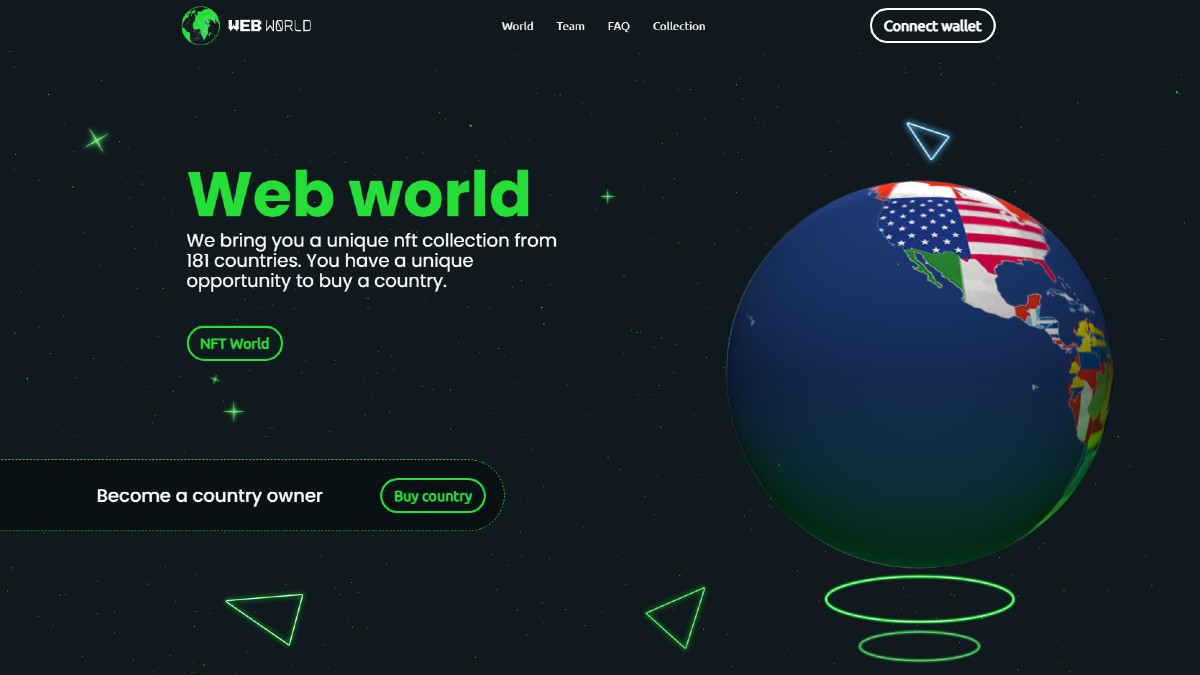 If you haven't heard about non-fungible tokens (NFTs), you are most likely living under a rock. The digital asset class has taken the world by storm thanks to its immutability and transparency, since proving ownership in the digital world is an age-old challenge that is finally being overcome. Thanks to this, even hobbies usually centered around collectibles have moved online, to the great satisfaction of enthusiasts. And now, you can get a piece of the world through NFTWorld.
What Is NFTWorld and How Does It Work?
NFTWorld is a new project focusing on issuing NFTs that are based on the countries of the world. When you buy one—for example, an NFT of your home country, or the one you would love to visit, or the one you had the best time of your life in—your preselected logo can be placed on an interactive map. Sounds like a decent plan for world domination, right? Of course, just like in the real world, it's going to take quite a lot of resources and risks to actually spread your control over more than a few countries—which only serves to add an extra touch of realism.
Additionally, the project team intends to start selling regions; if you're the owner of a country within that region (like, for example, you own Serbia and they're selling the Balkan peninsula), you will receive a percentage of the sale. Plus, your purchased NFT comes from a relatively small collection by default: with only 182 countries available for sale once they all launch, you can count on the asset's scarcity to drive up its value when projects like these reach the mainstream.
Of course, once the regions go up for sale, you can still purchase a region that has your country in it—think of the bonus that you will receive as a sort of discount. However, before this feature goes live, you still have time to assemble your collection of countries and take advantage of the regions once you're ready to do so.
Currently, the project has published the first package: 38 European countries are available, with others from other regions and continents soon to follow. To be among the first to find out once they do, be sure to follow their social media like Telegram and Medium—on the latter, you can learn many useful facts about the countries you're interested in, which may help you narrow down your choices.
What Are NFTs And Why Should You Care?
Although NFTs seem to be everywhere and on everybody's lips, not everyone understands exactly what they are and what they represent, let alone why so many seem to be selling for huge amounts of money. While the money exchanging hands is what snagged the attention of most newcomers to the space, this is obviously not the norm everywhere, or NFTs would be extremely hard to get into.
What makes them so interesting (and so valuable to many people) is the fact that NFTs are successful in their attempt to trace digital ownership, which has been a sore point for digital artists ever since they started working. When you paint a picture with oil on canvas, you own the picture until you decide to sell it; when you post a digital version of it (or of some digital-only artwork), everyone who knows how to right-click can download your picture and "own" it. This makes it extremely hard for artists to make money off of their art online.
NFTs are assets that store ownership information on the blockchain, where it is transparent and easily found, but impossible to change. Selling art through an NFT means transferring ownership information from one person to another in the same way that selling a physical painting transfers ownership. You can certainly print out a copy of the painting later, but you—as well as anyone else—will always be aware that this is not the original.
In the same way, this transfers to other types of collectibles, especially games. When actual money is involved, you want to be sure that what you pay for is actually yours before you commit to it, and that's what NFTs are there for. After all, why not buy the country you want in a virtual landscape?
OpenSea: https://opensea.io/collection/nftwebworld
Instagram: https://www.instagram.com/webworldnft
Telegram: https://t.me/webworldnft
Facebook: https://www.facebook.com/webworldnft
Twitter: https://twitter.com/WebWorldNft
Reddit: https://www.reddit.com/user/webworldnft
Medium: https://medium.com/@webworldnft
---