Most Bitcoin Traders are Retail, But Pros Dominate the Market - Report
Although the bitcoin (BTC) market has grown to include a huge number of smaller retail traders, the markets where bitcoin prices are actually determined are still dominated by a small number of "professional traders," a new report from crypto analysis firm Chainalysis said. These professionals account for more than four fifths of all bitcoins sent to exchanges.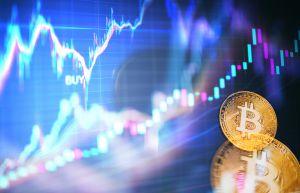 The firm said in the report that although the retail traders – defined as traders who deposits less than USD 10,000 on exchanges at a time – make up by far the largest group of exchange clients, they only represent a small minority of the total bitcoin value sent to exchanges.
According to the firm's findings, 96% of all transfers sent to exchanges fall into the retail category. But when accounting for the value of the transfers, this picture is turned upside down, with 85% of the value being controlled by traders defined as "professionals."
"Because of this, professional traders are the most significant contributors to large market movements, such as those seen during Bitcoin's dramatic price decline in March as the Covid-19 crisis intensified in North America," the report summarized.
However, Chainalysis adds a caveat: "professional traders are few in number, moving all that value in just 39,000 transfers per week on average in 2020."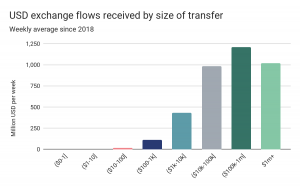 An important detail to note, however, is that these findings are based on the activity of just BTC 3.5 million, out of a total current supply of 18.6 million bitcoin.
The reason behind this, according to Chainalysis, is that about 60% of mined bitcoin is held by entities for the long-term, while another 20% of bitcoin hasn't moved in more than 5 years, and thus may be considered "lost."
As a result, that leaves 3.5 million bitcoin – or 19% of all mined bitcoin – as "bitcoin used for trading," which are the coins that actually determine prices, the report said.

As for the BTC being held, the report also went into detail on how it is stored.
Not surprisingly, a majority of the circulating coins that have not been defined as "lost" are held by entities referred to as Virtual Asset Service Providers (VASP), which includes crypto exchanges.
The four largest exchanges since 2018 took in 40% of all Bitcoin received by exchanges in 2020, said the report. The four are Binance, Huobi, Coinbase, and Bitfinex.
"The next ten received 36% collectively, leaving hundreds of other small exchanges to duke it out over the remaining 24% of transfer volume," the report concluded.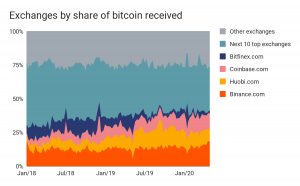 At pixel time (10:00 UTC), BTC is trading at USD 9,374. It dropped 0.64% in a day and 0.99% in a week.
__
Learn more: Traditional Traders Could Be Ready to Go Crypto, Prefer Bitcoin - Survey
Bitcoin Merchant Resilience Amid Pandemic Surprises Analysts
---