Moody's Warns El Salvador, PayPal in Ireland, Crypto Investment Flows + More News
Get your daily, bite-sized digest of cryptoasset and blockchain-related news – investigating the stories flying under the radar of today's crypto news.
____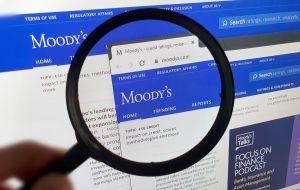 Source: Adobe/Rustam Kholov
Adoption news
Proclaiming bitcoin (BTC) legal tender reflects El Salvador's weakened governance and has raised tensions with international partners, including the United States, as well as jeopardized progress toward an agreement with the International Monetary Fund (IMF), said major ratings agency Moody's. They added that this means that risks associated with El Salvador's need to access sufficient external financing ahead of bond redemptions beginning in January 2023 have materially increased. Moody's downgraded the Government of El Salvador's long-term foreign-currency issuer and senior unsecured ratings to Caa1 from B3. The outlook remains negative.
Payments giant PayPal has started putting together a small team in Ireland to help support its foray into cryptocurrencies, according to the Independent.ie. They have begun hiring for cryptocurrency-related positions in roles such as compliance and anti-money laundering checks across offices in Dublin and Dundalk.
Investments news
Digital asset investment products saw another week of outflows totaling USD 19.5m, the 4th consecutive week of outflows despite the most recent price recovery, suggesting investors were using recent strength in prices to take profits, Coinshares said. Bitcoin saw outflows totaling USD 20m, its 4th consecutive week of outflows. Ethereum (ETH) saw outflows totaling USD 9.5m, its second consecutive week of outflows.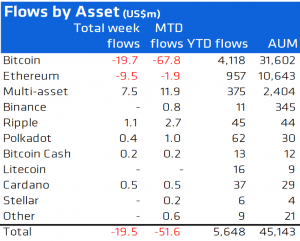 MTD - month-to-date; YTD - year-to-date; AUM - assets under management. Source: CoinShares
US-based listed crypto platform Voyager Digital Ltd. has acquired Coinify ApS, a crypto payment platform with a global user base in over 150 countries, stated the press release. The acquisition accelerates Voyager's international expansion and its capabilities into the payment space so that customers will soon be able to make payments directly from their digital asset accounts, as well as fast-tracks Voyager into the business-to-business payment space, it added. The consideration to Coinify shareholders will consist of 5.1m of newly issued shares of Voyager common stock and USD 15m in cash, and Voyager will retain USD 5.5m of cash on the Coinify balance sheet.
Digital assets financial services platform Matrixport said it has closed its unspecified Series C funding round with a valuation of over USD 1bn. The Singapore-based startup said has raised USD 129m to date. Co-founded by Jihan Wu, co-founder of crypto mining hardware manufacturer Bitmain, the company claims it held over USD 10bn of client assets under management and custody, as well as recorded USD 5bn in monthly transactions across all product lines, as of March 2021.
Finland is looking to hire a broker to sell BTC 1,981 (USD 79m) seized in drug busts, Bloomberg reported. The coins are currently with Finnish Customs, who is expecting to sign up to three brokers for a two-year agreement valued at roughly EUR 250,000 (around USD 297,000) and which could reach as much as EUR 2m (around USD 2.4m) in the event of more seizures.
Exchanges news
Crypto exchange Independent Reserve has today received an "in-principle approval" letter for a Major Payment Institution Licence in Singapore from the Monetary Authority of Singapore to operate as a regulated provider for Digital Payment Token (DPT) Services. It is one of the first virtual asset service providers to obtain an in-principle approval letter for that licence in Singapore, the Australian crypto exchange said.
CBDCs news
US Federal Reserve Governor Lael Brainard has called the issuance of a US central bank digital currency (CBDC) urgent, saying that she "just can't wrap her head around" the fact that the country does not have one yet, according to Reuters. Brainard added that the international realm is one of the most compelling use cases, as "intermediation chains are opaque and long and costly," but added that the significant rise of stablecoins shows a domestic use case for a CBDC as well.
Mining news
Bitcoin mining company Marathon Digital Holdings said it has entered into a contract with Bitmain to purchase an additional 30,000 Antminer S19j Pro (100 TH/s) miners for USD 121m. Marathon anticipates all 30,000 newly purchased miners to ship from Bitmain between January and June 2022. The company's mining operations are expected to consist of more than 133,000 Bitcoin miners, producing approximately 13.3 EH/s once all miners are fully deployed and operational.
Regulation news
The central People's Bank of China (PBoC) said it will maintain heavy regulatory pressure on cryptoasset trading and speculation, Bloomberg reported. They will also supervise financial platform companies to rectify their practices according to regulations, per the report.
The frontrunner in next year's South Korean presidential elections has said that the nation should "follow the US' lead in crypto regulation" – in front of a captivated audience of 20-39-year-olds. According to Chosun and Channel A, Yoon Seok-yeol, the former Prosecutor-General, claimed that he had been "shocked" by the government's crackdown on crypto in 2018, when initial coin offerings (ICOs) were banned. He argued that an American-style regulatory "model" that "minimizes" "interference" was needed in South Korea. The nation goes to the polls in March next year, where Yoon may either stand as an independent or join forces with the main opposition People's Power Party. However, it seems that the US is becoming less friendly towards the crypto sector.
A Spanish political party is set to unveil a draft bill that proposes – among other things – allowing citizens to use crypto to pay their mortgages. According to the Europa Press, via the media outlet la Gaceta de Salamanca, the measure is the brainchild of the People's Party and advocates a "digital transformation" of the nation's economy, with companies in the crypto and blockchain technology spheres offered tax breaks for pursuing R&D-related goals. The party, once the dominant force in Spanish politics, is attempting to "bounce back from the dead," per its leaders. It holds 88 out of 350 seats in parliament's lower house, where it is the second-largest party.
Legal news
Police in Turkmenistan said they have intercepted what appears to have been a number of attempted over-the-counter (OTC) crypto sales involving crypto miners and illegal brokers. Hronikatm reported that officers swooped on a busy market in the capital city Ashgabat, as well as at least two other locations in the city, intercepting what appears to have been attempted token sales by miners. Police said they were hunting unregistered miners and were "keeping an eye on houses and apartments" where electricity usage is suspiciously high.
Crypto crime in Hong Kong hit record levels, with one victim conned out of HKD 124m (USD 16m), according to the South China Morning Post. A total of 496 such cases were logged by the police in the first half of 2021, worth around HKD 214m (around USD 28), whereas there were 208 cases in 2020 worth HKD 114m (USD 15m).
---