MiniDoge - Over 79,000 Holders in Less Than 20 Days
The text below is an advertorial article that was not written by Cryptonews.com journalists.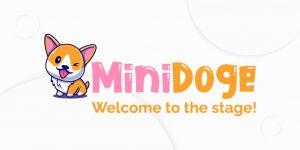 With such an amazing intro, it is no wonder why MiniDOGE is considered one of the most promising cryptocurrencies of 2021.
We're talking about a token that got over 79k holders in less than 20 days from launch. Not to mention its 300M USD Market Cap reached in this time. If we continue with the numbers, we get to the listing on no less than 10 exchanges, including BTok, as well as the listing on CoinGecko and Coinmarketcap.
Did we mention that Twitter marked the project as verified in just 12 days? So why is it so popular? What sets MiniDOGE apart from other tokens?
Check out for yourself in this article.
About MiniDOGE
MiniDOGE is an adorable new token built with an integrated AI that makes every sale be followed with a buy, avoiding large selloffs.
The crypto project is known for its initiative to make a change for animal shelters, making crypto donations the main motivation of investments.
The DevTeamSix developers behind MiniDOGE wants to get involved in two ways:
Donating a part of every token investment;
Creating awareness through the MiniPETS mobile app.
MiniPETS will let users create, buy, and raise NFT pets. Each daily task comes with MiniDOGEs, that can be used to buy accessories and food for your pet. When you think he is ready, you can find a new home.
The better he is raised, the greater his value is.
The game will be available on both IOS and Android and its usability exceeds expectations. Your PET NFTs are not limited to gamers - you can use them to pay for goods from worldwide merchants that partnered with MiniDOGE.
At the moment, the game is still in development, but you can sign up to be a beta tester and help the team get it to the best version.
MiniDOGE's Usability
You know a token has potential when you can use it on more than just trading and exchanging platforms - and MiniDOGE checks this box too.
On July 17th MiniDOGE announced that it is now accepted as payment on various merchant websites - like Shopify, Magneto, Opencart, and WooCommerce. This is a huge step forward in the cryptocurrency business.
By the end of the day, all we want is to make crypto overcome fiat, and use it like any other asset - but in a more secure and independent way.
Are you ready for it? Then don't hesitate and get your MiniDOGEs on Pancake Swap now!
---