Metropoly Presale Stage-10 Ends in 1 Day: Investors are Stocking up on METRO in Bulk
Disclaimer: The text below is a press release that is not part of Cryptonews.com editorial content.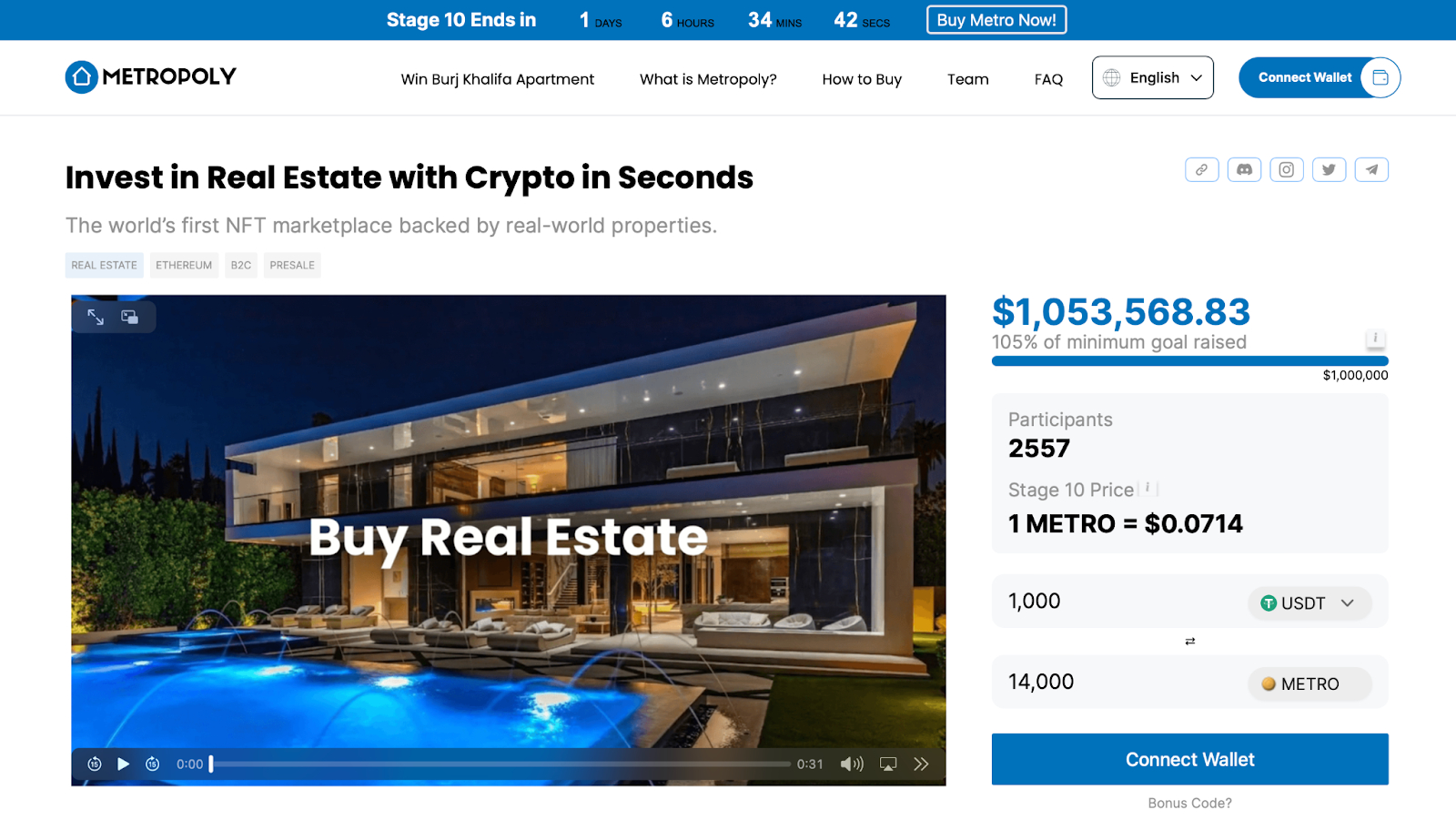 The tenth stage of the Metropoly presale will end in a few hours. With investors piling in to take advantage of the early-stage discounts, the presale has already raised over $1,050,000 – 105% of its minimum goal. The chances of the presale ending ahead of schedule can't be ruled out.
Metropoly's market relevance lies in its unique use cases, deeply embedded in the global real estate market. Here is an analysis of Metropoly and why it's trending, accompanied by a short guide to procuring METRO for the best discount.
Metropoly thinks beyond the crypto market
While most of the crypto-NFT market is confined to art, gaming, and DeFi projects, Metropoly uses blockchain technology as a tool to reinvent global real estate. It makes this possible by converting real estate assets into NFTs. As a result, all details regarding the asset – including its physical traits, sales history, and ownership – are recorded on the blockchain and available for anyone to see and verify. Blockchain integration solves the problem of transparency that has been plaguing the industry for centuries.
But that's not all. Metropoly reshapes the real estate market into a democratic, inclusive space through its fractional NFT marketplace. Since a real estate asset can cost millions, the traditional market is inaccessible to most people. Metropoly addresses this by dividing the NFT (backed by a real-world real estate property) into fractional NFTs. They are sold for prices starting from $100, taking the evergreen asset class to the crypto market.
Real estate investments – easy, fast, and hassle-free
Metropoly's key mission is to simplify the process of buying and selling real estate for investors from all financial backgrounds. That is essential to decentralizing the market and empowering more people to grow their wealth like the world's richest.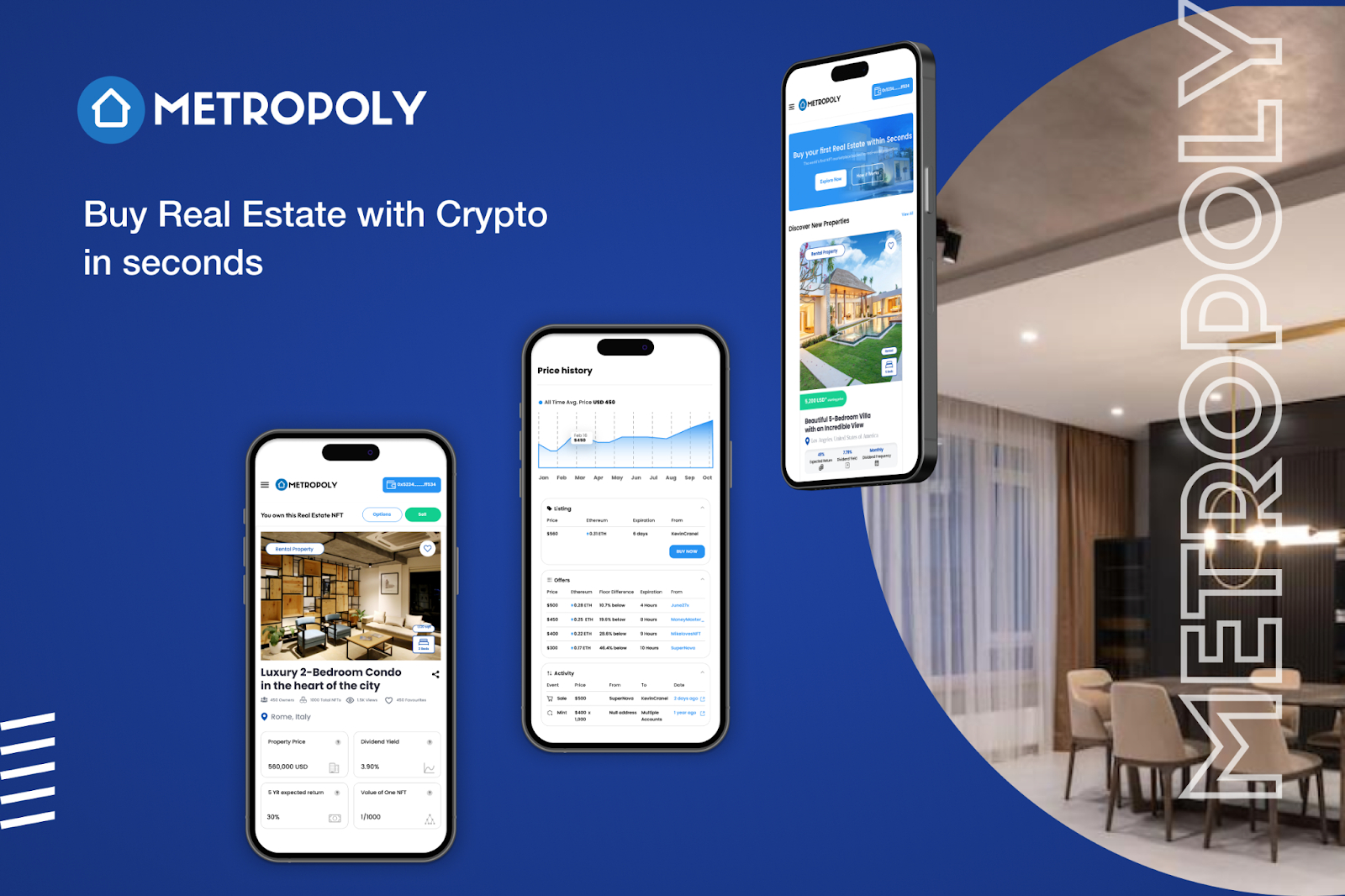 Metropoly comes with no banks, paperwork, or hidden fees as you're investing in the property via an NFT, rather than buying it directly from the owner. The Metropoly team takes care of the legal and operational aspects of the ownership. The headaches of traditional real estate purchases are done away with, giving you an easy entry to invest fractionally in high-yield properties.
The assets, being fractionalized, allow anybody with a small budget to invest in an expensive property. This has two benefits. First, it decreases the initial cost of investment. Second, it helps you diversify your portfolio. As you know, diversification is a time-tested strategy to mitigate the risks attached to any investment. Moreover, Metropoly features an array of income-generating properties – from luxury apartments to holiday villas – hand-selected by real estate experts.
Metropoly real estate NFTs accrue regular income from rent just like their traditional counterparts. And you can hold them for value appreciation.
But that doesn't mean you need to worry about finding a tenant or taking care of the property. Metropoly NFTs are passive investments. Thus, the allied tasks that come with real estate ownership are managed by the multidisciplinary Metropoly team based in London, Dubai, & Ontario.
Moreover, you can trade fractional real estate NFTs in seconds on the Metropoly real estate marketplace.
Why you should not miss out on the Metropoly presale
Real estate is one of the safest and most attractive investments. As long as humans prefer a roof over their heads, the market will continue to grow. They are also a great hedge against inflation. But most people can't afford to purchase real estate properties purely as a source of passive income or for wealth appreciation.
This is where Metropoly makes a difference. It makes real estate investments affordable for a large demographic. If the presale is any sign, Metropoly's vision has resonated with the audience. Still, it is reasonable to question the feasibility of the project. The crypto market is in no dearth of groundbreaking visions that failed to take off. But Metropoly sets itself apart by launching the beta dashboard of its proposed NFT marketplace before the native token and NFT launches. The intuitive platform strengthens the credibility and growth potential of the project and the tokens.
A $1M Burj Khalifa Giveaway further fuels interest in the presale. If the pace keeps up, the presale will end ahead of schedule. And if you join the project after the exchange listings, you will have to buy the token at high prices. The upcoming product development milestones can trigger multifold bull runs for the token. A 10X price hike by the end of the year is not a long shot for Metropoly.
How to buy METRO for a discount?
METRO is priced at $0.0714 in the tenth stage. It will undergo a small hike on entering the next stage. To join the METRO presale, all you need to do is install a crypto wallet, (Metamask and Trust Wallet are known for their smooth user experience.), fund it with ETH, BNB, or USDT, enter your purchase details, and confirm the transaction.
The minimum purchase is $100, which also gets you access to a compelling Burj Khalifa apartment giveaway, worth $1M.
| | |
| --- | --- |
| Token | METRO |
| Blockchain | Ethereum (ERC-20) |
| Supply | 1 Billion |
| Tokens sold during the presale | 200,000,000 METRO |
| Currencies supported | USDT, ETH, BNB |
| Exchange listing price | 1 METRO = $0.1 |
---