Metacade (MCADE) Presale Officially Launched: Next Trending Crypto Token in 2023?
Disclaimer: The text below is an advertorial article that is not part of Cryptonews.com editorial content.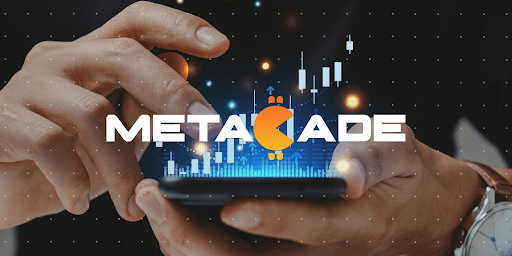 In 2021, Solana's price went from around $2 to over $250 – a massive increase of approximately 17,500%. The surge in investment minted quite a few new millionaires during the process, and logically leads us to the next question: what's 2023's top-trending crypto token or utility token going to be?
In this article, we're looking at a new eye-opening platform called Metacade (MCADE).
With its presale long anticipated finally launching today, it's raising a tonne of profit discussion across crypto channels about how it's set to revolutionise gaming across the metaverse. We'll be reviewing exactly why it could well be the soaring investment we're looking for.
What is Metacade?
At its heart, Metacade is the Web3's first community arcade. It intends to become the metaverse equivalent to that uplifting arcade you and your friends would spend hours in as kids (or at the very least, saw in awesome movies like Terminator 2).
At Metacade, you'll be able to hang out with friends, play a wide variety of brand-new games, and even connect with game development leaders - who might want to hire people just like you. It's everything you want out of GameFi all in a single place.
The platform is powered by the MCADE utility token, which will let you engage across the community in genuine ways and benefit directly from the growth of the Metacade platform.
Why Could Metacade Be 2023's Top-Trending Crypto Token?
If you want an amazing utility token that does it all, Metacade's MCADE is absolutely the one that you should be focused on. Here are some of the key reasons why this crypto token is primed to have a fantastic 2023.
Games for Every Interest
Other metaverse projects are building single, standalone games with little scope or imagination for extension later down the line. Metacade is thinking several smart steps ahead by creating a space where you can go in the metaverse to play not just one - but a spectacular range of different titles, back to back, all in the same place.
This essentially makes Metacade a universal platform that has ultimate mass appeal to a huge variety of gamers of all interests and backgrounds. Whether its hosting competitive tournaments and events for hardcore gamers, or looking to pursue some chilled out, casual gaming - Metacade is setting itself up for all categories and interest levels. Most other Web3 GameFi projects can't offer anything near the same.
From an investment perspective this lowers the risk significantly as they are not reliant on a single game gaining popularity. It is akin to investing in Netflix, rather than a single film.
Metagrants
Metacade isn't just going to help its users establish their newly-minted careers in Web3 gaming, it's also going to secure the essential development of Web3 games on its platform, through an ingenious program called Metagrants.
Metagrants offer promising developers the necessary funding they need to bring their mind-blowing game ideas to life, and publish them in the Metacade. The community will be able to vote on their favourite games, or possibly features they want to see as development is ongoing. Funding is set to be provided using the native MCADE crypto token as the transaction currency - giving something back to the community and helping to bring a jackpot of fresh new games to the Metacade.
Game creators listen to feedback from their users, however this takes it to the nex-level, where the community decides exactly what gets built.
Play-to-Earn
Metacade will also be heavily promoting play-to-earn aspects across its platform, but with a twist - in some ways more similar to contribute-to-earn. You'll essentially be able to get rewarded just for engaging within Metacade and the broader community surrounding it.
This might mean rewards for achieving certain goals in games, for example, or could even be receiving an MCADE crypto token or two for helping write a constructive review or playthrough for a particular game, giving users yet more reasons to keep coming back to Metacade.
By the Community, For the Community
Metacade is also planning on giving over complete control of the project to the community once it has established itself as a true leader in Web3 gaming. Key roles will be handed over to loyal community members, so they can help take the budding project where the community wants it to go.
Holders of the token will also have a crucial chance to vote on important issues facing the platform as time progresses. This makes Metacade a unique project that's 100% community-centric in a way that most other crypto gaming projects haven't approached so far.
Web3's GameFi Career Hub
Metacade is also gearing up to become a focal development hub for developers of GameFi projects, as well as a source of vital talent that can help them grow and prosper. As a gamer - perhaps you've thought of becoming a game tester, an animator, or a designer - in which case Metacade is looking to help cover all your bases for you.
In the future, the platform intends to extend its reach. By incorporating important hiring elements of the development cycle alongside Metacade's arcade setting, there'll be chances to potentially find some employment related directly to your interests. Imagine getting rewarded to play-test games you're interested in - all without leaving the space you love.
You're early
Finally, as of the time of writing, Metacade's MCADE token presale has only just launched - so there's still a fantastic chance to get your hands on a certified early deal.
There will be 1.4 billion tokens available over 9 stages - 70% of the total tokens altogether. In the current Beta sale stage, you can get a massive 125 MCADE for 1USDT, but this drops over each stage - resulting in 50 MCADE for 1 USDT in the final stage, so the earlier you get in there, the better.
Should You Invest in Metacade?
Nobody can predict the future. That's why it's always important to use proper risk analysis before making an investment.
But that being said, there's really a whole lot to like about Metacade and its MCADE crypto token. When you consider the complete ecosystem, supporting the publication of an exclusive set of arcade titles, within a truly democratic Web3 gaming community hub that offers socializing, gaming, and even professional growth - there's plenty to be excited about for the platform.
With its presale only just lifting off, now would be the perfect oportunity to swoop in and save on a massive bargain before the frenzy begins. Metacade is looking like it could easily become one of the greatest, top-trending crypto tokens of 2023, and mint some new fortunes in the process.
You can participate in the Metacade pre-sale here.
---