Meme Coin $SPONGE Price to Shoot Up as Buyers Pour In – Bitget, Gate Join MEXC in Exchange Listings Rush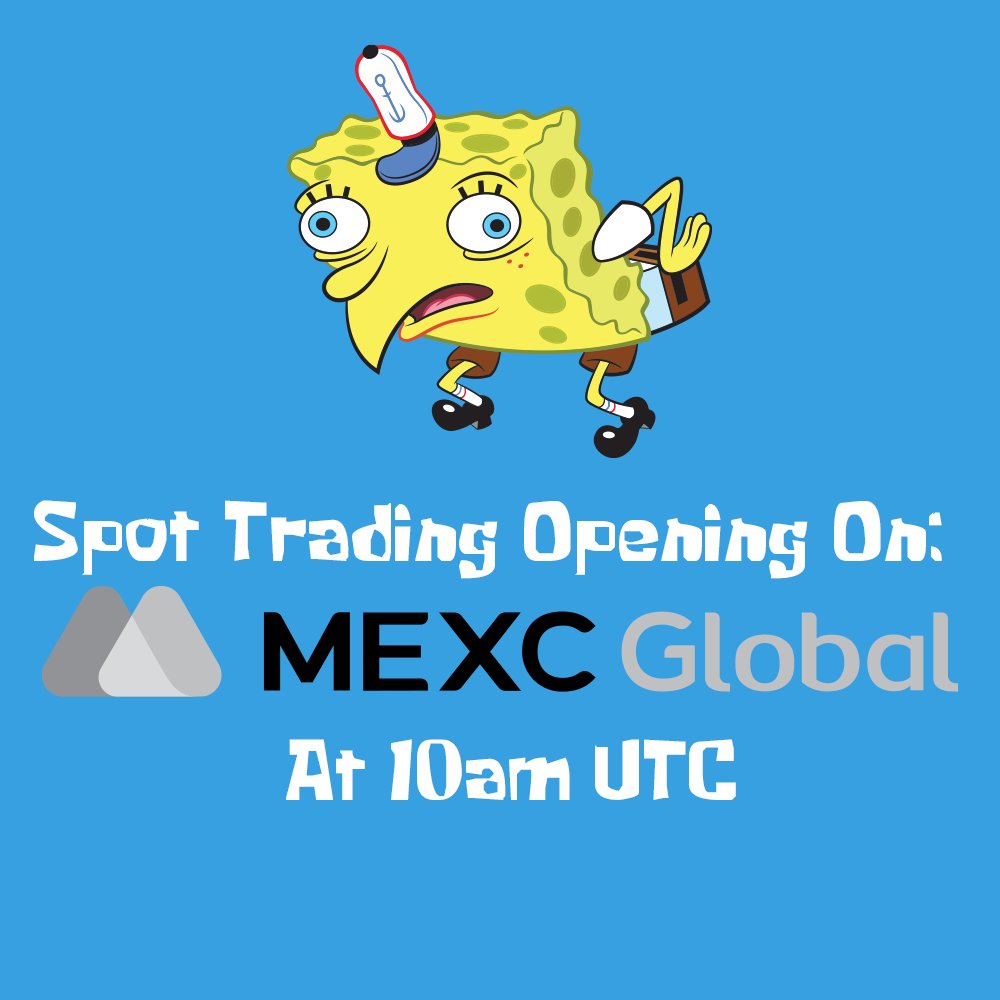 Thursday May 11th 2023 – Top-performing meme coin $SPONGE is set to list on two more exchanges, Bitget and Gate, after listing on MEXC today.
Both centralized exchanges will start trading the $SPONGE coin on Friday May 12th at 10:00 am UTC.
By Friday $SPONGE will have been listed on eight exchanges in total, with no doubt many more to come.
According to CoinMarketCap data, Gate is the ninth-ranked exchange and Bitget fourteenth. They have respective trading volumes of $801 million and $895 million.
Data site CoinGecko, meanwhile, ranks Bitget and Gate eighth and ninth, respectively, with Bitget seventh for the highest visitor traffic of all exchanges globally.
Deposits on Bitget begin today at 10:00 am UTC and the startup event for $SPONGE starts at 7:00 pm UTC on Gate.
$SPONGE has an astounding week with strong upside ahead as CEXs queue up
$SPONGE has had an astounding week – its price is up around 600%, according to coinmarketcap data. Bulls are waiting eagerly for the most recently announced crop of exchanges to list $SPONGE.
Today, Thursday, $SPONGE starts trading on tenth-ranked centralized exchange MEXC Global at 10:00 am UTC.
Other exchanges already listing $SPONGE are Poloniex, LBank, CoinW, Toobit, BTCEX and the one expected to be announced tomorrow.
As volumes explode and traders flood in, more exchanges are likely planning to list the hot meme coin.
$SPONGE is trending 3rd coin on Dextools, 37k Twitter followers in 6 days
$SPONGE is trending at No.3 on the decentralized exchange trading site Dextools and has a project reliability score of 98 out of 99.
Trading volume remains above $13 million, and liquidity is at $7.3 million, making the coin one of the healthiest among the new wave of meme coins in terms of market depth.
The project now has 37.6k followers on Twitter after only six full days, as its community explodes in size.
There are also nearly 20,000 members of its Telegram group and 2,628 on its Discord server.
Although the $SPONGE price is off its highs at the start of the European session, as some profit-taking takes place, the number of token holders continues to grow, now numbering 11,200.
It is not known how many token holders there are on the expanding roster of centralized exchanges listing the coin, as this data is shielded. However, holders on CEX are likely on the way to being well in excess of those holding $SPONGE in their own self-custody wallets.
$SPONGE has cultural value and is a platform for growth
$SPONGE has a lot going for it in comparison to its rivals like Pepe.
For one thing, $SPONGE is said to have a team of seasoned professionals behind it who have launched many other successful tokens.
What's more, the team includes a VC element, making it the meme coin of recent times known to have such high-level involvement.
According to a recent Twitter Spaces community event, the team is planning a big marketing push for $SPONGE that will leverage the meme's global potential.
In paying homage to one of the most recognizable cartoon characters in the world, $SPONGE is an opportunity to secure a big slice of the cultural internet zeitgeist and the value that represents.
Also, the speed with which $SPONGE has brought onboard eight exchanges is evidence of the prized relationship that some of the individuals behind it have in the industry. That puts $SPONGE in good stead for not just more top exchange listings, but for its longevity and future price appreciation.
$SPONGE, as the website states, has no formal team and the token is for "entertainment purposes", but it obviously has individuals working together at an informal level.
So although there is no concrete talk as yet about the future utility vectors that might be built on top of $SPONGE, this is a distinct possibility, presumably depending on the future progress of the coin.
Nevertheless, whatever of the longer-term future, in the here and now $SPONGE continues to make waves, soaking up the damp from sellers who will live to regret their haste.
$SPONGE has arrived – now the long-established rich people know about it
Indeed, it might be argued that when you start getting covered in the highly influential New York magazine, read by NYC's high net worth cultural sommeliers and the masters of finance on Wall Street, you can be said to have arrived.
Although there's plenty of incorrect information in the article, which is the sort of thing to be expected from non-crypto publications, there are only two meme coins mentioned in the piece, and that speaks volumes:
…all those other people in the bitcoin queue aren't buying groceries. They're sending each other memes. These aren't elevated or important memes — we're literally talking about Pepe the Frog and SpongeBob.
Two meme-coin projects, one based on the amphibian Pepe and the other on SpongeBob, are currently enjoying a major speculative boom, both acting like it's 2021 again.
$SPONGE holders can rest assured then that they are onto something that radiates tangible value, whatever the website disclaimer may say for legal reasons.
New money flows into $SPONGE as MEXC opens the doors
Now that the price has found a comfort zone after the shenanigans on the markets following the US government sale of a large tranche of bitcoin and Elon Musk stirring the pot with his Milady NFT tweet, new money is starting to come back into $SPONGE.
Today's MEXC listing is acting as a conduit for much of that money, providing $SPONGE with a platform for take-off.
Currently priced at $0.0005220, $SPONGE market participants can look forward to strong upside as the MEXC , Gate and Bitget exchange listings bolster momentum.
Don't miss out on the $SPONGE airdrop
If you are a $SPONGE holder you are eligible to sign-up for the airdrop. All you need to do is click the link at the airdrop sign-up page on Discord and then share your Discord, Twitter, email and wallet addresses.
Once all four are connected, you are eligible for the airdrop.
Airdropped tokens will be awarded for three criteria:
Engagement on Discord – you need to achieve 'highly engaged" status.
Amount of $SPONGE purchased
Amount of $SPONGE traded on Uniswap (CEX volume cannot be seen by the $SPONGE systems so not included)
The scores will be reset every week.
The cut-off date (snapshot) for eligibility is yet to be released, which means to be eligible for the airdrop there is no time to lose in becoming a $SPONGE holder.
Stick with the smart money, stick with $SPONGE
Stick with $SPONGE and you know you are probably hanging out with the smart New York money. Run for the hills and you risk losing your shirt. Diamond hands will win the day, but DYOR.
You can buy $SPONGE on six centralized exchanges, including MEXC from 10am UTC. Buyers can also purchase on decentralized exchange Uniswap directly on the $SPONGE website, at sponge.vip.
---