Massive Volume Spike Sees ByBit Immediately Launch Perpetual Futures Trading, $WSM Price Climbs 19%
Disclosure: Crypto is a high-risk asset class. This article is provided for informational purposes and does not constitute investment advice. By using this website, you agree to our terms and conditions. We may utilise affiliate links within our content, and receive commission.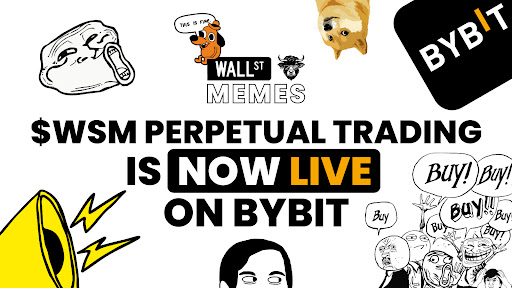 Friday, October 12th, 2023 – ByBit exchange launched Wall Street Memes ($WSM) perpetual futures trading on Thursday and the price pumped at the time.
The newest hot meme coin was up as much as 19% on the ByBit $WSM/USDT perps market as an influx of traders pushes the price higher to $0.0394 after recent profit taking.
The coin is still at a highly attractive valuation, registering a market capitalization of $64 million compared to the $8 billion and $4 billion for Dogecoin and Shiba Inu, respectively. Pepe is on $245 million.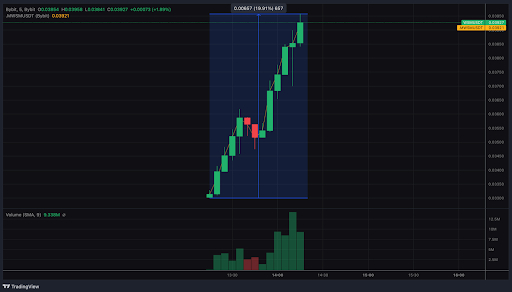 10x or even 100x returns are in the frame at current prices. $WSM recently exited its presale at a price of $0.0337. Early buyers were able to get in at the lowest price of $0.025.
ByBit is the fifth-ranked centralized exchange according to Coinmarketcap data.
In the derivatives market ByBit is ranked second, with 24-hour trading volume of $7.4 billion. The futures markets in crypto are much larger than their spot counterparts.
But in the spot market too, ByBit is one of the giants. Here it has an exchange score of 7.1, which Coinmarketcap bases on web traffic, trading volume, average liquidity, and confidence in the veracity of volume data, it has 24-hour trading volume of $972 million in the spot markets.
If you wish, you can buy $WSM directly on the Wall Street Memes website with ETH, USDT or your bank card.
ByBit spot market listing to follow shortly – $WSM is the third-most-traded meme coin
The latest news means a spot listing on ByBit could be expected to follow. The speed at which ByBit responded to yesterday's volume surge, which came in the midst of a short squeeze campaign that the Wall Street Memes team set in motion, speaks to the growing traction the community-led project is garnering.
The project has set itself the mission of democratizing the financial markets by rooting for the little guy against Wall Street.
Wall Street Memes is currently the third-most-traded meme coin by some distance. Trading volume stands at $70 million, behind only Dogecoin and Shiba Inu, while in a distant fourth place is Pepe on $35 million.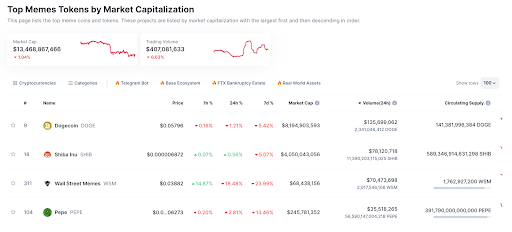 $WSM is up 14% in the spot markets since the ByBit news broke. As the token continues to move higher up the value chain of exchanges, a listing on more tier 1 exchanges, such as Binance, can't be far off, not to mention the likes of Crypto.com and Kucoin.
FOMO is sure to continue to rise as expectations of more top exchange listings grow.
The Wall Street Memes token is already trading on top 10 exchanges OKX, HTX and Gate.io, as well as nine more exchanges. In the derivatives markets it is MEXC, OKX and BitMEX that lead the way, now joined by ByBit.
On ByBit, traders can access leverage of 25x to boost their returns when trading $WSM.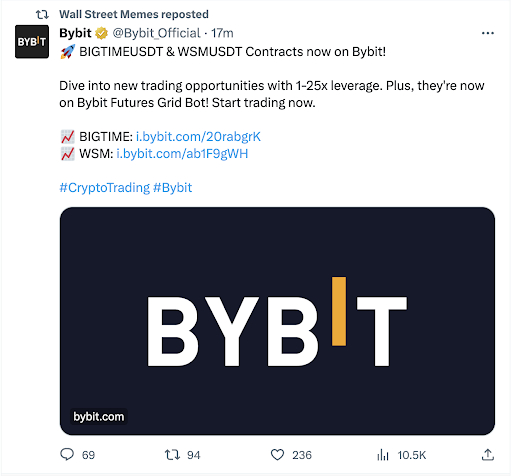 https://x.com/Bybit_Official/status/1712466911974560051
Buyback and short squeeze present new entry opportunities
Yesterday, against a backdrop of red screens in the rest of the market, $WSM was up 32% due to the buyback and short squeeze campaign that saw the price top out at $0.048.
Wall Street Memes has a highly engaged community of more than 1.1 million followers across, X, Instagram, Telegram and Discord, and the short squeeze was welcomed with positive engagement by the community.
The project says it wants to bring the meme stock frenzy to crypto in the same way that WallStBets did for GameStop, AMC and a bunch of other so-called meme stocks.
Well, going by the volume of trading inspired by its short squeeze, Wall Street Memes succeeded in its first foray into the markets with a community-led buying spree. Expect more to come.
Major new Wall Street Memes product to be announced on Wednesday October 18th
But before that happens, the community is now eagerly anticipating the launch of a major product, which the team announced today, will be revealed on Wednesday October 18th:
"We're pleased to announce that our flagship product will be launched on Wednesday, 18th October at 15:00 UTC. We'll be releasing further details about it closer to launch, but we can't wait for everyone to see it."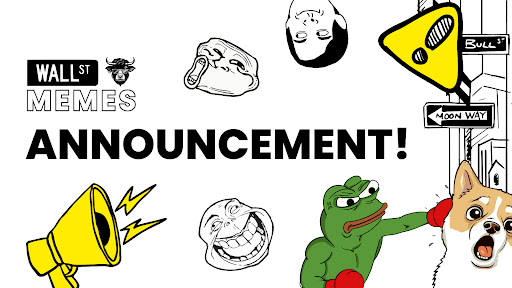 https://x.com/wallstmemes/status/1712170998978458082
Wall Street Memes ($WSM) price could 100x and this YouTuber just invested $1,000
Why I Just Bought $1,000 WSM Crypto! (Life-Changing?)
YouTuber crypto analyst No Bs Crypto with 35,000 subscribers has just published a video in which he buys $1,000 worth of $WSM tokens. He plans to grab 100x returns by investing in Wall Street Memes.
The reason why he thinks that is possible is by looking at how the likes of coins like Pepe performed. Pepe went up 5,000,000% while Shiba Inu did 46,000,000% in 2021. Just a fraction of those returns will make life-changing sums for investors getting into the market today. No wonder trading volumes keep climbing.
And when trading volumes rise consistently it provides the essential basis for future astronomic price growth.
And, as we mentioned, $WSM has a product launch coming next week. Dogecoin has no utility yet commands a $8 billion valuation.
The future for Wall Street Memes is very bright indeed. And if you do decide to buy today you get the chance to enter the $50,000 airdrop competition, which is running now on Gleam.
Wall Street Memes is on the verge of great things. As it continues to conquer the futures market it will attract bigger and bigger investors and become even more attractive to those exchanges yet to list the token. Hold on tight for the coming price explosion.
---