Litecoin Price Prediction as LTC Blasts Up 22% in a Week – Can LTC Reach $1,000?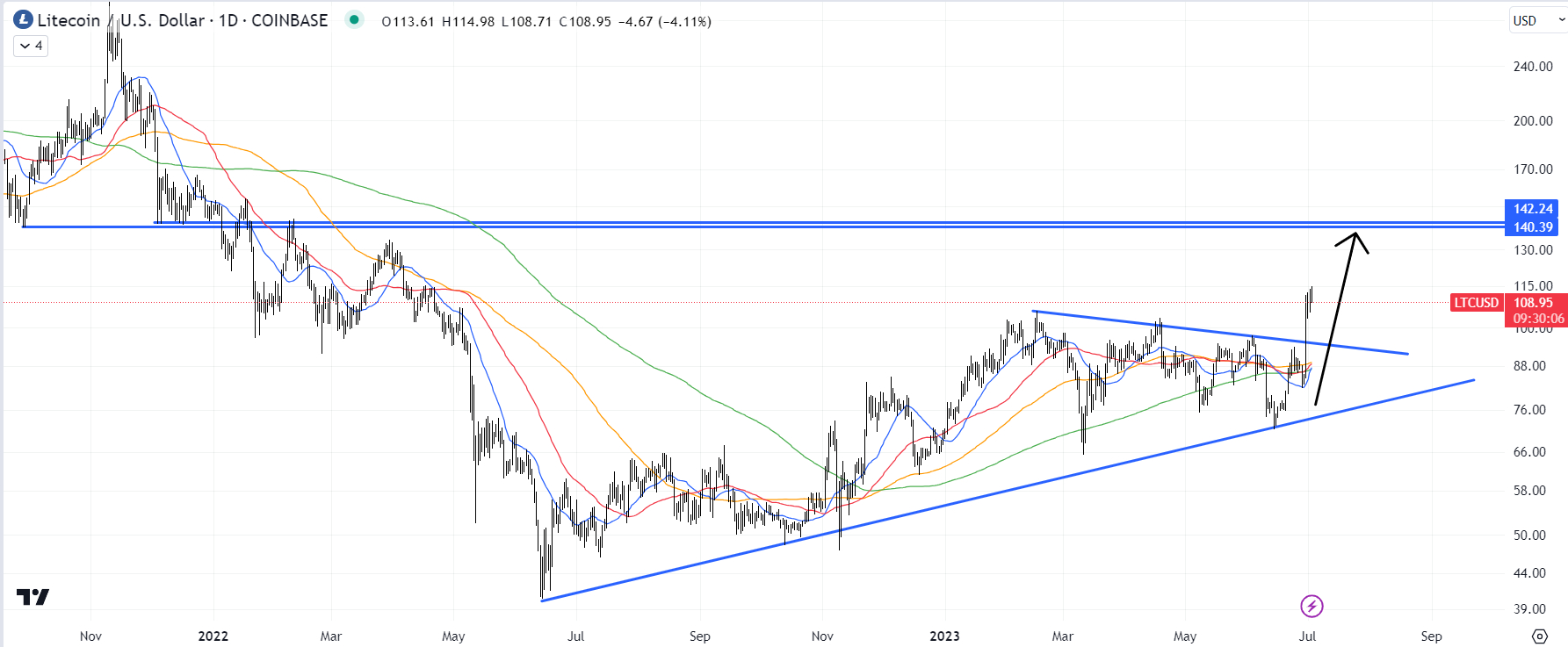 Litecoin (LTC), the cryptocurrency that powers the decentralized payments-focused Litecoin blockchain, is consolidating just under $110 after hitting its highest level in over a year earlier in the session at $113.61.
As per crypto price data website CoinGecko, LTC is up an impressive 22% in the last seven days, making it the eighth best-performing cryptocurrency in the top 100 by market cap over this period.
Despite having now rebounded more than 50% from June's lows close to $70 per token, Litecoin price predictions remain bullish.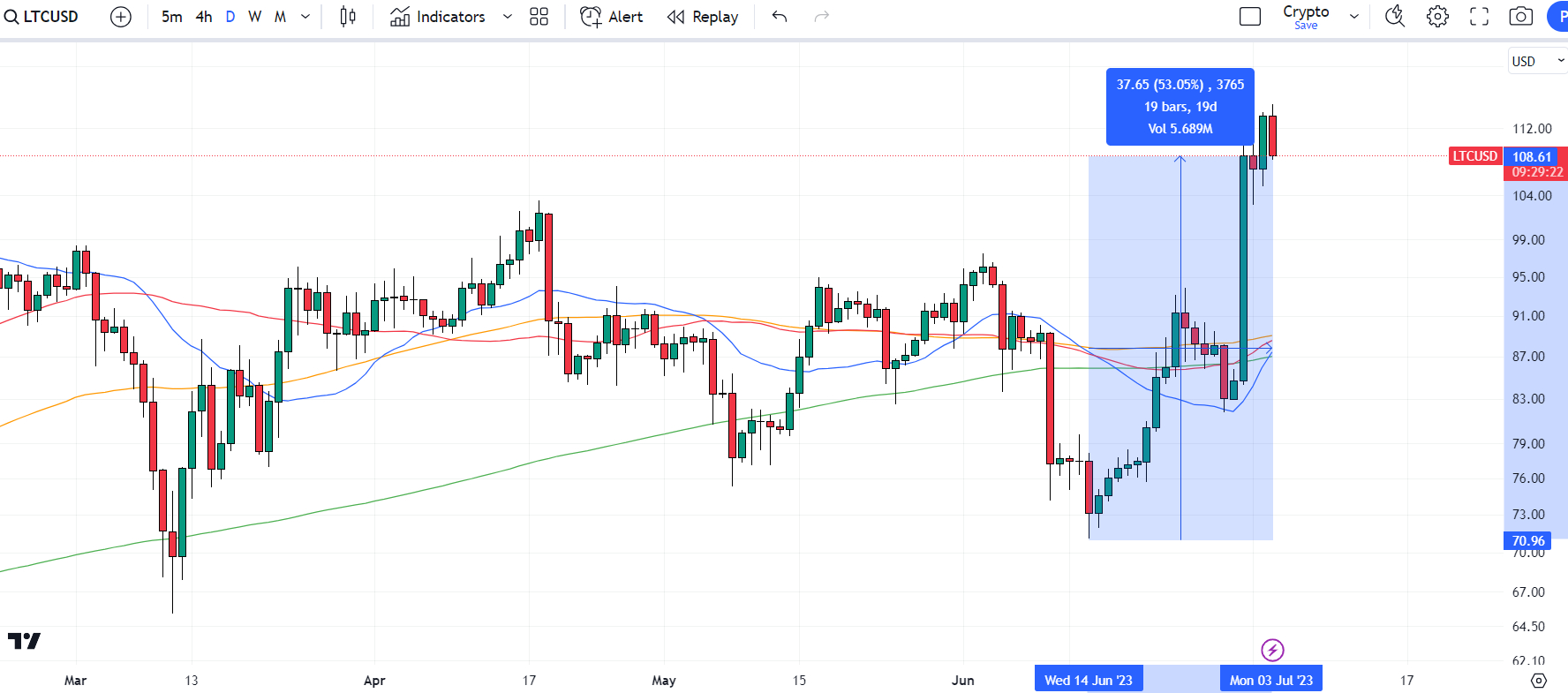 Litecoin was recently listed on one of the hottest new US cryptocurrency exchanges EDX Markets.
EDX Markets, which only just launched, is backed by a number of major financial institutions, including Fidelity, Charles Schwab and Citidel.
Observers expect that the exchange, which only lists four cryptocurrencies at the moment, will be looked on more favorably by regulators than others like Coinbase and Binance, both of which were recently sued by the SEC.
That helps add legitimacy to the cryptocurrencies, like Litecoin, that trade on this exchange and could help propel their institutional adoption.
This, coupled with the bullish trend in bitcoin, could be an ongoing tailwind for Litecoin.
Meanwhile, investors are also getting excited about another potentially bullish upcoming catalyst for Litecoin – its upcoming halving.
In just over 30 days, the block reward for miners will be halved from 12.5 LTC to 6.25 LTC, essentially halving Litecoin's inflation rate.
Anticipation ahead of this event is evident in surging on-chain activity on the Litecoin blockchain, which processed 1 million transactions in the week up to the 29th of June.
Price Prediction – Where Next for Litecoin (LTC)?
"Litecoin looks great" said popular crypto analyst Michael van de Poppe in a recent tweet.
Behind his assessment is the fact that the cryptocurrency recently broke above its 200 weekly Moving Average (MA) and Exponential Moving Average (EMA), as well as $100 resistance.
His bullish targets are $180 and $250, representing gains of 65% and 130% respectively from current levels.
Other technical signs also support van de Poppe's bullish thesis.
LTC's rebound from its June lows confirmed that an uptrend that began in mid-2022 remains intact.
Meanwhile, the recent pop higher marked a bullish breakout from a long-term pennant structure.
The nearest major long-term resistance areas that bulls will be targeting are around $134 and $143.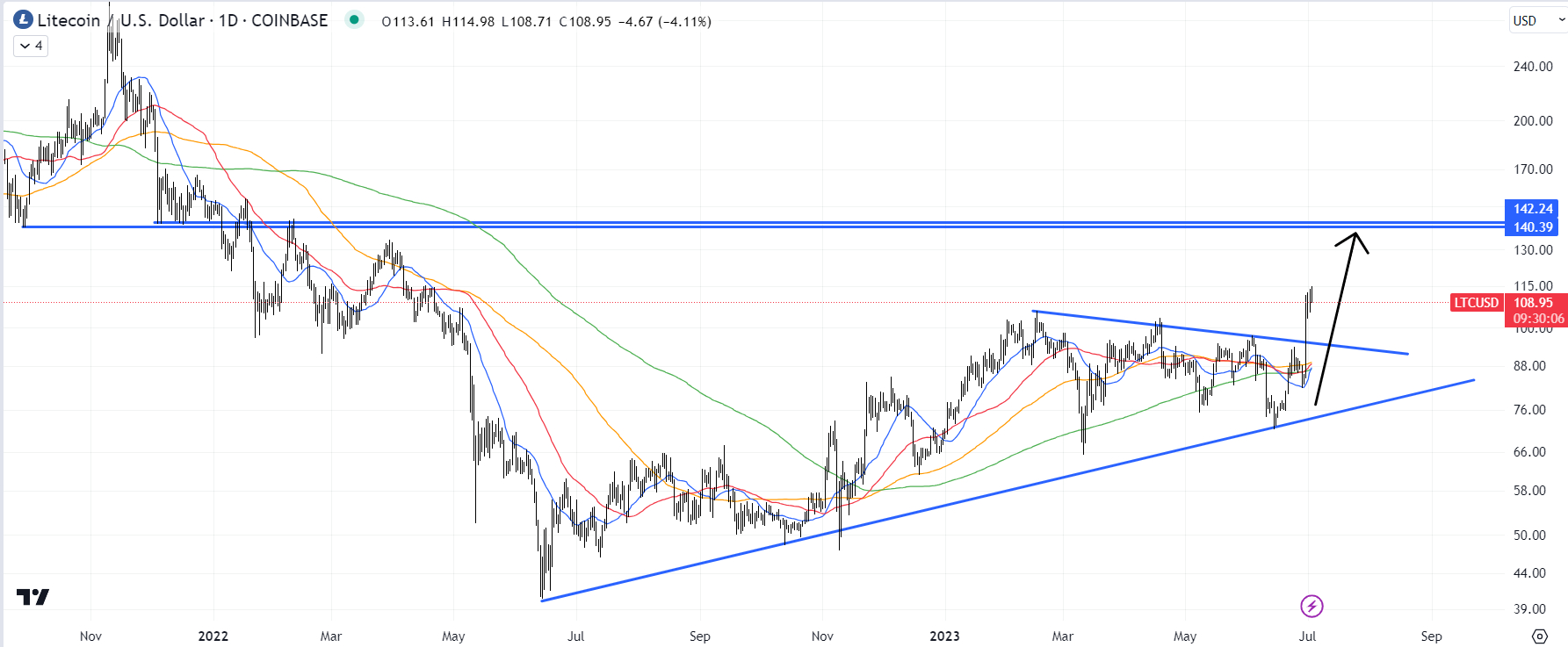 Can Litecoin (LTC) Reach $1000?
At the current price of just over $100, Litecoin would need to nearly 10x in order to reach $1000 per token.
Is that possible?
Well, given the cryptocurrency's market cap is only around $8 billion, the room for potential upside is big.
If Litecoin 10xed from current levels, its market cap would still only be around $80 billion, only around 13.3% of bitcoin's current market cap of close to $600 billion.
As current crypto bull market matures and narratives such as Litecoin (LTC) being the "silver" to bitcoin's "digital gold" gain ground, Litecoin has a strong chance of posting at least 10x gains and reaching $1000.
Litecoin (LTC) Alternative to Consider
Investors should always be on the lookout to diversify their crypto holdings.
One high-risk-high-reward investment strategy that some investors might want to consider is getting involved in crypto presales.
This is where investors buy the tokens of up-start crypto projects to help fund their development.
These tokens are nearly always sold very cheap and there is a long history of presales delivering huge exponential gains to early investors.
Many of these projects have fantastic teams behind them and a great vision to deliver a revolutionary crypto application/platform.
If an investor can identify such projects, the risk/reward of their presale investment is very good.
The team at Cryptonews spends a lot of time combing through presale projects to help investors out.
One such project that they think has a lot of potential is a green web3 start-up called ecoterra.
Ecoterra – First-of-its-kind Recycle-to-Earn (R2E) Platform
As outlined in the project's whitepaper, ecoterra is building an all-in-one $ECOTERRA-powered green web3 ecosystem, designed to encourage recycling via its first-of-its-kind Recycle-to-Earn (R2E) app.
The platform will also facilitate trade in recycled materials and encourage individuals and businesses to offset their carbon footprint.
And the project's presale of its native $ECOTERRA token has been absolutely flying.
Sales recently surpassed $5.7 million, a strong vote of confidence from the crypto-investing community in the project's vision.
Observers expect the pace of the presale to pick up now that the project is accepting invitations for users to try out a demo version of the flagship R2E application.
Nascent green Web3 projects such as ecoterra are expected to play an increasingly important role in global efforts to address climate change in the decades ahead, as crypto's broader adoption increases.
Time to Buy $ECOTERRA?
Investors have no time to lose if they want to secure their $ECOTERRA bag at a favorable price.
That's because the presale will end when ecoterra's presale hits $6.7 million, a milestone that could be hit in a matter of weeks given the pace at which $ECOTERRA has been selling recently.
$ECOTERRA will then launch across major crypto exchanges next quarter, with many analysts predicting big upside for the token as a broader investor base rushes into to secure one of the crypto industry's most promising green crypto tokens.
Investors can currently secure $ECOTERRA tokens at a price of $0.01 each and get a 10% bonus.
---