Kingdomverse Taps ImmutableX to Launch World's First Mobile Gaming Metaverse
Disclaimer: The text below is a press release that is not part of Cryptonews.com editorial content.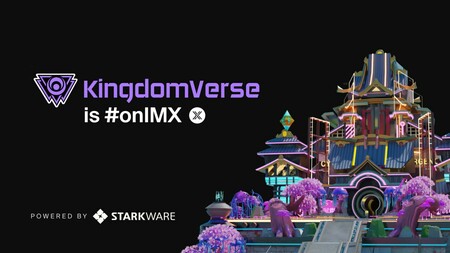 The project will comprise of numerous accessible and user-friendly Web3 mobile games backed by ImmutableX's cutting-edge scaling solution combined with Ethereum's robust security.
Sydney — Kingdomverse, the first Mobile Gaming Metaverse (MGM) on the market, today announces plans to launch on ImmutableX, the preferred platform for building and scaling web3 games on Ethereum.
"Kingdomverse's mission to make Web3 gaming more inclusive, accessible, and fair aligns perfectly with our own core values," said Andrew Sorokovsky, VP of Global Business Development at Immutable. "Combined with Immutable's cutting-edge scaling frameworks and solutions, Kingdomverse will be able to fully realize its vision and continue focusing on what matters — user-friendliness and addictive gameplay."
As an MGM, Kingdomverse consists of various mobile games connected by a dynamic open-world mobile metaverse, NFTs, and crypto tokens. The platform serves as a gamified social hub for mobile gamers to mingle, form guilds, build their Kingdoms, and even battle and conquer other lands. Ultimately, the project aims to bring Web3 gaming to the masses through casual mobile titles that combine user-friendly experiences with addictive gameplay.
One of Kingdomverse's first titles, Defend the Kingdom, offers players a casual PvP Tower Defense game where players can unlock heroes to combat waves of enemies and rise to the top in PvP and Co-Op modes. Heroes are game characters represented as NFTs that can be traded, upgraded, or combined into more powerful versions.
With Kingdomverse, the team is building a dynamic mobile game ecosystem for the masses centered around the core values of fun, user-friendliness, and digital ownership. Leveraging ImmutableX will significantly help in achieving all these goals and more.
"We are proud to partner with ImmutableX to boost the gaming experience with Web3 technologies, including NFTs. ImmutableX enables near-instant, zero-gas fee transactions for minting and trading NFTs. This partnership will ensure our players onboard into the Web3 space without hassle," noted Kingdomverse CEO Terence Chow. "Kingdomverse and Immutable share the same goals and synergies in onboarding 'traditional'/Web2.0 gamers into the Web3.0 gaming space, and this collaboration allows us to focus on what we do best — building games."
IMXPR030 - Kingdomverse
As the preferred blockchain framework for Web3 game developers, ImmutableX offers both builders and gamers alike access to cost-efficient, lightning-fast transactions and gas-free NFT minting combined with Ethereum's native security and decentralization. Simultaneously, the partnership will allow Kingdomverse to collaborate with other Web3 games on ImmutableX and further grow its community.
Kingdomverse's first Open Beta testing phase is scheduled to kick off in March, introducing players to $KING tokens, a Guild System, a League System Test Run, a DTK Companion Website, and ten new heroes. The second Open Beta test will commence in Q2-Q3, bringing Coupon Mining, an in-game Event, Friend and Social systems, and numerous new heroes, legends, and cosmetic assets.
PRESS CONTACT:
Alyssa King
[email protected]
About Immutable
Immutable is powering the next generation of web3 games through ImmutableX - the leading developer platform for building and scaling mainstream-ready web3 games on Ethereum, entirely carbon neutral and gas-free.
ImmutableX offers unparalleled support to launch a successful web3 game on Ethereum. SDKs and APIs make adding NFT functionality to a game seamless and easy, the wide ecosystem of products and partners manage all blockchain infrastructure needs, and the ImmutableX Global Order Book generates real liquidity for assets.
Today, many world-class web3 games are built on ImmutableX including Gods Unchained, Guild of Guardians, Illuvium, Embersword, Planet Quest and many more.
Join the Immutable community on Discord, Reddit, Twitter, Instagram, Telegram and Youtube
About Kingdomverse
Kingdomverse is a gaming ecosystem made of multiple mobile games, connected by a dynamic open world social hub where players can interact, trade and battle one another. All mobile games within the Kingdomverse ecosystem are interconnected by tokens and NFTs that can be used across all games as well as the 3D social hub, and traded on primary and secondary marketplaces and exchanges.
Visit our social media channels to learn more about the Kingdomverse!
Website | Twitter | Instagram | Discord | Telegram | Telegram announcement channelAnnouncements
---