Is It Too Late To Buy Wen Token? WEN Price Rallies Up 4,000% and Whales Are Now Accumulating This New Coin – Here's Why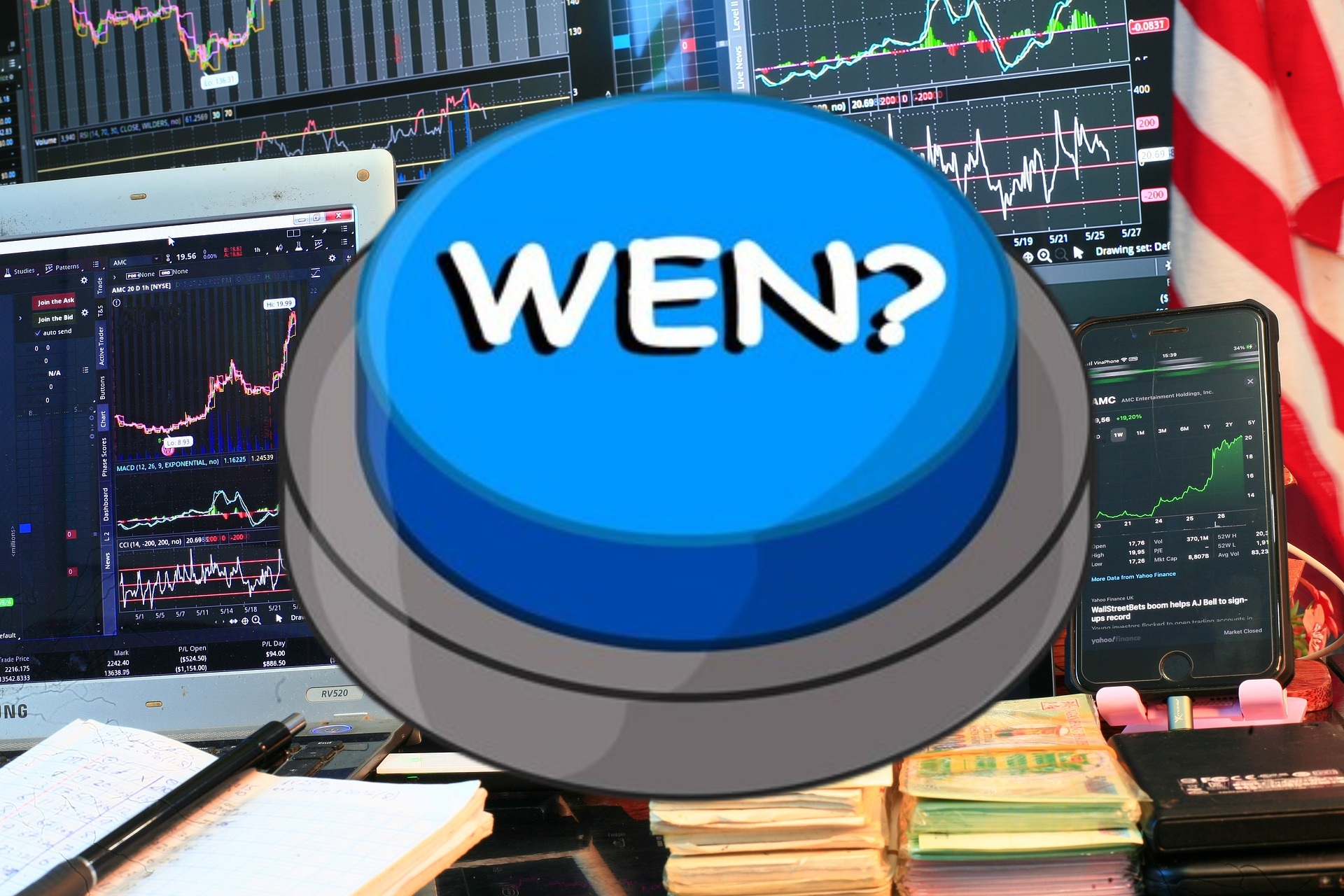 WEN token has enjoyed a sensational run, with supercharged profits fuelling an electric meme coin rally, but has this high-flying project run out of steam?
WEN is currently trading at a lowly $0.000000005315 (representing a bleak 24-hour change of -22%).
This comes following a brutal -75% bleed-out for the latest meme coin poster child, with a retracement move from a local moon-shot high at $0.000000022 erupting into a cascade of capital flight from the project on Sunday 14.
This has now left WEN in a bearish pendant technical structure, a worrying sign for holders that suggests it could be too late to jump in on the action.
Worse still, the MA20 has formed capstone of resistance suppressing upside price action so far today.
And despite the -75% downturn, the RSI is struggling to cool off, still riding on-fence at 47 - an unclear signal.
As for our other key indicator, the MACD? There is a little silver lining at 0.0000000000065 - the most minor of bullish divergence.
As technical structure begins to crumble, the risk: reward ratio for WEN sours.
An upside move could see WEN reclaim key support at $0.0000000095 (a possible +79%).
Yet downside risk remains potent, with a cascade down to $0.00000000836 (-84%) on the cards.
This leaves WEN with an ugly risk: reward ratio of 0.94, a terrible entry overshadowed by downside risk.
Best Alternative Meme coin to WEN?
While WEN's future seems to be waning, another crypto contender is re-emerging, demonstrating remarkable resilience amid market turbulence.
SpongeBob token, or $SPONGE, a relatively new entrant in the meme coin market, presents an attractive alternative for those searching for the next big crypto opportunity.
Skyrocket with $SPONGE
Ever since its debut, $SPONGE has been making a splash in the crypto world.
Despite the recent market downturn, primarily driven by Bitcoin's dip down to $25k, the token is showing promising signs of a strong recovery.
Currently priced at $0.0005098, it has demonstrated an astounding +605.79% growth from its all-time low just 11 days ago.
With a total supply of 40.4 billion tokens and a market cap of $12.5 million, this meme coin is undoubtedly gaining traction.
But it's not just the figures that make $SPONGE an exciting prospect.
Its recent launch on the Poloniex and MEXC centralized exchanges (CEX) signals growing market interest.
This makes $SPONGE available on six CEXs - Poloniex, LBank, CoinW, MEXC, Bitget and Toobit, with more listings expected soon.
This accessibility, coupled with high trading volumes ($9,191,056 in the last 24 hours) and locked liquidity of $7.7 million, provides an ideal market condition for new investors to dive in.
Could $SPONGE See Another Moonshot?
The success of $SPONGE also lies in its burgeoning community.
With more than 8,500 holders, a highly active Telegram group of 17,000 members, and over 27,000 followers on Twitter, this coin's popularity is growing faster than a sea sponge in fertile waters.
Fresh off the back of a Tamadoge partnership, rumors of an emerging partnership with popular GameFi project Battle Infinity, is driving a wave of FOMO among potential investors.
Furthermore, $SPONGE's attractive tokenomics, including the fact that the largest wallet is vested for two years, offers a sense of security that adds to its appeal.
As it continues to battle for the top spot on DEX app Dextools, it's clear that $SPONGE is soaking up investor attention.
The growth potential of $SPONGE is not just speculation; it's a testament to the resilience and adaptability of the meme coin market.
As WEN stumbles, $SPONGE offers a fresh and potentially more lucrative investment opportunity.
So why wait? Dive in and see what the tides of $SPONGE have to offer.
The future of this meme coin looks as bright and optimistic as Spongebob himself.
Disclaimer: Cryptocurrency projects endorsed in this article are not the financial advice of the publishing author or publication - cryptocurrencies are highly volatile investments with considerable risk, always do your own research.
---