Is The Graph Going to Zero? GRT Price Suddenly Drops 8% as Attention Shifts to Surprising New Mining Startup
Disclosure: Crypto is a high-risk asset class. This article is provided for informational purposes and does not constitute investment advice. By using this website, you agree to our terms and conditions. We may utilise affiliate links within our content, and receive commission.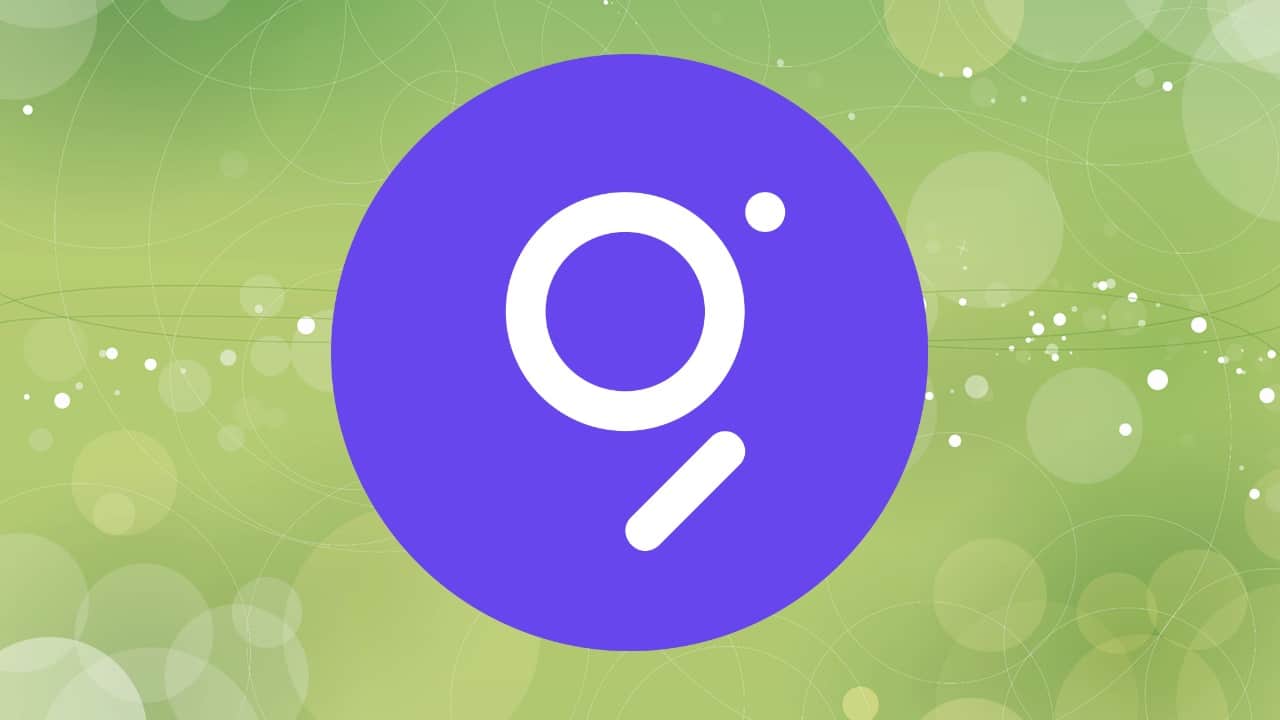 Leading indexing protocol The Graph (GRT) price has undertaken a -8% tumble triggered by rejection from upper trendline resistance, leaving some panicked bag-holders asking 'is The Graph going to zero?'.
This comes as GRT price exploded +30% following the breaking news that The Graph will start fulfilling queries for AI large language models, highlighting the impressive growth of this well-positioned Web3 infrastructure component.
Was one of the biggest movers in 2021

I still believe the $GRT will be a big player in this next run. I tend to focus on the projects right now that are helping WEB 3 become a reality.

As you already know, or at least should know, if we see the same growth that Web 2 had from… https://t.co/AhyflZj69p

— Nick | Crypto Crusader (@NCashOfficial) November 8, 2023
The 'Google of Web3's pivot towards AI has been well-received by the crypto market, with traders shifting to increasingly bullish sentiment following the news – leaving GRT ranked as one of the best projects to buy.
GRT Price Analysis: As GRT Price Retraces Following AI Integration News – Is The Graph Going to Zero?

As price reels back from the over-excited pump, The Graph is current trading at a market price of $0.13 (representing a 24-hour change of -5.09%).
The retracement move, triggered by resistance at $0.165, has so far seen GRT price tumble -8%, in a downside move that has crashed through 3 potential support levels.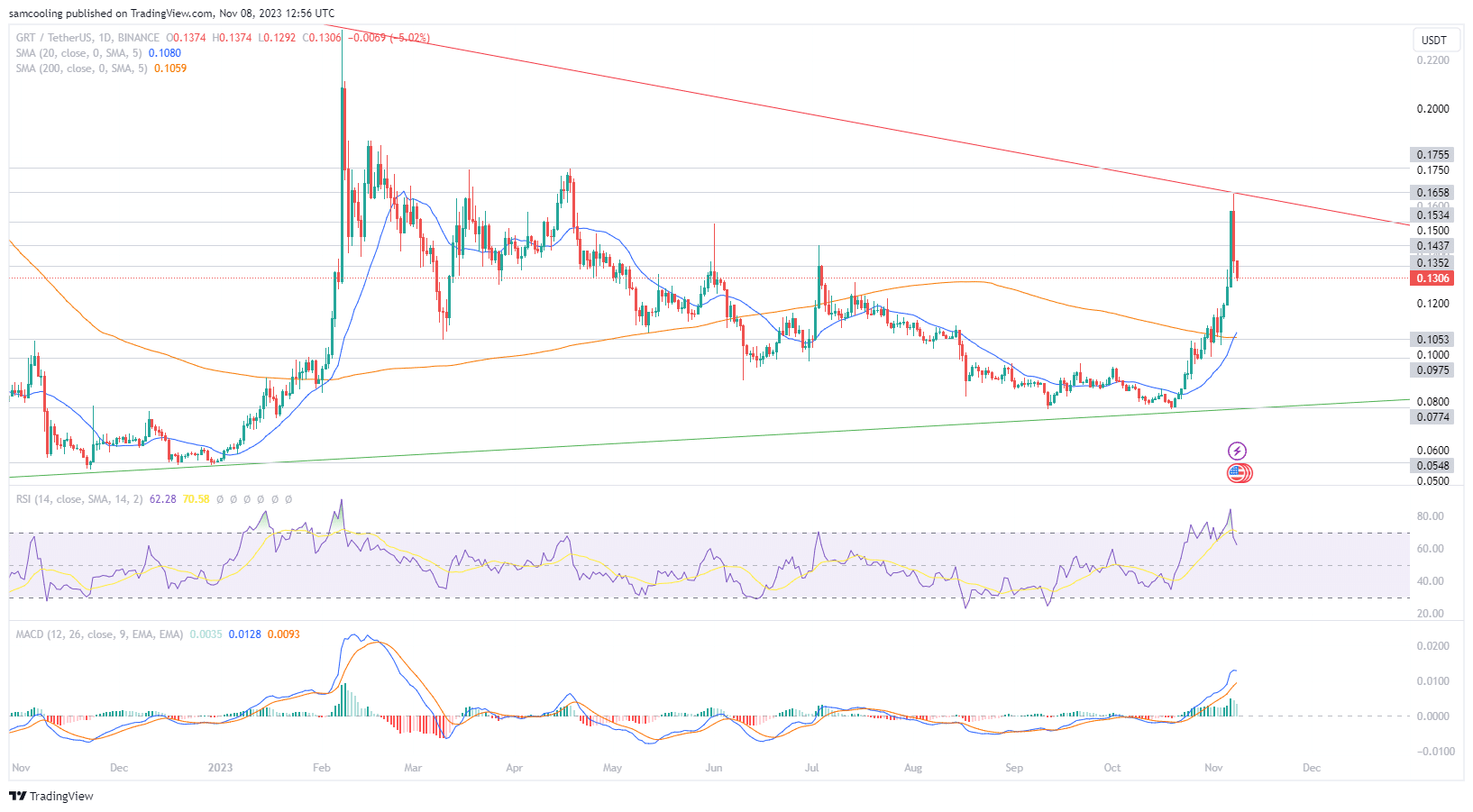 Now on a crash course with moving averages, GRT price finds improved technical posture from an emergent golden cross pattern as the 20DMA sweeps high above the 200DMA.
This creates a likely support zone around $0.105 – forming lower targeting for downside risk.
In further strengthening of  technical structure, the retracement move has began to cool-off an overbought RSI which has now dropped down to 62.41 – further cementing the view that a healthy retracement will catch lower support at $o.105.
Meanwhile, the MACD remains with bullish divergence at 0.0035, reflecting the impressive volatility behind the recent rally move.
Overall, GRT price looks strong here, with the retracement forming a healthy strengthening of technical structure despite the -8% price tumble.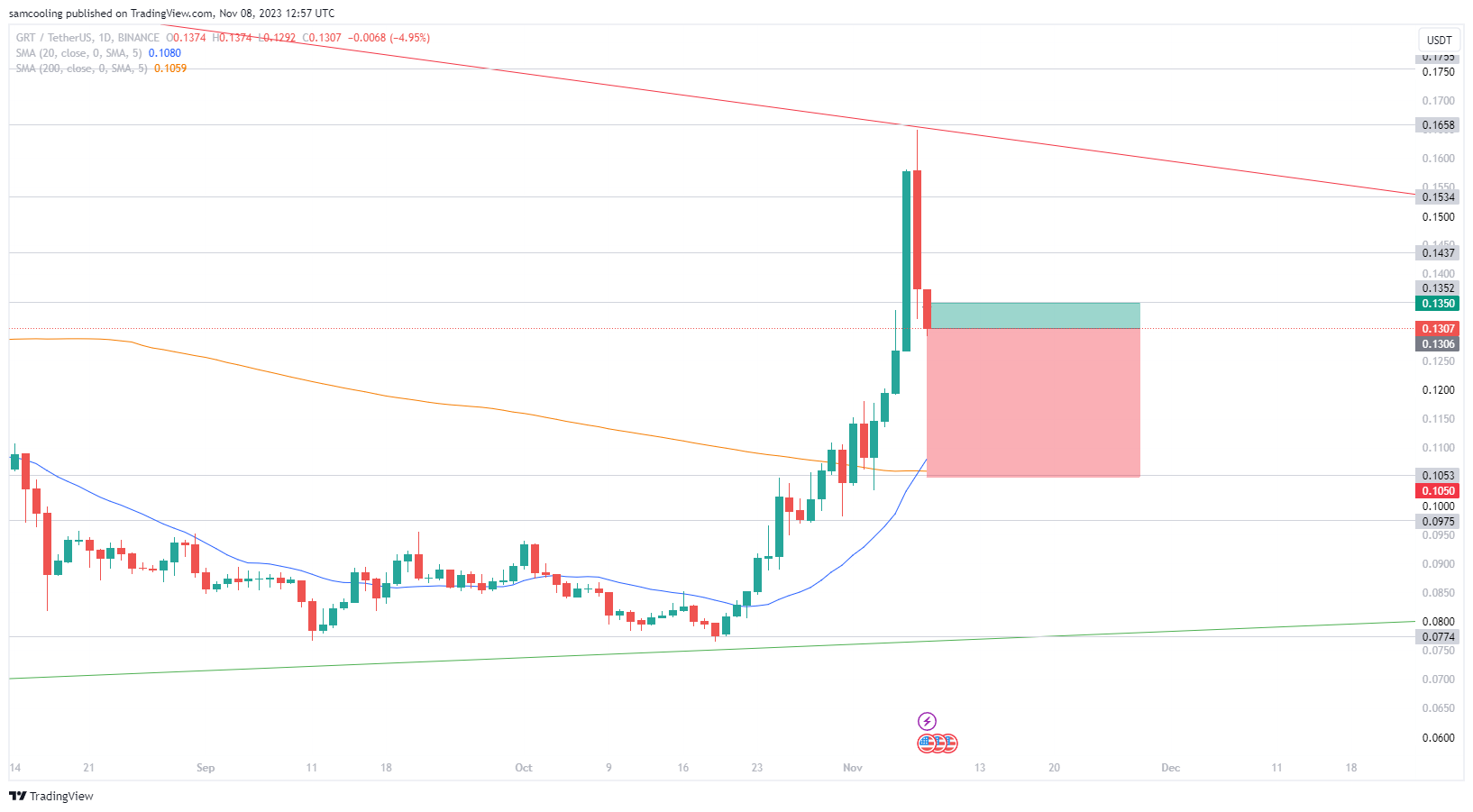 This leaves GRT price with an upside target at $0.135 (a possible +3.37%).
While downside risk on the short-time frame stands at $0.105 (a potential -19.6%).
GRT price therefore carries a risk: reward ratio of 0.17 – a bad entry characterised by retracement risk – but certainly not going to zero anytime soon.
But while The Graph bag-holders battle retracement, an emerging Bitcoin Cloud Mining presale has broken out as excitement around Bitcoin ETFs grows.
GRT Price Retrace Alternative? Bitcoin Minetrix Presale Explodes Past $3.6M Raised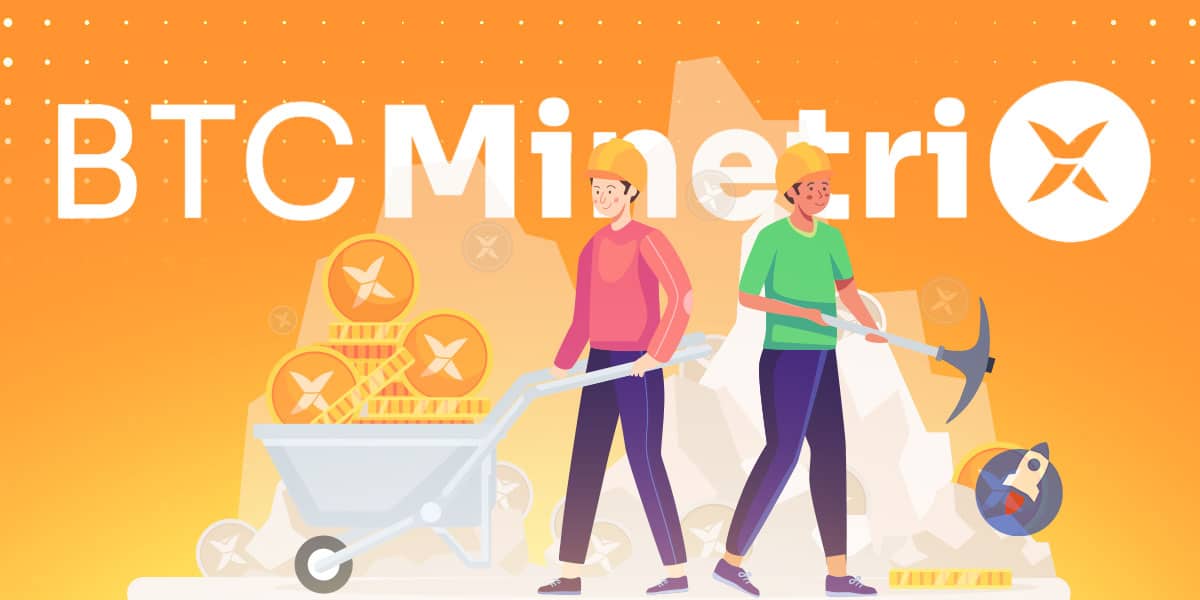 Dive into the innovative world of Bitcoin Minetrix and its pioneering stake-to-mine system – as the skyrocketing presale smashes +$3,664,854 raised.
Offering an enticing 1224% Staking APY, Bitcoin Minetrix provides a platform where users can buy, stake, and then watch as the rewards start accumulating.
The true essence of passive income in the crypto world has never been this accessible.
With the Bitcoin Minetrix approach, gone are the days of heavy initial capital and navigating complex mining contracts.
Bitcoin Minetrix Smashes $3.6M Raised as Traders Rally Against Bitcoin Mining Centralization

No longer the mainstay of basement ASICs, Bitcoin mining is now a multi-billion dollar industry, but with the success of Bitcoin mining centers comes the challenge of increased centralization.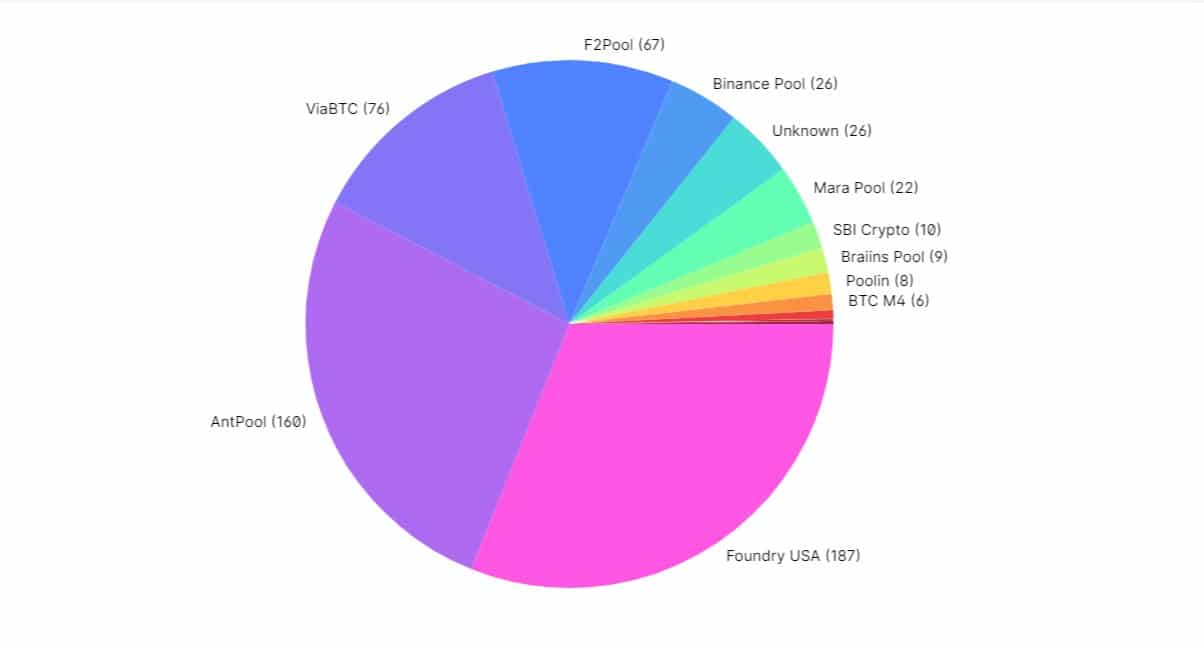 Indeed, with just two mining pools (Foundry USA and Antpool) representing 57.5% of the Bitcoin network hashrate, mining centralization is desperately in need of modern solutions to ensure long-term network security.
This is where the magic of Bitcoin Minetrix comes into play, with Bitcoin cloud mining offering the opportunity for everyday investors to claim their slice of the pie – while bolstering Bitcoin's network security.
All interested parties have to do is buy $BTCMTX tokens in presale and stake them to earn cloud mining credits, with Bitcoin Minetrix's automated system handling the heavy work.
In effect, this means no more expensive barriers to entry, such as costly hardware requirements or complicated technical understandings – simply buy, stake, and earn to unlock the benefits of Bitcoin mining rewards.
Key Highlights of the BTCMTX Advantage:
Distinctive Edge in the Market: In an industry filled with numerous cloud mining platforms, Bitcoin Minetrix carves a niche for itself. As the first-ever tokenized Bitcoin cloud mining initiative, it offers an automated system that's geared for cloud-based Bitcoin mining, setting a new standard for the industry.
Safety First with Ethereum Blockchain: Bitcoin Minetrix operates on the tried and trusted Ethereum blockchain. This ensures top-notch security and reliability, allowing users to sidestep the risks associated with external mining pools, and offering a safeguard against potential fraudulent cloud mining services.
Championing True Decentralization: At its core, Bitcoin Minetrix upholds the ethos of decentralization. In an age where centralization often introduces vulnerabilities, Bitcoin Minetrix breaks the mold, redistributing mining profits from big corporations to individual retail investors through its novel Stake-to-Mine system.
Tapping into the Bitcoin Halving Opportunity: Perfectly poised to make the most of the upcoming Bitcoin halving, Bitcoin Minetrix provides investors with a golden opportunity. The impending halving might seem daunting for miners due to reduced block rewards, but historically, such events have driven up Bitcoin's value. Bitcoin Minetrix provides a platform for investors to tap into this potential surge, sans the associated capital risks.
The BTCMTX Presale Opportunity: The ongoing BTCMTX presale has already garnered significant interest, with over $3.66m raised towards its $3.38M goal. At a competitive price of just $0.0114 per token, early investors have a unique chance to be at the forefront of this stake-to-mine evolution.
In sum, Bitcoin Minetrix is set to redefine the Bitcoin landscape. With its innovative methodologies, stringent security measures, and the vast potential of its stake-to-mine mechanism, it beckons as a lucrative opportunity for early-bird investors.
Secure your position in this transformative journey by joining the BTCMTX presale today.
Disclaimer: Crypto is a high-risk asset class. This article is provided for informational purposes and does not constitute investment advice. You could lose all of your capital.
---