Insider Alert: NEAR Protocol, Domini.art, and Polkadot Tipped to Outperform All Other Tokens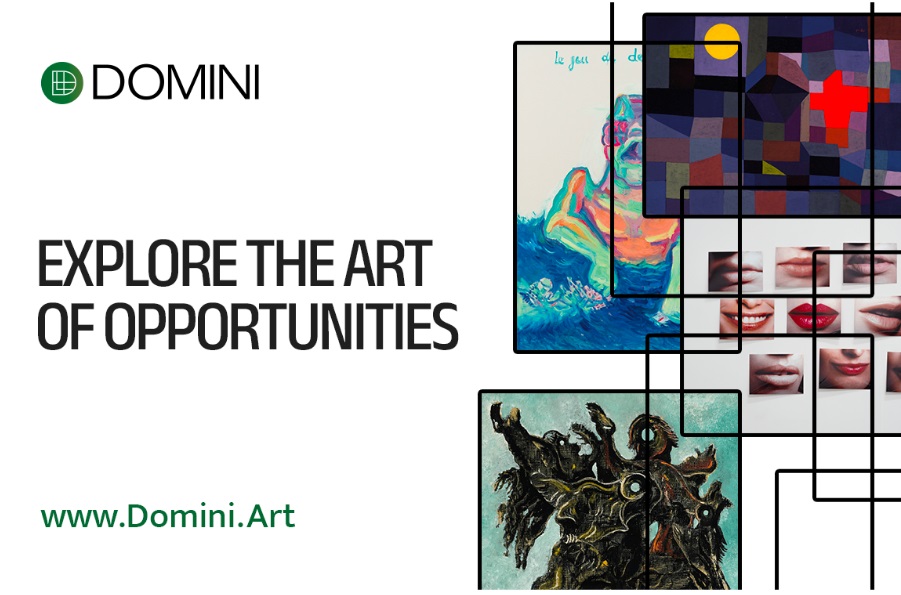 Disclaimer: The text below is a press release that is not part of Cryptonews.com editorial content.
The cryptocurrency market has been making rapid strides as DeFi technologies enable innovators to widen a token's applications and target multiple audience groups. Domini.art ($DOMI) is a decentralized platform that helps crypto users invest in high-end blue chip art.
The platform has been garnering praise for its potential to democratize the art investment space while giving artists a chance to reach out to a wider audience. As per analysts, Domini.art, NEAR Protocol ($NEAR) and Polkadot ($DOT) are likely to be among the top crypto coins of 2023 as it has the potential to outperform many popular altcoins.
Domini.art: Expanding the horizons of art investment with DeFi
Domini.art is an Ethereum-based platform that has the capacity to transform the way people invest in blue-chip art. The decentralized platform bridges the gap between the art investment sector and blockchain technology. With its next-generation features, the platform empowers art enthusiasts, investors, and cryptocurrency users to own fractions of tokenized artworks. The mechanism makes these artworks more accessible and boosts artists' popularity. Domini.art team has released a native cryptocurrency called the $DOMI token for facilitating all transactional purposes on the network. The new cryptocurrency is modeled on the ERC-20 standard of Ethereum and can be purchased on presale.
A key reason why many analysts are calling the $DOMI token one of the best altcoins to buy now is because of the perks that token holders get. By holding the $DOMI token, users can look forward to enjoying perks like early access to artworks, special privileges, discounts, and promotions.
Domini.art integrates blockchain with blue chip art through a transparent process. The platform has roped in a team of experts who carefully select valuable artworks. Each of these artworks is then tokenized into NFTs which ensures that they have an immutable record of ownership and transaction history. $DOMI token holders have the option of either buying the entire asset or a small fraction of it. The transparency gives art buyers and sellers the confidence to participate on the platform.
Domini.art also offers an Advisory service for its users where they can seek the guidance of art investment experts to explore good deals and make better investment decisions.

NEAR Protocol to support Web 3.0 businesses in Seoul
NEAR Protocol is a Layer 1 blockchain that provides developers with cutting-edge tools to deploy powerful and scalable dApps. NEAR Protocol helps developers excel by eliminating challenges like low throughput, poor speed, and lack of ample interoperability. Its native cryptocurrency $NEAR determines all transactions on the network.
NEAR Protocol was in the news recently after it announced a partnership with Dongdaemun-gu District in Seoul where it would help in boosting the Web 3.0 industry of the South Korean capital. NEAR Protocol would be supporting Web 3.0 businesses by providing them with a wide array of opportunities and support mechanisms.
Zodia Custody, Parity Technologies announce partnership with Polkadot
Rated as one of the best crypto investments of the year, Polkadot is an open-source protocol that facilitates the seamless transfer of data and assets through its network of sovereign blockchains called parachains. As these parachains are interoperable, they offer multi-chain capabilities. The platform's native token $DOT is the primary cryptocurrency of the Polkadot ecosystem.
In a recent development, Polkadot partnered with Zodia Custody and Parity Technologies to offer digital asset storage services for financial institutions. Under the partnership, Zodia Custody and Parity Technologies will be providing custodial services to the Polkadot ecosystem. The two enterprises also plan to offer a staking facility for the $DOT token and expand its reach.
Conclusion
While every crypto user might have a different list of qualities that they feel a token must have, most of them agree that a good cryptocurrency must also have a high potential for growth. Compared to NEAR Protocol and Polkadot, Domini.art has a higher potential for long-term gains because of its unique model. By investing in blue chip art pieces, crypto users get a chance to secure their financial future and create a steady source of income. Plus, if they feel unsure about their decisions they can opt for Domini.art's Advisory service and make well-informed decisions.
Learn more about $DOMI here:
Visit Domini Presale | Join Our Community
---