How to Buy Shiba Inu Coin in 2023 – Easy Guide
Disclosure: Crypto is a high-risk asset class. This article is provided for informational purposes and does not constitute investment advice. By using this website, you agree to our terms and conditions. We may utilise affiliate links within our content, and receive commission.
If you follow crypto happenings, you've probably seen the blockchain buzz around Shiba Inu. But what is it, and how do you buy Shiba Inu coin? Like Dogecoin, Shiba Inu (SHIB) is a dog-themed meme coin with an army of loyal investors. But SHIB is different, creating its own blockchain (Shibarium), a metaverse project, and much more.
In past runups, SHIB has seen meteoric gains of up to 1200% in one month. The good news: You don't have to bet the farm on SHIB. You can dabble in this digital doggie coin with a small investment of $10 or more. In this guide, we'll discuss what Shiba Inu is, what SHIB does and how its ecosystem works, and some of the best ways to invest in Shiba Inu Coin when you're ready to make your move.
What's next for this popular crypto, and is SHIB a good investment for your portfolio? Let's dig in.
How to Buy Shiba Inu Coin – 5 Simple Steps

The best place to buy Shiba Inu coin may be MEXC . We'll also cover some other choices, like Coinbase, Kraken, and others, later in the guide. MEXC's platform is easy to use and it comes with 0% spot market trading fees.
To get started on MEXC and invest in Shiba Inu Coin, just follow these simple steps.
Open an account with a crypto platform. MEXC makes a good choice for crypto investors who want to buy SHIB or trade it. You can sign up with an email, your Telegram or Google account, or by using your MetaMask crypto wallet.
Verify your identity. You'll need to provide proof of identity, like a driver's license. The process is typically quick, taking just a few minutes. If you're using a third-party processor like Mercuryo on Moonpay, you may need to verify your ID with them.
Decide how much Shiba Inu to buy. The minimum purchase amount is $50.
Deposit funds for trading. You'll need to buy USDT first as MEXC doesn't offer a direct way to buy Shiba Inu.
Buy some SHIB. Go to the Market tab on MEXC and search SHIB in the search tab. Select the SHIB/USDT pair. Enter the amount of USDT you wish to spend and click "Buy SHIB".
Where to Buy Shiba Inu Coin – Best SHIB Exchanges Reviewed

Shiba Inu's popularity means you can buy SHIB on a number of different platforms and crypto exchanges. Below, we highlight some of the best places to buy Shiba Inu coins and detail which platforms might make the best choice for your investment goals and priorities.
MEXC – Best Crypto Exchange With 0% Spot Market Fees And Over 1,000 Cryptocurrencies
The best crypto exchange to buy Shiba Inu as well as more than 1,000 other cryptocurrencies is MEXC. This exchange lets you sign up using only your email or a crypto wallet like MetaMask and start trading, especially if you already have cryptocurrencies to deposit.
If you don't, you can buy USDT with either a SEPA bank transfer or a card via third-party providers and then use the USDT to purchase SHIB coins on the spot market with 0% fees. Once you have SHIB, you can withdraw it to your crypto wallet or leave it in the exchange and earn 0.40% APR with MEXC Earn.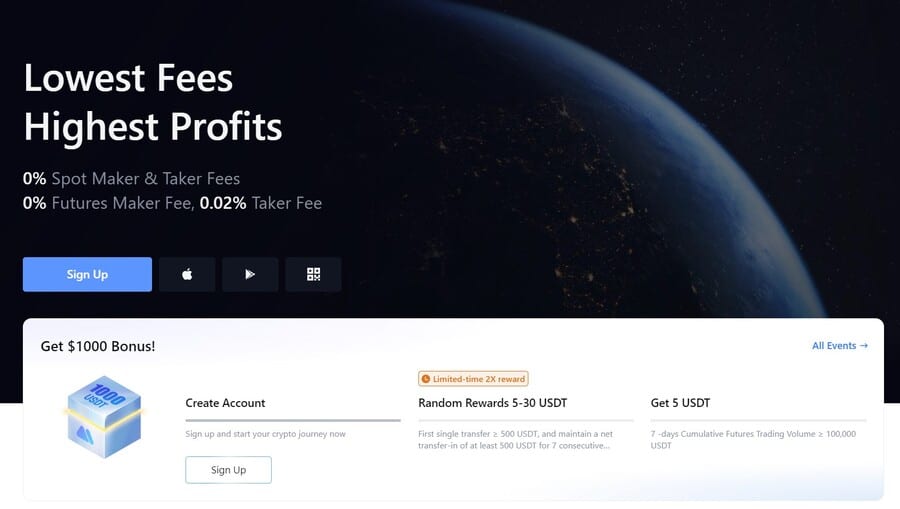 MEXC is a full-fledged crypto exchange that caters to seasoned traders with advanced charts and tools, as well as for those who want to let someone else do the trading for them by using copy trading features. If you need liquidity to make a purchase, don't sell your coins. MEXC offers loans with low interest rate where you use your crypto assets as collateral to borrow against them.
MEXC Trading Fees
Crypto enthusiasts who trade often will love MEXC because you pay a flat 0% fee on all spot market trades. Those who trade futures will pay 0% fee for limit orders and 0.02% for market orders, which is by far the lowest trading fees you can get with a crypto exchange.
MEXC Overview
MEXC Fees to Buy SHIB
Top Features
0% on the spot market

Low fees: Pay 0% fees on the spot market.
Over 1,000 cryptocurrencies: Buy and trade over 1,000 coins and tokens that are not available on other major exchanges.
Advanced charts: MEXC has its own advanced charts, but you can also use TradingView-powered charts to forecast coin prices.
Pros
Low fees
Over 1,000 crypto coins
Copy trading
Advanced TradingView charts
MEXC Earn staking for a variety of cryptocurrencies
Cons
Can't withdraw fiat currencies
Not available in the US and other countries
Binance – Crypto Exchange for Beginners and Advanced Traders With Crypto Staking and Over 350 Cryptos
The Binance exchange boasts the title of largest cryptocurrency exchange in the world by trading volume. However, there are actually two exchanges, Binance.com and Binance.US, the latter of which only serves the US market (and doesn't support bank deposits).
In this guide, we'll compare the larger Binance.com (worldwide) exchange against other platforms for investing in Shiba Inu Coin.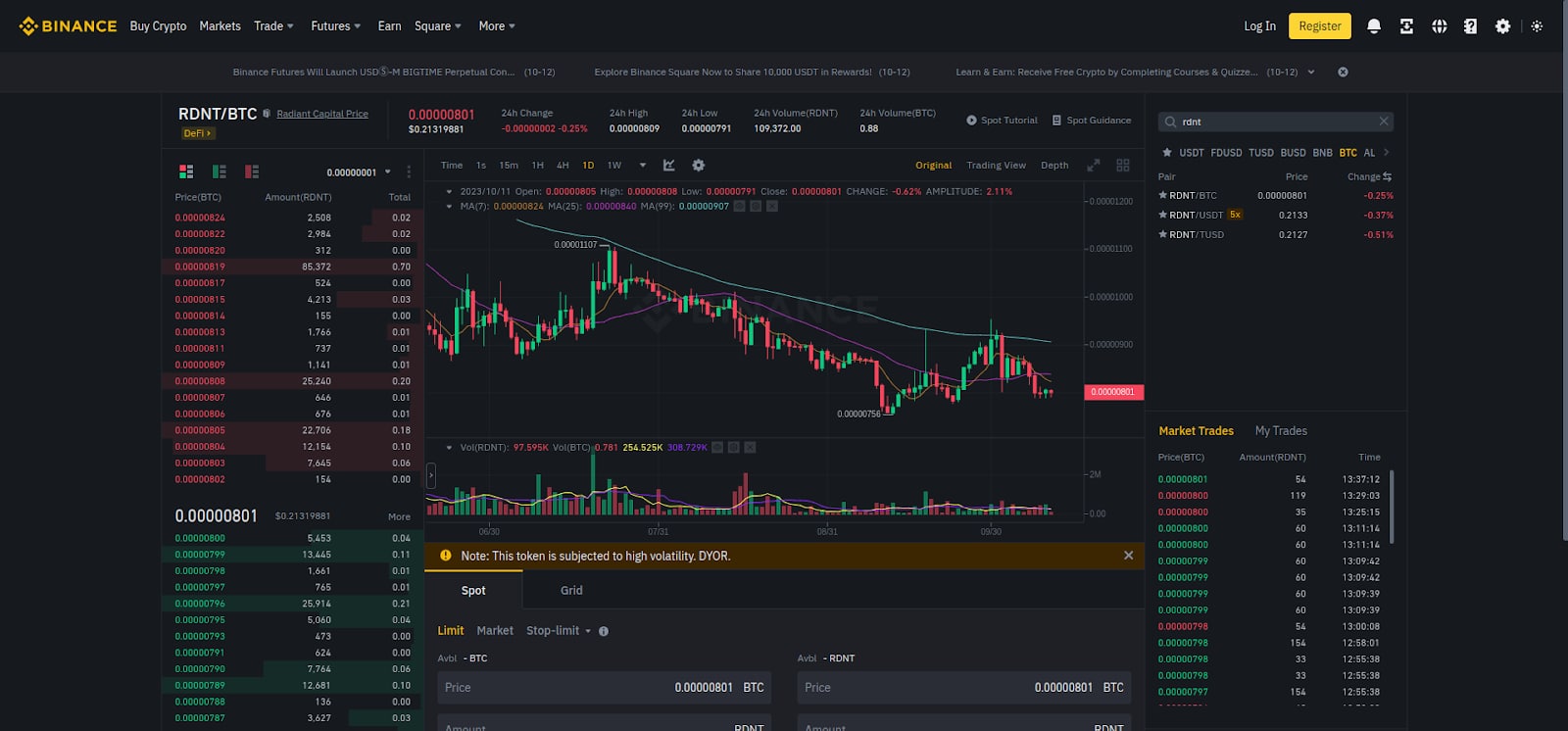 If you venture outside of Binance's easy-to-use instant buy/sell trades, the platform can become overwhelming for newer traders. With choices for futures trading, perpetual futures, leveraged trades, options trading, staking, crypto loans, and peer-to-peer trades, Binance is a powerhouse of an exchange. But some of these trading options can bring additional risks as well.
There's a place for full-featured exchanges, including Binance . If you have a few trades under your belt, you'll find more powerful exchanges offer more ways to trade or earn a yield, and more ways to grow as a trader. Expect a learning curve.
Binance Overview
Binance Fees to Buy Shiba Inu
Top Features

Instant buy/sell: 0.6% + spread
Advanced trade: 0.1% maker (limit) orders, 0.1% taker (market) orders, 25% discount on fees if paid in BNB

Low-cost instant buy/sell
Margin trading, futures, and trading bots for advanced users
Transfer your crypto to or from self-custody wallets
Pros
Over 350 cryptocurrencies available
Crypto-to-crypto trades for supported pairs
Low fees for instant buy/sell
Staking support (varies by market)
Cons
High fees for debit and credit card trades
Recurring buys only available for credit/debit transactions (with higher fees)
Can be overwhelming for new traders
Coinbase – Beginner-Friendly Crypto Exchange With Over 250 Cryptos and Advanced Trading
As the largest publicly traded crypto exchange in the world, Coinbase brings a greater level of financial transparency compared to many competitors. Required filings with the US Securities and Exchange Commission (SEC) make the company an open book rather than a black box.
Coinbase is known for being a safe starting point for new crypto traders and offers a wide range of over 250 cryptocurrencies, including SHIB. Coinbase sells SHIB as single units. In effect, you'll buy SHIB based on the purchase amount in dollars — or whichever currency you use in your part of the world.
Coinbase offers SHIB trading pairs for USD, USDT (a crypto stablecoin pegged to the USD), EUR, and GBP.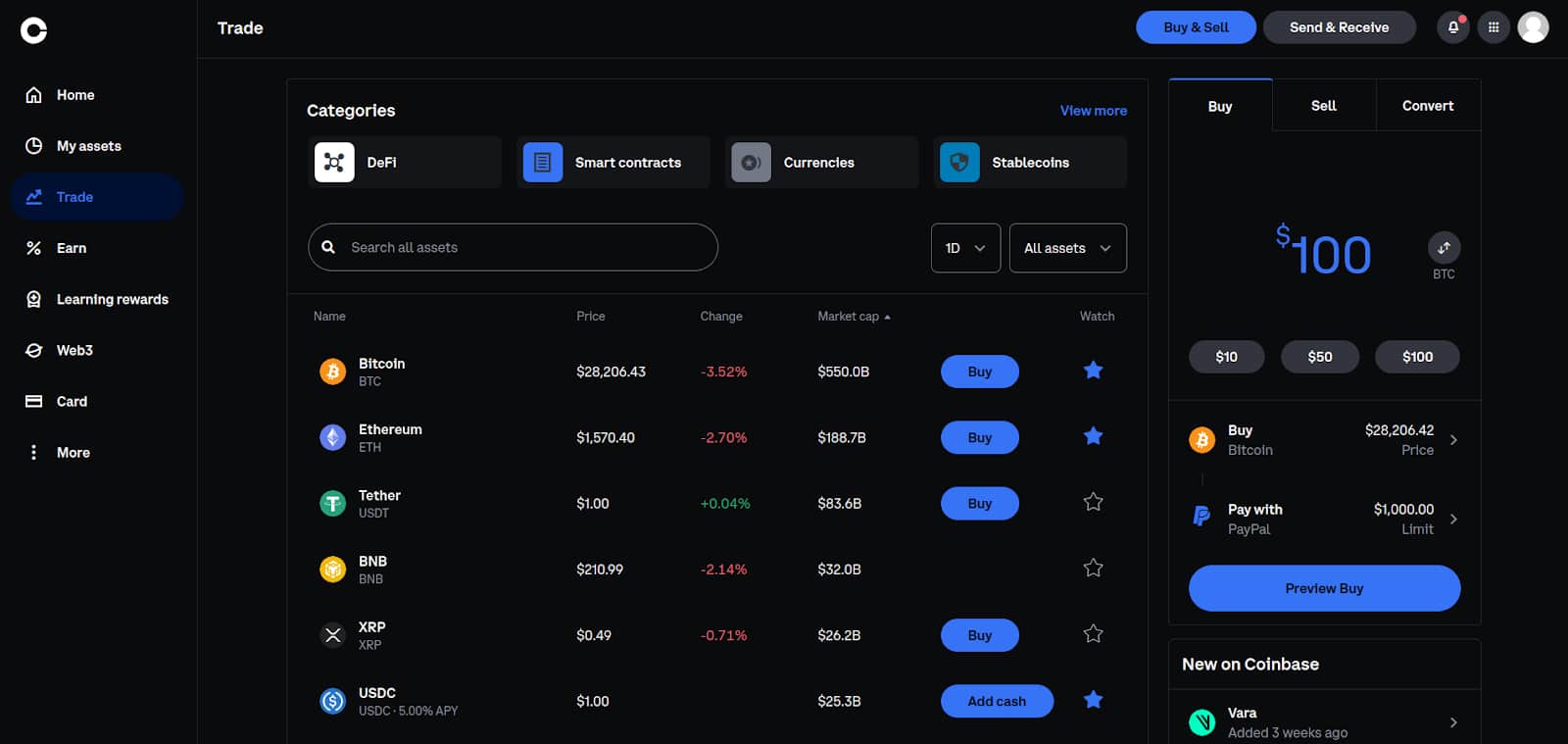 Coinbase Trading Fees
Coinbase's trading fees range from 0.6% for limit orders on the advanced trading platform (called Coinbase Advanced) to as high as about 10% for small orders using the simple trading platform, the trading box found throughout the app.
For a $100 Shiba Inu investment using simple trades, you'll pay $3.84 in fees (plus a 1% spread), whereas on the advanced platform your cost for a limit order trade is just $0.60. You can save money trading on Coinbase Advanced, but the advanced platform is better suited to experienced traders.
Using market orders on Coinbase Advanced puts trading costs at 0.8%.
Coinbase Overview
Coinbase Fees to Buy Shiba Inu
Top Features

Simple trades: $0.99 up to $2.99 (trades up to $75), variable fees above $75 + spread
Coinbase Advanced: 0.6% maker (limit) orders, 0.8% taker (market) orders

Advanced trading platform to reduce fees and choose precise pricing for trades
Authenticator app support to secure your account
Transfer your crypto to self-custody wallets
Staking services for cryptos like ETH, SOL, and ADA
Pros
Over 250 cryptocurrencies
Crypto-to-crypto trades for supported pairs
Fast withdrawals with no withdrawal fee
Cons
High fees for simple trades
2.5% deposit fee for PayPal
Advanced trading fees higher than some competitors
Kraken – Secure Crypto Exchange With 200+ Cryptocurrencies, Low Fees, and Recurring Buys
Founded in 2011, Kraken is one of the oldest crypto exchanges in the business (the first cryptocurrency, Bitcoin, came on the scene in 2009). The US-based exchange was also among the first to offer proof of reserves, which is a blockchain-based way to prove the exchange actually has your crypto. While US-based, Kraken serves traders in nearly 200 countries worldwide.
Similar to Coinbase and Binance, Kraken offers both a simple trading interface and an advanced platform. In the simple interface shown below, you can buy Shiba Inu coin in just a few clicks. Trading fees in the example below show $3.84 + a 1% spread for the same trade.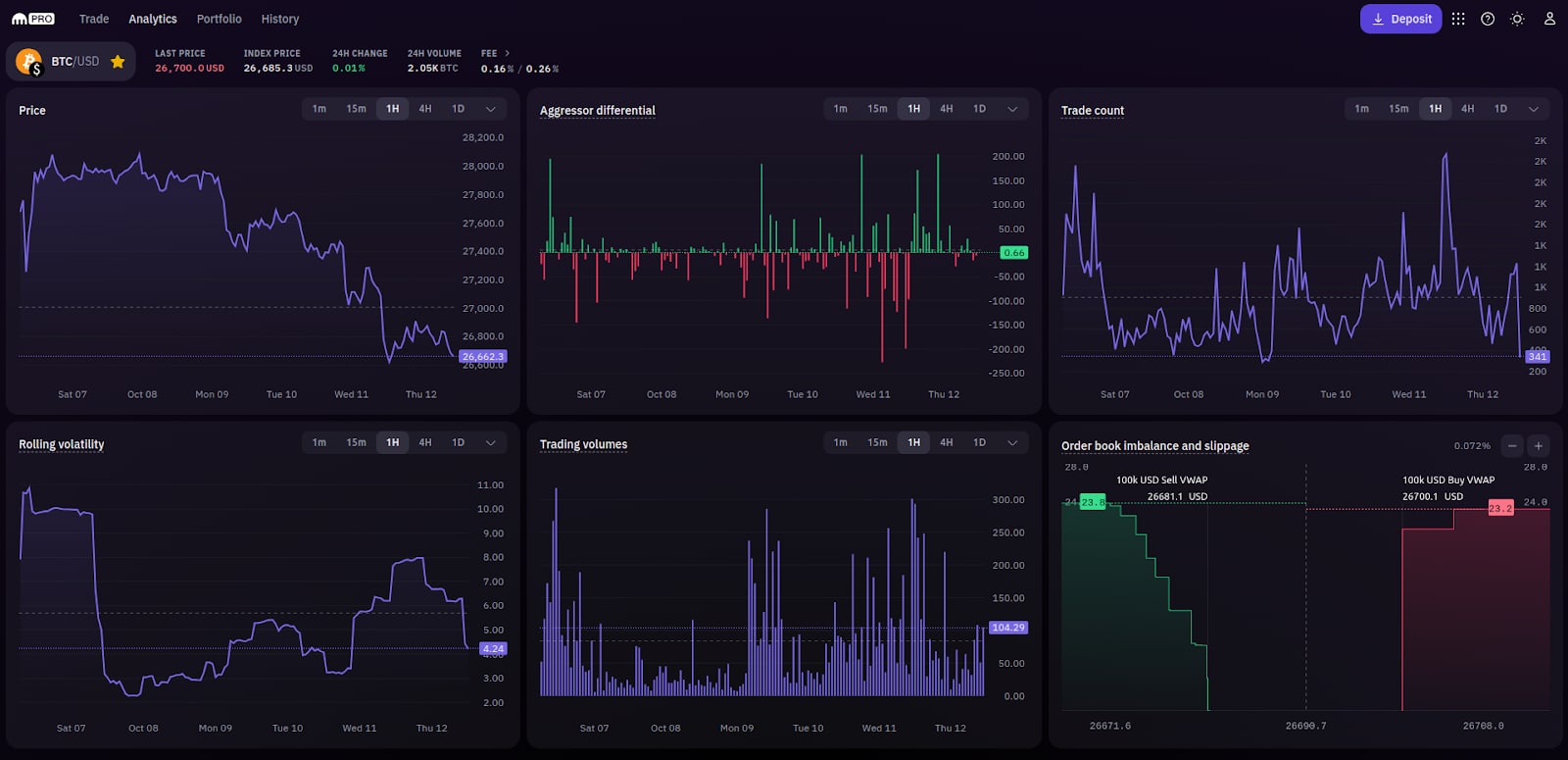 Like Coinbase, Kraken supports recurring buys, although the option is only available for debit card-funded trades, which adds to the cost of the trade. Dollar-cost averaging (DCA) with recurring buys optimizes your purchases by buying more when prices dip.
Kraken Trading Fees
How you choose to pay makes a big difference with Kraken. Deposits via bank transfers are free (US market), but you'll pay a 3.75% fee for credit or debit card transactions. That said, Kraken is one of the few remaining crypto exchanges where you can buy Shiba Inu Coin with a credit card (but not in the US). Debit cards are widely supported throughout the world.
On the simple trading interface, you'll pay about 2% in fees for bank transfers or cash buys. However, you'll pay less on Kraken Pro, the exchange's advanced trading platform. Limit orders pay 0.16% in fees, whereas market orders pay 0.26% in trading fees, assuming a 30-day trading volume of under $50,000.
Kraken Overview
Kraken Fees to Buy Shiba Inu
Top Features

Simple trades: ~2% for bank transfer or cash balance-based trades.
Kraken Pro: 0.16% maker (limit) orders, 0.26% taker (market) orders

Advanced trading platform with one-click analytics and reduced fees
Recurring buys using simple trades
Transfer your crypto to self-custody wallets
Leverage and futures trading for qualified accounts
Pros
Over 200 cryptocurrencies available
Crypto-to-crypto trades for supported pairs
Easy recurring buys setup
Staking support for 15+ cryptocurrencies
Cons
High fees for debit and credit card trades
PayPal support limited to Europe
No credit card support in the US
eToro – Easy-To-Use Crypto Platform With Copy Trading and 80+ Cryptocurrencies
Perhaps best known for its social trading features like copy trading, eToro has carved out a place in the market for traders who value simplicity and the ability to leverage the trading knowledge of others.
Copy trading is a perfect example of eToro's social trading. With a few clicks, you can follow the trades of successful investors on the platform, buying when they buy and selling when they sell. This approach simplifies trading for newer investors and can eliminate the need for technical analysis before making a trade.
On eToro, you'll buy Shiba Inu coin using an asset they call SHIBxM, or "Shiba (in millions)." Depending on current market prices, your first SHIB investment with eToro's $10 minimum investment could be a stack north of 1 million SHIB tokens.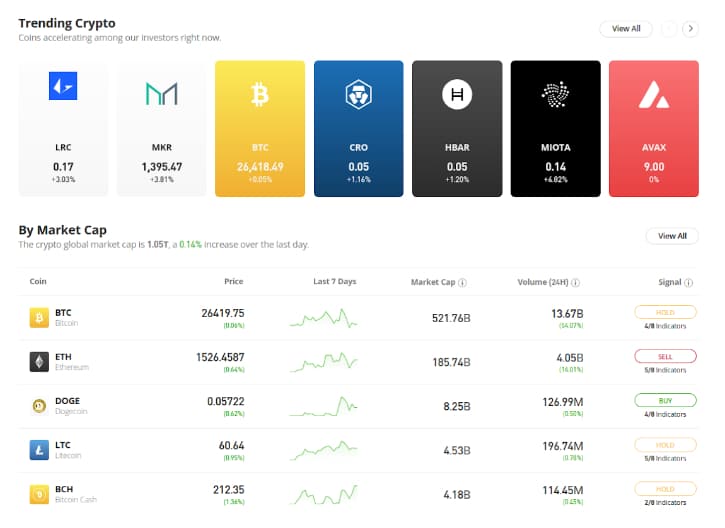 eToro Trading Fees
If you trade often, trading fees can make or break your profits. Many crypto trading platforms make trading fees, well, cryptic. You won't need a scientific calculator to figure out what you're spending on crypto trading fees with eToro. In typical people-friendly fashion, the platform charges a flat 1% on crypto trades.
eToro Overview
eToro Fees to Buy SHIBxM
Top Features
1% + spread

Copy trading: Copy the trading moves of top traders on the eToro platform.
Smart portfolios: Choose a targeted portfolio with assets hand-picked by eToro analysts.
Advanced charts: eToro's TradingView-powered charts let you track and forecast market moves using 100 buying indicators.
Pros
Copy trading
Smart portfolios
Advanced TradingView charts
Easy-to-understand crypto trading fees
Low $10 minimum deposit
Buy/sell/hold recommendation based on market indicators
Trade additional assets, including stocks and ETFs
Cons
Limited selection of (~80) cryptos compared to other exchanges
Limited support for transferring crypto to a self-custody crypto wallet
$5 withdrawal fee
How we Ranked the Best Places to Buy SHIB

When choosing the best places to buy Shiba Inu Coin, we considered a number of different factors, with safety and ease of use among the top considerations. When you choose where to invest in Shiba Inu Coin for your own portfolio, do some additional research before making a deposit.
Factors to weigh before choosing a platform:
Regulation: An exchange regulated by the Financial Industry Regulatory Authority (FINRA), the US Securities and Exchange Commission (SEC), the Financial Conduct Authority (FCA), or similar regulatory bodies may be a safer place to trade compared to an unregulated exchange.
Account safety features: Look for platforms that offer features like two-factor authentication (2FA) to help secure your account. Additionally, consider exchanges that offer cold storage, such as Kraken, Coinbase, or eToro. Cold storage refers to storing crypto in an offline wallet to protect against hacks and exploits.
Trading fees: The cost of trading can add up if you trade frequently or in large amounts. Weigh trading fees as part of your decision, but be sure to consider ease of use as well. Complicated platforms may not be worth the cost savings for newer traders.
Account or transaction minimums: Most major exchanges offer low minimum trades of $10 or less. However, check the fine print to be sure you have the flexibility to trade the way you want to invest.
Transferability: For some cryptocurrencies, you may want to move your crypto off the exchange at some point.
The Role of Regulators
No trading platform is 100% safe. The same holds true for banks, brokerages, insurers, and other financial entities we use daily. However, regulatory oversight can help make trading platforms safer and may offer additional protections for traders within a regulatory jurisdiction.
For example, eToro is regulated by FINRA and the SEC in the US, the FCA in the UK, ASIC in Australia, and CySEC in Europe. These agencies keep a watchful eye on exchanges under their jurisdiction, helping to ensure consumer safety.
Coinbase, another popular choice, is regulated by the SEC and holds licenses in most US states. Like eToro, Coinbase is also regulated by the FCA in the UK.
The Basics of Buying Shiba Inu Coin

Opening an account and making your first deposit are the first steps and platforms like eToro make the next step (buying Shiba Inu) easy as well. However, it's still helpful to understand trading basics so you can trade effectively and reduce the risk of mistakes.
Let's look at some of the key aspects of trading that can have the largest impact on your trading costs, including trading fees and spreads.
Trading Fees
Exchanges need to make a profit, and often this profit comes from trading fees. When we buy crypto with USD, for example, there's usually a cost in the form of a trading fee. However, MEXC charges 0% fees on the spot market.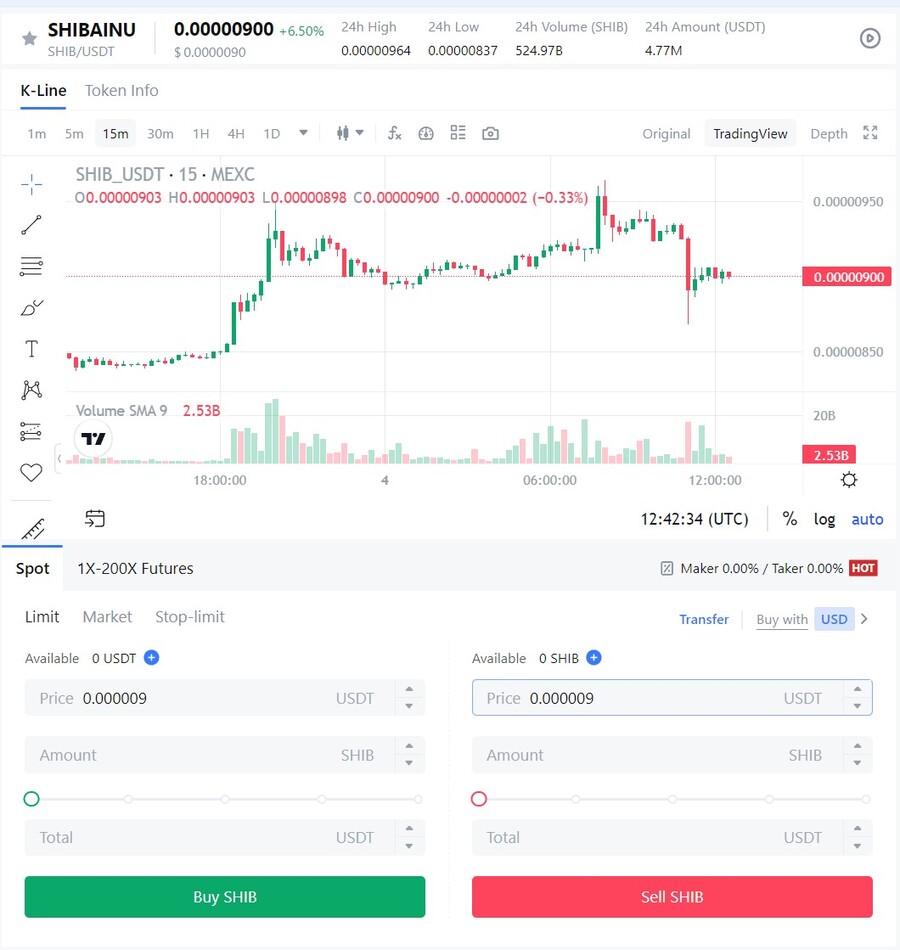 Keep an eye out for fees on the confirmation page of your order. In many cases, the platform shows the fee for the trade, but it's possible to miss this important number.
On advanced trading platforms, like Coinbase Advanced, trading fees can be harder to find.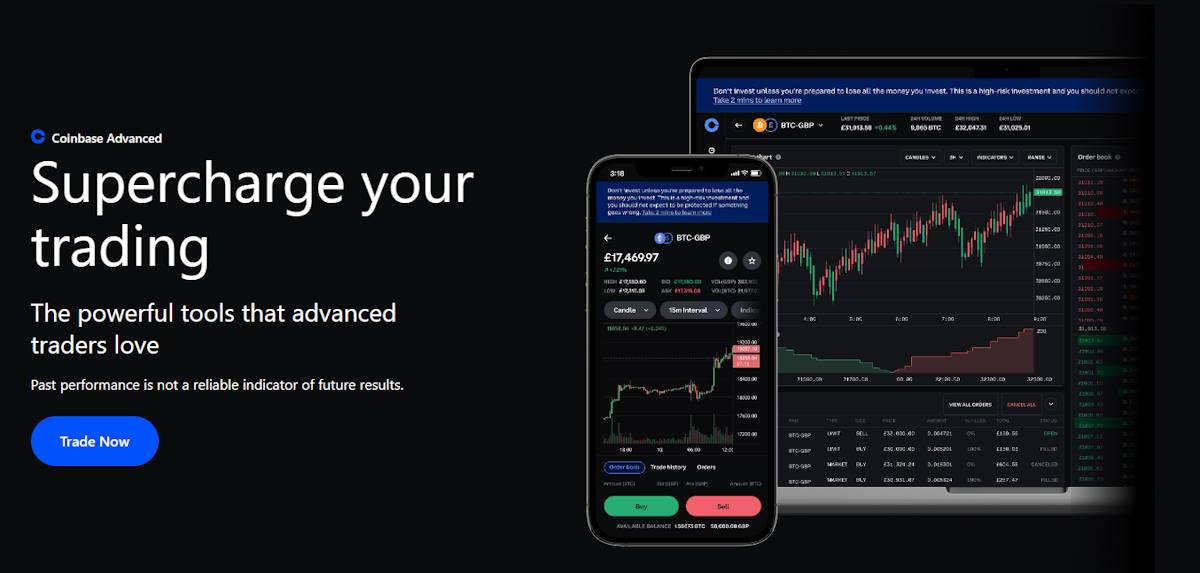 Fees for advanced platforms, like Coinbase Advanced or Kraken Pro, typically come in a bit lower. The tradeoff is that advanced platforms can be more difficult to use.
However, advanced exchanges like Binance, Coinbase, or Kraken also offer simple trades. You'll find these easy-to-use buy-and-sell boxes throughout the site. Be wary of fees for simple trades, though. Often, simple trades use much higher fees compared to advanced trading platforms or even people-friendly platforms like MEXC.
Spreads
Crypto trading platforms use an order book, which is just what it sounds like. An order book is a list of open buy and sell orders that use a limit trade, a fixed price order. You'll also see these limit orders referred to as "maker" orders because they make a market for others.
Limit sell orders are priced above limit buy orders, and the difference between these two prices is called a spread.
The highest-priced limit buy order is the bid price.
The lowest-priced limit sell order is called the ask price.
The spread is the difference between the bid and the ask price.
To use BTC as an example, if the highest limit buy order is $26,000 and the lowest limit sell order is $26,001, the spread is $1.
Spreads can be much wider on thinly traded assets or on platforms that have fewer users. Wider spreads can affect your trading cost when using market orders. We'll cover market orders briefly in just a bit.
However, sometimes the spread is just a padded price. Coinbase uses a 1% "spread" on simple trades, for example. This price buffer allows the exchange to hold a stable price for your trade while it completes.
Market Orders vs Limit Orders
On advanced trading platforms like Coinbase or Kraken, you can choose limit orders (you set the price) or market orders that fill from the existing orders in the book. Market orders, also known as "taker" orders, take orders off the book at the bid or the ask. You'll pay a bit more in fees for taker orders compared to maker orders. You'll also pay the spread because you're buying at the ask or selling at the bid price.
Shiba Inu DEX Trading
You can also buy Shiba Inu on a decentralized exchange (DEX), which we'll cover in more detail shortly. Be aware that decentralized exchanges are unregulated, however. These exchanges run on blockchain computer programs called smart contracts that allow trading without an intermediary.
What is Shiba Inu Coin?

Shiba Inu was founded in 2020 by an anonymous developer (or developers) called Ryoshi. The project adopted a Shiba Inu mascot, furthering the crypto-dog theme and drawing comparisons to DOGE, which uses a similar Shiba Inu mascot. And there is some crossover. Many people who invest in DOGE also invest in SHIB. Both cryptos have also seen meteoric gains, with SHIB gaining as much as 1200% in a single month.
Moving beyond trading dynamics and friendly mascots, Shiba Inu offers its own value proposition and development plans that could drive future growth. Notably, Shiba Inu has its own Layer 2 blockchain and a planned metaverse project in which people can buy virtual assets like land.
The Role of Layer 2 Blockchains
Layer 2 blockchains bring faster and cheaper transactions to users and then pass the transaction on to the main blockchain for security using that blockchain's validation method. For example, Shibarium, Shiba Inu's Layer 2 blockchain will be a layer on the Ethereum blockchain, which ultimately holds the records of all the transactions on Shibarium.
There's also a decentralized application (dApp) called ShibaSwap that allows SHIB holders to earn yields through cryptocurrency swaps, staking, and yield farming. We'll cover these aspects in the next section when we discuss Shiba Inu uses.
SHIB as an ERC-20 token
Technically, Shiba Inu Coin isn't a coin at all. SHIB is a token, meaning it's a crypto that's used on another cryptocurrency blockchain (Ethereum in this case). Specifically, SHIB is an ERC-20 token. ERC-20 tokens are designed to be fungible, meaning each token is the same as the others (assuming they are the same type of token.) In short, 1 SHIB = 1 SHIB, just like 1 USD = 1 USD and 1 GPB = 1 GPB.
Coins typically represent cryptocurrencies used on their own blockchain.
ETH is a coin used on its own Ethereum blockchain.
SHIB is a token used on the Ethereum blockchain (rather than its own blockchain).
For trading purposes, the distinction between coins and tokens doesn't matter, and much of the crypto world refers to SHIB as Shiba Inu Coin.
Shiba Inu Coin Uses

Unlike DOGE, which primarily acts as a way to transfer value from one person to another, Shiba Inu boasts a growing ecosystem. You can put your tokens to use on ShibaSwap to earn more crypto, buy land in Shiba Inu's upcoming metaverse, or use your SHIB on the Shibarium Layer 2 blockchain.
Shiba Inu is the primary token in the SHIB crypto ecosystem, but two other dog-themed tokens derive value from SHIB.
LEASH: The LEASH token, with its limited supply, is the most valuable token in the Shiba Inu ecosystem, currently priced at over $285. You can stake (lock your tokens in a contract) LEASH on ShibaSwap to earn xLeash. BONE tokens (up next) are given to xLeash holders. xLeash holders also earn swap fees.
BONE: The BONE token is the governance token for Shiba Inu. Members of the community can propose changes to the protocol, and BONE tokens let you vote on the proposals. You can also stake BONE to help validate transactions on the Shibarium blockchain, earning a yield in the process. Lastly, BONE is the token used to pay for gas on the Shibarium blockchain. Gas fees pay for computing power for contracts and transactions on the blockchain.
And, like DOGE, SHIB is accepted as payment at several leading merchants, including NewEgg, GameStop, and AMC. You can use SHIB to buy electronics, games, or even tickets to the newest blockbuster movies.
Lending platforms like Binance and CoinRabbit also let you use your SHIB as collateral for crypto loans.
Is Shiba Inu Coin a Good Investment?

Although the ecosystem is growing, SHIB is still a speculative investment. The token's volatility makes it popular amongst traders, while true believers see it as a long-term investment. Early investors in SHIB have been rewarded with returns of up to 14 million percent. Since then, the token's value has fallen along with much of the broader crypto market. Consider the possibilities when choosing Shiba Inu as a long-term play or a shorter-term trade. Or – perhaps both.
Trading for Profit
Not everyone wants to go neck deep into a crypto project. Trading lets you capture profits from the market's ups and downs without making a long-term commitment. A platform like eToro offers an easy way to trade the market using SHIBxM, which gives you 1 million SHIB for by buying 1 SHIBxM.
Investing for Long-Term Gains
If you see a bright future for Shiba Inu, you can make a longer-term investment using a centralized exchange like Kraken. This could be better suited to larger investments because you can move your SHIB off the platform as your balance grows.
DeFi Yields
In addition to possible price appreciation, you can use SHIB in DeFi applications to earn a yield. For example, you can provide liquidity on Uniswap or ShibaSwap and earn swap fees, currently at 0.2% of each swap. Because traders are dipping into liquidity pools all day (and night), that seemingly small number adds up quickly with each new swap.
Future Blockchain Uses
As the Shibarium Layer 2 network gains momentum, we'll likely see more ways to put SHIB to work in the ecosystem. Initially, you can stake BONE to help validate transactions on the network. In return, you can earn a yield. With only 12 validators online thus far, future yields are difficult to predict, but community members have already staked over 26 million BONE tokens, more than 10% of the total supply.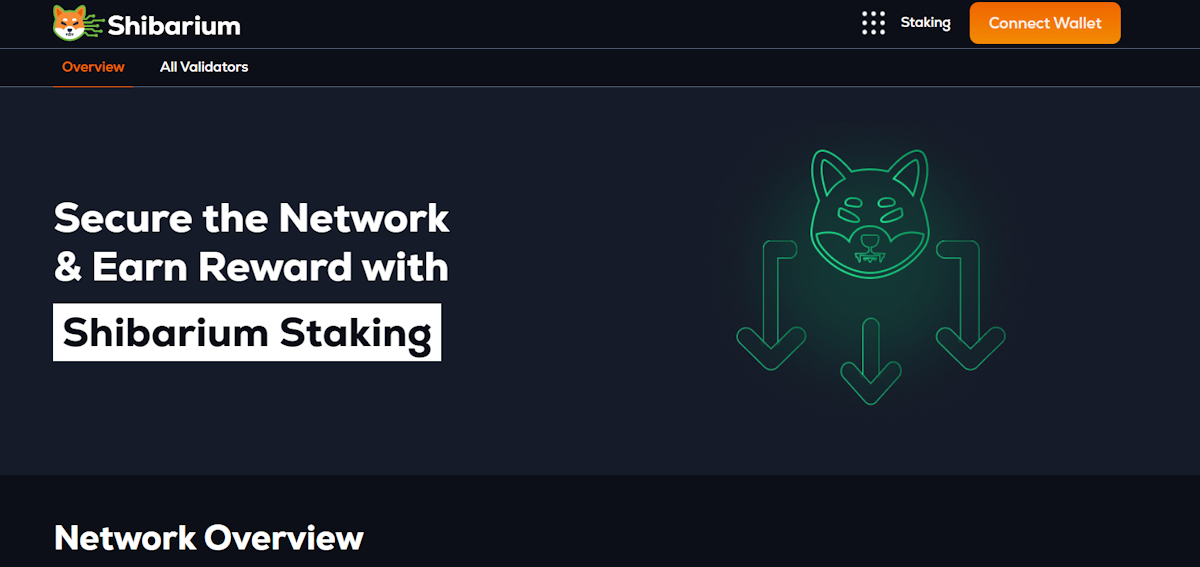 SHIB still has a massive supply of nearly 600 trillion tokens, but the project expects the supply to be deflationary going forward. This combined with a strong community of 1.3 million SHIB holders could bode well for future prices.
What is the Cheapest Way to Buy Shiba Inu Coin?

If you're able to buy SHIB from Binance, OKX, or Kraken, these sources offer the most cost-effective way to make your purchase.
The cheapest way to buy Shiba Inu Coin may depend on where you live, however. For example, if you live outside the US, you may be able to buy SHIB on Binance or OKX, where fees are quite low. Binance Advanced Trades are just 0.1% whether you use a market order or a limit order. OKX comes in at just 0.08% for limit orders and 0.1% for market orders.
In the US, however, Kraken brings low-cost trades for SHIB. On Kraken Pro, you can buy SHIB with 0.16% trading fees for maker (limit) orders or 0.26% taker (market) orders.
Here are the primary ways you can buy Shiba Inu Coin, ranging from brokers to wallet apps.
Four Ways to Buy SHIB
Brokers: Many brokers like eToro, Robinhood, and Webull offer SHIB. In eToro's case, you can buy SHIB in millions (SHIBxM). While not the cheapest way to buy Shiba Inu Coin with its 1% crypto trading fee, eToro appeals to buyers who value simplicity and a secure platform.
Centralized exchanges: A centralized exchange (CEX) lets you buy crypto with fiat money such as USD, Euro, or GPB. You can also trade one cryptocurrency for another if the exchange has a trading pair for what you want to trade. CEXs are often the cheapest way to buy crypto, assuming you use the advanced trading platform.
Decentralized crypto exchanges: A decentralized exchange (DEX) allows you to trade crypto for crypto without using an intermediary (like a centralized exchange or a broker). Traders like yourself supply cryptocurrencies to liquidity pools, a place where you can trade the crypto you have for the crypto you want to buy. DEXs can be less expensive than brokers or simple trades on exchanges, but trading on DEXs can be much more complex.DEX examples include Uniswap and ShibaSwap.
Crypto wallet apps: If you have a crypto wallet like Zengo, Trust Wallet, or Atomic Wallet, you may be able to buy SHIB through your wallet app. However, it's likely you'll encounter some additional steps because most wallets don't support direct purchases of SHIB. Instead, you may have to purchase ETH through the wallet app's crypto provider and then exchange your ETH for SHIB on the wallet app. Purchasing crypto through wallet apps can bring much higher fees. Moonpay, a popular provider for wallet crypto purchases, charges a 4.5% fee for card-funded purchases. The wallet app itself may add a fee as well. Notably, Atomic Wallet makes buying SHIB easy, although buying fees can reach 5% or more.
How to Choose a Purchase Method to Buy SHIB

Each method detailed above has its advantages and disadvantages, depending on your needs or perhaps your location. The best way to buy SHIB may be MEXC, which combines 0% trading fees with an easy-to-use platform.
Experienced traders may prefer an advanced exchange like Binance, OKX, or Kraken, all of which offer low trading fees and a way to transfer your tokens off the exchange. Advanced traders might choose a decentralized exchange that lets them trade one crypto for another and execute the swap directly from their crypto wallet.
Cheapest: Centralized exchanges like Binance, OKX, and Kraken offer low fees.
Easiest: MEXC lets you buy cryptocurrencies as soon as you sign up either with an email or your crypto MetaMask wallet.
Most private: Decentralized exchanges like Uniswap, SushiSwap, and ShibaSwap let you swap cryptos without an intermediary. This method can be more complicated and requires that you have a self-custody wallet (and some crypto to swap).
Costliest: Many crypto wallet apps let you buy crypto from within the app, but fees can be much higher than you'll find with other methods. However, in many cases, you can buy Shiba Inu Coin with a credit card. Expect a few extra steps to convert the crypto you buy (ETH) to SHIB.
Centralized Exchanges vs. Decentralized Exchanges
Crypto exchanges come in two main types: centralized and decentralized. Both allow crypto-to-crypto exchanges but there are some distinct differences in how these two types of exchanges work.
Centralized exchanges act as an intermediary, a go-between that provides a marketplace for traders. CEXs provide a convenient on-ramp for crypto purchases, meaning it's an easy way to buy crypto with USD or GBP or whichever currency you use in your part of the world. One possible downside is that the exchange can pause or halt withdrawals (or go out of business), trapping your crypto on the platform. You'll also have to provide proof of identity, much like with a bank or brokerage account.
Decentralized exchanges run on computer programs called smart contracts. Traders provide tokens to a liquidity pool, and other traders can swap Token A for Token B within the pool. It's all managed by code rather than people, and the transaction happens right from your crypto wallet. DEXs come with a learning curve, however. You'll need to manage your wallet securely and keep an eye on trading costs. Typically, DEXs do not require proof of identity.
Is Investing in Shiba Inu Coin Safe & Legal?

If you're cautious in how you manage your crypto assets, investing in Shiba Inu can be relatively safe. However, taking safety steps like moving your crypto off exchanges to a self-custody wallet or choosing regulated platforms like eToro can't protect you against market volatility.
Shiba Inu has had some incredible run-ups of up to 1,200% in a single month. But investors who bought in October 2021 saw the value of SHIB fall by up to 90% during the bear market in 2023 and 2023.
In short, there's always price risk, and increased volatility of low-market-cap cryptos like SHIB can lead to both outsized gains and noteworthy losses. Weigh the percentage of your portfolio that SHIB (or any crypto) represents and trade within your means.
Investing in SHIB is legal in most parts of the world. However, certain cryptocurrencies like XRP have come under fire by regulatory agencies like the SEC which led to delisting (and later relisting) of XRP on exchanges like Coinbase. Similar risks exist for Shiba Inu and many other cryptocurrencies, which could affect your ability to trade out of your position as well as your investment's value.
Which is the Best Shiba Inu Coin Wallet?

Because SHIB is an ERC-20 token, you'll need a crypto wallet compatible with ERC-20 tokens if you want to self-custody your tokens.
MetaMask supports ERC-20 tokens and can connect to popular decentralized applications like Uniswap or ShibaSwap.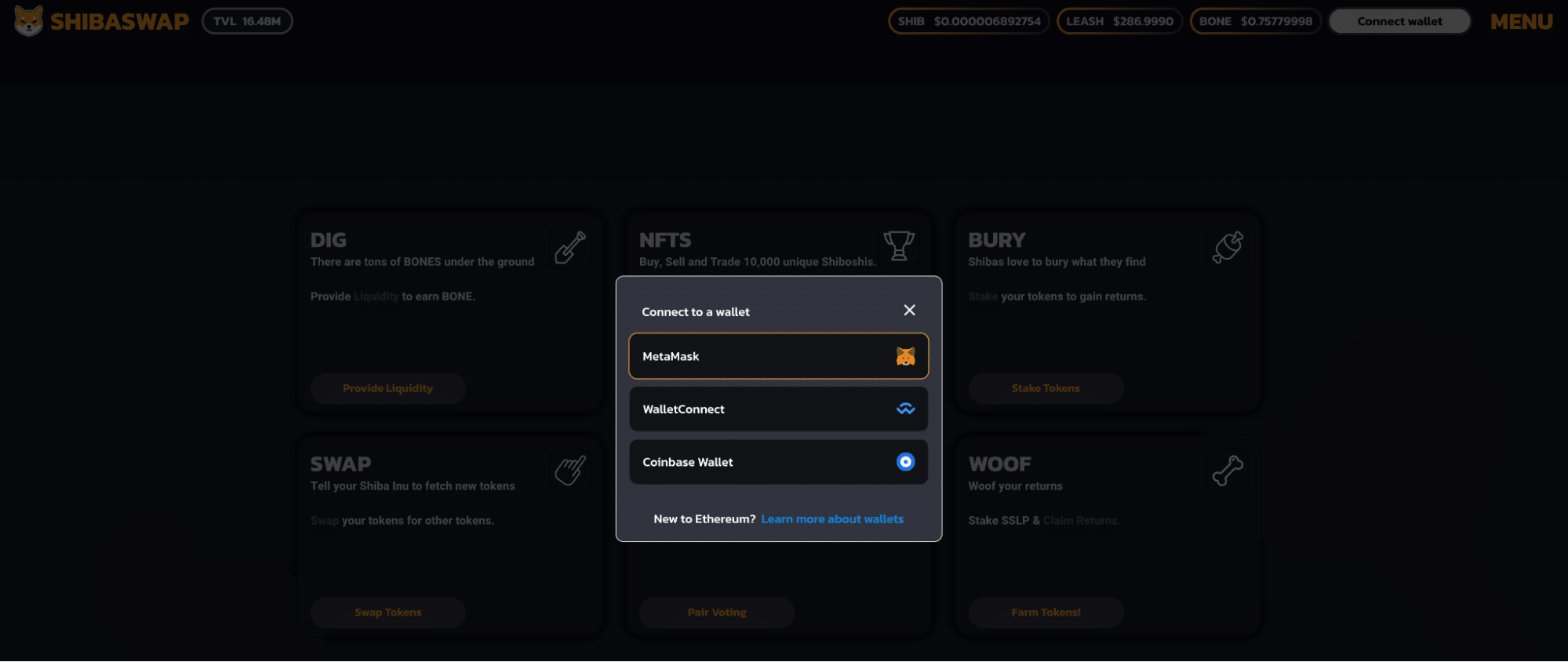 Coinbase Wallet offers another option and makes it easy to connect to leading dApps. Crypto wallets that support WalletConnect, including Trust Wallet, can also make good choices if you want to put your crypto to work in decentralized finance (DeFi) or make swaps on DEXs.
Alternatively, you could leave your SHIB tokens on the exchange if you bought through Kraken, for example, or a trading platform like eToro. For convenience, many traders keep a small amount of crypto on the exchange they use for trading while moving the bulk of their holding to a self-custody wallet.
How to Buy Shiba Inu Coin – Detailed Tutorial

MEXC makes a solid choice for everyone who want to buy SHIB, including traders who want an easy way to trade the market with 0% spot market fees. Follow these simple steps to get started.
Step 1: Sign up with MEXC
Visit MEXC and sign up using your email address, your MetaMask crypto wallet or your Telegram or Google account.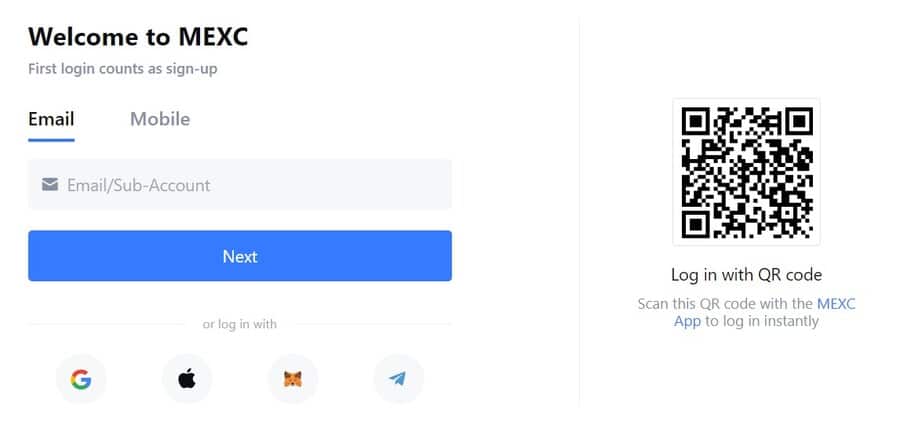 Step 2: Purchase crypto
Purchase crypto on MEXC using a bank or SEPA transfer, or by using a card or Apple/Google Pay via third-party providers. You need to buy USDT, which you can swap for SHIBA on the market.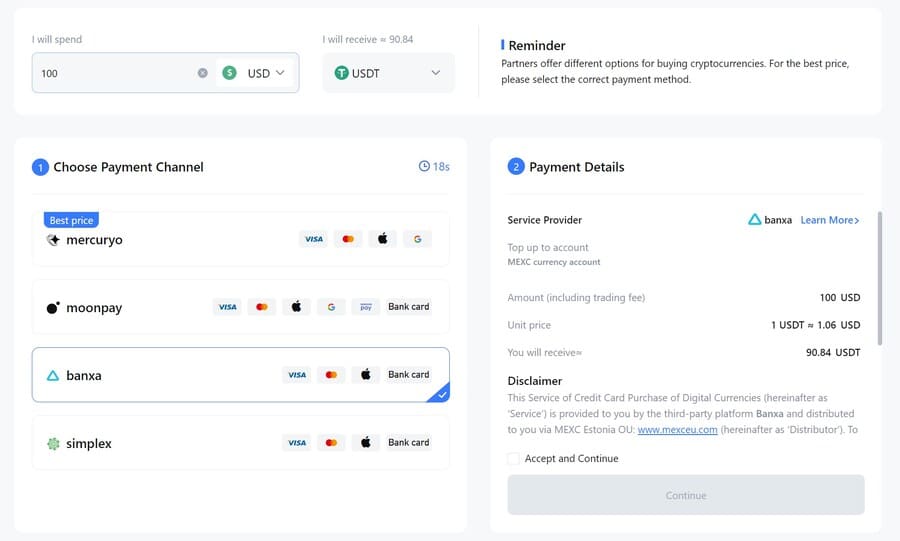 Step 3: Buy Shiba Inu coins
Once you have your USDT, select "Market" on MEXC and search SHIB in the search tab. Select the SHIB/USDT pair. Enter the amount of USDT you wish to swap for SHIB and select "Buy SHIB".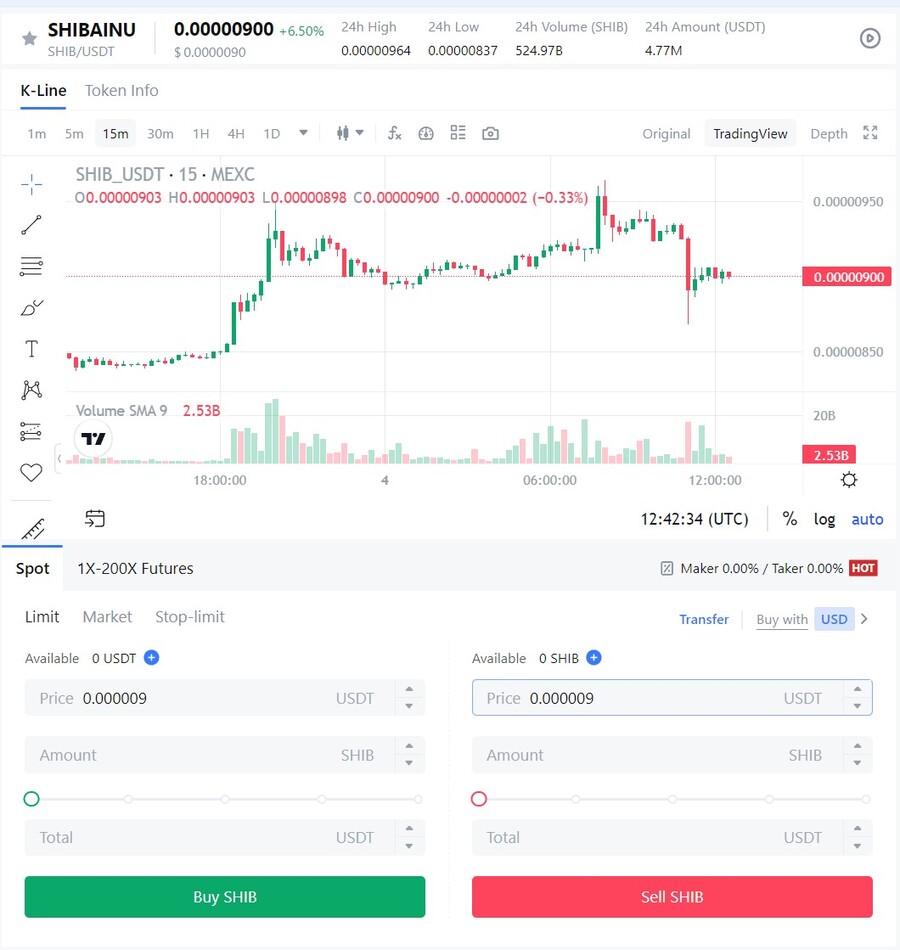 Conclusion

Shiba Inu brings together a growing ecosystem with a passionate community, which could mean a bright future for investors. The upcoming launch of the metaverse project and the continued development of the Shibarium Layer 2 blockchain offer two more reasons for optimism. However, all crypto investments come with a degree of risk. Always invest within your budget.
If you're considering investing in SHIB, MEXC provides 0% spot market fees and a quick signup process to get started. You can also lock your SHIB tokens to earn annual percentage rate returns on the platform or withdraw it to your wallet. While MEXC is available to most countries, US citizens can't use this platform yet. In that case, consider Coinbase as an alternative.
References
FAQs
How do I buy Shiba Inu Coin?
To buy Shiba Inu, you can sign up with MEXC and purchase USDT with a card or a bank transfer, depending on your country. Swap your USDT for SHIB on the spot market with 0% fees.
Where can I buy Shiba Inu Coin?
You can buy Shiba Inu on MEXC, Coinbase, Kraken and Binance.
What is the best place to buy Shiba Inu Coin?
The best place to buy Shiba Inu coin depends on your preference. If you're looking for low fees, consider MEXC. If you're in the US, Coinbase is the better option.
Can you buy Shiba Inu Coin with PayPal?
Yes. Coinbase support PayPal deposits to purchase SHIB. Coinbase charges a 2.5% deposit fee for PayPal. You can't buy Shiba Inu directly through PayPal, however, which offers Bitcoin and Ethereum along with two other cryptocurrencies.
How much will one Shiba Inu Coin be worth in 2030?
Estimates and trends suggest the value of SHIB could be between $0.000033 per token and $0.0001 per token by 2030. The supply of SHIB is expected to become deflationary, which can be good for long-term pricing if demand stays strong.
---