How to Buy Bitcoin Minetrix ($BTCMTX) – Easy Guide
Disclosure: Crypto is a high-risk asset class. This article is provided for informational purposes and does not constitute investment advice. By using this website, you agree to our terms and conditions. We may utilise affiliate links within our content, and receive commission.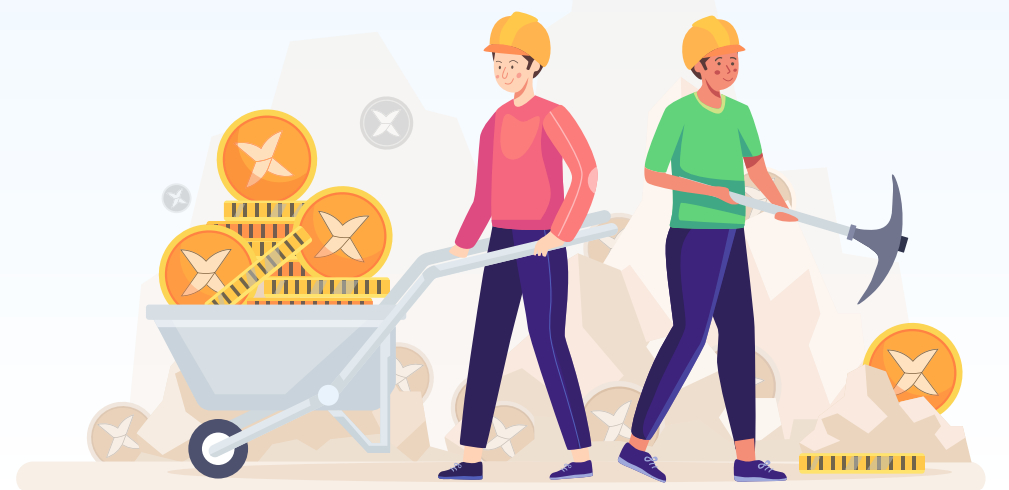 Bitcoin Minetrix ($BTCMTX) is a high-potential new crypto presale and the very first stake-to-mine project to come to market.
Having already raised more than $4.2 million in its presale, Bitcoin Minetrix allows investors to stake tokens for large annual percentage yields (APY) as well as take part in cloud mining for BTC rewards.
Unlike other cloud mining projects, however, Bitcoin Minetrix has a very low barrier for entry – $10 – and heightened security.
What is Bitcoin Minetrix?
Bitcoin Minetrix is the very first stake-to-mine project where users can stake their BTCMTX tokens to generate credits that can be spent on cloud mining time.
This means that holding tokens and staking them allows investors to earn BTC via mining – which is usually the sole preserve of multi-million-dollar companies due to the prohibitive cost of mining rigs and the massive energy consumption.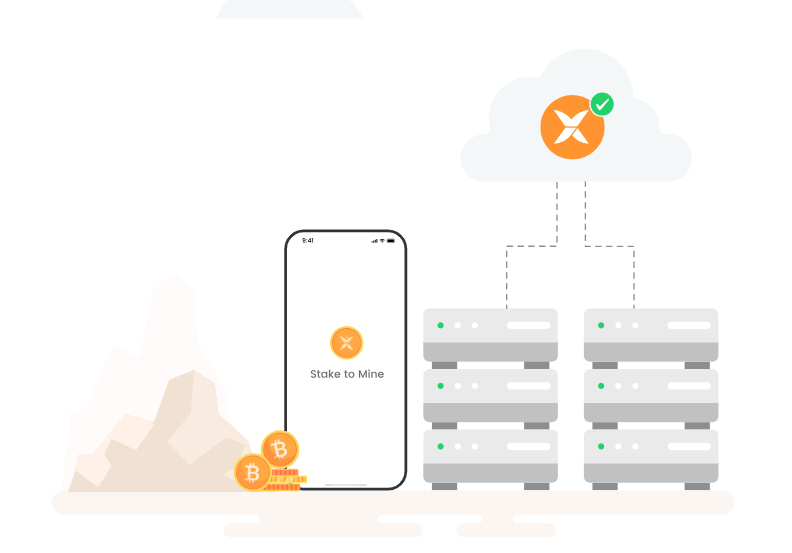 Bitcoin Minetrix is a cloud mining project but with a major difference in that there is a small barrier to entry, no upfront costs, fixed contracts, or hidden fees and investors have power over their tokens at all times.
Token holders can also generate huge staking rewards which, at the time of writing, sit at over 60,000%.
| | |
| --- | --- |
| Presale Started | 26 September 2023 |
| Purchase Methods | ETH, USDT, BNB |
| Chain | Ethereum |
| Total Supply | 4 billion tokens |
| Min. Investment | $10 |
| Presale Allocation | 70% of max supply |
How Bitcoin Minetrix Works
The platform has a simple process for mining BTC: 
Purchase BTCMTX tokens during the presale or after they are listed on exchanges.
Stake them to generate Cloud Mining Credits, a non-tradeable ERC-20 token.
Burn Cloud Mining Credits in exchange for Bitcoin cloud mining power or a percentage of mining yields.
Transfer minted BTC to a personal crypto wallet.
The tokenization of hash power has several major advantages, including that users retain full control over funds.
Through an upcoming mobile app, which is in development, it will be possible to decide how many BTCMTX tokens to stake and how long for.
They can also be unstaked at any time, providing huge flexibility, and can be sold on exchanges if the holder wishes.
This removes the need to pay further cash or enter into fixed-term contracts with cloud mining firms – many of which have turned out to be scams in recent years.
Cloud Mining Plagued by Scammers
Cloud mining is nothing new but the tokenization of the process offers a sea change in security and the ability to take part in the potentially lucrative ecosystem.
Bitcoin mining is now dominated by huge corporations set up solely for the purpose of mining Bitcoin, with the current cost to mine one Bitcoin (estimated at $42,000) far exceeding the current price of BTC (approx. $26,000).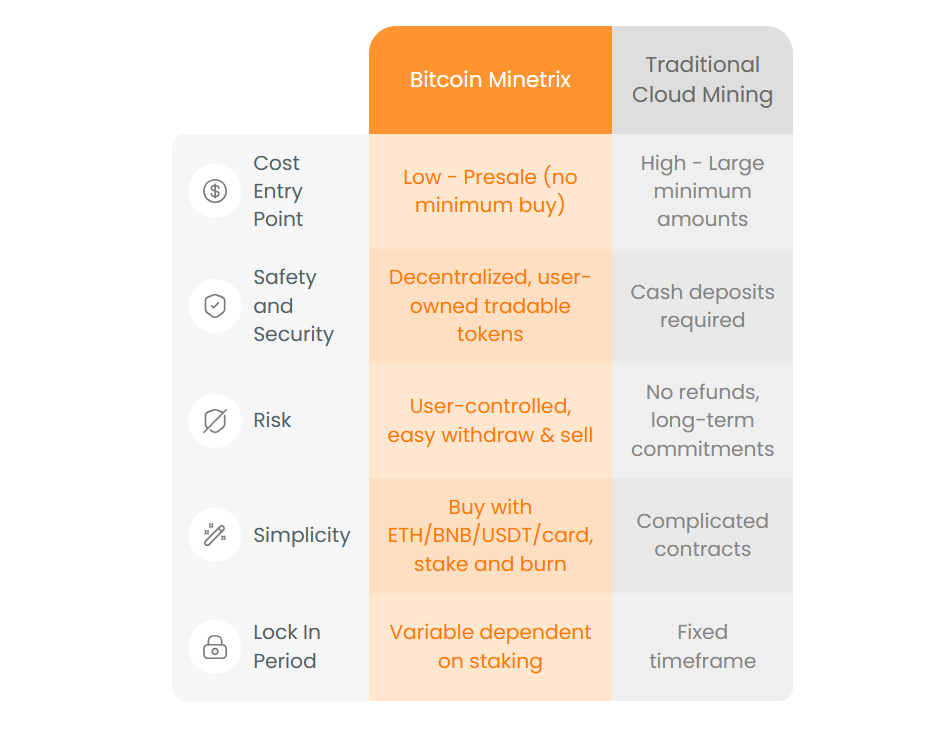 Cloud mining was set up as a way for groups of people or organizations to club together and rent or pay for computing power and energy consumption, with profits distributed.
However, numerous scams in the industry popped up, with cloud mining firms often asking for huge upfront payments for fixed-term contracts and then providing large and complicated contracts that were difficult to parse.
They regularly added on fees at the back for spurious claims such as hardware maintenance and energy consumption which cut into any profits.
Bitcoin Minetrix solves all those issues by tokenizing the process and allowing users to keep control of how much they want to stake and how long for.
With a minimum purchase of just $10 in the presale it is also the cheapest way to mine Bitcoin.
Tokenomics and Presale Info
The Bitcoin Minetrix presale launched with tokens available for $0.011 during stage 1 of 39. By the final round, the price will increase to $0.0148 per token. Currently, $BTCMTX is priced at $0.0118 per token.
There is a max supply of 4 billion tokens with 70% of those (2.4 billion) available to purchase during the presale, depending on the performance.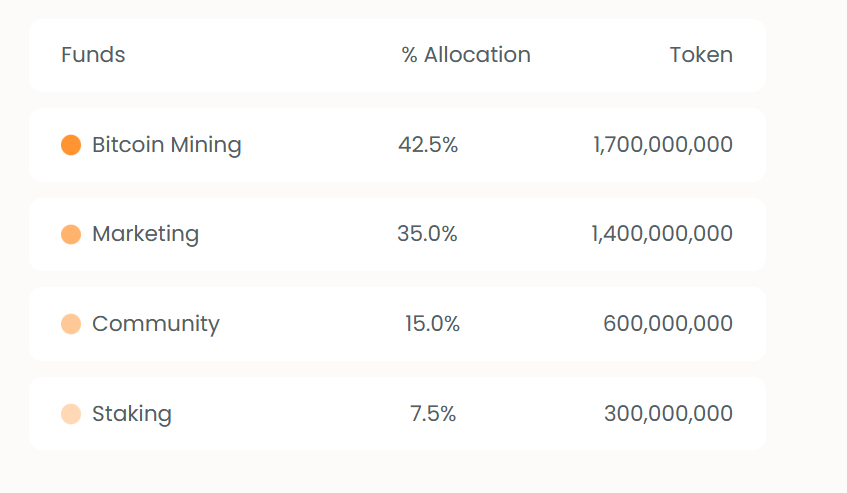 The soft cap is set at $15.6 million for 1.4bn tokens and the hard cap at $32 million if the full presale sells out.
More information on the project can be found in the Bitcoin Minetrix whitepaper, with the presale stages outlined below:
How to Buy Bitcoin Minetrix ($BTCMTX) Guide
Here are some easy steps to buy and stake Bitcoin Minetrix during its 10-stage presale
Step 1: Download MetaMask
Investors will need to download a Web3 wallet to convert and hold their BTCMTX tokens and function with the presale site.
We will use MetaMask in this guide as it is a popular and highly secure crypto wallet with multi-chain functionality, although the likes of Trust Wallet and Phantom are also recommended.
Download MetaMask as either an app on Android/iPhone or as a desktop browser extension, set up an account, and safely secure the password and seed phrase.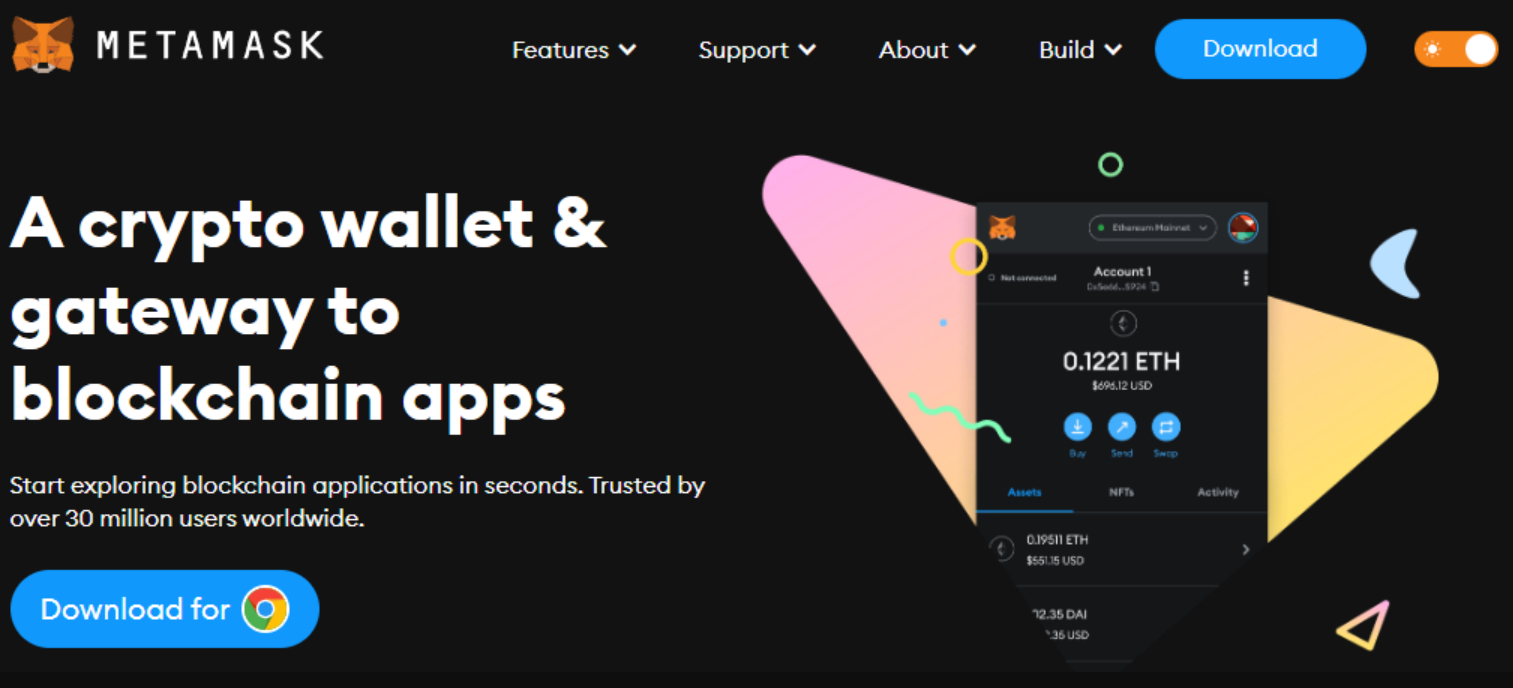 Step 2: Purchase ETH, USDT or BNB
Investors cannot directly buy BTCMTX with fiat currency so first need a suitable crypto to convert it with.
ETH, USDT or BNB can be used, although ETH is the easiest for beginners as some will also be required to cover network (gas) fees later on.
Either transfer ETH from a centralized exchange such as Binance or Coinbase, or purchase ETH directly on the crypto wallet via trusted brokers such as MoonPay.
Step 3: Connect Wallet to Presale Site
Visit bitcoinminetrix.com and select the 'Connect Wallet' button which can be seen in orange. Select MetaMask or an alternative and then follow the steps to make the connection, filling in your password etc. 
Once the connection is made, the website will show different options than it did previously.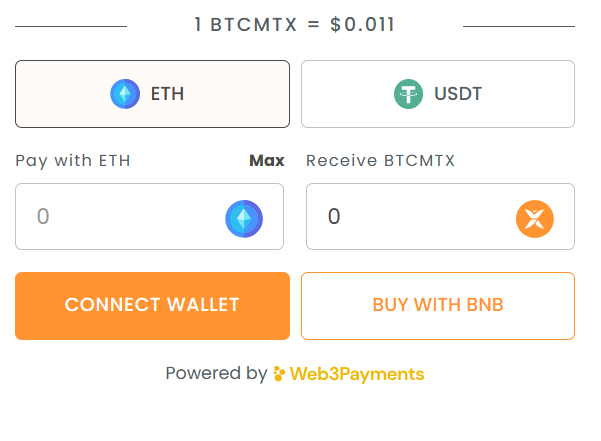 Step 4: Purchase Tokens
Now is the time to buy $BTCMTX – there are three options, ETH, USDT or BNB – with buyers required to either input the amount they want to spend or the number of tokens they wish to purchase.
As mentioned above, some funds will need to be left untouched to cover gas fees, while there is a minimum purchase of $10.
It is also possible to immediately stake tokens and earn APY throughout the presale – skip to step 5 if you intend to stake.
If not, then select the 'Buy Now' button, where a new window should pop up to continue and confirm the transaction. Skip to step 6 if choosing this option.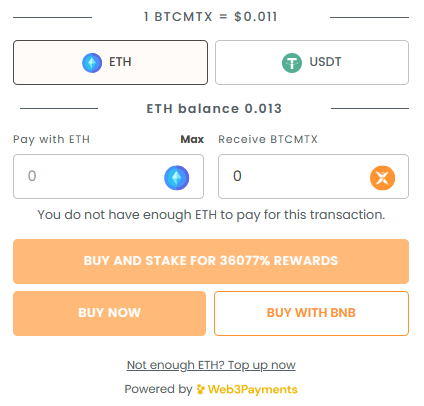 Step 5: Stake $BTCMTX Tokens
Should you wish to stake tokens and earn annual percentage yield (APY) – which currently sits at over 138% – then select the 'Buy and Stake for xxx Rewards' button.
A new window will appear asking how many tokens you intend to stake and for how long, with rewards available until the presale ends and beyond.
Step 6: Claim Tokens
Tokens purchased during the presale will be stored on the website until the Token Generation Event (TGE) at the end of the presale – there is no timeline for when the presale may end, it will depend on performance.
The project will notify buyers of the time and date to claim and when that time comes, return to the presale website and connect once again.
There will be an option to 'Claim' tokens, which will then be transferred to your MetaMask or crypto wallet.
Follow the Bitcoin Minetrix Telegram group to keep up to date with the project.
Conclusion
Bitcoin Minetrix is an exciting new crypto presale that is the world's first stake-to-mine project.
That means that any retail investor or crypto speculator can be a part of the highly lucrative Bitcoin mining ecosystem, with the project smashing down barriers by offering mining from just $10.
The BTCMTX token, as well as being staked to generate mining power, can also be staked to earn huge APYs – with the current pool offering over 138% rewards.
The presale has already raised more than $4.2 million and will run for 39 stages.
FAQs
What is Bitcoin Minetrix?
Bitcoin Minetrix is a stake-to-mine project that opens the world of Bitcoin mining up to retail investors. Anyone can now mine Bitcoin from a minimum purchase of $10 of tokens, as well as earn huge APYs. With its presale taking the markets by storm some Bitcoin Minetrix price predictions are bullish on its future trajectory as a state-of-the-art cloud mining project. 
How to Invest in Bitcoin Minetrix?
$BTCMTX tokens can be purchased during the presale with ETH, USDT or BNB. The presale will run for 39 rounds – tokens currently cost $0.0118.
How much can I earn staking Bitcoin Minetrix?
Staking $BTCMTX will, at the time of writing, offer an annualized percentage yield of 138% – although this will come down over time. Staking the token also allows users to generate Bitcoin mining power, which can be converted to earn BTC.
Disclaimer: The Industry Talk section features insights by crypto industry players and is not a part of the editorial content of Cryptonews.com.
---