How Flush.com runs hot with Bitcoin and crypto casino games from 35+ top-tier providers
Disclaimer: The text below is an advertorial article that is not part of Cryptonews.com editorial content.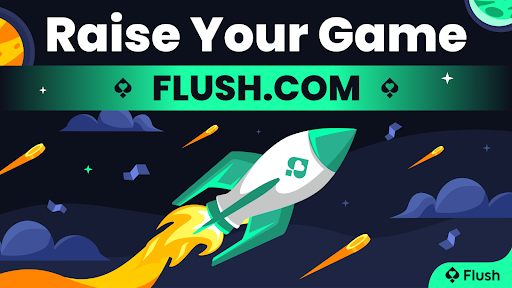 Flush combines excitement and earning. It brings the hottest bitcoin and crypto casino games from over 35 top-tiered game providers worldwide, like Pragmatic Play, Play'n Go, BGaming, etc. And it offers up to $1500 as a bonus.
The global casino industry is expected to generate over $260 billion in revenues this year, i.e. 2023, and then grow further at 5.6%. Everyone can get a fair share of this pie thanks to platforms like Flush.com where age-old gaming meets new-age technologies and digital assets.
That's also why online casinos have become so much more than luck and fancy. They're not only about betting and cashing out anymore. They also provide a fun way of tapping the $1+ trillion crypto market, opening up new avenues for individuals to live a better life, besides being entertained.
Bolstering incentivization from the get-go
Dedicated to Satoshi's vision and crypto's user-centric principles, Flush prioritizes incentivizing users and casino players with lucrative benefits. This comes in the form of various bonus schemes and promotional offers, with exclusive perks for VIPs alongside regular ones like cashback, free spins, and cash bonuses for reaching new VIP milestones and levels.
The Flush Launch Special Offer, for instance, gives users a unique chance to earn a 100-150% bonus on their first deposit. The two-tier scheme offers varying rewards and wagering requirements, letting players earn up to $1500 as a bonus.
The Tier 1 is for deposits between $10 and $200, with a 2x (100%) bonus and 30x wagering while Tier 2 is for deposits worth $200 to $1000, with a 2.5x (150%) bonus and 35x wagering. However, these deals are only available for a limited time period.
In addition to the special joining bonus, Flush brings many promotional offers from time to time, including prize drops with monthly prize pools as big as $2.1 million (€2 million).
Curating a hassle-free user experience
Online casinos can help bring mass adoption to crypto and other digital assets. But that'll happen only if platforms ensure a rich user experience with hassle-free onboarding and broad accessibility. Flush aims to contribute significantly to this end, as manifested in the platform's design and user journey.
Flush is a permissionless ecosystem that anyone can join to reap the benefits on offer—it's a tribute to Satoshi. Thus, it has no time-consuming KYC. One can start playing a wide range of slots, live casinos, and Flush's original crypto games with only a few clicks. They also get social sign-ups using Facebook and Google and are in the process of integrating Web 3 sign-ups with Metamask and wallet connect.
Players don't have to suffer the ordeal of having their winnings and rewards stuck for a long time. Flush provides instant deposits and withdrawals. Moreover, the platform is designed for maximum accessibility.
It offers an integrated service for crypto onboarding, so players can directly buy crypto with VISA, Mastercard, Apple Pay, and Google Pay. They can make payments in cryptocurrencies like BTC, ETH, LTC, DOGE, MATIC, and BNB, which makes the onboarding experience easier and more streamlined.
Scaling beyond the fun and frolic
Ongoing innovations in blockchain and crypto-related technologies are doing their bit to ensure a better, more user-centric future. As an emerging driving force in this industry, Flush is dedicated to combining the fun of games with the disruptive potential of cutting-edge Web 3 technology.
There's currently an industry-wide focus on stablecoins to help users enjoy the advantages of crypto in a stable, non-volatile manner. This is a key step towards wider adoption and it makes crypto-based assets and payment methods more relevant for day-to-day uses.
Realizing their significance, Flush has integrated a framework to support payments and transactions using stablecoins like USDT, USDC, DAI, etc. It's meant for players to enjoy new-age casino games without worrying about the volatility of nascent crypto markets. It thereby minimizes the scope for market-related losses as well, optimizing the returns and earnings for players.
Furthermore, Flush strives to foster a diverse, multi-chain casino ecosystem, underlining an inclusive and progressive vision. The platform has thus integrated two scalability-oriented blockchains, Polygon and the Binance Smart Chain (BSC) or BNB Chain.
These integrations will significantly widen the horizon for players, letting them explore novel revenue streams, for instance.
Fostering crypto awareness and adoption
Bitcoin and other crypto-based assets are still in their infancy, evolving steadily to become more mature. This explains their volatile nature and other limitations like low scalability, etc. It's also the reason why so many people are still biased against emerging digital asset classes, and thus unwilling to use them. But this is a considerable loss, especially considering the numerous rags-to-riches stories featuring crypto.
Online casinos, like Flush, are a good way of letting people have a feel for crypto without the challenges that come with more "serious" approaches like trading, staking, yield farming, etc. There's perhaps no better way to get used to something than through fun. Games are in fact an integral part of educational models nowadays, which can apply equally well to learning about crypto.
Playing online casino games further open up a new income stream for users, helping them earn crypto easily and steadily. And as users become more aware of crypto's market dynamics and growth trajectory, they can place more informed wagers, increasing their chances of success. This is an area where crypto casinos are a novelty vis-à-vis their legacy counterparts.
Overall, online casino games can help the burgeoning crypto industry achieve its goals, both long-term and short-term. It's upon the community, now, to shun their prejudices and look more positively toward the future to come.
To know more about Flush and grab the special launch bonus, visit their official website and get a unique crypto casino experience.
---