Hot Meme Coin $SPONGE Price Pump Incoming – MEXC Exchange Lists on Thursday May 11th - Time to Buy?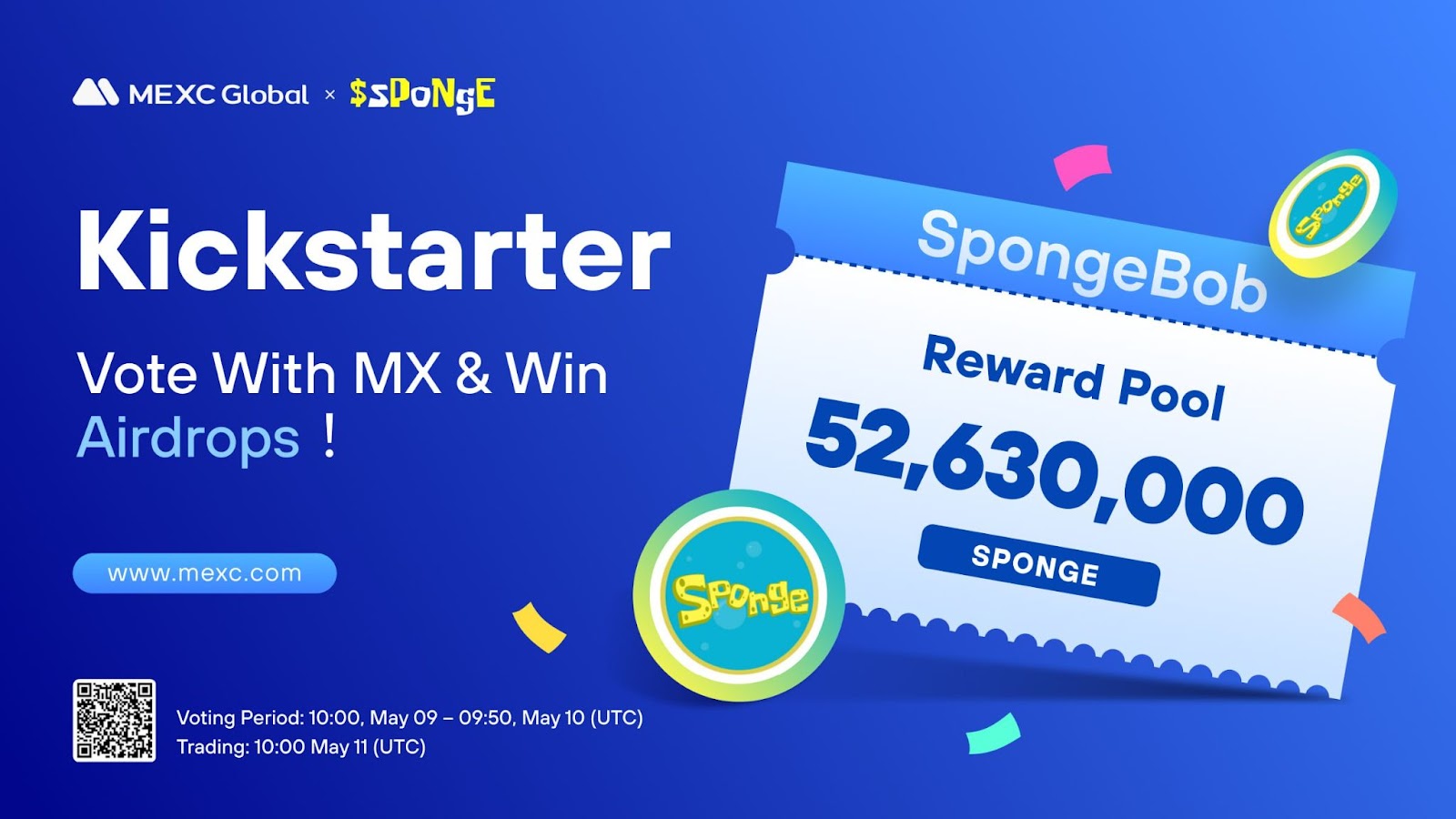 Tuesday May 9th 2023 – Pepe challenger, meme coin $SPONGE, starts trading on 11th May at top 7 ranked centralized exchange (CEX) MEXC from 10:00 UTC.
This latest listing will mean that from this Thursday $SPONGE will be trading on six CEXs. It took Pepe three weeks to get its first CEX listings, but $SPONGE achieved that goal in less than 48 hours.
The hot new meme coin for the past two days has been the most traded coin on No.1 decentralized exchange Uniswap.
Talk of the meme coin frenzy cooling after yesterday's crypto crash is proving premature. According to CoinMarketCap data, meme coins are the top-performing category of coins today – their average price is up 51%, beating all other categories of crypto.

Although it is only entering its fifth day of trading, $SPONGE is still the top returning meme coin, ranked by 7-days, up 1,290%. Pepe, in contrast, is down 18% in the past 24 hours.

Data site CoinGecko ranks MEXC 7th with a trust score of 9 out of 10 and notes it has a 24-hour trading volume of $777 million.
Meme coins Pepe and Turbo both feature in MEXC's top five trading pairs and they will soon be joined by $SPONGE.
MEXC has markets in 180 spot trading pairs and 125 futures. The popular exchange is based in the Seychelles.
Other CEXs listing $SPONGE are Poloniex, where the coin started trading yesterday (Monday 8th), LBank, CoinW, Toobit and BTCEX.
Here are the full details of the MEXC Global Kickstarter and listing schedule for $SPONGE:
Deposit opened: Tuesday May 9th 10:00 (UTC)
Voting Period: 2023-05-09 10:00 to 2023-05-10 09:50 (UTC)
Voting result: 2023-05-10 10:20 (UTC)
Trading: Thursday May 11th 10:00 (UTC)
Withdrawal: Friday May 12th 10:00 (UTC)
Check out the tweet from MEXC Global and share it:
$SPONGE is ready for 147% upsurge
The crypto market has calmed over the past 12 hours or so, with the Asian session seeing Bitcoin hold its value above the $27,500 level.
This relatively benign background will favor the likes of $SPONGE, where trading history is still in its exceedingly early days.
Near-term upside for $SPONGE bulls is 147% movement, set on Sunday by the all-time high of $0.0024.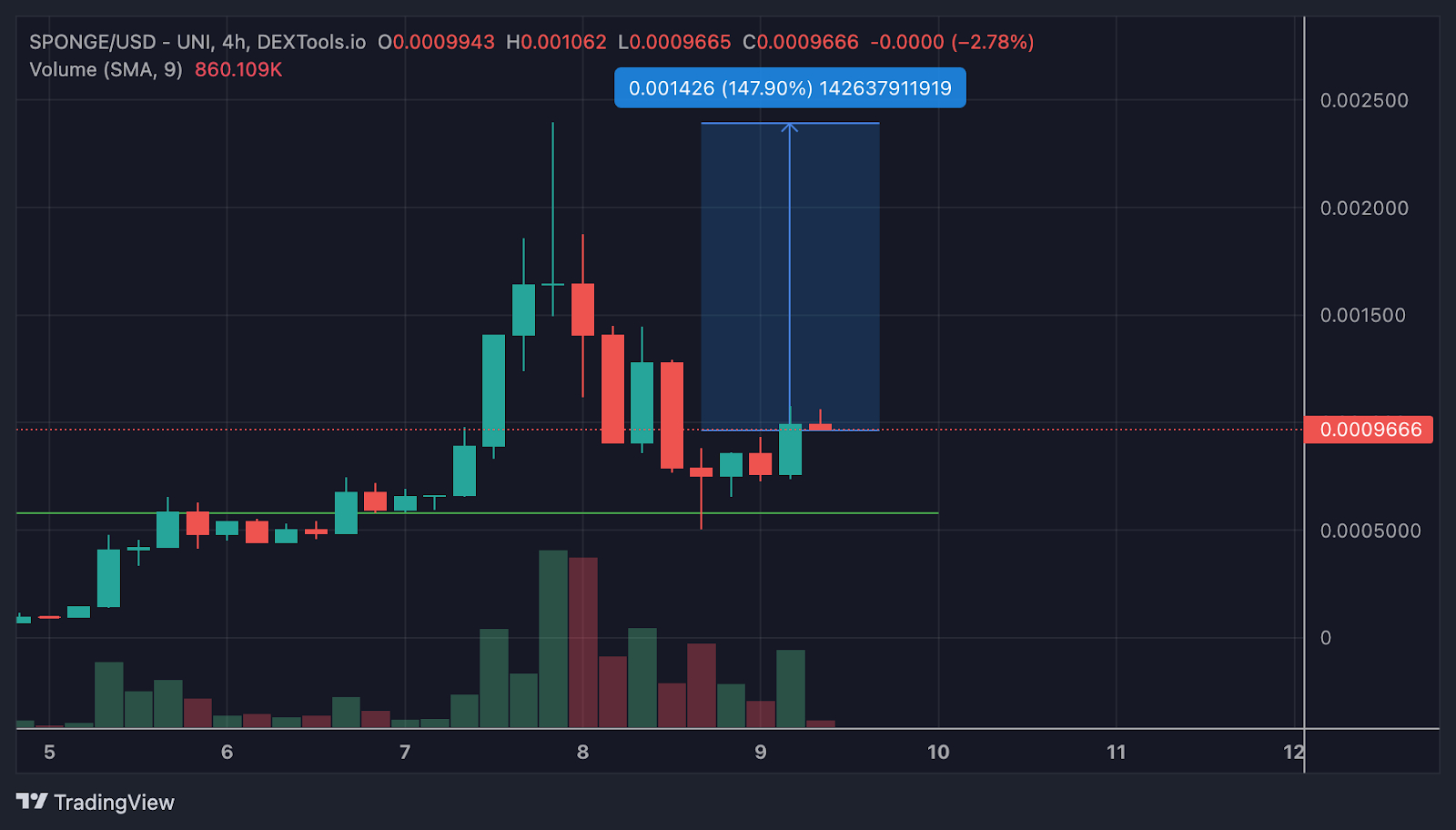 New buyers and bulls will be encouraged to take new positions at the current price level of $0.001053 as $SPONGE consolidates while eyeing a breakout.
Downside risk is limited by strong support at $0.0006513.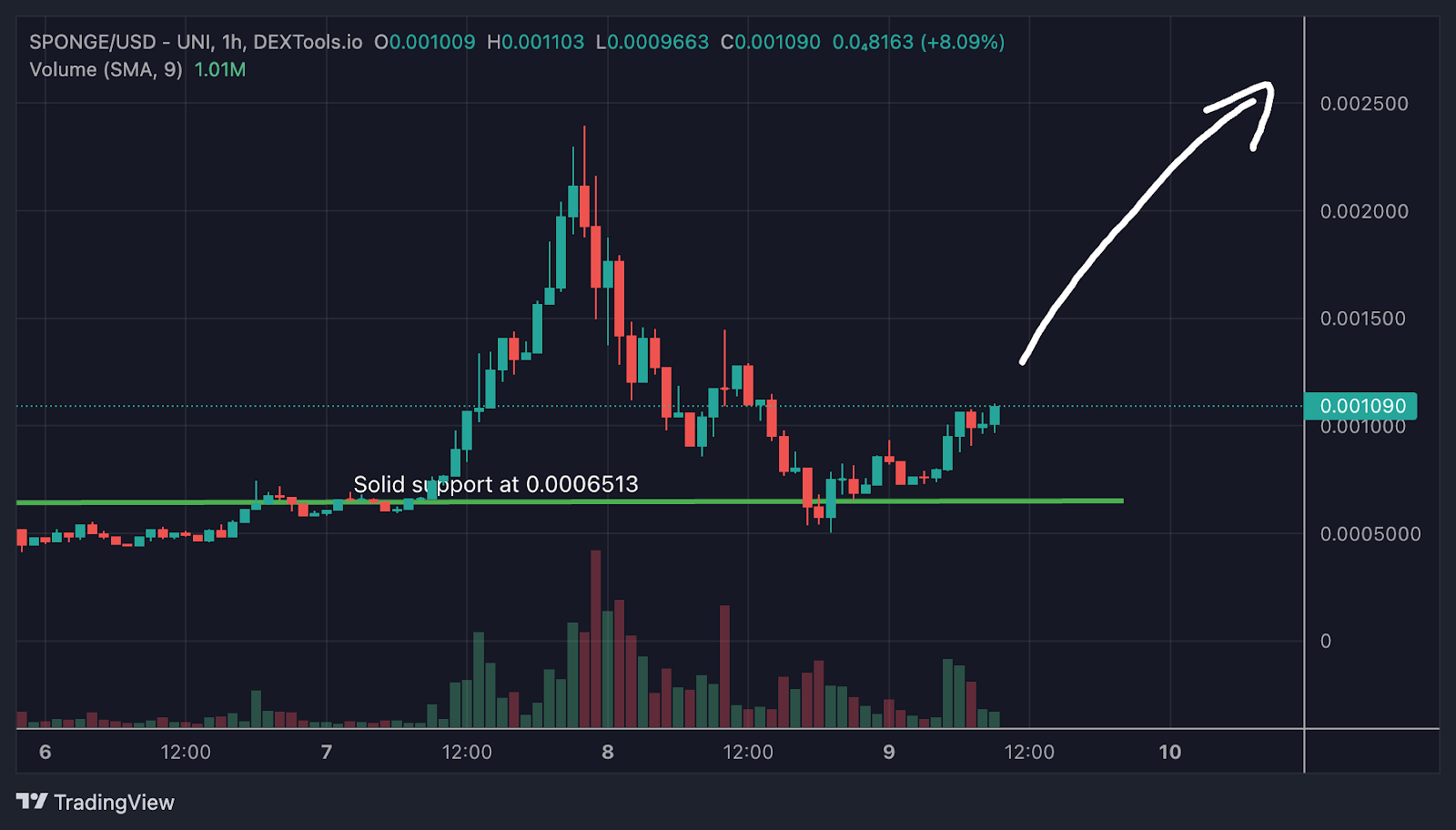 At the time of writing, $SPONGE is the No.4 trending coin on the leading decentralized exchange trading data site Dextools.
Elon Musk buying $SPONGE, Shiba Inu team involved?
There continue to be rumors that the Shiba Inu team may be behind the coin or that meme coin lover Elon Musk may have a hand in $SPONGE's birth.
There is certainly significant whale interest in the coin, which helps to explain its healthy trading volumes.
However it should also be noted that the coin has built up its number of holders across a broad range of buyers.
There are currently more than 9,500 holders of $SPONGE.
The coin's footprint on social media continues to grow aggressively. It has amassed 18,000 members on its Telegram group, for example.
On Twitter a tweet from The Toriant describes $SPONGE as "the hottest meme coin that's taking the market by storm":
The tweet has been retweeted 2,909 times and viewed by 49,000. The Toriant has 1.2 million followers.
Even Elon Musk buddy Matt Wallace has started following $SPONGE on Twitter.
After only four full days, $SPONGE has 36,000 followers on its Twitter account (@spongeoneth).
$SPONGE still has the most robust liquidity on Uniswap
$SPONGE continues to have the most robust liquidity of all coins trading on top decentralized exchange Uniswap.
Across Uniswap V2and V3 Pepe, with a market cap that has slipped back to $800 million, has total locked liquidity of $17 million, while $SPONGE, on a total market cap 5% ($42 million) the size of Pepe's, has $11 million of locked liquidity.
$SPONGE's much higher proportion of locked liquidity to market cap indicates that the coin is backed by substantial interests.
It also means that the price is much less likely to be moved by the activity of short-termist whales, which, unfortunately for Pepe holders, is what may be coming to pass in that market.
Excluding Wrapped ETH and stablecoins, $SPONGE has the third highest trading volume on Uniswap V3 decentralized exchange, as shown in the chart below.

Many more CEX listings coming for $SPONGE means more price pumps
Strong trading volume is watched for by exchanges looking to list new coins. Robust volume means exchanges can be confident that their customers can execute orders at the expected price without slippage.
And of course a coin that is trading at high volumes means there is more order flow and, therefore more fee revenue for the centralized exchange.
On both of those counts $SPONGE is a winner for CEXs so many more listings will be forthcoming from exchanges of all sizes, with minimum slippage.
And more CEX listings in turn means more liquidity for a trading pair, providing a solid platform for the price to advance in rapid fashion.

Buy SPONGE Now
---