Homer Simpson Meme Coin Pumps Up 30,000% But Experts Say it is a Scam While New Meme Coin Wall Street Memes Just Raised $13.9 Million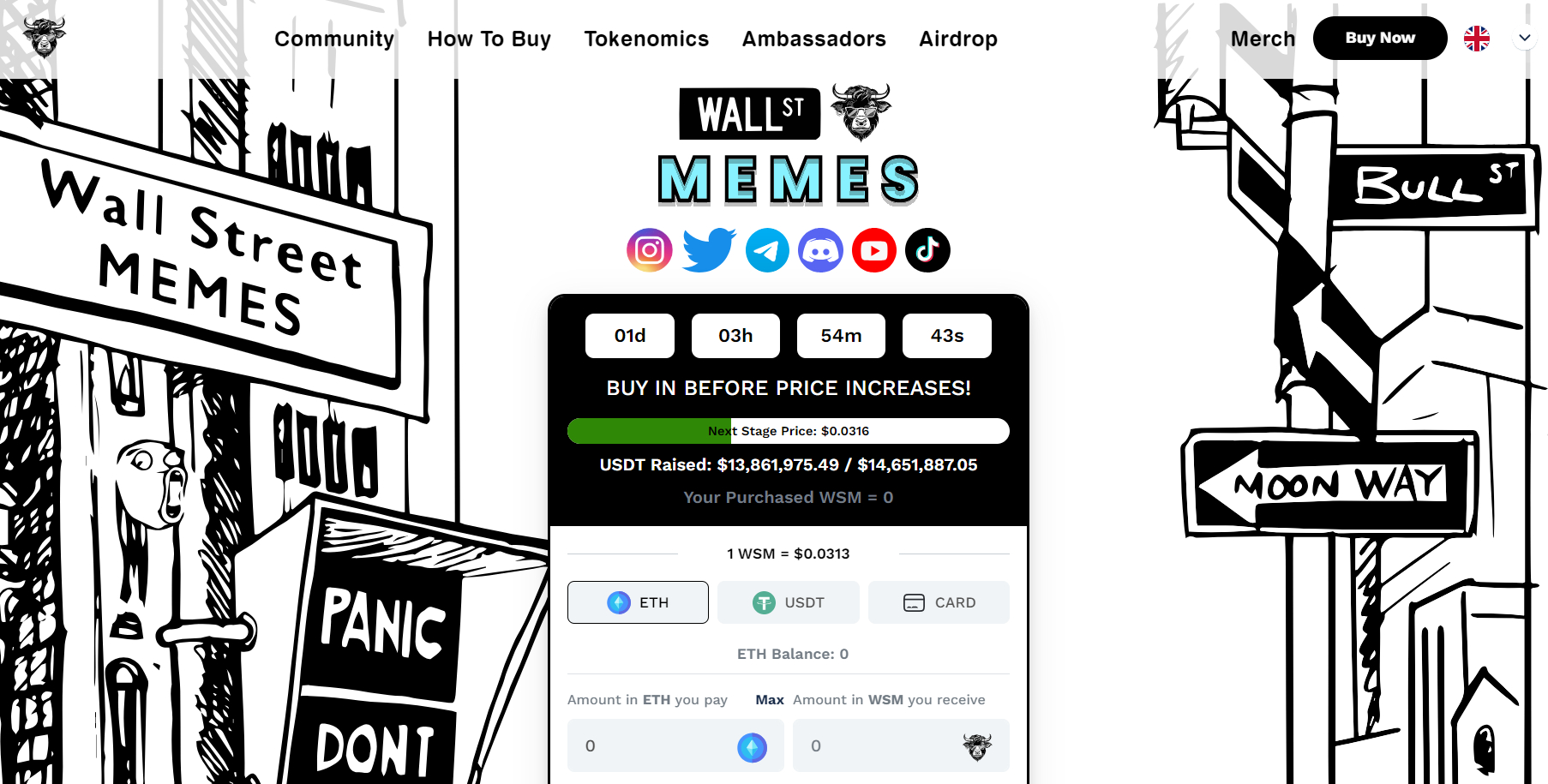 Up over 30,000% in the past 24 hours, a new $HOMER token is the biggest crypto gainer today - however, according to DEXTools' audit, has a blacklist function.
That means some wallet addresses might not be able to trade normally, DEXTools explains.
As a result, some crypto experts are warning that the token could be a scam.
$HOMER was last trading around $0.000003, up around 3000x versus its levels this time one day ago in the $0.000000001 area.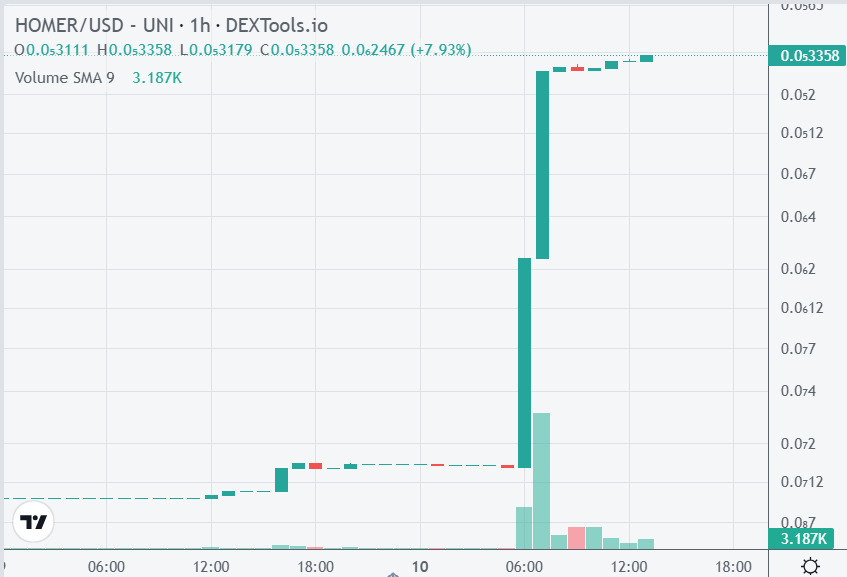 That gives the token a market cap of around $1.4 million, with around $90,000 in trading volumes over the past 24 hours, and around $140,000 in DEX liquidity, which isn't locked.
Meme coin degens might be better off looking at a meme coin project with a little more legitimacy around it.
And there is no better option than Wall Street Meme's $WSM token presale.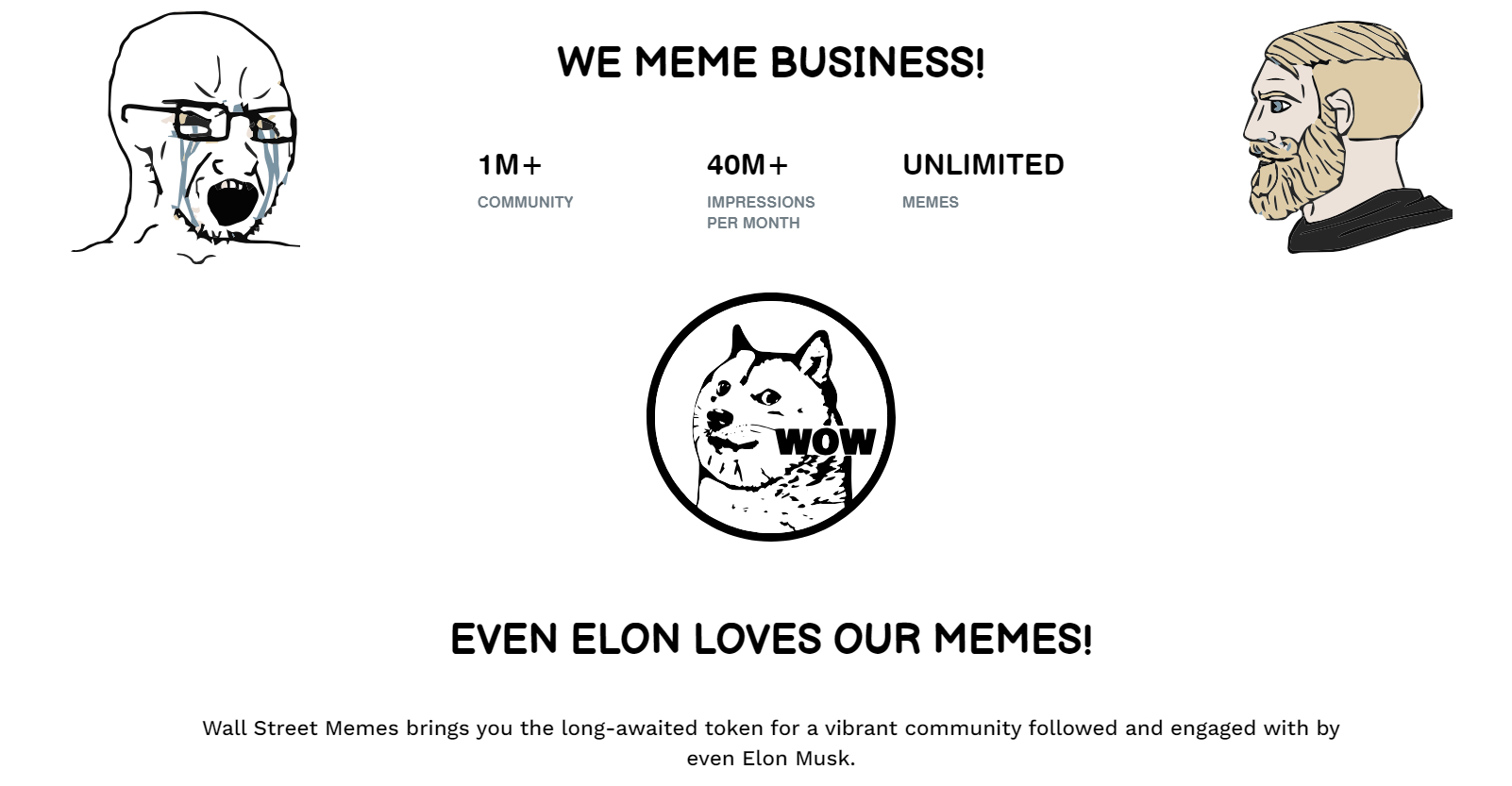 2023's Hottest Meme Coin Presale
Wall Street Memes, one of the internet's hottest retail investing communities, rose to prominence in the meme stock craze of 2021 and has recently been expanding its relevance in the cryptocurrency space with the presale of its new $WSM token.
The success of the $WSM presale, which has raised more than $13.9 million in just over one month, isn't surprising given the size of Wall Street Memes' community.
Not only are there 523k hyper-engaged community members on its wallstbets Instagram account, there are another 214k on Twitter and more than 100k across its two other Instagram channels, wallstgonewild and wallstbullsnft.
All told, Wall Street Memes has a 1 million-strong social community of degens, which analysts think all but guarantees that the $WSM token will be listed on tier 1 crypto exchanges like Binance.
Given the strength of the Wall Street Memes community, analysts and observers are billing $WSM to be the next viral meme coin, with many predicting it could go on to match the likes of Pepe, Shiba Inu or even Dogecoin.
In fitting with its focus on empowering the little guy, 100% of the token supply is for the Wall Street Memes community – there is no behind-the-scenes private sale and no team allocation largesse.
That means Wall Street Memes is one of this year's fairest, as well as hottest crypto presales.
50% of the token supply is available in the presale, the raise for which and will be allocated to high-level marketing efforts; 30% as community rewards; 10% for CEX liquidity and 10% for DEX liquidity.
With 30% of the token supply being held back for community rewards, it can reasonably be expected that airdrops to holders will be a big part of the ecosystem.
Indeed, the first $WSM airdrop is open now.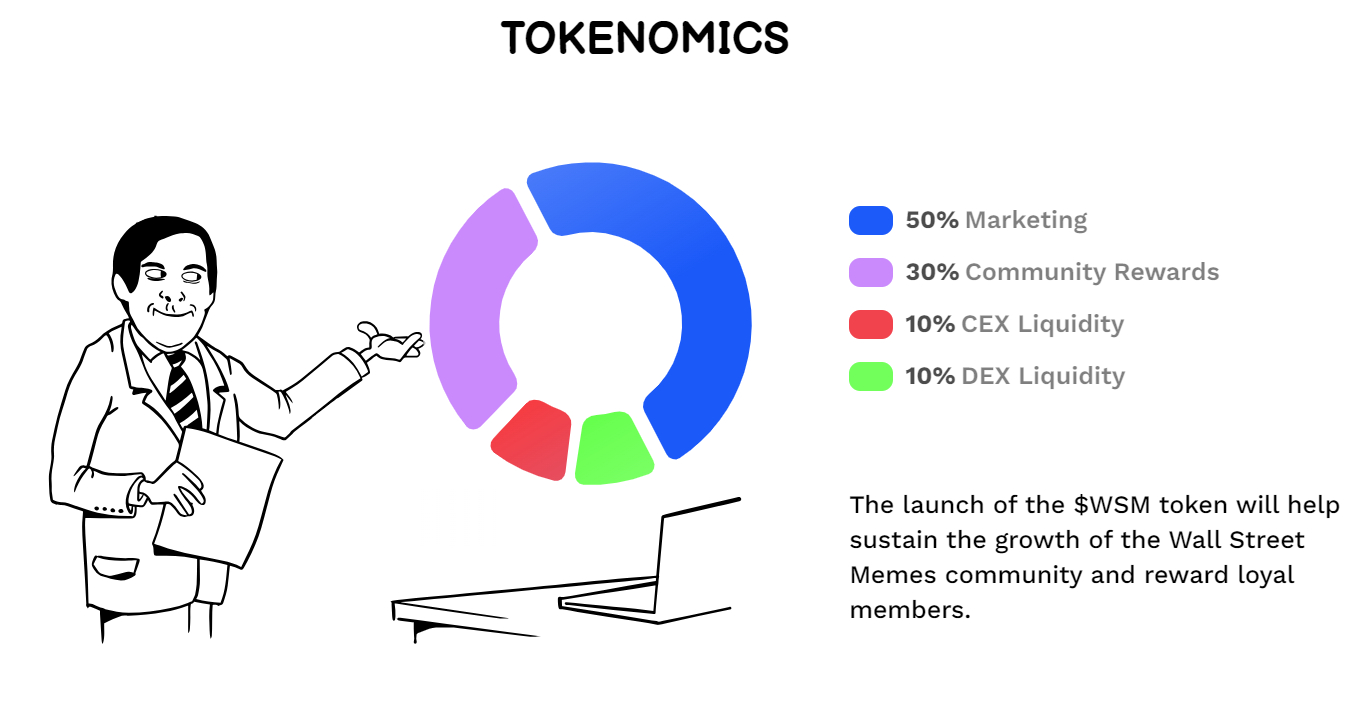 Can $WSM 100x?
Given that meme coins often rely on the power of their community and social media presence, and given that $WSM already has a strong and engaged community around its project, the meme coin could generate massive hype and attract attention from investors and traders.
As a result, it's not surprising that numerous analysts are already predicting big things for $WSM when it lists on exchanges.
Popular British crypto presale analyst Jacob Crypto Bury thinks $WSM could easily be a 10x meme coin.
10x gains from $WSM's exchange listing price of $0.0337 would see the token reach a fully diluted market cap of $674 million.
But some analysts have said $WSM could even match the size of major established meme coins like Dogecoin and Shiba Inu, which have respective market caps of around $8.5 billion and $4 billion.
100x gains to a market cap of over $6 billion shouldn't be ruled out as, in crypto markets, anything is possible, especially when your coin is backed by over a million committed degens.
Investors wanting to get in ahead of big potential future price rises should think about getting in on the meme coin's presale as soon as possible in order to secure their $WSM at the best possible discount.
$WSM can be bought on both the Ethereum blockchain and BNB Smart Chain using ETH, BNB or USDT (ERC-20 or BEP-20).
All users need to do is connect their crypto wallet on the wallstmemes.com website to make their purchase.
Disclaimer: Crypto is a high-risk asset class. This article is provided for informational purposes and does not constitute investment advice. You could lose all of your capital.
---