Here's Why Crypto Prices Are Bearish in October, Traders Divest Into These 3 New Cryptocurrencies
Disclosure: Crypto is a high-risk asset class. This article is provided for informational purposes and does not constitute investment advice. By using this website, you agree to our terms and conditions. We may utilise affiliate links within our content, and receive commission.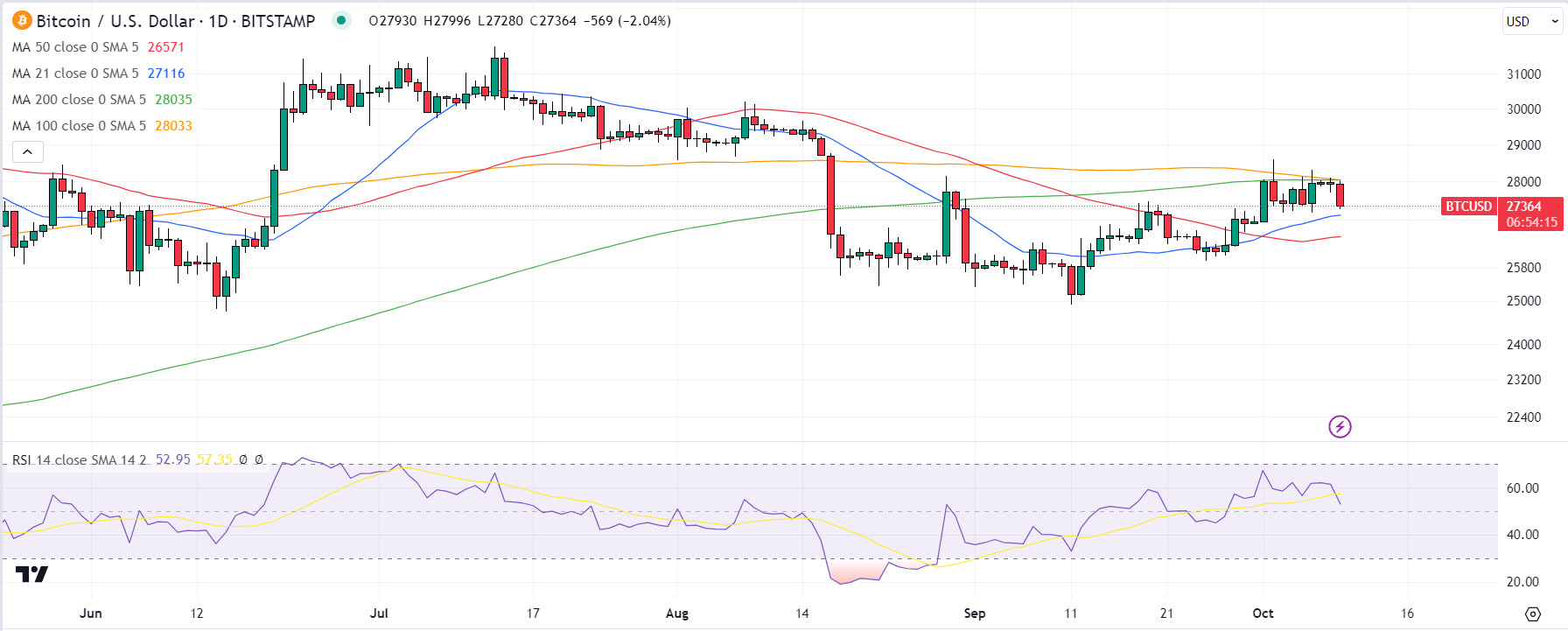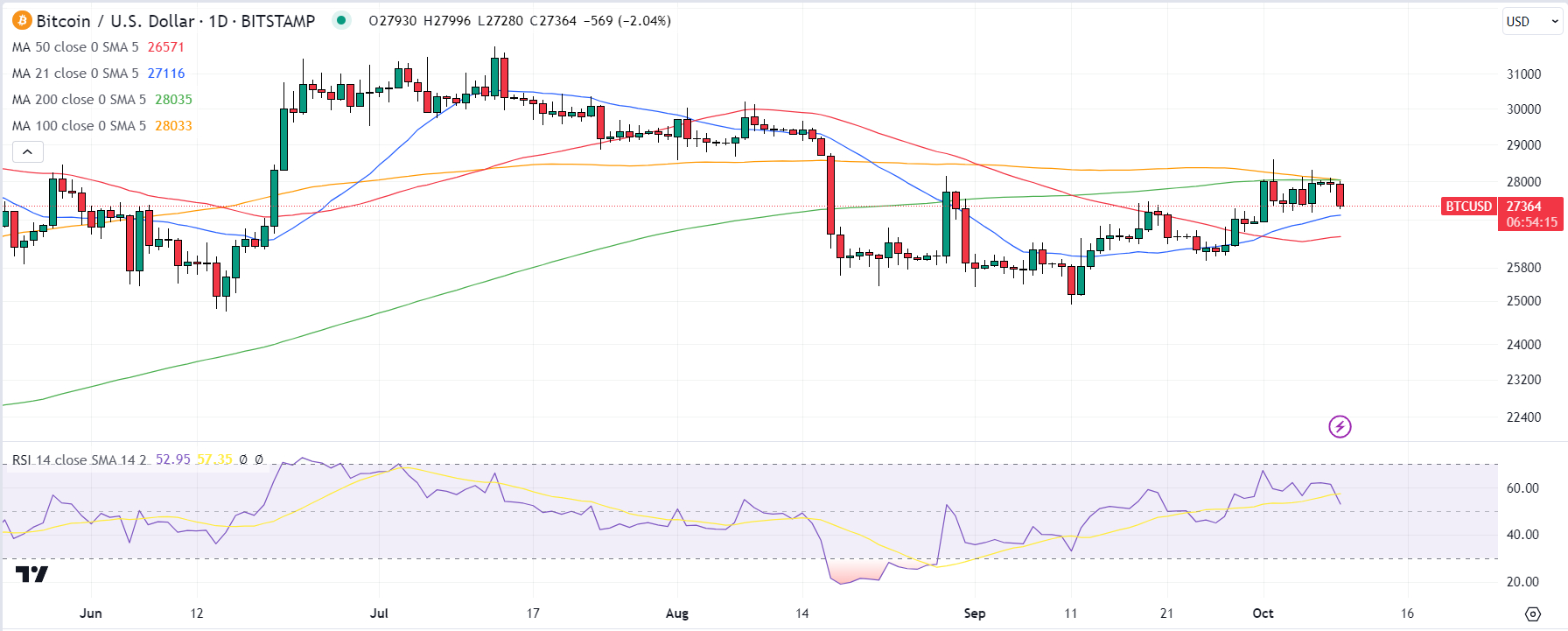 Crypto prices are pulling lower on Monday as jitters surrounding the escalating Israel/Palestine conflict and its potential to spill over to major oil-producing regional neighbors like Iran send oil prices higher, raising inflation fears.
Bitcoin (BTC) was last trading close to $27,500, down over 1.5% on Monday, while Ether (ETH) was trading down more than 3% below $1,600 amid a risk-off tone to trade macro trade.
Adding to the sell pressure in the ETH market was a surprise $2.7 million sale of ETH tokens by the Ethereum Foundation on decentralized exchange Uniswap over the weekend.
Despite October's history as a good month for crypto prices – as per bitcoinmonthlyreturn.com, BTC has averaged a 25% gain in October since 2010 – traders fear that this October could break the positive streak.
That's because traditional asset markets are potentially sending warning signals.
Oil prices remain volatile near multi-month highs, with front-month WTI futures last around $86, which could push up near-term inflation, meaning higher interest rates for longer from the world's major central banks like the Fed.
That, plus the ongoing strength of the US economy (as epitomized by last week's stronger-than-expected US jobs data), means yields on US government bonds are trading close to multi-decade highs.
Bank of America analysts argued in a note to investors and clients over the weekend that when bond markets get this oversold – bond prices move inversely to yields, so when yields rise, it means prices have fallen – this typically foreshadows a major market "event".
"Bonds oversold: Treasuries trading >5% below 200dma; note oversold sell-offs all coincided/foreshadowed "events": Oct'87 crash, May'94 Tequila crisis, Jun'99 internet bubble, Mar'21 crypto pop, Oct'22 Nasdaq pop," analysts at the bank commented.
A near-term market event could result in heightened and likely bearish volatility in the crypto market.
Blue Chip Crypto Alternatives to Consider
Amid macro headwinds, the outlook for blue chip cryptocurrencies is uncertain for the coming month.
For those looking for an even better probability of near-term gains, an alternative high-risk-high-reward investment strategy to consider is getting involved in crypto presales.
This is where investors buy the tokens of up-start crypto projects to help fund their development.
These tokens are nearly always sold cheaply, and there is a long history of presales delivering huge exponential gains to early investors.
Many of these projects have fantastic teams behind them and a great vision to deliver a revolutionary crypto application/platform.
If an investor can identify such projects, the risk/reward of their presale investment is very good.
The team at Cryptonews spends a lot of time combing through presale projects to help investors out.
Here are three projects the team is currently a big fan of.
Bitcoin Minetrix ($BTCMTX)
An exciting new decentralized Bitcoin mining protocol called Bitcoin Minetrix is generating a lot of hype, and has already raised over $850,000 in funds from early investors into its $BTCMTX token presale.
$BTCMTX is the token that powers the protocol – investors who buy $BTCMTX can then stake their tokens to start earning non-transferable Bitcoin Minetrix mining credits.
These credits can then be burnt by their owners, and in exchange, they will get a share in Bitcoin Minetrix's Bitcoin mining revenues.
$BTCMTX token holders will also earn $BTCMTX rewards, with a portion of the token supply already set aside to reward early stakers.
Bitcoin Minetrix's protocol is governor by smart contracts built on top of the decentralized Ethereum blockchain, which is also where its token is issued.
The protocol thus offers better transparency and security versus other centralized cloud mining services.
Check Out Bitcoin Minetrix Here
Meme Kombat ($MK)
Another exciting new presale that has been generating a lot of hype recently has been for a crypto start-up called Meme Kombat.
Meme Kombat blends together the world of crypto gaming and gambling with its exciting platform where users are able to bet on the outcomes of exciting battles between characters based on some of the crypto world's most popular meme coins.
Early $MK investors can also benefit from generous staking rewards, which are currently more than 100% annually.
The project has already raised close to $420,000, despite launching just days ago.
TG.Casino ($TGC)
An exciting Telegram-based crypto gambling upstart called TG.Casino is taking web3 by storm.
2023 has been a big year for crypto gambling, with protocols like Rollbit seeing explosive user growth, and the platform's native token also seeing big upside.
But the barriers remain high for non-crypto native users to bet using these platforms, given they need to navigate complicated concepts such as setting up, connecting and working with crypto wallets.
TG.Casino intends to do for crypto gambling what Unibot did for advanced crypto trading – simply things with Telegram automation, whilst putting crypto gambling at the fingertips of Telegram's 700 million (and rapidly growing) users.
TG.Casino is conducting an exciting presale to fund platform growth and has already raised over $675,000 via the sale of its native $TGC token.
Early investors are already making yields in the region of 700% (thanks to rewards specifically set aside for $TGC token stakers – all tokens bought in presale are automatically staked).
While this yield will fade over time as more money pours into the presale, $TGC holders will also benefit from TG.Casino's planned token buyback scheme, which will provide passive income to $TGC token stakers and raise the token's price through token burns.
Disclaimer: Crypto is a high-risk asset class. This article is provided for informational purposes and does not constitute investment advice. You could lose all of your capital.
---