Green Recycle-2-Earn Crypto Project Ecoterra's Presale on Fire, Nears $3.5 Million as 10% Price Rise Approaches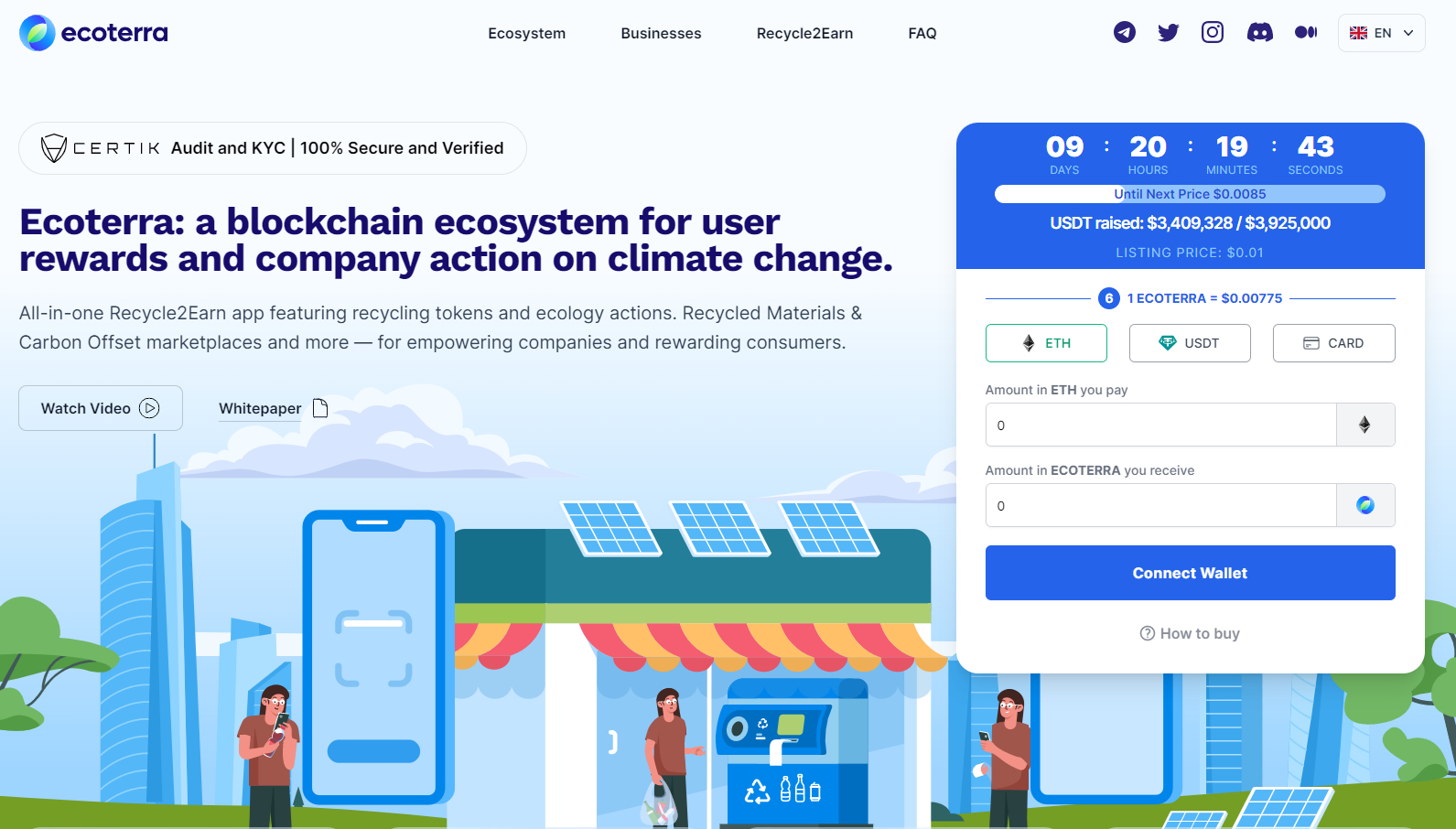 Green Recycle-to-earn (R2E) crypto project Ecoterra's presale is on fire, with sales of $ECOTERRA nearing $3.5 million as investors rush to get in ahead of a 10% price rise.
With Ecoterra's presale having only crossed the $3 million mark around five days ago, that means the environmentally friendly Web3 start-up has been raking in around $100,000 per day.
In just under 10 days, the $ECOTERRA price is scheduled to rise by 10% from the current $0.00775 to $0.0085, or when the presale hits $3.925 million.
Given the current pace at which Ecoterra has been raising money, that threshold could be hit in as little as four/five days.
So investors should move quickly to secure tokens at a discount whilst they still can, whilst bearing in mind that, later this year, $ECOTERRA will launch on CEX and DEXs for $0.01.
That means investors who get in now will be sat on paper gains of around 30%.
$ECOTERRA's 30% Gain Could Be Just the Beginning
But those 30% paper gains could pale in comparison to $ECOTERRA's longer-term upside.
When harnessed right, blockchain technology holds an unprecedented ability to promote environmentally friendly behaviours by rewarding recycling, making it easier to offset carbon emissions and tracking environmental impact utilizing the blockchain's transparency.
Indeed, Ecoterra's all-in-one application does all three and more. The platform:
1) Rewards users with Ecoterra's native $ECOTERRA crypto token every time they recycle.
2) Features a carbon offset marketplace to make it easier for individuals and businesses to offset their carbon footprint.
3) Features a recycled materials marketplace to make it easier for businesses to purchase recycled goods using $ECOTERRA or other cryptocurrencies.
4) Allows individuals and businesses to track their environmentally friendly practices via an Impact Trackable Profile, which could help businesses improve their brand image and boost customer loyalty.
Nascent green web3 projects like Ecoterra are expected to play an increasingly important role in global efforts to address climate change in the decades ahead.
It's no wonder then that popular crypto presale analysts like Jacob Crypto Bury and Crypto Moonlight are predicting big potential upside for the $ECOTERRA token.
Ecoterra Team Puts Forward Project's Use Case at Istanbul Blockchain Summit
In a big boost to the project's marketing and awareness efforts, key members of Ecoterra's team has arrived at the Istanbul Blockchain Summit this week to promote $ECOTERRA's promising use case.
"As the worsening effects of global climate change become apparent, businesses and individuals are becoming ever more engaged in efforts to protect the environment… and recycling is a key component of these efforts" Ecoterra CEO Mihai Ciutureanu explained.
"However, an overwhelming majority of people lack either the knowledge or willingness to recycle properly", he continued.
"Ecoterra aims to not only educate the public on the necessity of recycling, but also to incentivize the public to recycle via offering financial reward via our innovative Recycle-to-earn system".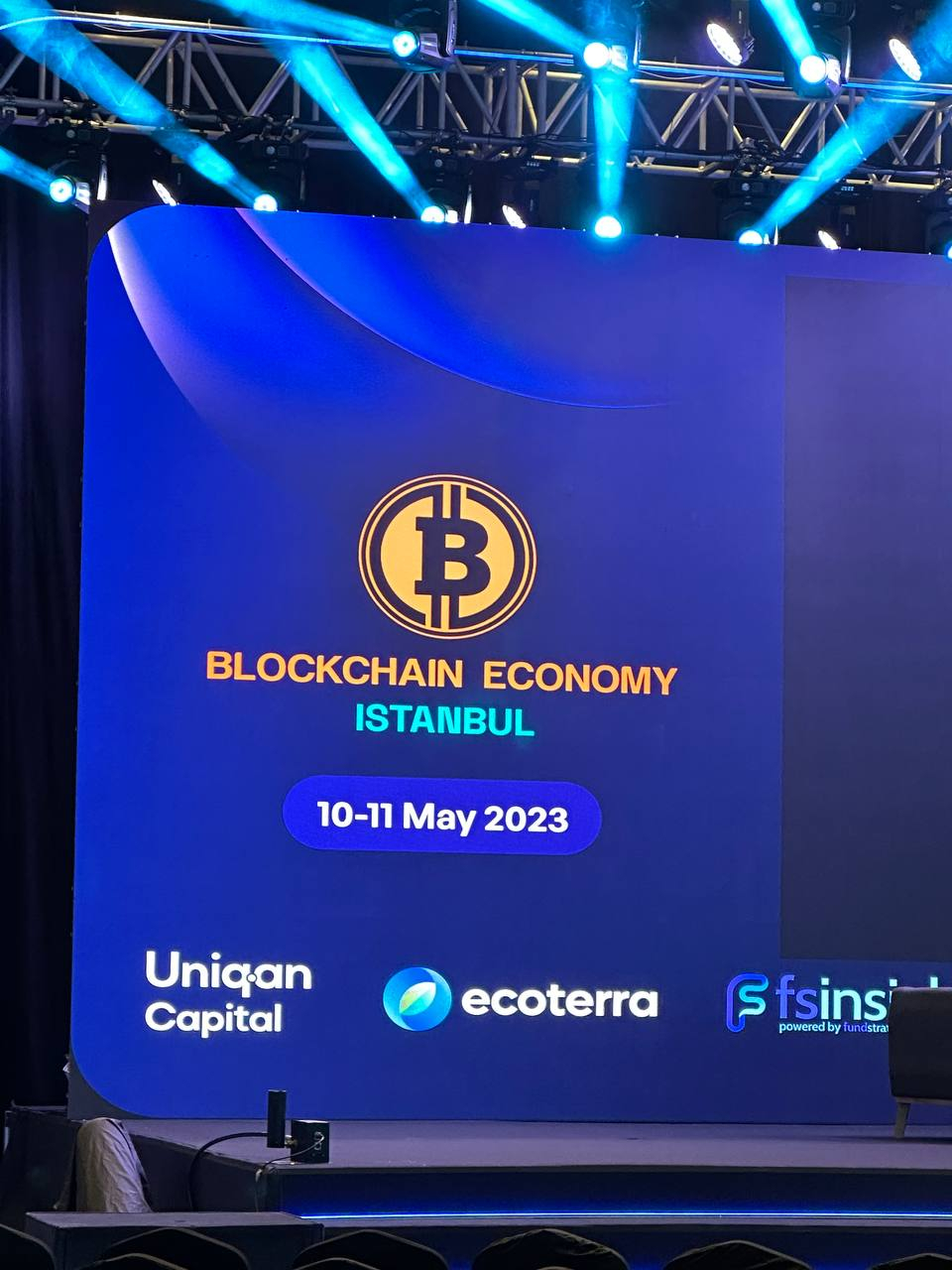 "And Ecoterra's goals don't end there," Cuitureanu added. "Ecoterra is building a recycled materials marketplace that aims to connect recycling companies with purchasers of recycled materials, hence promoting a circular product life cycle".
"Ecoterra is also building a separate marketplace where individuals and businesses can purchase verified blockchain-based carbon credits to offset their emissions, and can track all of their environmentally friendly actions within the Ecoterra platform via an impact profile".
Ecoterra in Talks With Top Exchanges
Ecoterra's appearance at the Istanbul Blockchain Summit provided the team with a great opportunity to engage in talks with major centralized cryptocurrency exchanges surrounding potential $ECOTERRA token launch partnerships.
OKX, MEXC Global and KuCoin were a few of the major cryptocurrency exchanges also featuring at the event.
According to Ecoterra's Whitepaper, $ECOTERRA will launch across major cryptocurrency exchanges in the third quarter of 2023, ahead of beta releases of the platform's Recycle2Earn application and the Recycled Materials marketplace in Q4.
With Ecoterra now having surpassed the halfway mark in its token presale – the project plans to raise a maximum of $6.7 million via $ECOTERRA sales – investors should move quickly to secure their tokens ahead of further price hikes.
Ecoterra is selling 50% of a total available supply of 2 billion $ECOTERRA tokens to the public via the presale, with 20% reserved for listings and marketing, 20% for ecosystem liquidity and 5% each for the team and corporate adoptions.
The team's tokens are completely locked for one year and then vested for monthly release over the following three years, underscoring the team's commitment to the project.
All-in-one Recycle2Earn app featuring recycling tokens and ecology actions. Recycled Materials & Carbon Offset marketplaces and more — for empowering companies and rewarding consumers.
Ecoterra's project is 100% secure and verified, having been audited by Certik, and the team having gone through Certik's KYC procedures.
---