Governments, Financial Institutions See Crypto As A Tool For Financial Inclusion
Although still seen mostly as a tool for investment and speculation, crypto is likely to become an effective tool for financial inclusion in about five years from now, the majority of respondents in a new survey said.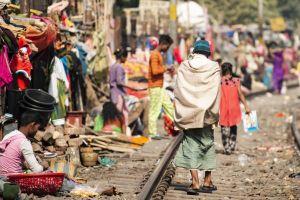 The survey - produced by organizations dedicated to tackling financial crimes, Association of Certified Anti-Money Laundering Specialists (ACAMS) and the Centre for Financial Crime and Security Studies at the Royal United Services Institute (RUSI) - asked respondents what they think the cryptocurrency landscape will look like in five years' time.
And according to the survey respondents, crypto may very well become the "effective tool for financial inclusion" that industry proponents have been talking about for years.
Unsurprisingly, the belief in crypto as a tool for financial inclusion was particularly strong among respondents who said they worked in the cryptocurrency industry, with 81% of those within this group saying they either 'agree' or 'strongly agree' that crypto will promote financial inclusion in the near future.
All respondents are more likely to agree than disagree that in five years, cryptocurrencies will be an effective tool for financial inclusion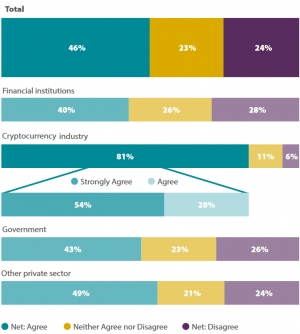 Further, the survey also found that although many respondents ranked investment and speculation as crypto's main use case going forward, a large number of those who participated in the survey also said that day-to-day payments would become the most important use case for cryptocurrencies.
Altogether, 29% of respondents ranked day-to-day payments as their top use case five years from now.
On this point, however, respondents working in the crypto industry differed in a significant way from the rest of the responders in that they had a much more optimistic outlook on crypto's role in day-to-day payments five years from now.
In all, 46% of respondents who worked in the industry said they believe crypto will mainly be used for payments in five years, while 38% of those working in the government, and 35% of those working elsewhere in the private sector, believed the same.
All audiences except those in the cryptocurrency industry believe that cryptocurrency will be primarily used for investment and speculation in the future. However, there is an increase in the proportion of respondents thinking cryptocurrencies will be used in day-to-day payments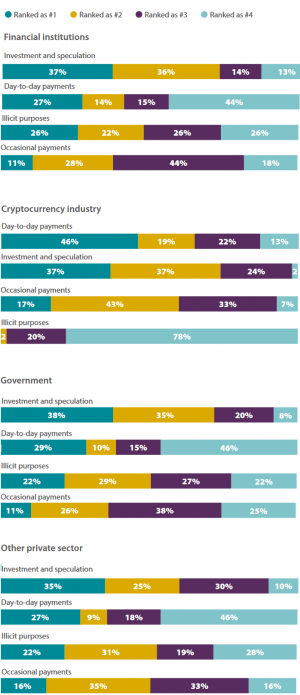 According to the authors, their report is based on 566 individual responses received between 3rd June 2020 and 22nd July 2020, with survey respondents indicating they are located in North America (32%), South America (8%), Europe (23%), Asia (22%), Africa (7%), Middle East (5%), and Oceania (3%). There was very little difference in how respondents from different regions responded to the survey, they added.
___
Learn more: Over 100 Million People Hold Bitcoin, Altcoins Globally - Report
---